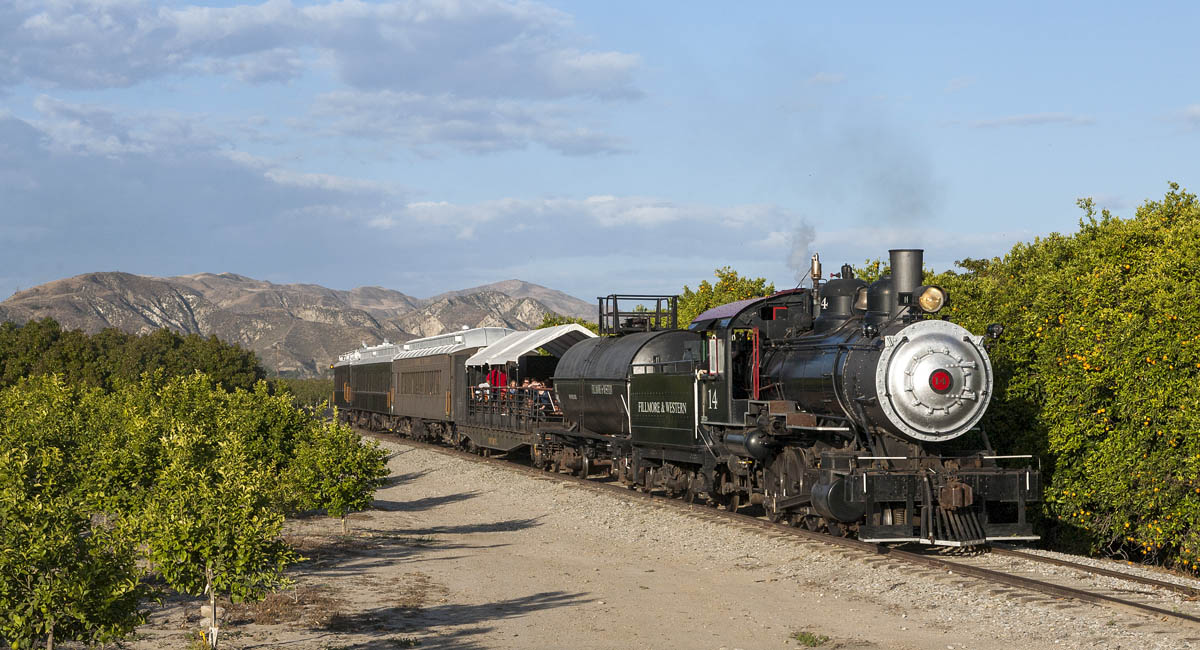 FILLMORE, Calif. — Southern California short line and excursion railroad Fillmore & Western Railway will officially cease operations June 30, 2021. The current operators, Dave and Tresa Wilkinson, are retiring from the tourist railroad business after more than 30 years. They have successfully operated excursion trains, Mystery Dinner trains, and Santa Claus, specials among others. In addition, they aggressively went after the majority of the entertainment market by being inside The Movie Zone, a 30-mile radius from Hollywood, to be considered a local production for television, commercials, and movies.
The line and its equipment have been a staple of westerns, period pictures, TV shows, commercials, and family entertainment, in part due to the fact that Wilkinson provided a flexible working environment, safe conditions and a generous staple of modern and period freight and passenger rolling stock. Locomotives included diesel switchers, EMD F units, and various low-nose four-axle road switchers, not to mention a working 2-8-0 Consolidation. The majority of the equipment was acquired from the property departments of three major movie studios: MGM, Paramount, and 20th Century Fox.
The 13-mile line, originally a part of Southern Pacific's Coast Line, extends from the eastern edge of the city of Ventura to the town of Piru to the east. It eventually became known as the Santa Paula Branch after mainline Coast Line traffic was rerouted following the opening of the Santa Susana Tunnel in 1904. The right-of-way originally extended farther into the Santa Clarita Valley to Saugus, where it connected with SP's line to the San Joaquin Valley via Tehachapi Pass.
The Ventura County Transportation Commission is currently in negotiations with another short line operator to take over operations. Until the end of the month, Fillmore &Western will be operating passenger tourist trains every Saturday until June 26. New operations are not scheduled to begin until the fall. The disposition of the existing rolling stock is pending. Wilkinson has six months after the lease to remove the equipment from the railroad.