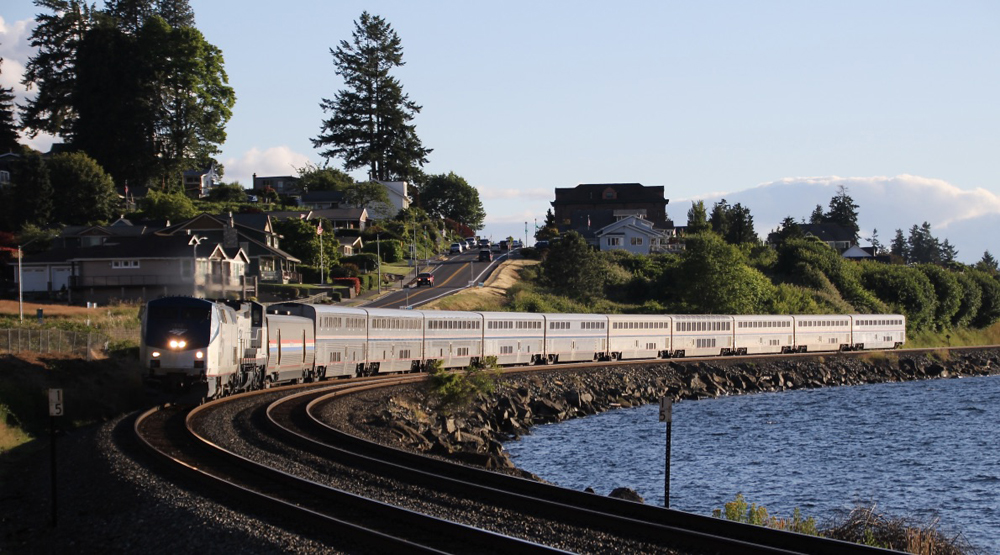 Amtrak service will resume daily on 12 long-distance routes which had been cut to triweekly service in May and June, following Wednesday's passage by Congress of the American Rescue Plan aid package, which includes funding for service restoration. Ticketing is already available for the restored service in Amtrak's reservation system, meaning availability for seats and sleeping-car accommodations on the restored dates is currently high.
The 12 trains will have daily service restored on three sets of dates. Returning to daily operation on May 24 will be the Chicago-Emeryville, Calif., California Zephyr; the Seattle-Los Angeles Coast Starlight; the Chicago-Portland/Seattle Empire Builder, and the Chicago-San Antonio-Los Angeles Texas Eagle. Restored to daily service on May 31 will be the Washington-Chicago Capitol Limited; the Chicago-New Orleans City of New Orleans, the Chicago-New York/Boston Lake Shore Limited, and the Chicago-Los Angeles Southwest Chief. And resuming daily operation on June 7 will be the New York-New Orleans Crescent, the New York-Savannah Palmetto, and the two New York-Miami trains, the Silver Meteor (via Savannah) and Silver Star (via Raleigh). Amtrak notes in a press release that new Viewliner II sleeping cars will be making their debut on the Silver Service trains.
Auto Train continues to operate daily, while the Sunset Limited and Cardinal will remain triweekly.
Funding to restore daily long distance service is part of $1.7 billion Amtrak is receiving from the bill passed Wednesday. In a statement, Amtrak CEO Bill Flynn said, "This critical funding will benefit the entire Amtrak network, our state and commuter partners, customers and employees. With this support, we can restore daily long-distance service, bring back employees furloughed as a result of the pandemic and continue our progress on vital capital projects. We will work closely with Congress and the Biden Administration on next steps for funding to support Amtrak's long-term growth."
— This is a developing story. Watch Trains News Wire for further information.