Throughout the past few months, I have shown you how different small Amtrak trains can be modeled with only a few pieces of equipment. If you've read those previous articles, you might have noticed a pattern. Amtrak trains that operate between a big city and a much smaller city or town, such as Chicago and Rockford, Ill. Amtrak's business model relies heavily on supply and demand, so when a route has a much bigger demand for service, they will add more cars or separate trains to serve that route. Here are some short Amtrak consists of the 1980s.
All of the following trains operate between big cities and cities that are relatively smaller in population. With one exception, all of the following trains originate in Chicago, Ill.
Another pattern you might notice in this decade is motive power. Amtrak's Electro-Motive Division F40PH diesel locomotive led most of these regional trains, with the six-axle SDP40Fs and P30CHs reserved for long distance trains. With the trains that we are looking at all having consists of four cars or less, this was sufficient motive power.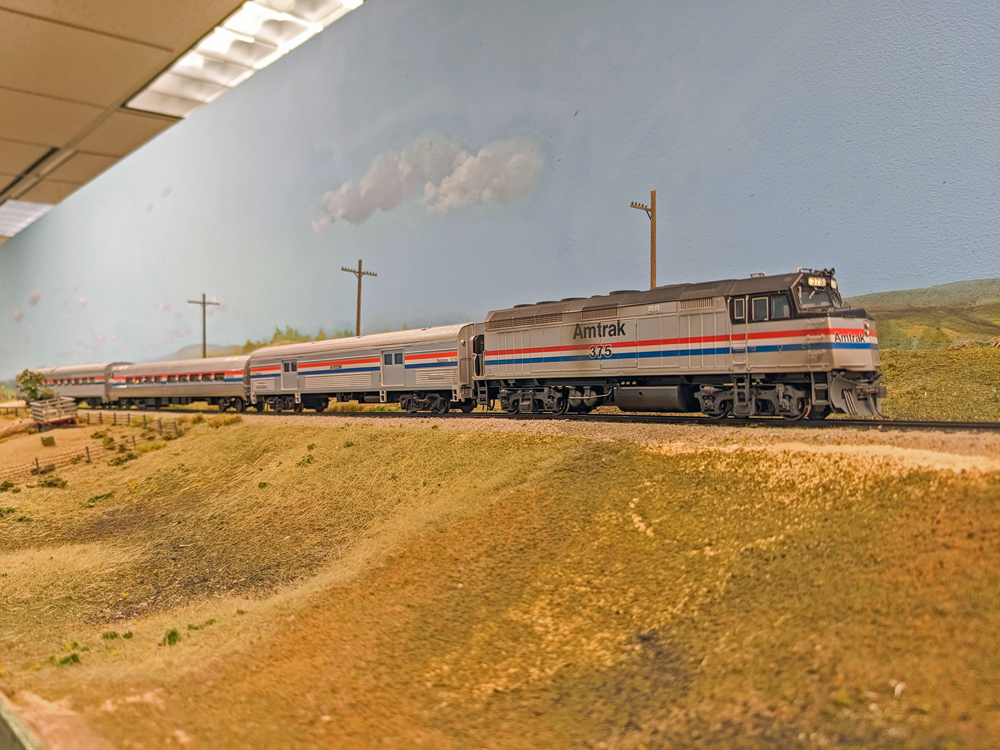 Amtrak's Prairie Marksman only operated for a year but had an interesting consist and route. The train ran between Chicago and East Peoria, Ill. from 1980 to 1981. The only stop between the two cities was Joliet, Ill. which is still served by the Texas Eagle and Lincoln Service. A typical consist featured an F40PH leading a baggage car, Amfleet coach, and Amfleet café. To model this train I used a Kato F40PH, WalthersProto 73-foot Budd baggage car, WalthersProto 85-foot Amfleet coach, and WalthersMainline 85-foot Budd diner.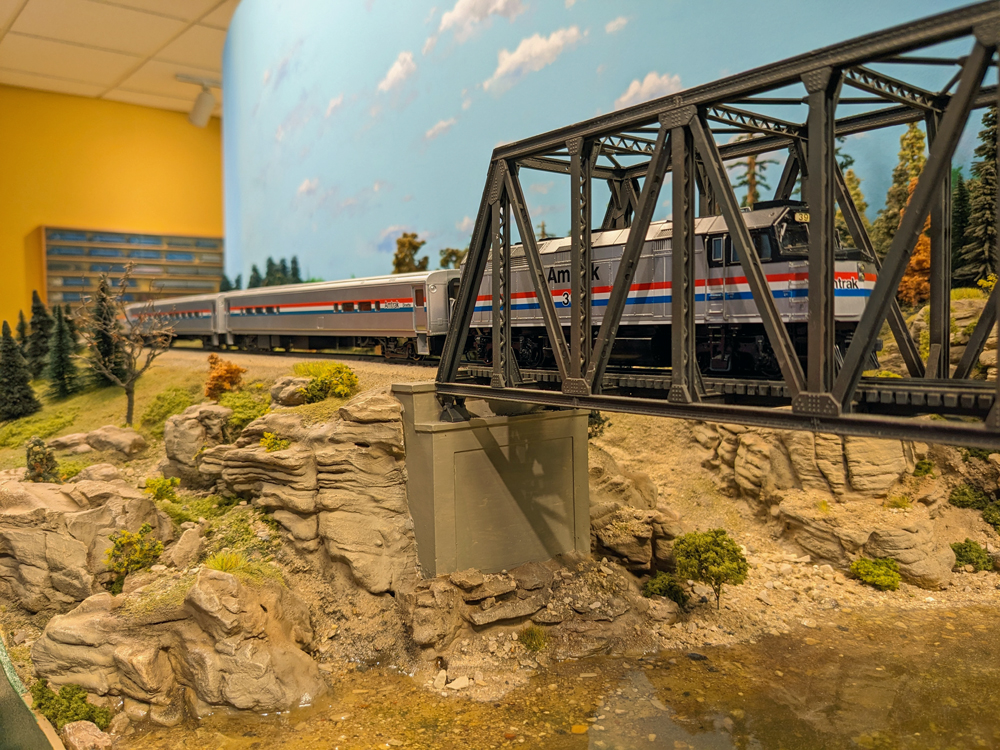 I may be biased, but the Hoosier State has to be my favorite train on this list. Named after the state that I spent my college years living in, I was lucky enough to follow the last Hoosier State that Amtrak ran in 2019. Beginning operations in 1980, the train never had a long consist. It operated between Chicago, Ill. and Indianapolis, Ind. on the days that the Cardinal did not run between the cities. In the early years it only had an Amfleet café and a couple coaches. The Hoosier State was also an early adopter of Amtrak's Horizon fleet which entered service in the late 1980s. To add to this, and add variety to your operations, the Hoosier State was the train which Amtrak used to ferry equipment between their maintenance facility in Beech Grove, Ind. and Chicago, Ill. This means that you can run almost any Amtrak equipment from your chosen decade on the Hoosier State and it will still be prototypical… as long as none of your scale figures occupy the ferried equipment. I used a Kato F40PH, WalthersMainline Horizon café and two WalthersMainline Horizon coaches for this train.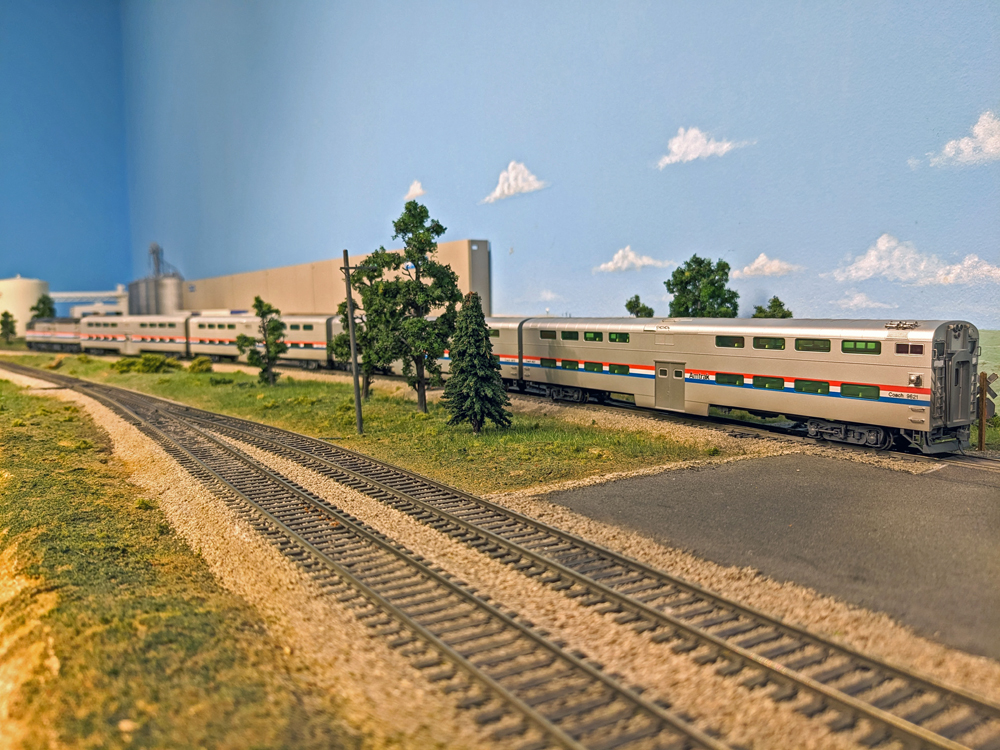 Yet another train operating between Chicago and the Hoosier State was the Calumet. The Calumet was more of a commuter train, operating between Chicago, Ill. and Valparaiso, Ind. from 1979 to 1991. The ex-Chicago & North Western bi-level coaches were a typical fixture on this route, with all of them repainted into Amtrak colors. While early trains had up to eight or ten cars, ridership declined throughout the 80s and a train with only four or so coaches was not uncommon. I modeled this train using a Kato F40PH and four Kato bi-level coaches.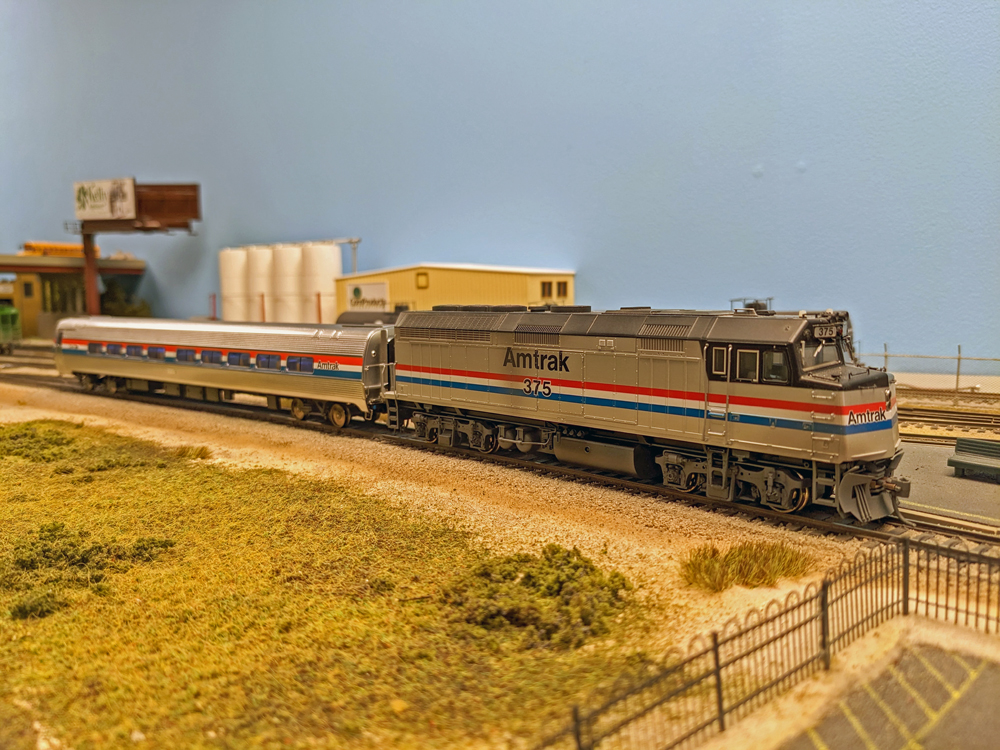 The one outlier to operating out of Chicago is the River Cities. The River Cities was a single Amfleet coach that acted as a section of the Mules and the City of New Orleans that allowed passengers to go from Kansas City, Mo. and New Orleans La. The City of New Orleans and River Cities would split in Carbondale, Ill., with one locomotive leading an Amfleet coach toward St. Louis, Mo. For 117 miles and three station stops, the River Cities was a single F40PH and Amfleet coach. In St. Louis, the train would couple to one of the Missouri Mules and depart for Kansas City. A scale Amtrak train doesn't get much simpler than this! For the consist I used a Kato F40PH and WalthersProto 85-foot Amfleet coach.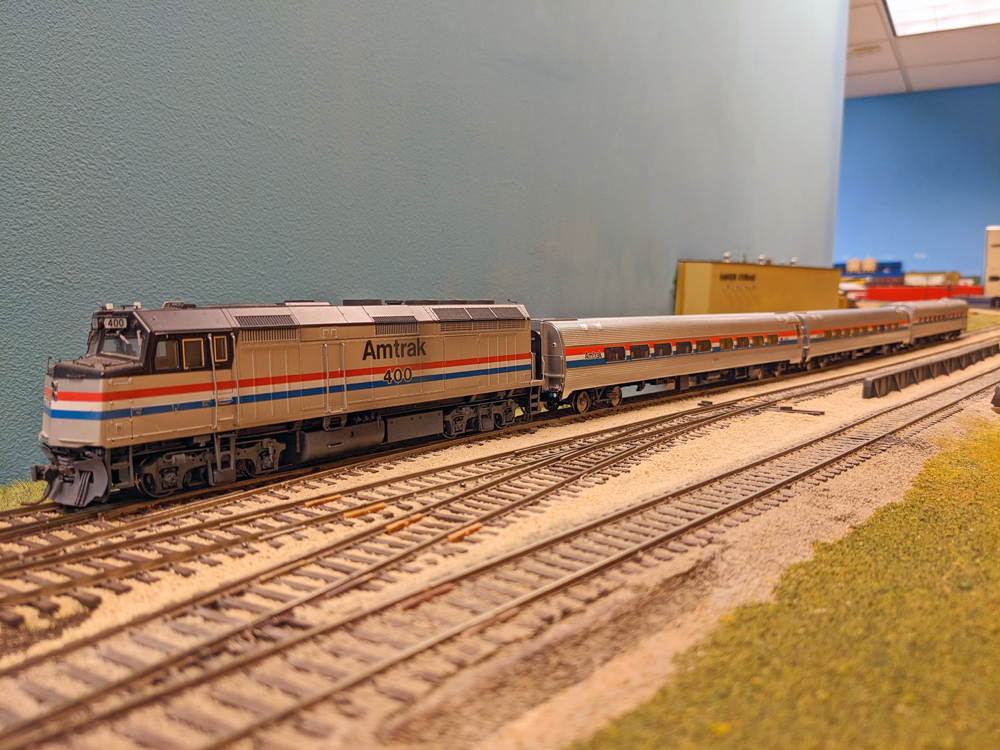 Another train that served Carbondale was the Shawnee. Operating until 1986 when it was merged with the Illini, the Shawnee took passengers between Chicago and Carbondale, Ill. Throughout the 80s, the train operated with an F40PH, two Amfleet coaches, and an Amfleet café. To model this train, I used a Kato F40PH, two WalthersProto 85-foot Amfleet coaches, and a WalthersMainline 85-foot Budd diner.