Looking for interesting uses for cabooses? If you're of a certain age (myself included), you remember when a caboose was on the end of almost every train. Then, in the 1990s, cabooses began to disappear. Instead of a friendly wave at the end of a train, you were greeted by a blinking red light on the Flashing Rear End Device, or FRED. Though you can still find cabooses on railroads, they're not as common as they once were.
In this article, I'll share seven uses for cabooses. Some examples show how the cars are being used by railroads today. Others illustrate creative ways cabooses are being used away from the tracks, including static displays, billboards, and even apartments (no joke)!
Looking for more uses for cabooses? In the Wisconsin Dells, a Milwaukee Road bay-window caboose is now a hot dog stand. On the Kendallville (Ind.) Terminal, a former Southern Ry. bay-window caboose serves as the railroad's yard office. If you railroad runs through densely wooded areas, consider using a caboose as a fire train command center, like BNSF Ry. 999000.
As you can see, there are plenty of options for using cabooses on and off the rails. Learn more about the full-size cars in Guide to North American Cabooses by Carl R. Byron with Don Heimburger.
Riding (shoving) platform
You're probably thinking, "Wait, that looks like a caboose." Well, you're right. But take a closer look. The windows and doors are plated over. The former Soo Line caboose has been converted to a riding platform by Canadian Pacific.
I'm more familiar with riding platforms used on the BNSF Ry. The windows and doors on its cars are similarly covered. Some of the cabooses have been repainted. Others are battle worn, covered in rust and graffiti like this Soo Line caboose. Almost all are stenciled "Riding Platform Only" or something similar. Basically, the railroad is using the caboose for its covered end platforms to keep crews safe and out of the elements during long shove moves. The riding platforms are also equipped with peanut whistles or an air horn for use at grade crossings.
Check out my article "How to model a riding platform" in the November 2013 issue to learn how I modeled one of these cars for our HO scale Milwaukee, Racine & Troy.
Maintenance-of-way car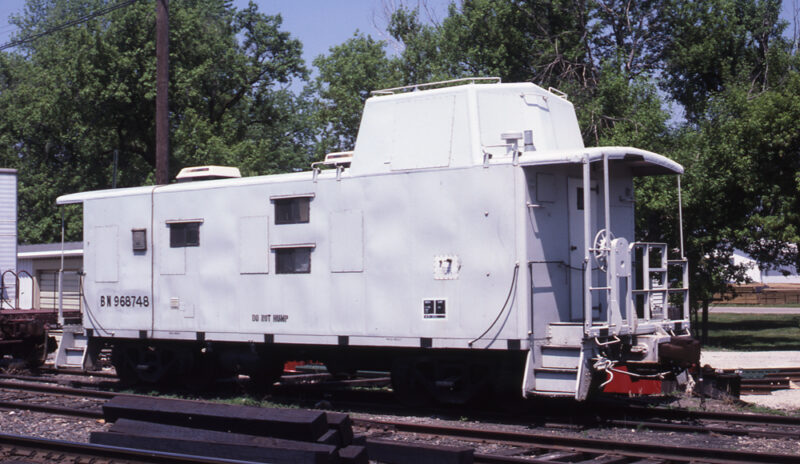 Burlington Northern turned to cabooses to replace its aging fleet of boxcars and passenger cars that were being used as maintenance-of-way bunk cars. In 1985 and 1986, the railroad's Springfield (Mo.) Freight Car Shop converted surplus cabooses into bunk cars. The original caboose windows were plated over and new, sliding windows were installed. Other features included bunk beds, RV-style air conditioners, and propane heat.
Re-creating cabooses like this would be a fun project. Start by using thin styrene to plate over the existing windows. Then install smaller windows from Tichy Train Group (search "Work car windows"), as well as a couple of RV-style air conditioners on the roof and maybe a retractable TV antenna. A simple light gray paint scheme like BN used would help the caboose stand out in your freight car fleet.
Crew support cars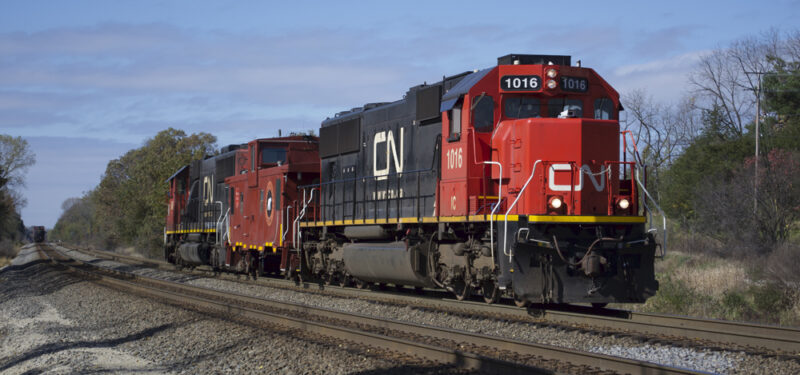 Test trains, such as the one shown above; special movements, like Schnabel cars, certain high-wide loads, and some military movements; and loads with nuclear material are accompanied by one or more cabooses. In trains with multiple cabooses, like Schnabel cars, the caboose in front of the load is usually occupied by representatives from the shipper and consignee. The rear caboose is used for the brakeman, conductor, and other railroad employees.
What do you need to re-create crew support cars? In some cases, it can be a standard caboose from your railroad's fleet. In other instances, it may be a caboose lettered for the Department of Defense, Kasgro Rail, or Specialized Rail Transport, among others.
Atlas offers the Specialized Rail Transport caboose in HO and N scales.
Circus City Decals produces an HO scale set for Kasgro Rail cabooses.
Static display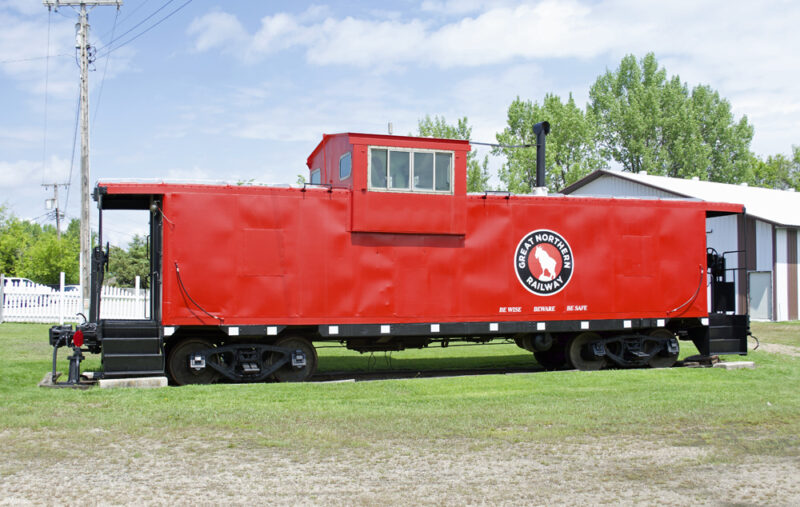 When the caboose era ended, many cars wound up being put on static display in parks and at museums. In some cases, historically significant cars have been saved because of this, as I wrote about in "Burlington Northern caboose prototype: Car no. 11711" elsewhere on Trains.com.
I've seen a variety of paint schemes applied to cabooses on static display. Some are repainted to look similar to how they did when they were in service, such as Burlington Northern 11368 in Verndale, Minn. Others are in schemes loosely inspired by the prototype or are completely fictional. Though the Great Northern served Crookston, the caboose shown above was never operated by the railroad or painted in that scheme.
The easiest way to incorporate a static caboose display on your layout would be to have it as part of a trackside park scene. The caboose would be the centerpiece, with or without a fence around it. Then add some trees, picnic tables, and playground equipment nearby.
Working historic pieces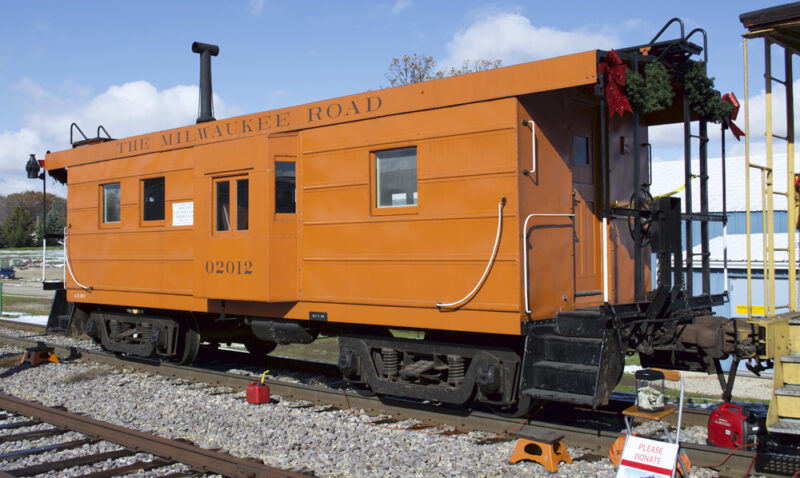 Thanks to the hard work of museums, tourist railroads, and preservation groups, some older cabooses continue to ride the rails. In southeastern Wisconsin, two examples are Milwaukee Road ribbed-side bay-window caboose 02012 and Soo Line plywood-sheathed offset-cupola caboose 268. They often accompany Soo Line 2-8-2 Mikado 1003 on photo charters and trips to various communities on host railroad Wisconsin & Southern's system. The bay-window caboose is also Santa's headquarters when the train visits Hartford, Wis., for the annual Christmas parade in November.
Here are a few ways you could add historic cabooses to your layout. If space is at a premium, occasionally add a short train of vintage equipment to your operating sessions. The train could show up for community anniversaries, festivals, or holidays. A preserved steam or diesel locomotive, a few period-accurate freight cars, and a caboose is all you need.
If you have more room, make cabooses part of a tourist railroad or operating train museum. The setup could be as simple as an end-cab switcher and caboose running on a loop of track, or you could incorporate one or more cabooses in a longer train.
Living quarters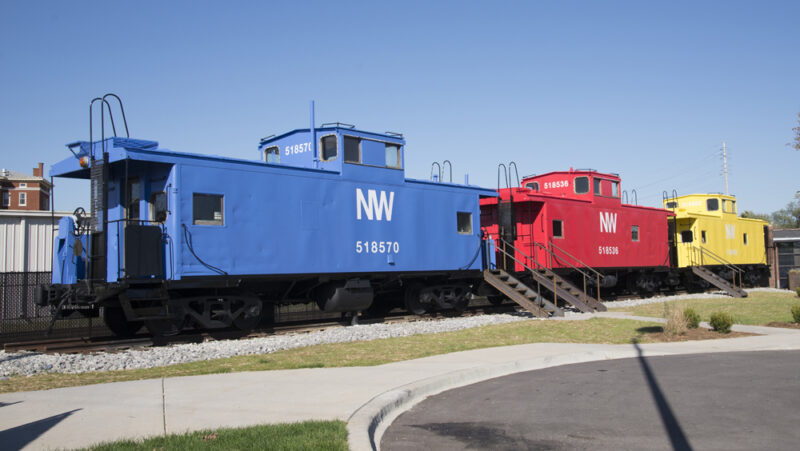 Over the years cabooses have been used for a variety of living quarters, including hunting lodges, cabins, and hotels. A new use to me was apartments. The Norfolk & Western cabooses shown in the photo above, taken on October 23, 2016, are at the Germantown Mill Lofts in Louisville, Ky. Each semi-furnished car has 330 square feet of living space and features a renovated kitchen, a full bathroom, and space for a bed.  Oh, and on the opposite side of the fence is an active CSX line.
Few cabooses that have been converted into living quarters are alike, so use prototype photos as a guide for modeling. A caboose cabin, hotel, or apartment would certainly be a talking point when guests and operators visit your layout.
Billboard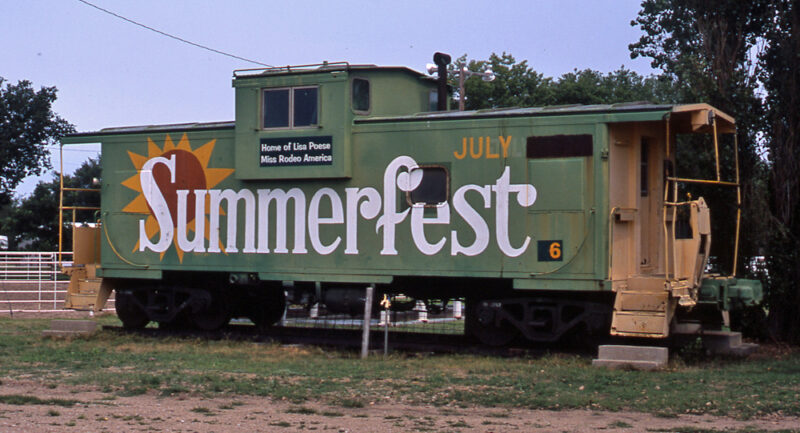 When you hear "billboard," you probably think of a big sign attached to a post or the side of a building, not a caboose. But when you think more about it, cabooses make great billboards. Most have large, relatively smooth sides that are free of obstructions. They're low to the ground so they're easy to paint, affix a sign to, or cover with a vinyl wrap.
During a family trip to Nebraska in 2007, I spotted ex-Burlington Northern caboose 12062 at the O'Neill Fairgrounds along U.S. Highway 281. The caboose was still in green and yellow paint, but now had "Summerfest" across the side. The 12602 has since been repainted with new graphics.
Putting a caboose near the edge of a town scene advertising a local festival or business would add visual interest to your layout. I would look for a budget-friendly model at a swap meet or the bargain box at your local hobby shop. Give it a fresh coat of paint. Then add the graphics with waterslide decals or print them on paper and attach them directly to the model.