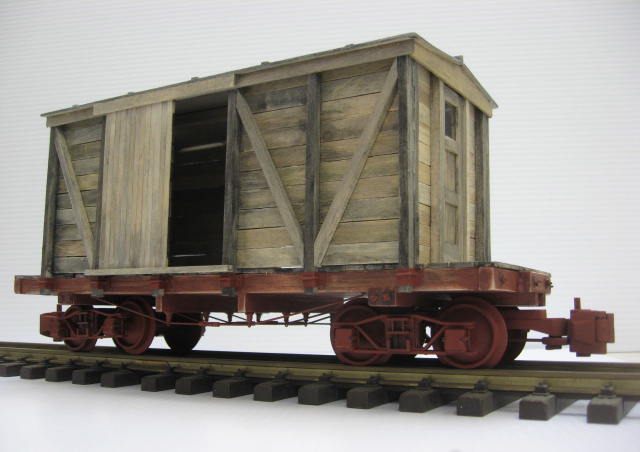 It's been common practice for railroads to modify antiquated rolling stock to suit a particular need for Maintenance of Way (MOW) equipment. An old flatcar no longer of use for main line service often became an asset for work trains. The flatcar could be repaired, lightly modified, and put into service looking much like it did when initially manufactured. However, it was not uncommon, using the flatcar as a starting point, to make a half gondola, full gondola, work car, derrick car, or even a boxcar. The possibilities are endless. From these observations the idea for the 6-in-1 freight car was born.
Our garden railroading club, Cedar Valley Garden Railway Society, hosts two or three model building projects each year. Although our active members enjoy these projects, it's a bit of a challenge to develop projects that cater to everyone's desires. Not everyone wants a furniture factory or a suspension bridge. The 6-in-1 freight car project allows a high degree of individuality and flexibility in a club sanctioned model build. We attempt to perform much of the construction at our club meetings to provide guidance, share techniques, and foster comradery.
I developed construction drawings to instruct the builders of the requirements and dimensions.  Note: The project here is done for 1:20.3 scale, but you are welcome to adjust the project to suit your needs. Download a free scale conversion chart here.
Large-scale flatcar project exploded drawing
Large-scale flatcar project top and end view drawing
Large-scale flatcar project pencil markings for queen posts
Large-scale flatcar project bottom and side view drawings
Large-scale flatcar project truss rod locations
Large-scale flatcar project door construction drawings
The car build begins with all members building the same starter flatcar (see exploded diagram PDF above). Other than member-supplied trucks and couplers, the car is built from materials purchased by the members through the club. Other than brake wheels, lock pawls, stirrups and brake staff bracket, most materials are "raw" and need to be modified to represent the car.
The flatcar frame is 3/8" x 4" x 12" pine board with craft stick decking. The stake pockets are styrene square tubing cut to short lengths, then glued to a styrene back plate and wrapped with fabricated green floral wire. Stakes are 3/16" x 3/16" basswood cut to length. Truss rods are .047" music wire cut to length and shaped with pliers. Turnbuckles are fabricated from short lengths of styrene round tubing with a filed opening.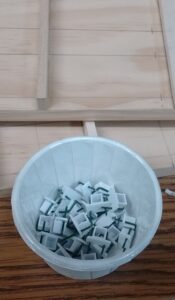 Queen posts are fabricated from brass earring backs and small cotterpins. Bolsters, draft gear timbers, needle beams and end sills are cut to length from various stock shapes of basswood. The car is painted and/or weathered and trucks/couplers are installed. After installing the stirrups and brake assembly, the member can stop the build and have a completed flatcar.

The Cedar Valley Garden Railway Society regularly hosts model building projects. They attempt to perform much of the construction at club meetings to provide guidance, share techniques, and foster comradery. Photo by Dale Solum


Clamps secure this build in place while the glue dries. The stakes are 3/16" x 3/16" basswood cut to length. Photo by Dale Solum


Wood used for this project includes basswood, wood craft sticks, and pine. Photo by Dale Solum


The author's finished project. Photo by Dale Solum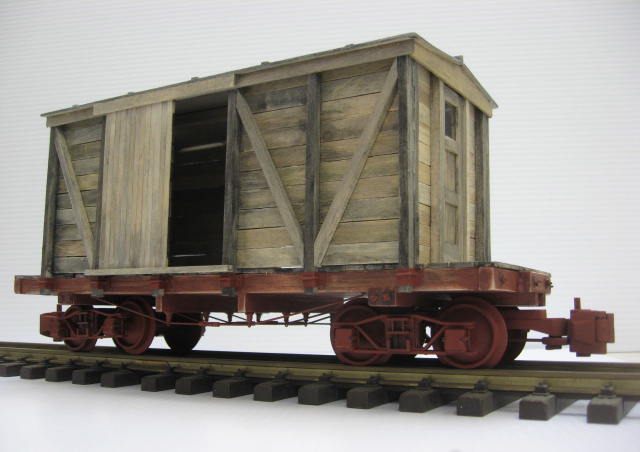 The boxcar version of this project. The wood was aged with India ink and alcohol. Photo by Dale Solum


This finished project includes a load of barrels, tools, and more. Photo by Dale Solum


This version also uses wood "aged" with India ink and alcohol. Photo by Dale Solum