Union Pacific Challenger: Railroad slogans are one of the industry's lost arts. The old ad men and promoters who came up with them were geniuses. Remember when phrases like Water Level Route or Main Line of Mid-America told you so much about a particular railroad? The best ones spoke of far-flung places, and how to get there: Main Street of the Northwest; Everywhere West; Through the Heart of the South. They don't write 'em like that anymore.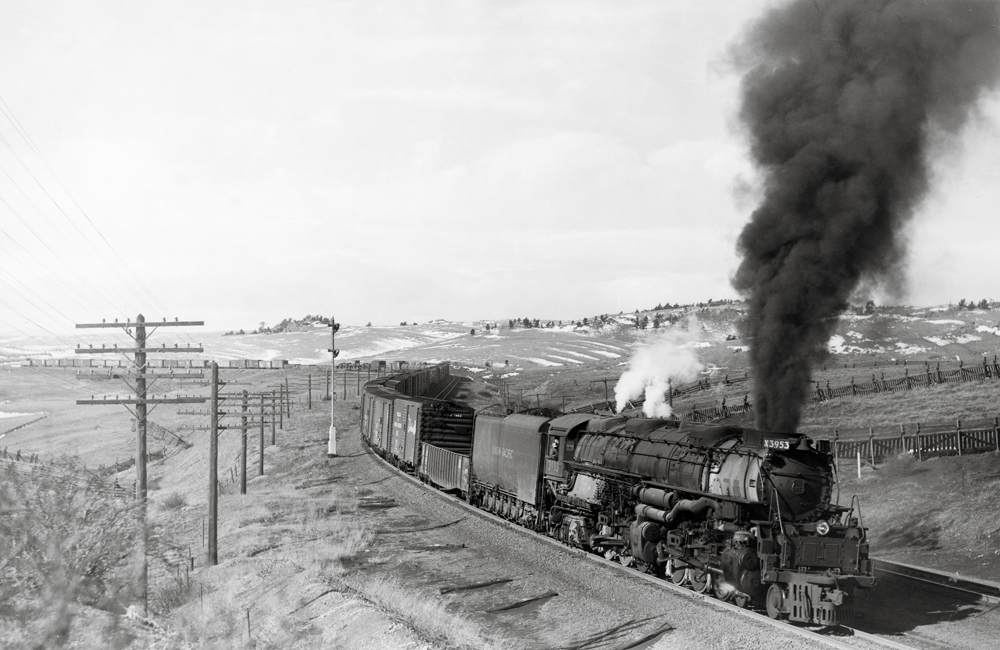 Of all these slogans, the one that strikes me as most mythic is "Overland Route." It conjures images of stagecoaches, John Gast's painting American Progress, track-laying gangs of the Central Pacific and Union Pacific, Cecil B. DeMille's epic film Union Pacific, and a dusty outpost where a golden spike was driven. Closer to our own time, it means yellow City streamliners flashing across the Nebraska prairie, midnight sleeping-car moves at Ogden, and 4-8-8-4s storming up Sherman Hill.
The latter image is of particular interest, now that Union Pacific Challenger No. 4014 is scheduled to come out of UP's Cheyenne shop and prove once again why someone at Alco coined the phrase "Big Boy." Like thousands of others this spring, I plan to be there to witness the spectacle.
I'm sure I'll thrill to the sound and feel of 4014. It's a 595-ton superlative. But when I think of the word "Overland," my imagination fixes on an entirely different class of steam locomotive, the one that preceded Big Boy. To me, the Overland Route was the kingdom of the Challenger.
Introduced in 1936, the burly but relatively compact 4-6-6-4 was designed to replace UP's 9000-class 4-12-2 monsters, putting an equally prodigious boiler atop a much more versatile jointed frame. The Challenger was arguably the most successful simple articulated of all time. UP had 105 of the total of 252 built, and converted a number of them to oil fuel, allowing them to roam the system far and wide.
Other railroads were impressed. The Challenger type eventually found work on eight other carriers, in places as disparate as Bozeman Hill on the Northern Pacific, Ararat summit on the Delaware & Hudson, and deep in the Appalachians on the Clinchfield. And they were more than simply freight haulers. "A 4-6-6-4 could and did work heavy passenger trains with no apology," wrote David P. Morgan, "and in the words of one expert it rode as well at 60 to 70 miles per hour as any articulated ever built."
Some of my admiration for Union Pacific's Challenger is based on the sheer number of 4-6-6-4s the railroad fielded. Some of it is based on the frequency with which Challengers show up in steam-era photographs of the UP. Over the years I've pulled too many to count from the Kalmbach files; they were favorite targets of Dick Kindig, Robert Hale, Wally Abbey, and other greats. And some of it is based on a very special day in September 1990, when I rode the cab of UP No. 3985 for 120 miles from Cheyenne to Lodge Pole, Nebr., during the heyday of the Challenger's excursion career.
There's a lot to remember about that day: the immensity of that boiler back head, the spaciousness of the cab, the sonic high of double exhaust, the precision and intensity with which UP steam boss Steve Lee and his crew ran the engine. But most of all I remember the smooth ride. I'd ridden in a number of mainline engines by that time and the watchword usually was "hang on!" Not quite so the cab of 3985. It was a surprisingly comfortable place to be.
That was precisely what UP and Alco had in mind when they made an important revision to the 1942 class of 20 Challengers. Without going into technical detail beyond my pay grade, the locomotive designers took a hard look at the way both front and back engines were attached to the boiler and made some changes to contact surfaces and hinge pins, all to make the best single-expansion articulated even better.
On that last claim, don't take my word for it. In his forthcoming book from Indiana University Press, American Steam Locomotives: Design and Development, 1880-1960, the late William L. Withuhn sees all the Challengers — Union Pacific's and everyone else's — as the ultimate expression of steam design. "Whatever the priority of invention, the simple-expansion articulated had been developed in just three decades from a ponderous and specialized beast into a fast, flexible, and potent machine… [Their] contribution to railroad economics was disproportionate," Bill writes.
The 3985 shared in that contribution. The engine is dormant today, resting offstage while 4014 (as well as 4-8-4 No. 844) get all the limelight. But it remains on UP's active roster, sharing the same PTC exemption as the other two engines. I'll be celebrating the 4014 this spring, but I won't forget for a moment that the 3985 is parked over in the Cheyenne roundhouse, waiting for another chance to rule the Overland Route.
EDITOR'S NOTE: This essay ran in the Spring 2019 issue of Classic Trains. The Union Pacific Challenger 3985 has since been committed for donation to Railroading Heritage of Midwest America in Silvis, Ill.