Delaware & Hudson history dates from 1823, when the Delaware & Hudson Canal Co. was chartered to build a canal from Honesdale, Pa., to Rondout, N. Y., on the Hudson River. The canal would carry anthracite coal from mines near Carbondale, Pa., to New York City. The mines would be served by a gravity railroad with stationary engines and cables for the uphill runs.
D&H imported four steam locomotives from England in 1829. They proved too heavy, but one, the Stourbridge Lion, earned D&H the distinction of operating the first steam locomotive in America.
D&H increased its coal holdings as the demand for anthracite grew. In 1863 the company proposed a railroad north from Carbondale to a connection with the Erie Railroad at Lanesboro. The Erie built the Carbondale-Lanesboro line in 1868, and three years later, the D&H extended it north to a connection with the Albany & Susquehanna at Nineveh, N. Y. D&H leased the A&S for access to Albany and to keep it from falling into the hands of Jay Gould and Jim Fisk.
About that same time, D&H built south to Scranton from Carbondale and found itself more a railroad than a canal company—a railroad with three track gauges. The gravity lines had a 4-foot, 3-inch gauge, the Albany & Susquehanna was built to the Erie's 6-foot gauge, and the Carbondale-Scranton line was standard gauge.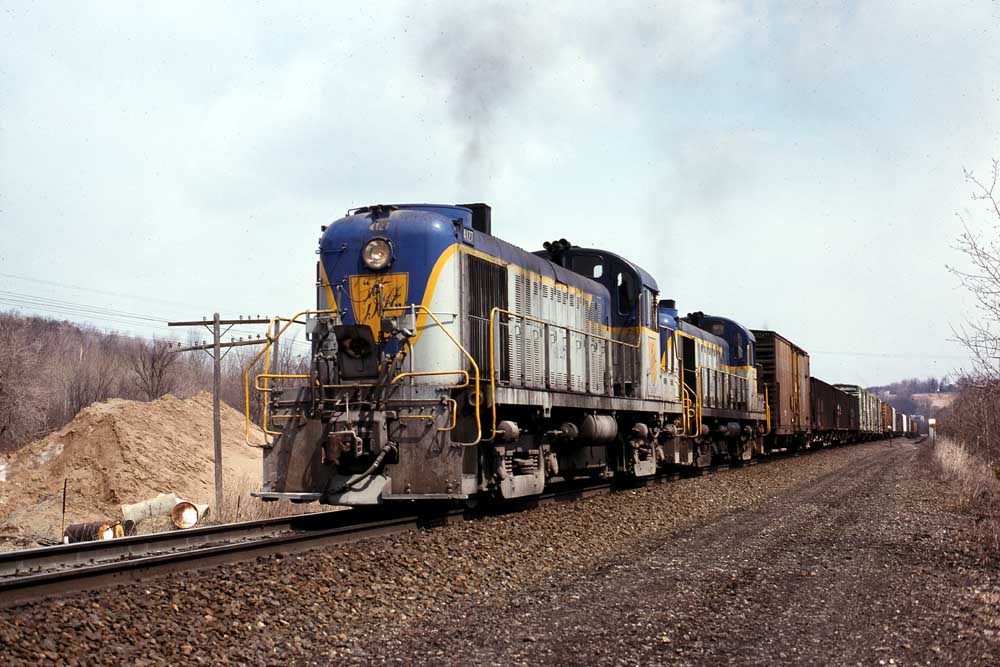 Rensselaer & Saratoga
The Rensselaer & Saratoga Rail Road was chartered in 1832 to build a line from Troy, New York, north to a connection with the Saratoga & Schenectady, which was under construction from Schenectady north to Saratoga Springs. The R&S obtained control of the S&S in 1835.
Construction of the Saratoga & Washington Rail-Road began in 1836, but the railroad did not reach Whitehall, at the south end of Lake Champlain, until 1848. An eastward extension reached Rutland, Vt., in 1850. The company endured some financial difficulty before being leased by the Rensselaer & Saratoga in 1865, the same year the R&S also leased the Troy & Rutland and Rutland & Washington railroads, which formed a route from Troy north along the New York-Vermont state line to Rutland.
North to Canada
The Hudson River and Lake Champlain formed a natural route from New York to Montreal, but it was unusable in winter. A rail route through Vermont was in place by 1849, but there was none on the New York shore of Lake Champlain. In 1852 the Plattsburgh & Montreal Rail Road and two Canadian roads were completed from Plattsburgh, almost at the north end of the lake, to Montreal. There was little local business to support it.
In 1866 the Whitehall & Plattsburgh Rail Road was chartered to join Whitehall and Platts­burgh. Two disconnected pieces of line were built, and the company was leased by the Rutland, which sought a route to northern New York and Canada that bypassed the Vermont Central. Soon afterward the VC leased the Rutland.
New York residents knew that power struggles by the two Vermont railroads would not get a railroad built through their area, and the Vermont roads would funnel commerce to Boston, not New York City. The D&H backed local residents in organizing the New York & Canada Railroad, which absorbed the Whitehall & Platts­burgh and the Montreal & Plattsburgh (successor to the Plattsburgh & Montreal) in 1873. The line was opened between Whitehall and Plattsburgh in 1875, completing an Albany-Montreal route.
In the 1880s the D&H built west from Plattsburgh to an iron-mining area at Lyon Mountain, then south to Lake Placid. By 1900 D&H's interests included hotels and steamboat lines on Lake Champlain and Lake George and a network of electric railways around Albany. In 1898 D&H sold its interests in the Rutland, sold the canal, and converted the gravity railroad to standard gauge.
Two railroads in Canada came into the Delaware & Hudson family. In 1906 D&H purchased the Quebec, Montreal & Southern, which extended from the border to St. Lambert, opposite Montreal, then northeast to Pierreville, Que. More important was the 28-mile Napierville Junction Railway, opened in 1907 from Rouses Point, N. Y., on the border, north to Delson and connections with Canadian Pacific and Canadian National (to use modern-era names).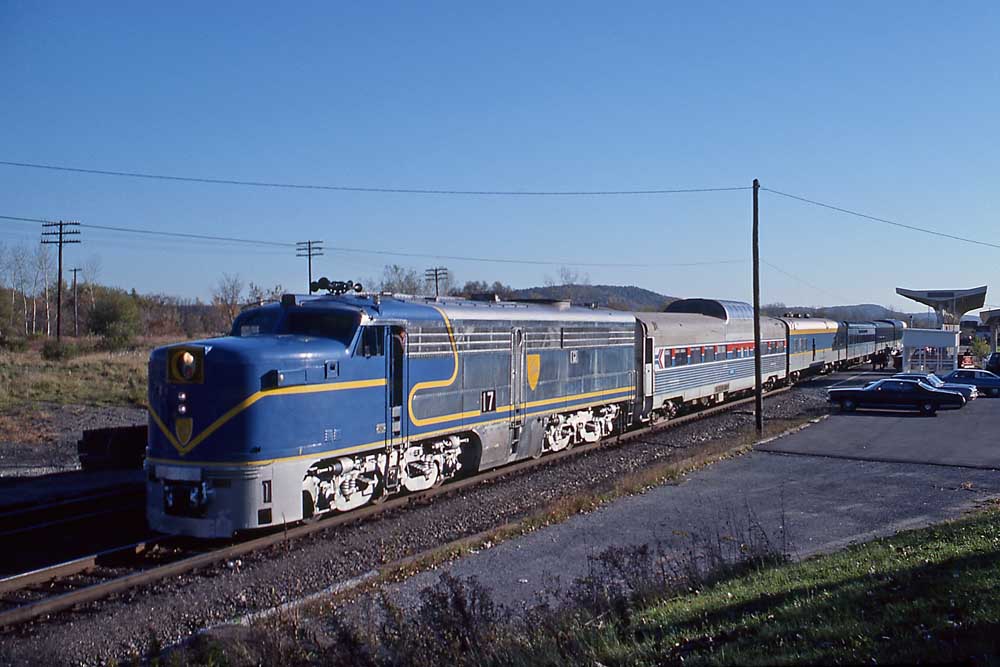 The Loree era of Delaware & Hudson history
Leonor F. Loree became president of the D&H in 1907 after working on the Pennsylvania and the Baltimore & Ohio. He undertook an upgrading of the D&H, but he had definite ideas about locomotives. He shunned most advances in steam locomotive technology — the initial demonstration of Lima's Super-Power concept took place practically under his nose — and pushed the Consolidation type to its limit. The road's traffic was primarily coal — not a time-sensitive commodity — and speed was secondary to tractive effort.
By the time Loree retired in 1938, oil had begun to replace coal for heating, so D&H turned its attention to developing bridge traffic (traffic received from one railroad and passed to another) from the Midwest to New England and Canada. To accelerate its trains, D&H bought two groups of modern locomotives: 4-6-6-4s for freight and 4-8-4s for dual service. They arrived on the property just in time for the traffic increases of World War II.
D&H sold its hotels and steamboats in 1939, and abandoned its circuitous route to Lake Placid in 1946. In 1943 it merged the Rensselaer & Saratoga and the Albany & Susquehanna. D&H dieselized quickly in the early 1950s with utilitarian road-switchers instead of streamlined cab diesels.
Search for a merger partner
In 1957 D&H studied merger with Erie and Delaware, Lackawanna & Western, but was deterred by the long-term debt of those roads. D&H sold off its coal interests and asked to be included in the 1964 Norfolk & Western merger because the impending merger of the Pennsylvania and the New York Central would surround it.
Frederick Dumaine Jr. became president of the D&H in 1966. He upgraded the road's passenger trains for traffic to the 1967 world's fair at Montreal. He proposed two alternate courses for D&H: independence or inclusion in a merger of the major roads of New England. New management took over in 1968 after a proxy fight. Dereco, a subsidiary of N&W, acquired control of D&H, but it was never considered part of the N&W system. D&H entered a period of joint management with Erie Lackawanna, also owned by Dereco.
With the 1976 formation of Conrail, D&H was given trackage rights to Buffalo, N. Y., Newark, N. J., Philadelphia, and Alexandria, Va., via Harrisburg, Pa. (reflected on the map at left). It sought loans from the United States Railway Association to compete with Conrail, yet USRA's mission was to ensure that Conrail succeeded. D&H's parent N&W provided no help. Management changed frequently, but D&H lost more money.
On Jan. 4, 1984, Guilford Transportation Industries purchased the D&H and began to consolidate its operations with Boston & Maine and Maine Central. D&H entered bankruptcy in June 1988, and New York, Susquehanna & Western was designated to operate it while Guilford put it up for sale. CP Rail purchased the D&H in January 1991, eyeing D&H's trackage rights to Washington, Philadelphia, and Newark, in the light of the U. S.-Canada free trade pact of 1990. CP rehabbed the D&H and began regular freight service to Philadelphia and Newark.
The office functions of the D&H were combined with those of parent CP Rail in Montreal, then moved to Calgary, Alberta. D&H's identity, like that of CP's other U.S. subsidiary, Soo Line, gave way to that of CP Rail System — and CP formally absorbed D&H in 2010, thus ending Delaware & Hudson history.