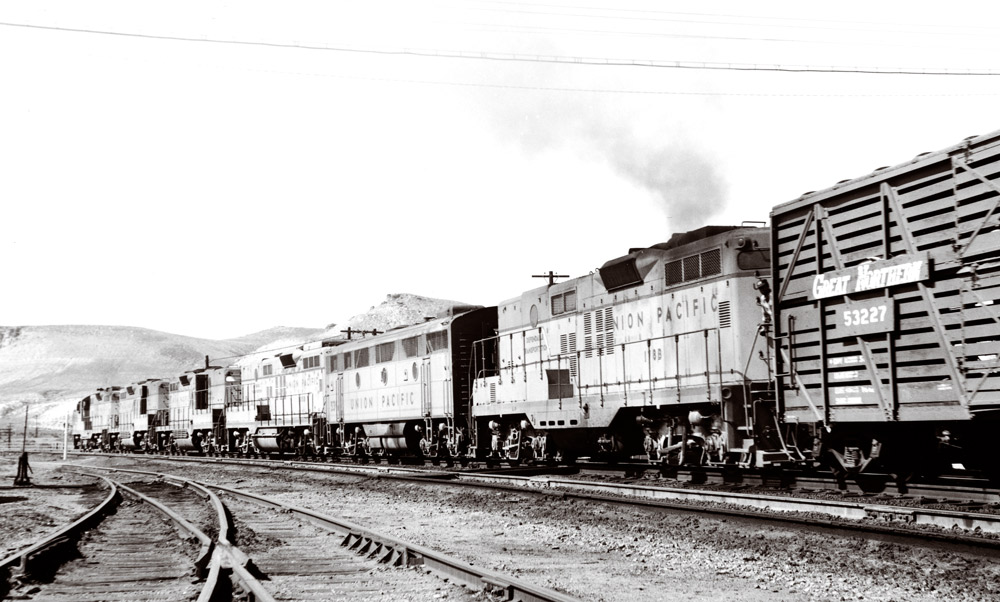 By the mid-1960s, the appearance of F units on freights along Union Pacific's main line through southern Wyoming was rare to nonexistent at best. All of the road's F3s and F7s had been traded to EMD by the end of 1964 for replacement units in the form of GP30s, GP35s, and DD35s.
However, there was a pocket of 41 F9As and 43 F9Bs that were operating on UP's Northwestern District that ran west from Green River, Wyo., to Portland, Ore., and they were also utilized on the Spokane International from Spokane, Wash., to Sandpoint, Idaho. These units were rebuilt from UP 1500-class F3s to F9 specifications by EMD in 1958–59 and subsequently renumbered in the 500 series: 500–540 for the cabs, 500B–542B for the boosters.
But in 1966 their ranks began to thin. At the end of that year, UP sent 14 A units and 21 Bs to EMD as trade-ins for new SD40s. En route to La Grange, Ill., for further disposition, the Fs could be seen working on eastbound freights along the UP main line. The occasional appearance of those classic locomotives fueled my desire to photograph them.
To that end, fellow railfan and University of Wyoming student Bill Wolverton and I decided to make a trip from Laramie to Green River on the evening of September 22, 1967. We rode UP's heavy mail and express train 5, which often ran in excess of 20 cars in length with a single rider coach bringing up the markers and was powered by four or five E units. We boarded No. 5 in Laramie at 10:30 p.m. and covered the 251 miles to Green River in just under 5 hours, arriving there around 3:30 a.m. We attempted to grab some sleep on the train, with little success. Then we tried to doze on the hard, cold benches in the Green River depot before daybreak.
At first light of September 23, we walked to and crossed a footbridge that was conveniently located above the UP engine terminal just west of the depot. On one of the turntable leads was a six-unit set of five GP9s (four of which were GP9Bs) and a single F9B. We were in luck! Surely, we thought, where there is one F9, there would be others.
With that, we walked west along the main line to a point where the tracks crossed the town's namesake, the Green River, less than a mile from the depot. There, we waited for more F9s, which would surely show, but the expected covered wagon parade did not materialize. Instead, we were treated to DD35s, E units on the eastbound City of Portland, 8,500 h.p. gas turbine No. 16, a four-unit set of rare SDP35s, and the aforementioned GP9/GP9B/F9B set on a westbound.
However, our window of opportunity was getting short. We chose to return to Laramie on train 104, the City of Los Angeles, scheduled to depart Green River at 12:40 p.m. We started our trek back to the depot but first returned to the footbridge for a few more photos, then checked the roundhouse again. With no more F9s in sight, we went to the depot and boarded No. 104.
As we took our seats in a dome coach, we were tired and somewhat dejected about our lack of success. We considered the possibility that that lone F9B may have been the last F unit we would ever see in service. We did not have much to show for our F-unit safari.
But on reflection, all was not lost at Green River that day. We did get the opportunity to photograph some of Union Pacific's diverse power including double diesels and gas turbines. Plus, our visit to the eight-stall roundhouse there revealed several treasures inside, including Big Boy 4005, 2-10-2 5511, and Lima-built steam rotary plow 900075. In addition, our trip back to Laramie on the City of Los Angeles was memorable. East of Rock Springs across Wyoming's Red Desert, with the heavy exhaust of the E units curling down and engulfing the long train, Bill timed our speed at 100 mph. Our arrival in Laramie was around 5 p.m., time for supper and an early bedtime.
Of the remaining F9s on the UP roster, 7 more A units and 9 Bs were retired by the end of April 1968, leaving 19 As and 13 Bs. Then a minor miracle happened. In June of that year, the F9s began to operate across the Wyoming and Nebraska divisions, sometimes in perfect A-B-B-A combinations. They were coming through our territory now — no need for any long photo safaris to capture them on film.
Union Pacific's F-unit era ended for good in February 1972, when the road sold its remaining F9s to the Rock Island. It was a great show while it lasted.