I still remember riding trains in the 1940s.
During my pre-school and primary school days we lived on the South side of Chicago near 76th and Coles Avenue. My father worked at the Wisconsin Steel Division of the International Harvester Co. making steel for the war effort and for civilian use following the completion of the war.
My fascination with trains resulted from a number experiences in those years. My brother and I spent hours viewing the beautiful O scale layout that had been donated to the Museum of Science & Industry by the Santa Fe Railway. I also remember the Railroad Fair that was held in Chicago following WWII and our annual trips to downtown Chicago to visit toy lands at the department stores, which featured display layouts designed to sell Lionel and American Flyer train sets for Christmas.
And there were the numerous train trips we took during the time we lived in Chicago. My parents grew up in the Horicon-Mayville, Wis., area. My grandfather had been and engineer for the Milwaukee Road and I had an uncle that fired for the Soo Line out of Ashland and North Fond du Lac at various times during his career. Because of gas rationing and other considerations, we always took the train to visit relatives in Wisconsin.
Most trips were on the Milwaukee Road: a Hiawatha to Milwaukee and then a local to Horicon. The local usually consisted of an Atlantic pulling three cars, a combined RPO-baggage car and two coaches. One highlight of these trips were the sweeping curves into Chicago's Union Station and the Milwaukee Road depot in Milwaukee. If you were sitting on the right (or left) side of a coach you would get a spectacular view of the engines and cars that formed the consist of the train you were riding in the 1940s.
Traveling at night during the war was particularly interesting. Because of the blackouts in effect you would step off the train onto a dark platform. One trip to visit relatives in Horicon during the holidays found us taking the Chicago & North Western 400 from Chicago to South Beaver Dam, Wis. Because it was the holiday season the train was crowded. I still have a vivid memory of stepping onto a dark platform and wondering if we would ever find our suitcases in the dark. (We did.)
In August 1945 we traveled by Soo Line to visit my uncle in Ashland, Wis. By this time the war had concluded in Europe but peace had not come to the Pacific. As a result, blackout regulations were still in effect. We left Chicago on train 17 at 5:50 p.m. and arrived in Spencer, Wis., at 2:31 a.m. I still have a memory of a bright light coming down the tracks as we stood on the platform waiting for our connecting train 117, scheduled for an 8:15 a.m. arrival in Ashland. I thought the train was going to run us over as it approached.
V-J Day occurred while we were in Ashland. The return trip to Chicago was not as dramatic as the trip to Ashland. I am not able to know exactly which trip this event occurred on, but I do remember a kind service man giving up a seat so my mother, brother, and I would have seats together.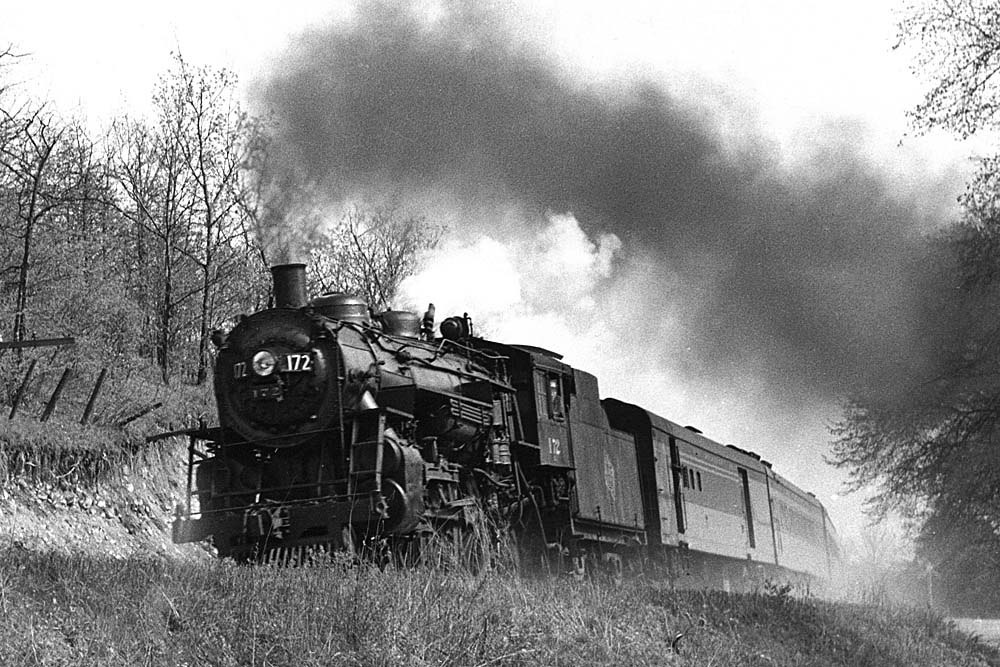 We continued to ride trains to visit relatives in Horicon. Each return trip proved more difficult as tears were shed when we had to board the train to return to Chicago. Finally, In December 1948, we moved back to Horicon. My mother, brother, and I proceeded my father by a few days. That was my last trip on the Milwaukee Road. I remember waiting for my father to arrive in Horicon after his last trip on the Milwaukee Road. A gentle snow was falling as I waited by the living room window for his arrival.
Since these early times of riding trains in the 1940s, I have been on excursion railroads, but that is for a later reflection.