My father was a closet railfan. He didn't hang around the tracks or take pictures of trains. On the other hand, he was always more than happy to take us kids to almost any railroad yard or station if we asked. And he never told us to stay away from the tracks, perhaps swayed by his own experience of hoboing from Wisconsin to the West Coast and back during the Depression.
When I was young, we lived in a small Massachusetts town served by one of several Boston & Maine branch lines emanating from Ayer. The crew of the daily peddler freight sometimes invited us kids up into the cab of their elderly Mogul or into their wood caboose. I can't remember Dad ever telling us to stay away from the train.
My real railfan days began when I was about 12. We moved into a house in Illinois where the backyard abutted two sets of tracks. Closest to the house was the North Shore Line interurban. Its double-track Shore Line route was in regular use in the early 1950s. The electric road's Highwood shops were about 3 miles south of us, guaranteeing a steady stream of interurban cars, freight trains, and work equipment past our house.
Fifty feet to the west were the busy Chicago & North Western tracks, with dozens of steam- and diesel-powered commuter trains daily, plus the streamlined yellow-and-green 400 fleet and occasional freight trains.
But it wasn't in Illinois that my father revealed his railfan secret. After all, the tracks and trains were right there and demanded only that we look out the window or walk to the backyard. It was our trips away from home, to Wisconsin and to my grandmother's house in Muskegon Heights, Mich., where he showed his true colors.
Michigan memories
Each summer, we'd spend a few weeks in Muskegon, with my father driving up from Chicago on weekends. My grandmother's house was on several acres and within viewing distance of the Pennsylvania's former Grand Rapids & Indiana line into Muskegon.
The PRR trains were mainly steam-powered. The exception was a gas-electric doodlebug that plied that hill-and-dale branch. I'd never before encountered such strange railway equipment. Dad often accompanied us on walks to the tracks to see that ungainly railcar.
During those vacations, Dad also took us on adventures around Muskegon. These included the Grand Trunk Western engine facilities, as well as the Chesapeake & Ohio's former Pere Marquette stub-end passenger station. On one of these adventures in 1957 I came across a locomotive like no other I'd ever seen. It was a C&O EMD BL2, running long-hood forward on a passenger train. By then I was carrying an inexpensive Kodak and captured it on film. Fifty years later that picture was to disprove the assertion by friends that C&O always ran its BL2's short-hood forward.
Grand Trunk diesels
But perhaps a more satisfying encounter was in 1958 when Dad took my brothers and me to the GTW engine terminal on a hot August weekend. It was quiet, with little activity except for the hissing steam and chugging air pumps. The lone worker there was friendly to us and even posed for some pictures.
I had two frames left on a roll of color film. I rarely used color then because of the cost. Fortunately, I had enough sense to use one of those frames for GTW GP9 4437, idling there in the sun, still shiny in the handsome green-and-yellow color scheme of GTW parent Canadian National.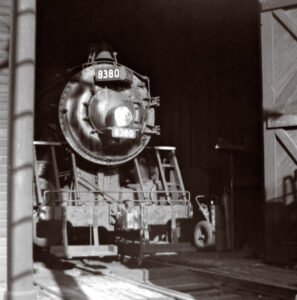 Switching to black-and-white, I shot the 8376, steaming quietly in the sun, from all angles. That done, I turned to No. 8380, also in steam, its front end barely emerging from the enginehouse doorway. By then, steam engines were becoming increasingly rare, and had already disappeared from my beloved C&NW. I knew these black beasts would soon join their sisters on the long, sad scrap lines, and then be unceremoniously cut up.
How wrong I was! Both of those eight-wheel switchers got extensions on life. GTW sold them to Northwestern Steel & Wire in Sterling, Ill., to be melted down. But, 8376 and 8380 were among several ex-GTW 0-8-0s that NSW retained as mill switchers. The mill went to diesels in 1980, and most of the 0-8-0s were preserved. No. 8376 is now displayed at Amboy, Ill., while 8380 is in the collection of the Illinois Railway Museum. Each time I visit her there, I'm reminded of that summer day in Michigan when fire still burned hot within her. Even the Geep I photographed that day in 1958 survives: Rebuilt and renumbered to 4626, it's still on the CN roster.
So, thanks, Dad, for revealing the secret railfan within you. Because of you, I got to see real steam locomotives and early diesels when they were in their prime in the long-ago 1950s.