UP Challenger No. 3985
On Jan. 6, Railroading Heritage of Midwest America began work on UP Challenger No. 3985 at its shop in Silvis, Ill. The main focus of the day was first to move the Milwaukee Road turntable from Bensenville, Ill., donated by Canadian Pacific to the Silvis sandblasting booth where it will be sandblasted and painted. At the same time, crews began stripping parts of the massive 4-6-6-4, including removal of the cab.
This series of photos taken by RRHMA crew members shows the work conducted that day at the Shop.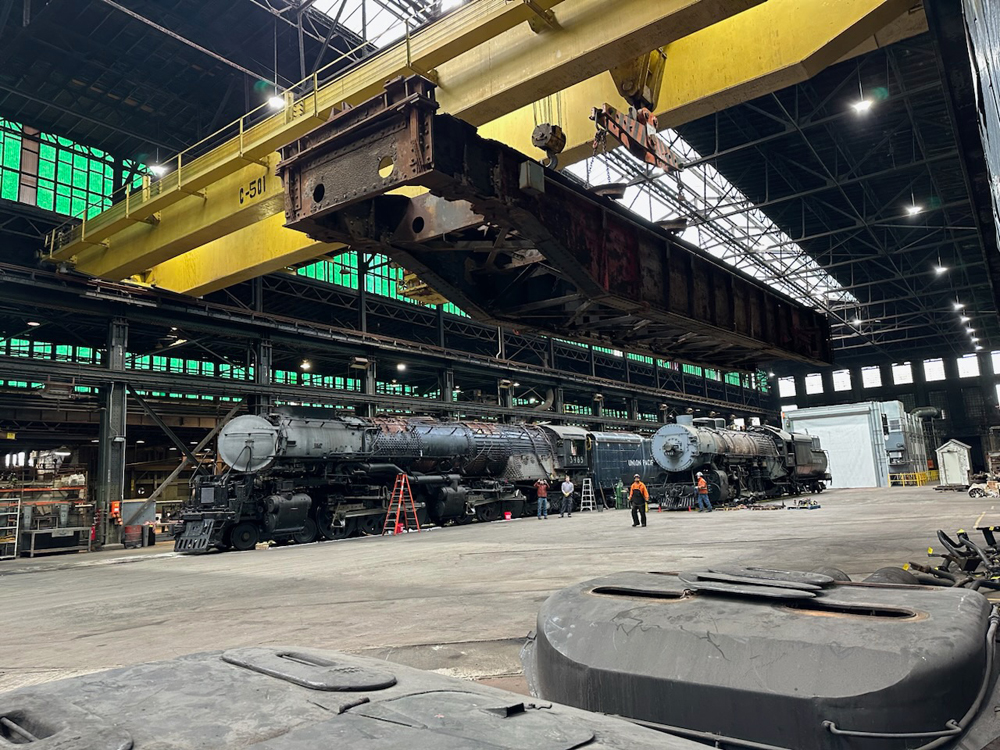 Up goes the turntable! With UP No. 3985 and 2-10-2 No. 5511 looking on, the former Milwaukee Road turntable is lifted and begins its trip across the shop. RRHMA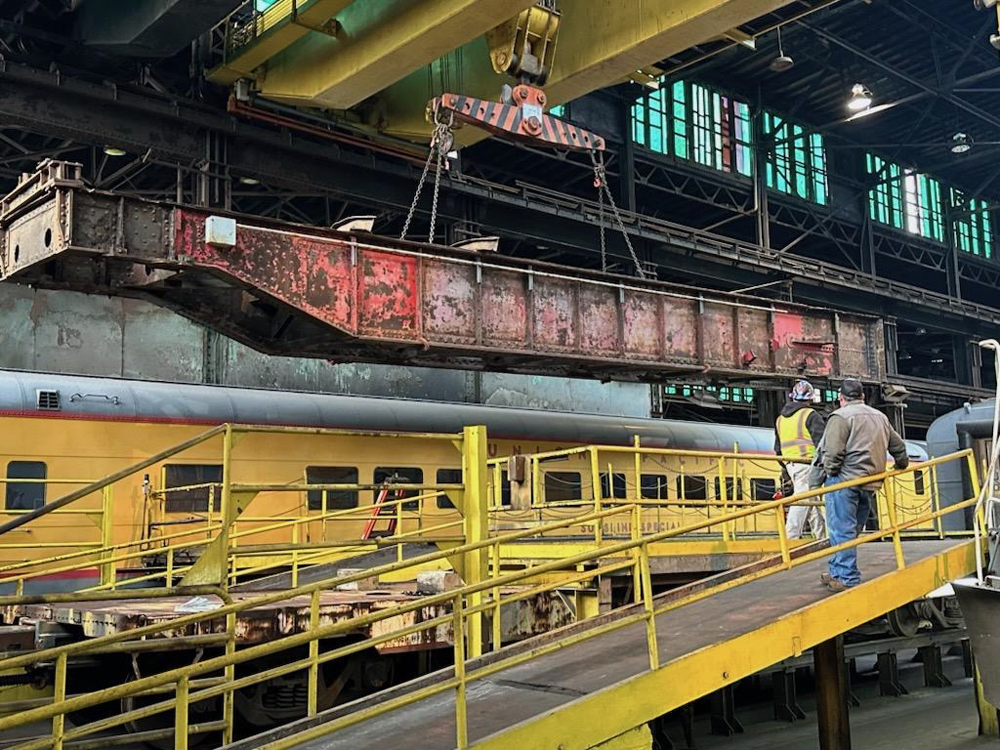 Continuing its journey, the turntable moves past UP coach Sunshine Special, one of several coaches donated by UP to RRHMA. RRHMA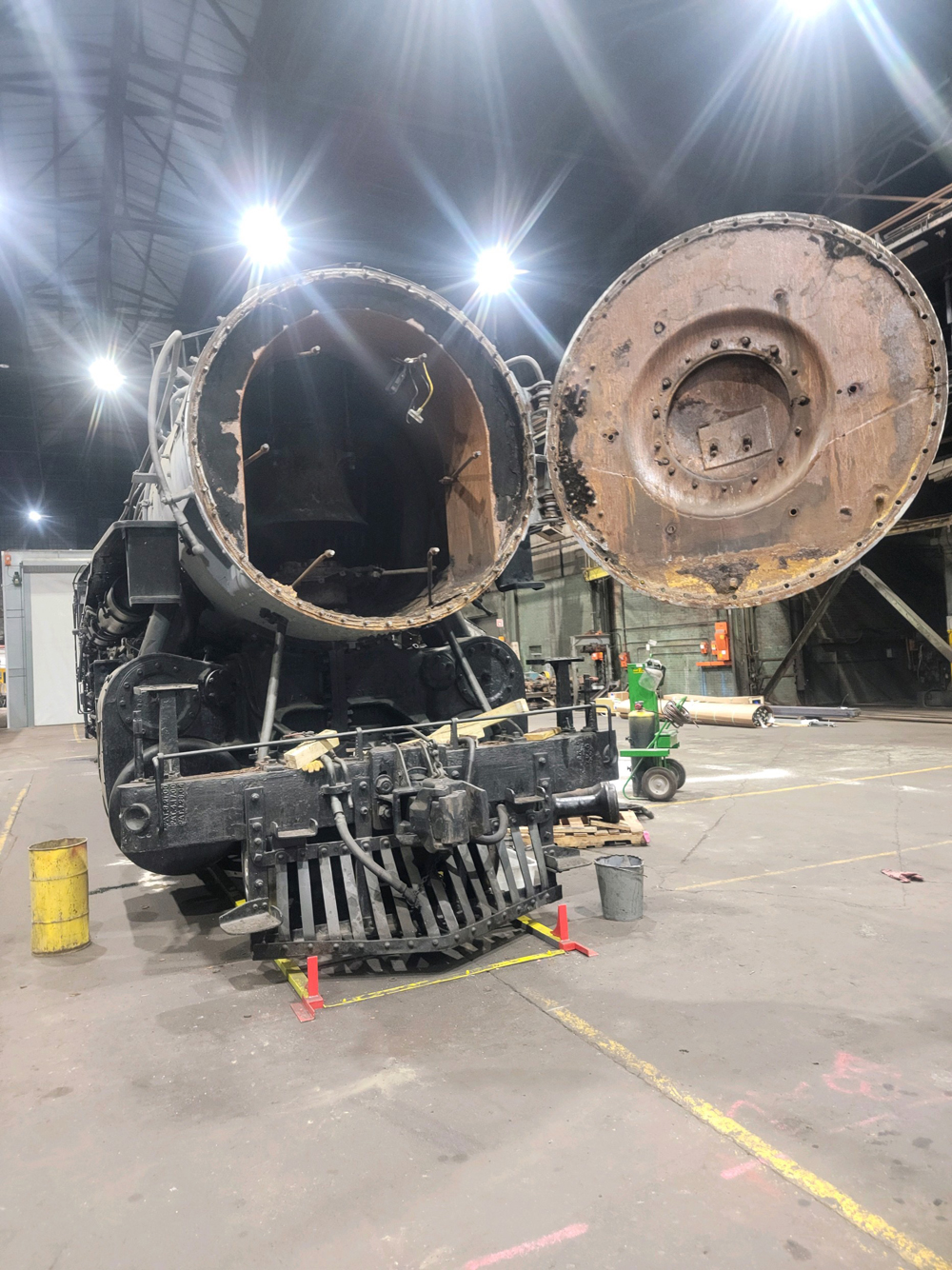 Open the door! The smokebox door of 2-10-2 No. 5511 is opened for the first time in years. RRHMA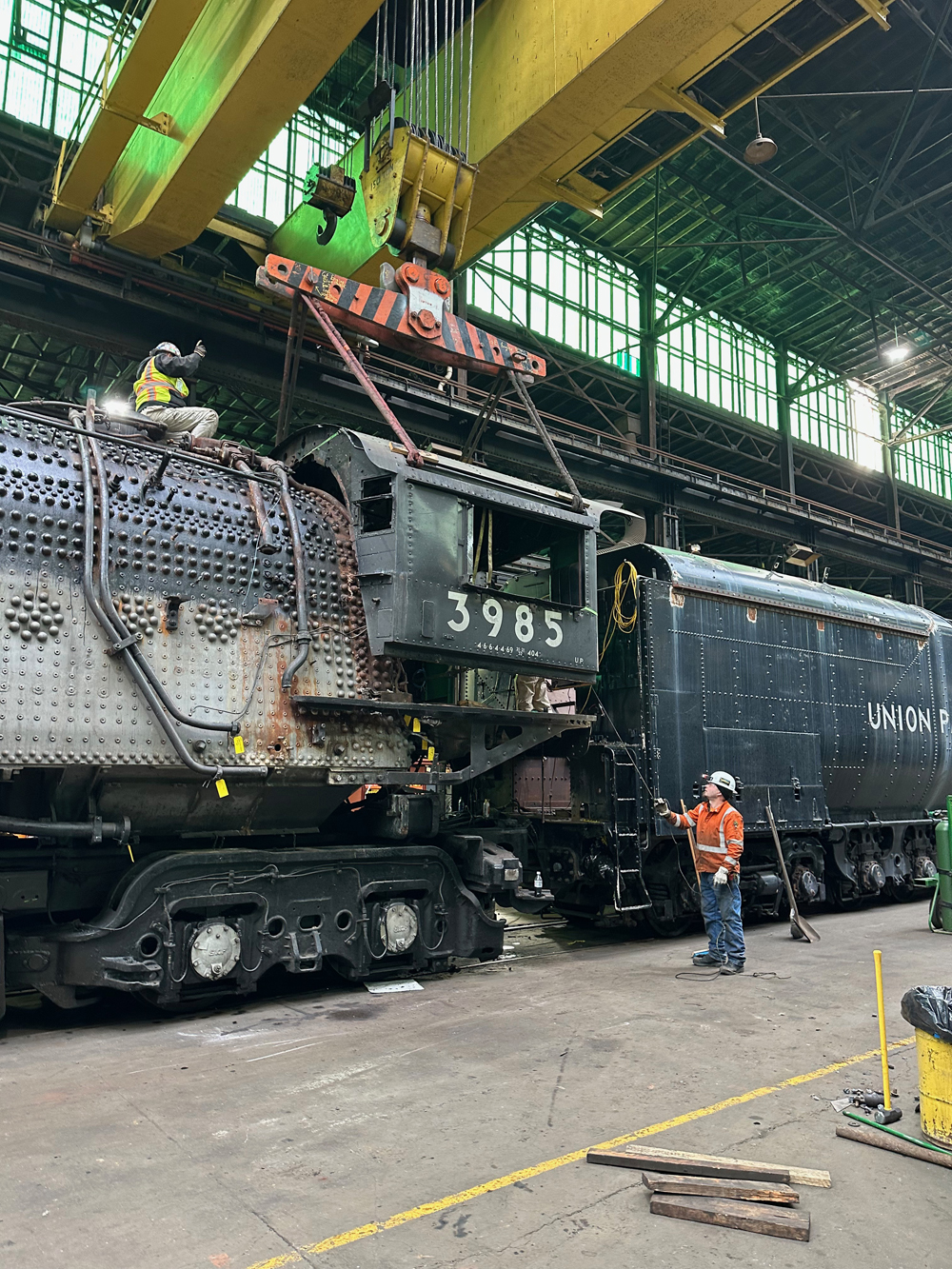 Time for a lift! The journey begins for No. 3985's cab. This was first time the cab was removed since the 1950s according to RRHMA President Steve Sandberg. When the engine was first restored in the 1980s the cab was not removed. RRHMA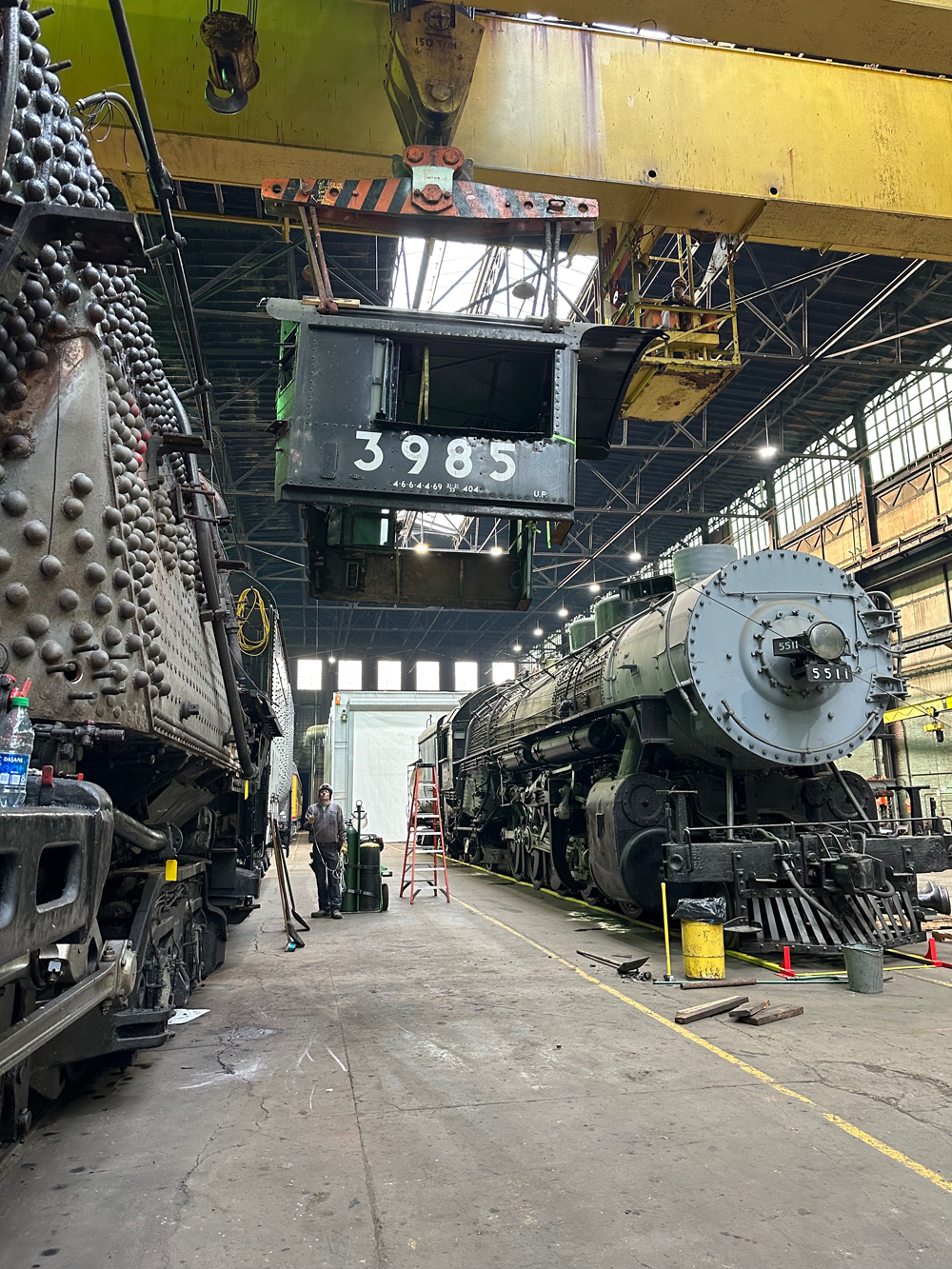 Riding high now, the cab is moved between Nos. 3985 and 5511 prior to being lowered to the floor of the massive shop. RRHMA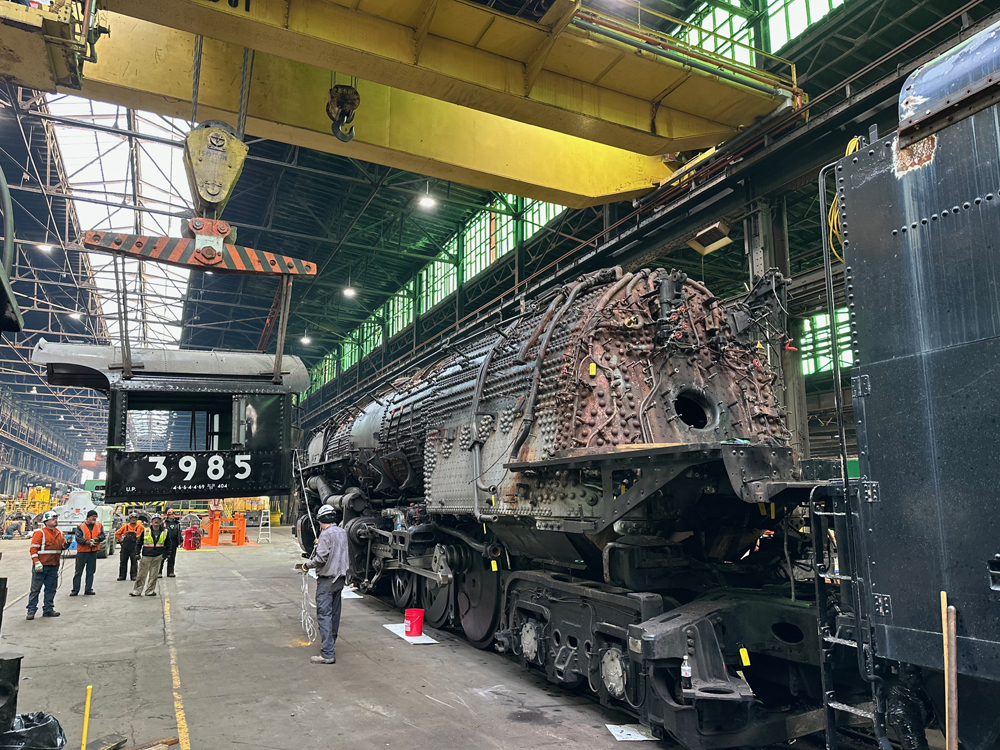 Looking the other direction offers a look at the massive backhead and piping of the Challenger where the cab once sat. There's plenty of work to do to get the Challenger in running condition again. RRHMA

In April 2022, RRHMA and Union Pacific jointly announced an agreement for UP to donate the UP Challenger No. 3985, 2-10-2 No. 5511, DDA40X No. 6936, and other equipment from UP's Heritage Fleet to RRHMA. The equipment was moved by UP to Silvis in November 2022. RRHMA plans to restore both steam locomotives and No. 6936 to operating condition.
RRHMA is still seeking donations through a double matching grant program. Any donation will be matched twice by other donors.
Donations can be made by going to https://rrhma.com.
Check out more photo galleries here.