"Been there. Done that." In no way does this saying apply to standing trackside as Union Pacific No. 4014 — Big Boy — rumbles by. Every trip taken by the world's largest operating steam locomotive is a new adventure. Here is a spectacle that doesn't get old. It's time for a Big Boy adventure.
Although originally scheduled to visit the Pacific Northwest via California in 2022, No. 4014's travel plans were reduced, allowing the Union Pacific to work on traffic issues. Big Boy did take one excursion, a run from its homebase in Cheyenne, Wyo., to Denver on July 28 – 30. The trip was a fundraiser for the Union Pacific Railroad Museum in Council Bluffs, Iowa.
Thousands of people gathered at grade crossings along the route to catch the passing locomotive and train. Even more people congregated in Greeley, Colo., for maintenance stops on both the southbound and northbound legs of the trip. During a display day at Denver Union Station, Friday, July 29, the line waiting to see the locomotive up close, at times, was longer than the 12-car train.
That's the big picture. When you stand back, however, or detach yourself from the excitement of seeing such a large machine, one begins to notice the details, the unusual moments, and the images outside the mainstream. For a moment, let's take the unusual view of No. 4014 — Big Boy — during its Cheyenne to Denver ramble. It's a sight that never grows old.
Click link to read Bob's "Five mind-blowing Big Boy facts."

With the foothills of north central Colorado in the distance, No. 4014 rolls south on July 28, near Carr, Colo. Here is the archetypical shot of Big Boy and its train gliding along a well-groomed right of way, the big blue sky adding to the near-perfect background. Notice, however, the standing ditch water. This is not a drainage challenge, but the remnants of heavy overnight thunderstorms that pounded the region in the 12 hours before Big Boy arrived. (Cate Kratville-Wrinn)


While we are focused on Big Boy and its train, there is another show going on right in front of us as we stand near Nunn, Colo., on July 28. Follow the tracks back to their vanishing point near the grain elevators in the distance. All of 10 minutes earlier No. 4014 was but a spec of headlight between those two elevators. U.S. 85, to the left, was flowing freely with light traffic. The three young men to the right were more concerned with the number of puddles they could stomp in than anything coming down the tracks. Several deep-throated whistle blasts later and the highway is jammed with pacers. The puddles are far less attractive to the young men than machine that outdates then by 70-plus decades. (Bob Lettenberger)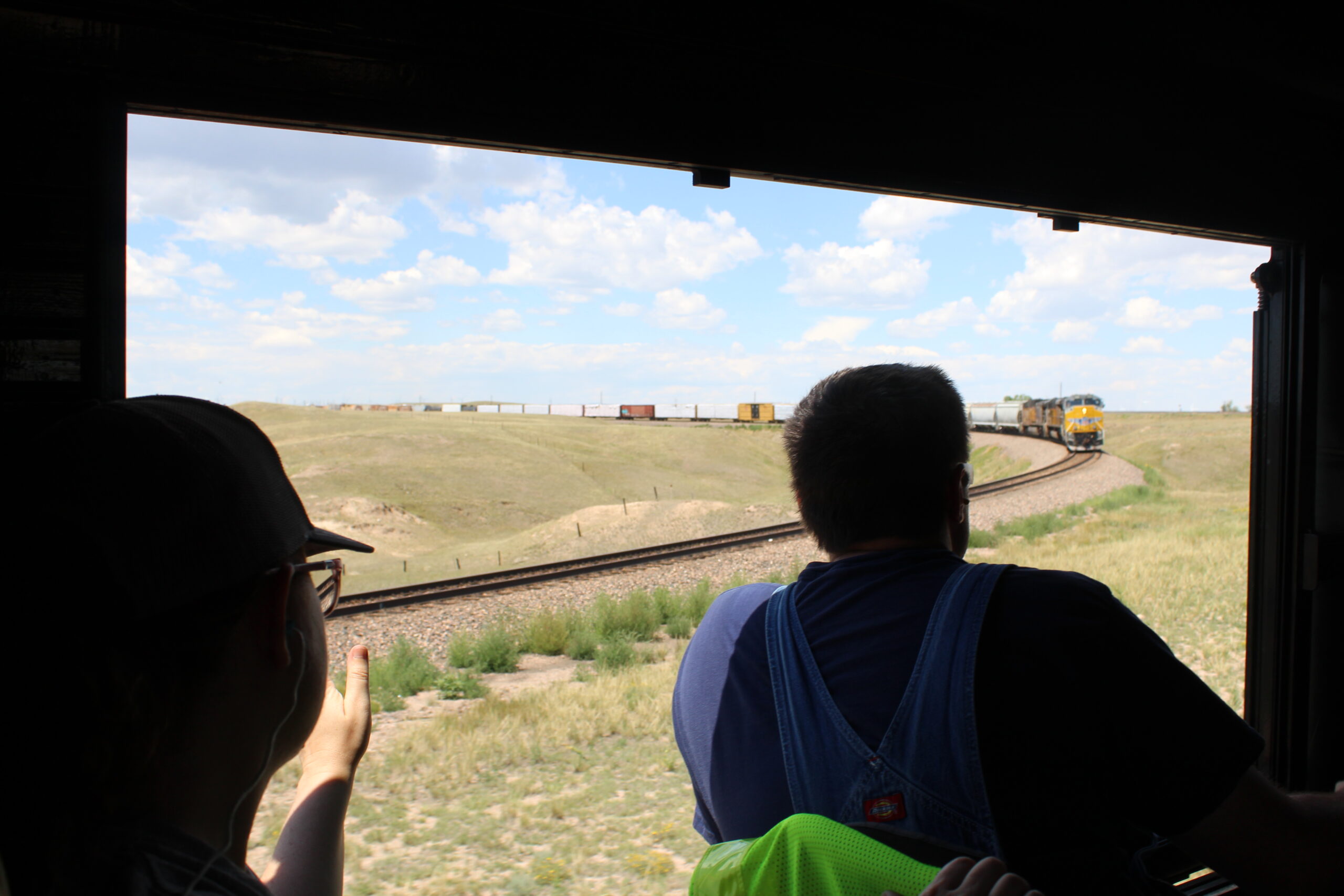 The view from inside the cab is completely different than that next to the tracks. One notices the subtle nuances of the environment above the roar of motion. From trackside, we wait for those few moments it takes Big Boy to pass our location — coming, here, gone. From the cab, Big Boy is constantly in the picture, and everyone else waiting. People wait, cars and trucks wait, and even other trains wait. Looking over the shoulder of fireman Austin Barker, as No. 4014 cruises through Spear, Wyo., on July 30, we see another Union Pacific train waiting. As soon as No. 4014 clears, the freight will continue on its southbound trip to Denver. (Bob Lettenberger)


No. 4014 steams north past the Commerce City (Colo.) oil refinery on July 30. Big Boy is about to cross Sand Creek. Although captured in 2022, an Armour Yellow passenger train pulled by a Big Boy against the industrial complex is a bit of a juxtaposition. The mind's eye wants to substitute a string of boxcars, tank cars, and a few cattle cars to make the scene more fitting. (Kevin Gilliam)




In a study of contrasts, No. 4014 rests next to Amtrak's California Zephyr at Denver Union Station on July 29. Amtrak's No. 62, a GE P42DC, entered service nearly 26 years ago and is nearly the end of its career. Might it be preserved and survive to Big Boy's age? (Cate Kratville-Wrinn)

Slowly gaining speed, No. 4014 departs Greeley, Colo., July 28. Stepping back nets a full-length view reminding us just how big 87 feet, 9 1/2 inches long and 16 ½ inches tall really is. (Bob Lettenberger)


Allowing your mind to crop the contemporary clutter and focus on smaller vignettes as they present themselves can also result in travel to a time long gone. A Union Pacific dome framing the landmark Union Station sign could easily transport one to a time when traveling the West aboard a posh streamliner was an anticipated part of the travel adventure. (Bob Lettenberger)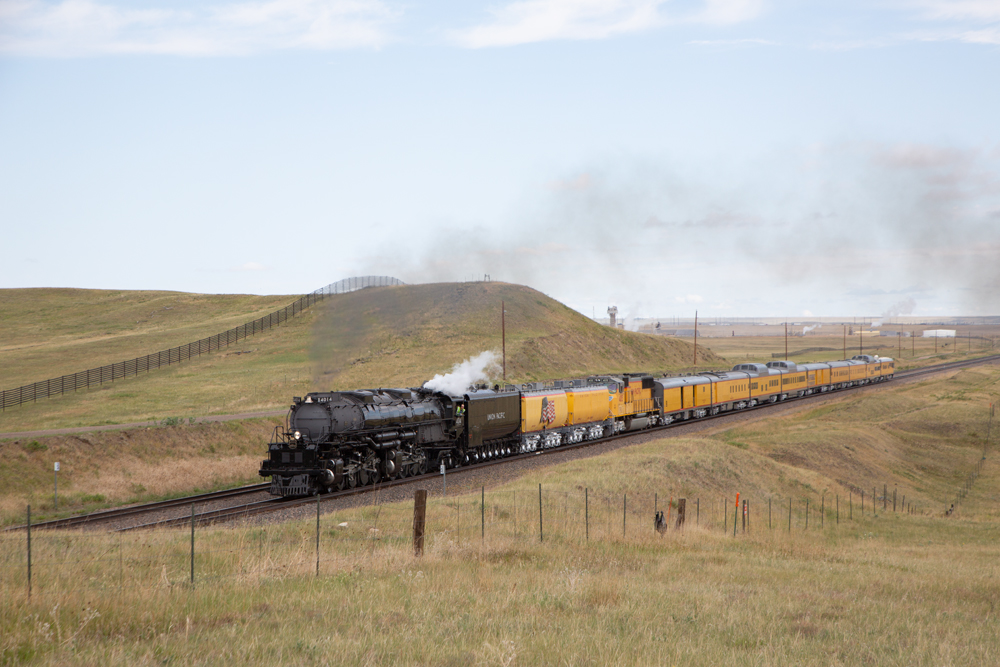 Nearing the Colorado-Wyoming boarder, heading for Cheyenne, Wyo., on July 30, No. 4014 and train offer a beautiful picture against the prairie landscape. Again, our mind wants to delete the modern anachronisms — No. 4015, and EMD SD70M, along for braking, the water tower peaking over the hill and oil tanks in the distance — from the scene. Considering we are watching a Big Boy steam in 2022, a few anachronisms don't hurt the image. (Kevin Gilliam)


The end. There is no doubt No. 4014 — Big Boy — is the star of this show. However, in a day of Superliners and look-alike stack trains, the star's supporting cast also makes for a good picture. A portion of Union Pacific's passenger fleet accompanied Big Boy on this excursion. The train, from the end, is just north of Pierce, Colo., on July 28, heading south to Denver. (Bob Lettenberger)