Amtrak roomette tips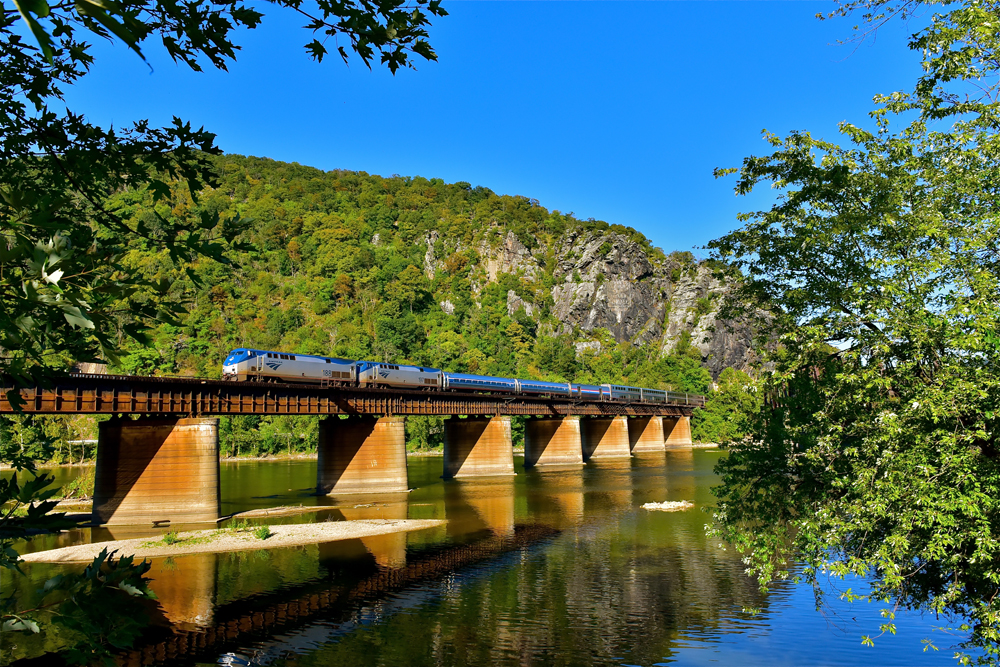 The journey begins
If you've taken a trip on Amtrak before, some of this may already resonate with you. But as a newcomer, I've not had the pleasure of traveling roundtrip via the Capitol Limited from Chicago to Cumberland, Md. before. After two completely different experiences (for me), Model Railroader Associate Editor Bryson Sleppy and I developed this helpful list of things you may want to bring with you on your first (or next) trip.
Each individual trip or train ride may produce a different experience, but staple items are a good place to start regardless of your destination. So, Bryson (a seasoned Amtrak traveler) and I (the newcomer) have come up with the following tips for you.
Keep in mind, this list is not ranked in order. Each tip coincides together to help you have a more enjoyable experience.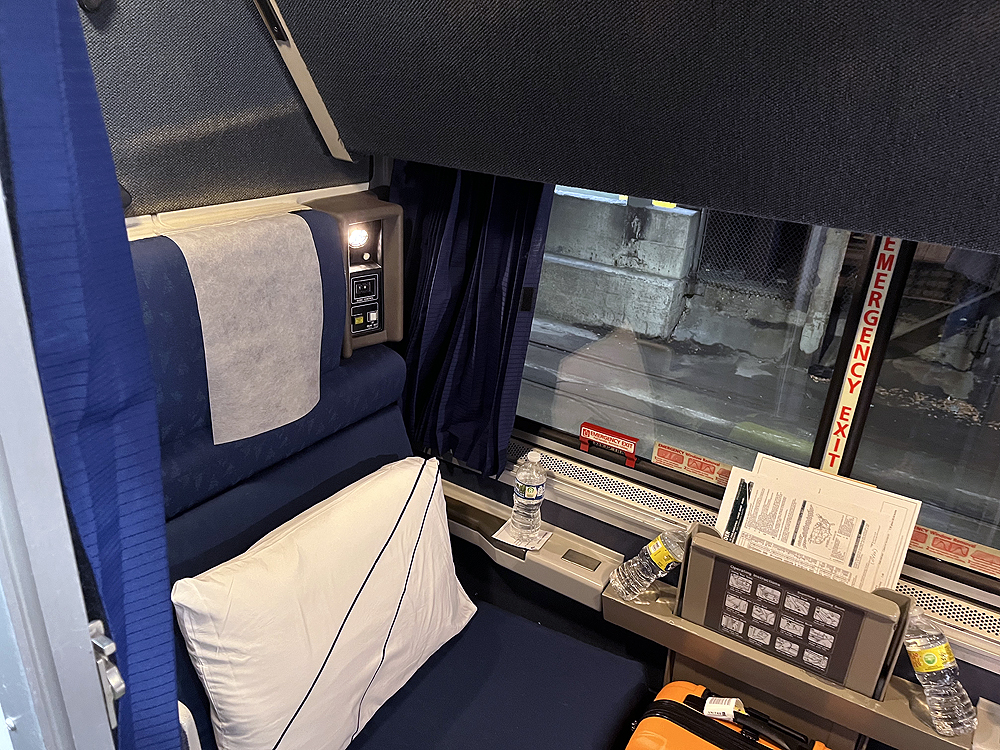 Ten Amtrak roomette tips
No. 1: Good shoes. You'll want to make sure you have comfortable footwear during your stay. We suggest slippers for inside your roomette, tennis shoes or flats of any kind when walking to the dining car, bathroom, or anywhere else and back. It's a train, so it's moving, and many others are walking these floors.
No. 2: Pack lightly and intentionally. A smaller rolling luggage case is best as sleeping car rooms are tight. If you have a bigger piece of luggage, you may find yourself needing to leave your roomette often to tear apart your luggage in the vestibule area. We suggest bringing a small backpack with you to transfer and carry items back and forth to your room. Your in-the-roomette bag should consist of valuables, toiletries, a change of clothes, reading material, headphones, slippers, etc.
No.3: Snacks. Yes, they do feed you and meals are complimentary for sleeping car passengers. However, you may find yourself wanting more or something else. We suggest bringing your favorite snacks to tide you over between meals, or worst-case scenario, you just don't like the meal options. Bryson has found that a good trail mix with enough nutrients to get you through unexpected circumstances has come in handy many times. In addition, you are allowed to bring soft drinks with you. Amtrak only carries Coke products. If you want a different brand, pack your own.
No. 4: A power strip. If you need to charge multiple things, you'll want to bring a short power strip with multiple outlets. You only get one outlet in a roomette compartment, so you'll need to switch between charging multiple items. Depending on the car, your outlet may be recessed so make sure your power strip has a straight wall plug, not a flat plug. Note: There are available outlets in the café/lounge car, but it's much nicer to be able to charge multiple items in the comfort of your own space.
No. 5: A blanket/pillow. Amtrak provides blankets and pillows but if you like to have your own items to ensure a better night's sleep, you can bring them with you. Having your own provides the freedom and peace of mind of using them as needed and without having to rely on the car attendant to supply an extra blanket or pillow if needed.
No. 6: Downloads. Given the nature of traveling, you may not always have access to internet. Download any movies, music, books, etc., on your device prior to departure. This will give you the access to items you may need (or want) during a trip.
No. 7: Layers of clothing. The temperature can vary on your ride. Having a sweatshirt handy or a jacket can help alleviate any temperature changes to your room. This is also why, No. 5, having a blanket, is useful. Just make sure that you take those sweatshirts or jackets with you when you arrive at your destination.
No. 8: Cash. You will want to bring cash with you so you can tip appropriately. If your car attendant is doing everything within their limits to make your trip more comfortable and convenient, it's customary to show your appreciation. It is also customary to tip your service attendants in the dining car for the service they provide.
No. 9: Disinfectant wipes. We live in a world full of viruses and other irritants. Bringing disinfectant wipes aboard can help you feel more at ease while traveling, especially if you are more susceptible to getting sick or have allergies. High-touch areas such as your tray table, arm rests, door handle and latch, and cup holder, as well as air and heat vents, are great places to disinfect. If you are in a bedroom with a bathroom, disinfecting faucets and handles is recommended. In addition to disinfectant wipes, air freshener may be something you want to bring. We have never had a room that smelled bad, but who doesn't love a room that smells fresh?
No. 10: Happiness. You may be thinking, "What are they talking about?" The crew and staff work very long hours and bear the brunt of travelers irritated or upset over an unforeseen delay. In the end, it's important to remain calm and happy. We are all human and travel is full of surprises. Don't take it out on those around you. Bring whatever appropriate items (like those in this list) you may need to remain serene in case things don't go as planned.
Bonus tip: The fun stuff. Let's face it, taking the train anywhere is not the fastest way to travel. Most of your waking hours will have daylight views of outstanding scenery that you can't see from an airplane. However, what about when the sun sets? Bryson suggests bringing some games to play along the way. Preferably card games that you can play on a typical four-person table while in motion (we have seen board games played as well). Playing games in the lounge car is also a great way to meet new people. For additional "fun," railfans may prefer to bring a scanner along with them. Just make sure that if you're listening in a public area – like the lounge car – that you keep the volume low. Oh, and if you decide to bring a guitar, please do not play it as loud as you can at midnight. Some of us must sleep.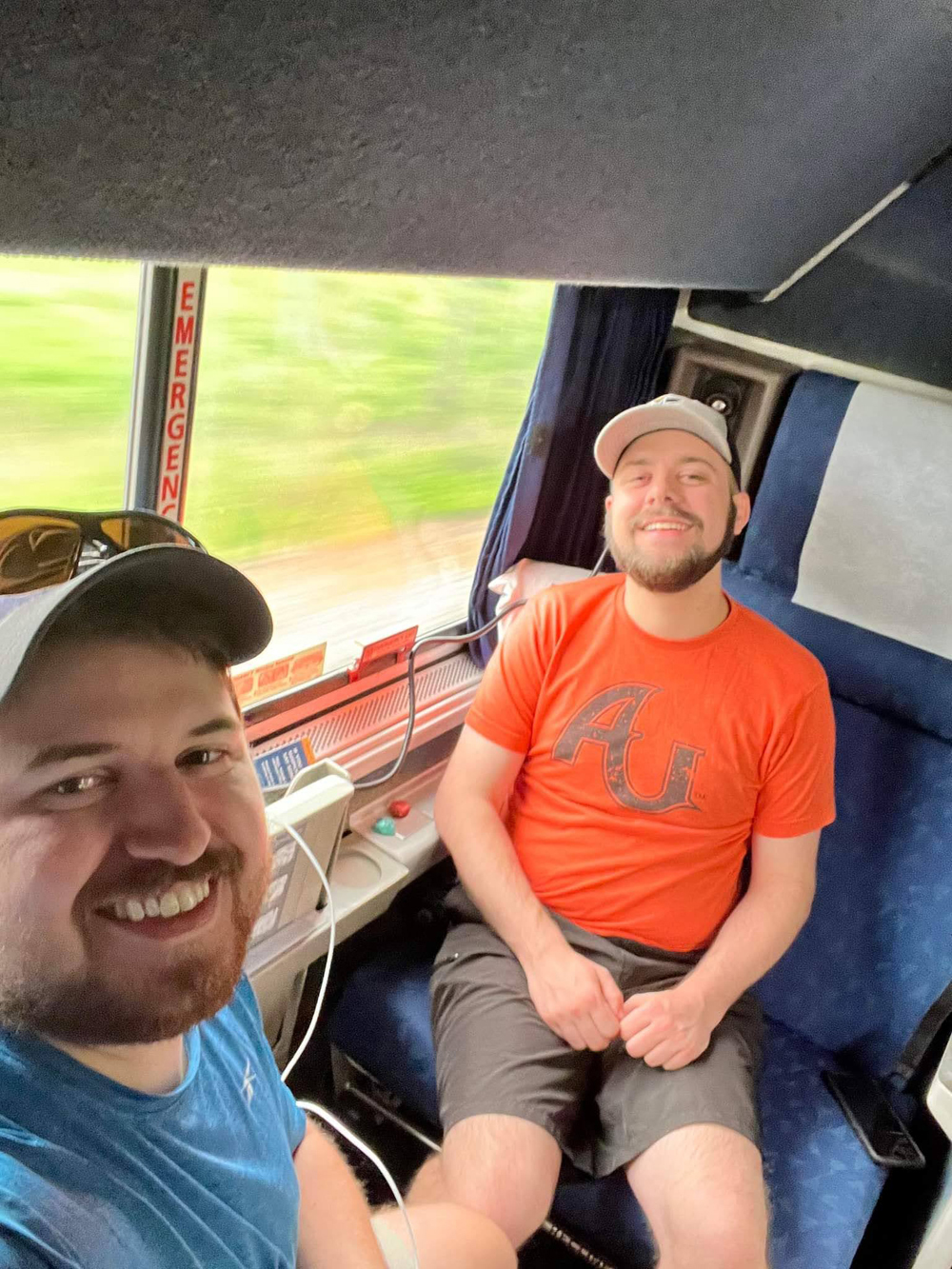 Taking the train is a fun and exciting way to travel since you get to see a variety of scenic views that many don't typically get to see. You also get to meet new people from all over the world and trade stories. I had a wonderful conversation with the attendant on my way back to Chicago. If you have a roomette, you'll have a bed made up for you every night and three warm meals per day.
It's a time to slow down, relax, reflect, sit back, and enjoy the view. Because after all, it's not just about the destination, but the journey itself.