Moynihan Train Hall in New York City is the main hall and gathering space for travelers riding trains to and from the underground Penn Station nearby.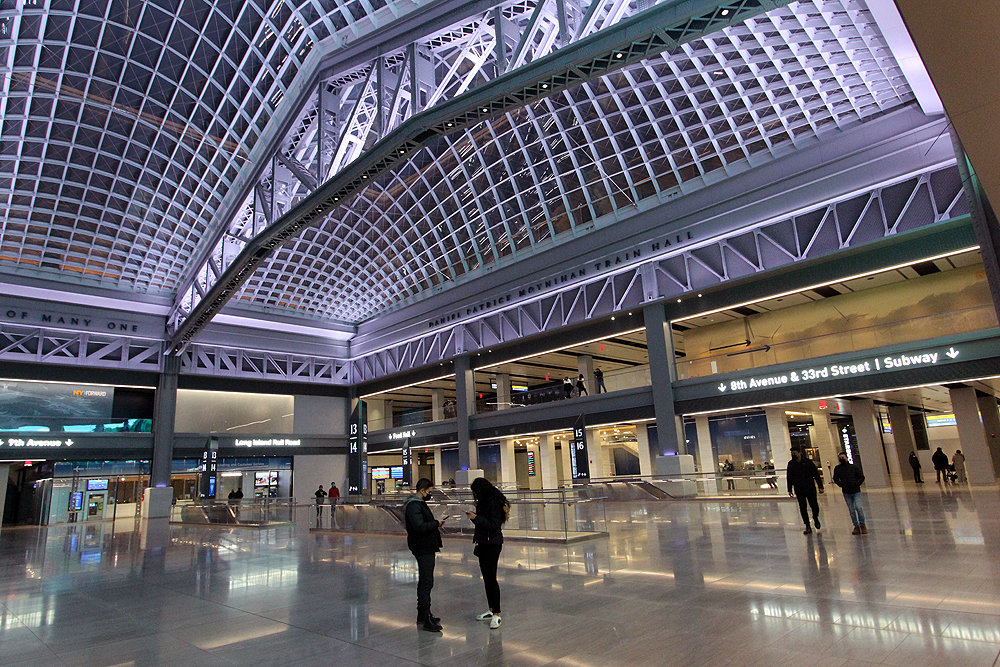 From its hall and corridors, passengers can wait for Amtrak trains on the Northeast Corridor, long-distance trains terminating in New York, as well as Long Island Rail Road and NJ Transit trains.
The hall is a former a former U.S. Post Office and was re-named in honor of long-time U.S. Senator from New York, Daniel Patrick Moynihan. Although New York Penn Station hosts the trains, the underground facilities were designed to accommodate about 200,000 passengers each day and not the 600,000 who typically use it, according to the New York Times. The station is the busiest transit hub in the Western Hemisphere and is one of the largest passenger train complexes in the world.
The train hall cost about $1.6 billion and covers 255,000 square feet. It opened to the public Jan. 1, 2021.
The Pennsylvania Railroad sold the property, or air rights, above Penn Station in the 1960s leading to the original hall's demolition. Madison Square Garden is built on top of the station's platforms and tracks.
LISTEN TO RECORDED ANNOUNCEMENTS FROM OLD NEW YORK PENN STATION
Amtrak uses Moynihan Train Hall as Penn Station's "Front Door" and offers several amenities, including:
"•A grand and spacious train hall featuring a sky lit atrium
•Dedicated customer waiting areas
•A combined ticketing and baggage area
•Improved passenger comfort and security
•Accessibility for customers with disabilities
•Inductive loop system for hearing assistance
•Complimentary WiFi in all customer spaces
•Dedicated lactation lounge for nursing mothers"
DOWNLOAD A FREE MAP OF MOYNIHAN TRAIN HALL
The hall also has a new Metropolitan Lounge that includes:
"•Priority boarding
•Expanded food and beverage offerings
•Full-service bar with a variety of beer, wine, cocktails and a curated selection of meals available for purchase
•Family waiting area
•Dedicated customer service agents
•Private restrooms
•Complimentary WiFi"
Quoted information from Amtrak
READ MOYNIHAN TRAIN HALL STORIES AT TRAINS.COM