Amtrak's Northeast Regional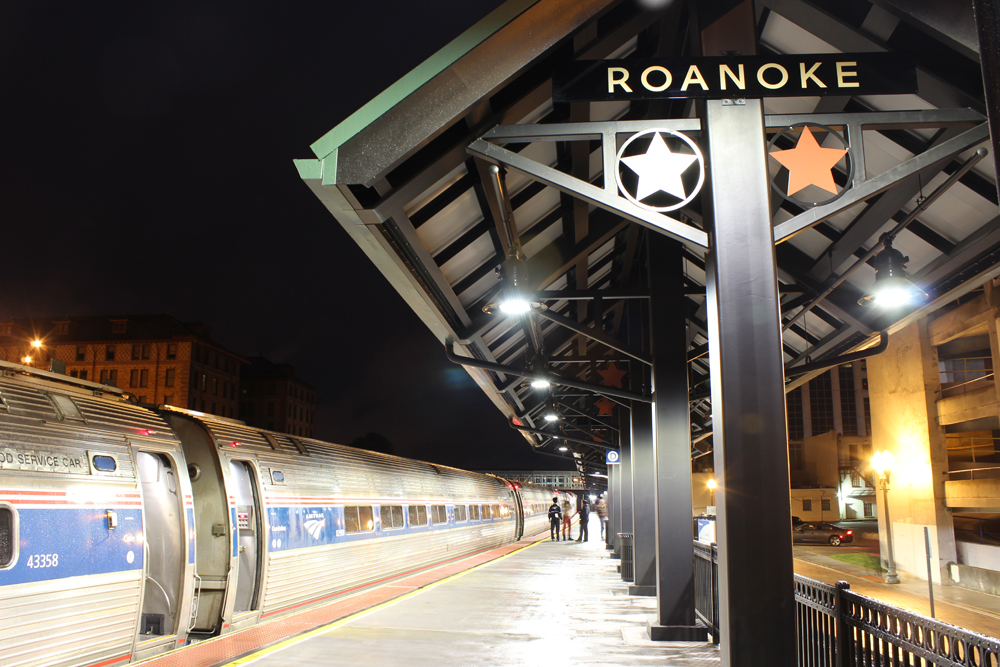 Virginians benefit from an exceptionally robust passenger rail system that links rural communities with the nation's capital and the Northeast through Amtrak's Northeast Regional service. One recent success in expanding that service was restoring passenger train service to Roanoke in southwestern Virginia in 2017. This 5-year-old passenger service reintroduced regularly scheduled trains to Roanoke for the first time since Amtrak's Hilltopper was discontinued in 1979.
Roanoke residents benefit from daily round-trip service to Washington, D.C., and beyond. The experience begins at Roanoke's new platform and canopy at 55 Norfolk Avenue SW. Built in 2016, this platform is conveniently located downtown within walking distance of the Virginia Museum of Transportation and the O. Winston Link Museum. Both rail attractions are a great option for you the day before or after your train ride.
On route
The Northeast Regional departs Roanoke weekdays at 6:19 a.m. EST and weekends at 8:40 a.m. EST, sporting a lone GE P42DC locomotive and Amfleet coaches – usually no less than six. Within a few minutes of departing Roanoke, on the conductor's side of the train, there is a unique view of Norfolk Southern's former Norfolk & Western East End shops at Schaffers Crossing (MP N 256.1). Here is where the N&W built its famous locomotives, notably the J-Class 4-8-4 No. 611 and 2-6-6-4 No. 1218, among others.  Amtrak today offers one of the few publicly accessible vantage points of the historic shops, which NS still uses today for minor repairs and servicing.
East of Roanoke, Northeast Regional trains trace the N&W's famous Blue Ridge District east through Vinton, Bonsack, and Webster, climbing the west slope of the N&W's Blue Ridge grade. The grade is no challenge for Amtrak's consist; however, it's a heavy grind for heavier trains. East of Webster, at Villamont (MP N 243.8), trains crest the grade before descending into Bedford. At this point, passengers are enjoying Virginia's mountain countryside on the original route of the N&W's Powhatan Arrow. There aren't a tremendous amount of notable rail-focused sites east of Bedford until closing in on Lynchburg, where the Northeast Regional trades former N&W territory for NS's Washington District, of former Southern Railway lineage, near NS' Kinney Yard at Montview (PH 16.6).
After easing through the wye, the Northeast Regional follows the ex-Southern Railway mainline toward Washington, D.C., but first stops in Lynchburg, Va., at the city's former Southern Kemper Street Station. Opened in 1912, Kemper Street serves the Northeast Regional and Crescent. The Crescent, linking New York and New Orleans, draws its name from Southern's flagship passenger train, the Southern Crescent, which served the same route. From Lynchburg east (MP 172.5), Northeast Regional trains operate geographically northeast, passing through rural communities on a predominantly single-track railroad. With the exception of a couple passing sidings, the next attraction is the rail diamond at Charlottesville, and NS' crossing of the Buckingham Branch Railroad's ex-Chesapeake & Ohio west-east mainline at Charlottesville (MP 112.2). Northeast of Charlottesville, Northeast Regional trains pass through the historic Virginia towns of Montpelier, Orange, Manassas, and Fairfax before reaching the junction of CSX Transportation's ex-Richmond, Fredericksburg & Potomac at Alexandria's AF Tower (MP 9.4).
On the former RF&P, the final phase of the trip is through Washington, D.C., bedroom communities and features a double-track mainline with additional D.C.-originating passenger rail service offered by Amtrak and Virginia Railway Express. An occasional CSX freight can also be expected outside of peak-passenger schedules.
Arriving at the capital
A brief journey on CSX's ex-RF&P will guide you into Washington Union Station, where passengers disembark in the core of the nation's capital. When on time, the Northeast Regional arrives at Union Station at 11:20 a.m. EST on weekdays and 1:35 p.m. on weekends. Once in Washington, the nation's capital offers an abundance of activities for the admirer of architecture, history, and railroading. Washington Union Station is located at 50 Massachusetts Avenue NE, three blocks north of the United States Capitol, and only a brief walk from the National Mall. A number of Smithsonian museums and galleries are within a short distance of Union Station, allowing passengers to enjoy attractions without renting a vehicle.
The nation's capital offers an endless number of activities and while this series focuses on day-trip opportunities, the author encourages an overnight stay or maximizing your single-day adventure. Maintain a watchful eye on time, as your Roanoke-bound Northeast Regional departs from Washington, D.C. for Roanoke on weekdays at 4:50 p.m. EST, arriving at Roanoke at 9:55 p.m. EST. On Saturdays, it departs at 4:35 p.m. EST, arriving at Roanoke at 9:33 p.m. EST, and on Sundays, it departs at 4:50 p.m. EST, arriving at 9:48 p.m. EST.
Tips & Recommendations:
Allocate a sufficient amount of time to appreciate Washington Union Station's architecture and décor. Opened in 1907, Union Station is Amtrak's second busiest station today.
Old Ebbitt Grill is a wonderful place to dine, known for high-profile customers and oyster specials. Located just steps from the White House and less than 2 miles from Washington Union Station.