Amtrak Capitol Limited adventure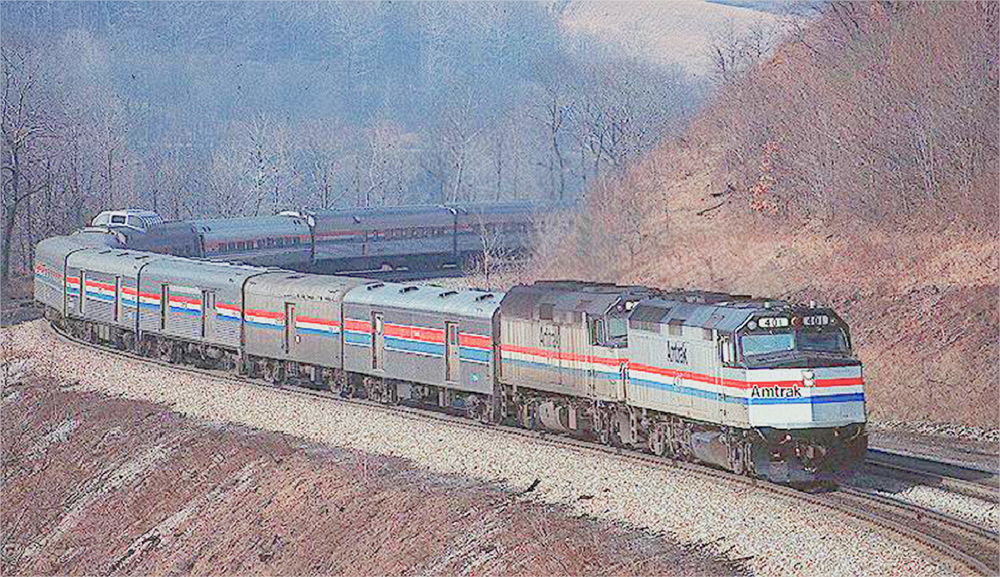 My family roots run deep in Wisconsin. For the last three or four generations, virtually all my relatives have been born and raised in Wisconsin. Only a few have slipped in from Illinois or out to Iowa and Ohio, but that's alright.
The college years and beyond
In my youth, my immediate family moved around a fair amount. We had addresses in Rhode Island, Arizona, Wyoming, and Maryland. Oh Maryland, my Maryland — my family was anchored to Old Line State during my high school and college years. We landed in the small community of Brunswick, a one-time division point on the Baltimore & Ohio Railroad. In the late 1970s, the roundhouse, car shop, yard and commuter passenger station were all active. My dad, a federal employee, caught a commuter train to and from Washington daily.
When it came time for me to further my college education, heart strings drew me back to Wisconsin. I enrolled at the University of Wisconsin – Oshkosh to study journalism and broadcasting.
As the first semester rolled toward Christmas break, mom instructed dad to discuss with me how and when I would be coming home. A portion of this conversation was devoted to the ratio of clean versus dirty laundry being packed in my suitcase. For a reason that still escapes me, dad and I determined that the best route home would be by bus. So, with first semester studies completed, I took the bus home. Upon arrival, there was a hearty handshake from dad, a warm hug from mom, a fist bump from little brother, and a proclamation from me that my return trip to Oshkosh would be my last long-distance bus trip. The bus ride east had been a royal pain in the suitcase.
Approaching Christmas break sophomore year, the previous travel discussion was repeated, but with a different outcome: Amtrak Capitol Limited college adventure. The Capitol Limited did not stop in Brunswick, but rather 10 miles up the Potomac River in Harpers Ferry, W.Va. This was great! An adventure of epic proportions was about to be had. Finals, what finals? There was a train trip to plan! (I did study hard and did good on the finals. The dean's list may even have included my name that semester.)
Planning an Amtrak Capitol Limited adventure
Planning an Amtrak trip in those pre-internet days involved research and running around. First, I went to the campus and public libraries. Next, I borrowed a few back issues of Trains Magazine from a buddy. After that, I called Amtrak a few times. It wasn't just a matter of finding the train times and ticket cost, I wanted to know the train's consist. Dome car?  Dining car? Lounge? Could I buy a beer? And what was the dining car menu? This was the important stuff! Bottom line: yes, to all of the above. Mom had a time to anticipate the arrival of her little boy. The ticket fare for a college kid was great. The consist was a combination of heritage and Amfleet equipment. Yes, to the dome, diner, and lounge. I was of age for a beer. And, the dining car menu featured a char-broiled steak with baked potato and vegetable du jour for under $20.
As the semester drew to a close, the anticipation of my Capitol Limited adventure grew. I made sure I had a few $20 bills in my wallet to cover the steak dinner and beverages.
On the last day of term, four of us with luggage, jammed into my roommates Chevy Chevette and beat a trail for Milwaukee. They were going to drop me at the Amtrak station and then head home to various suburbs. The first leg of my train trip took me to the Chicago Union Station. Wow! Chicago Union Station in its not-quite-glorious-appearance of the early 1980s. I wandered into the main waiting room, parked on a large wooden bench, and imagined the glory of past days.
Aboard the Capitol Limited
Once aboard, I anxiously waited for my ticket to be punched, releasing me from my coach seat. It was straight to the lounge to buy a beer. My next stop was the dome to take in Chicago as we departed in the December twilight. So far, so good. My holiday travel experience was going exactly as planned.
I responded to the first call for the dining car and was promptly seated. Honestly, I don't remember if there were other people at the table or not. My focus was on the menu and the advertised char-broiled steak. The waiter presented the order slip to me and explained that my order needed to be written down, an old railroad tradition. On the check I wrote, char-broiled steak, medium well. Yes, to mushroom sauce and sour cream for the baked potato. Ranch salad dressing. Another beer, please.
To that point in my life, the steak that I dined upon as the Capitol Limited raced across Indiana was one of the best I ever had. This pre-holiday feast had been procured — with beers — for under $20. For a college kid, that's a score!
Content, I made my way back to my assigned Amfleet coach seat. The plan was to settle in with a book for a few hours, then hit the lounge and dome for a night cap. If you have traveled aboard an Amfleet coach, you will remember that there is very little inside to distinguish one car from the next.
The bear on the Capitol Limited route
As I approached what I thought was my seat, I looked for the "Harpers Ferry" seat check and my big brown suitcase. Yes, there they were, faithfully marking my place. Above the snoring sounds emanating from my seat came the realization though that my accommodation was not presently available. Sprawled out across my seat, the adjoining seat and with legs extending into the aisle, was a lady with a grumpy, bear-like disposition, whom I had seen earlier in the dining car. Regardless of whether she enjoyed a steak dinner or not, she was bedded down for a post-nosh snooze in my seat.
I attempted to gently wake her, but to no avail. It was time to call in professional assistance. Oh, car attendant, assistance please. After reviewing my ticket, it was established that I was in the right place, and she was not. The ensuing events were somewhere between a Keystone Cops routine and an all-star wrestling match. The first car attendant attempted to wake the slumbering bear but was greeted with several "leave me alones" and a couple of "I'm sleeping. Don't touch me" growls. Car attendants from the next two cars were summoned. One recognized the lady as belonging in his car — the next one forward.
All three men proceeded to rouse the sleeping bear. After they calmed her down (we'll delete this part of the dialog in case there are children listening), the three attendants attempted to explain that she was in the wrong seat in the wrong car. A new round of growling and arguing began. Finally, one attendant asked her how she knew this was her seat. The woman explained that her suitcase was right up in the luggage rack. She looked up and realized that it was my suitcase overhead and not hers. This brought on a new round of growling in which I was accused of boosting her luggage and trying to take her seat.
The three attendants managed to get the woman on her feet. Her legs had fallen asleep from hanging over the seat edge into the aisle. She wobbled and teetered, but the three working together kept her righted and convinced her they should all go on an expedition to find her luggage. Off they tottered in the direction of the forward coach, one attendant leading, two pushing.
The next Amtrak journey awaits
I slipped into my seat and settled to read. My car attendant came by in about 15 minutes and apologized for the inconvenience. All was good. The sleeping bear must have gotten off the train during the night as I did not see her in the morning. I feel for whomever had to wake her up again for the station stop.
The next morning, I had coffee in the dome with the conductor while watching the sunrise over the Alleghenies. This added to the wonderful adventure I was on. A warm family welcome at Harpers Ferry wrapped up this Amtrak Capitol Limited journey. Ah, but my ticket was for a round trip. I could only hope for more adventures on my return.
Read about Bob's Amtrak proposal.