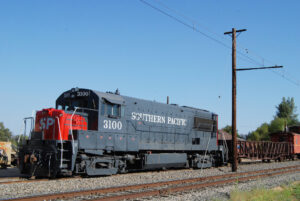 PERRIS, Calif. – The Southern California Railroad Museum, formerly known as the Orange Empire Railway Museum, is sponsoring a night photo shoot April 22. The event will run 6 to 10p.m. Space is limited to 25 photographers, and reservations are accepted on a first-come, first-served basis.
The photoshoot will use open flash photography and feature the only operational U25B locomotive, Southern Pacific No. 3100. Also on hand will be an SP bay window caboose to recreate a mid-1970's freight train. Lighting will be provided by Bryan McKenzie. All participants will receive step-by-step directions on night photography.
Prior to the night shoot, the museum is hosting a Behind-the-Scenes event. At this annual all-day event, visitors get special access to locomotives, passenger and freight cars, streetcars, interurban electric cars and artifacts. Activities at Behind-the-Scenes event will feature tours and access to maintenance and restoration areas not normally open to the public.
For more information visit the museum's website.