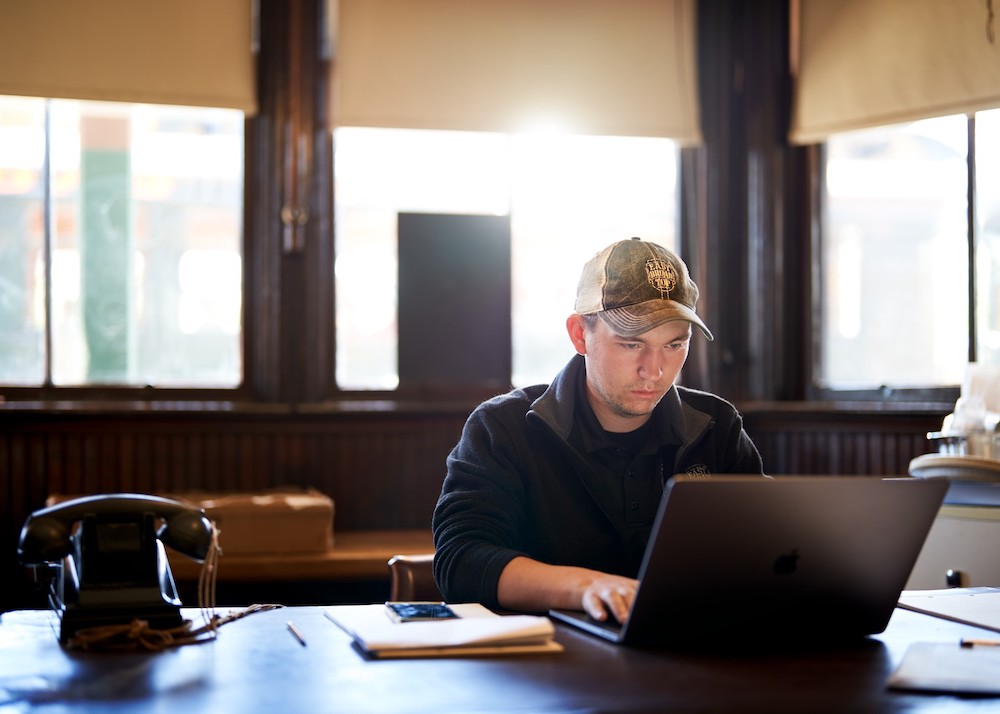 ---
It's not uncommon to see individuals in railway preservation wear multiple hats, something 24-year-old Jonathan Smith has embraced during his young career. As Director of Sales and Marketing for the East Broad Top Railroad in Rockhill, Pa., Smith understands the importance of having a diverse resume within the industry.
How did you get involved in rail preservation?
Jonathan Smith: I grew up with the Durango and Silverton Narrow Gauge Railroad in Colorado passing by my house every day. I knew that I wanted to work on the trains, so when I was ten, I started volunteering as the hero boy for the Polar Express. By the time I left for college, I worked in most of the departments at the railroad (from the ticket office to Fireman). I then worked for the Ritz Carlton Hotel Company for a few years to gain luxury customer service experience; worked for the Georgetown Loop Railroad in Georgetown, Colo. for a bit; interned at the Great Smoky Mountains Railroad in North Carolina; and volunteered at the Colorado Railroad Museum in Golden, Colo.
I was in a strategic marketing class while studying travel and tourism management in college with our final project to develop a mock plan for a business. I chose a little narrow-gauge railroad in the middle of Pennsylvania that closed in 2011 but didn't understand why. I wanted to learn more about East Broad Top because a lot of people saw it as the blank canvas for a successful heritage railroad. I reached out to people who've been involved and started to realize stuff was happening there. Using what I was learning in class real-time, I helped put together the initial business plan for the EBT Foundation's effort to reopen the railroad. The next step after wrapping all that up was to take the leap and move out there.
As a young preservationist, what have you found to be the most challenging aspects in the industry?
Jonathan Smith: I gave this question a lot of thought because I think there are a lot of challenges. The biggest one for me recently and for folks my age is that you must go where the work is. While not every town has a heritage railroad or museum, there are still many places that need and want your help. However, there's not a lot you can do remotely. I moved 2,000 miles for the job at EBT, but first had to weigh the pros and cons because it was a big commitment. I don't regret it by any means because they say if you love what you do, you'll never work a day in your life. There are opportunities out there, I think just connecting the dots and helping young people get involved is one of the most challenging aspects.
What's been the most rewarding for you so far?
Jonathan Smith: I would summarize by saying reaching milestones and then using those as stepping stones. Being so young, I'm lucky to have had a few. The most recent was seeing restored 2-8-2 steam locomotive No. 16 pull its very first passenger train full of invited folks who helped contribute to the project. I didn't go on the train as I was running the event, but stood on the platform and watched it depart. While I didn't turn a wrench on No. 16, I was tasked with managing public engagement for the locomotive's restoration in addition to reintroducing the EBT to the public as a tourist attraction.
Anybody who runs a social media account in any industry knows it's overwhelming. But in rail preservation, it can get extremely intense very quickly as there's a lot of precision and thought that goes into it. So, to watch No. 16 depart for the first time with the wheels turning and everything else happening right in front of you was incredibly satisfying. Of course, I think all of us at the railroad felt an incredible sense of accomplishment.
Where do you see rail preservation as it is today and what do you hope it'll become for the future?
Jonathan Smith: I'm struck by just how many heritage railroads there actually are and hoping we as an industry put our best foot forward and convince the public to take these train rides. Just because you visited one heritage railroad or museum, doesn't mean you visited them all. From the leadership side of it, all of us here are trying to get better at reaching out to each other for advice and help.
I've been fortunate to do a lot in my short life with a career progression of paid positions within rail preservation. However, I feel that's too rare sometimes and it shouldn't be in the future. While I'm not saying you need to develop a full-time staff, sometimes just having one paid employee who's passionate can make all the difference in your organization.
What advice would you give for any young person looking to get involved in the industry?
Jonathan Smith: I encourage them to be diverse in what they are interested in, in addition to gaining as much experience and many aspects of railway preservation as possible. At the end of the day, that makes you a far more valuable asset to your organization because you know how everything fits together. On the other side of the coin, there is absolutely no need to rush and know everything right away. Take your time and become someone people can rely on for their work ethic, knowledge, expertise, and responsibility.
Be diverse, dabble in everything you can, but slow down.
Contact Trains.com Staff Writer, Lucas Iverson to help spotlight the next young gun in rail preservation.