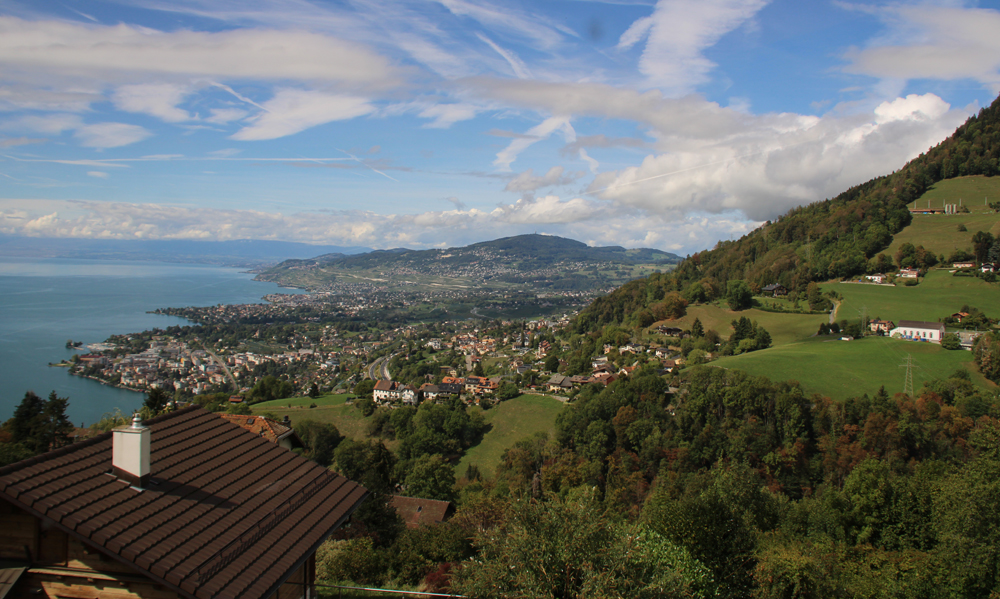 ---
MONTREUX, Switzerland — Climb every mountain …
That sometimes seems to be the motto for the Swiss people, and for its railway builders. There are 26 cog (or rack) railways in Switzerland, according to Wikipedia; given the source, view that number as something less than definitive, but it should at least be in the ballpark.
We rode our second such line in as many days today: the Montreux-Les Rochers-de-Naye Railway, which operates between its two namesake locations in the French-speaking canton of Vaud. I must admit I had never heard of this line before I began preparing for this trip; it is certainly not as well known as yesterday's featured route, the Gornergrat Bahn out of Zermatt.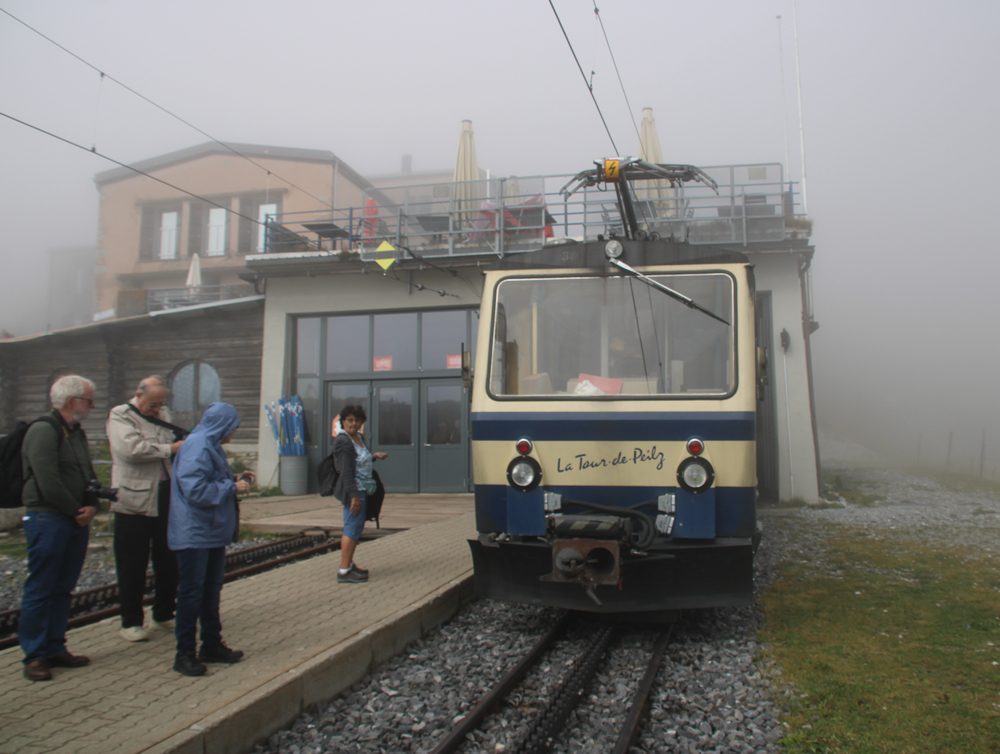 This is an atypical Swiss cog railway in a couple of ways. First, it is the relatively uncommon 800-millimeter (or 2 feet, 7½-inch) gauge. Second, while most cog railways are tourist attractions, a good portion of this one actually serves something of a commuter rail function. Owner Montreux-Oberland-Bernois Railway, or MOB, says 55% of the line's ridership comes from regional passenger traffic, with tourists providing the other 45%. [Technically, the line belongs to subsidiary Montreux-Vevey-Riviera Transport, but this is largely a paper company, with its own board and assets, but zero employees.]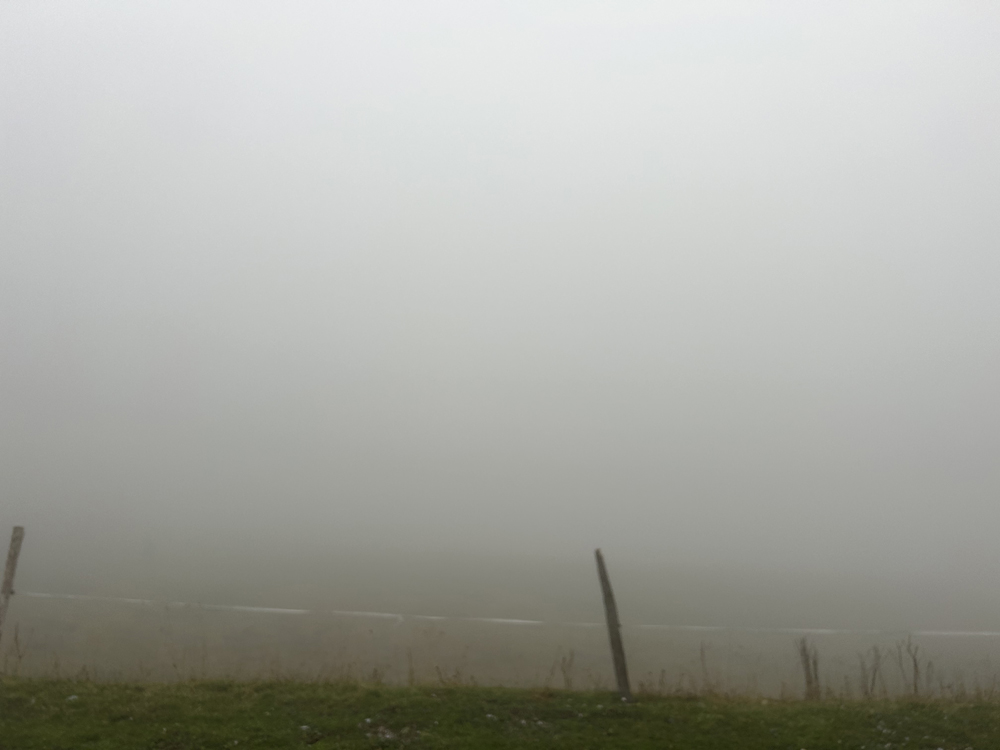 What is not atypical: the line is electrified (850-volt DC); it is steep, with grades up to 22%; and it is extremely scenic. In 6.4 miles, it climbs some 1,575 meters (or 5,167 feet) to a maximum height of 1,968 meters, or 6,457 feet, providing dramatic views of Lake Geneva as you work your way up the hill. I would like to tell you that the view at the top is awe-inspiring … but today, the top was inside a cloud. This is the gamble that comes with cog railway rides. When we first arrived, there was a bit of sun and it appeared the view might clear; instead, the clouds only became thicker, and most of us beat a hasty retreat down the hill. (The few who stayed longer — not entirely voluntarily, because it took them a while to get served at the restaurant where most of us chose to have lunch — said the sun did break through momentarily later, but they still didn't get to see the big vista, since that requires at least a short hike.)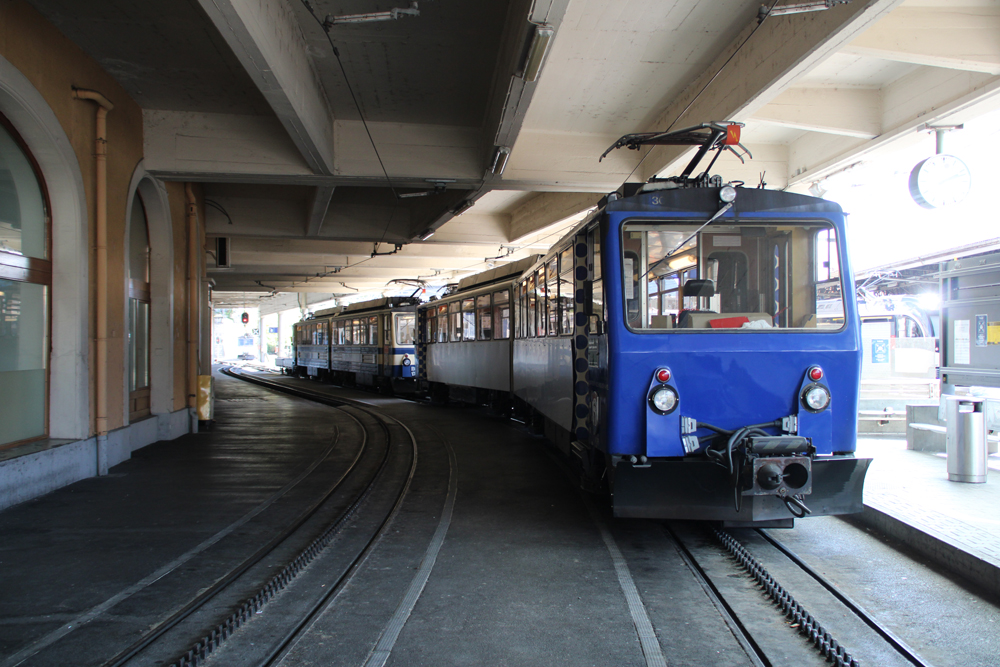 Still, I think the views on the way up made the ride worthwhile, even if, in terms of comfort, it is not exactly MOB's GoldenPass Express [see "Swiss Spectacular, Part 6 …," Trains.com, Sept. 12, 2023]. That 800-millimeter gauge equipment is not exactly the widest, and the decreased space makes for rather cozy four-across seating. Good thing we like each other in this group.
This line was opened in two parts, dating to 1892 and 1909, respectively, and much of the infrastructure, such as the 10 tunnels, are original. During my recent trip on the GoldenPass Express, MOB's director of sales and marketing, Frédéric Delachaux, said the rebuilding of the Rochers-de-Naye line is MOB's next big project. Planning is now in progress, with the work expected to begin in 2028. As part of that work, the power system will be upgraded from 850 to 1,050 volts, allowing the company to operate heavier, more powerful trains.
Once that project is complete, perhaps the line will be better equipped to join the long list of Swiss cog railways with both great views and great reputations. Right now, it has the first — and probably deserves to be among the second.
— The Majestic Switzerland Tour is also being offered in 2024. More on that here; more on other Special Interest Tours offerings here. Note: No blog is planned for tomorrow, Wednesday, Sept. 20.