Riding the Cumbres & Toltec
Ride the Cumbres and Toltec in the San Juan Mountains. And when you do, above the 9,500-foot level, the cold thin air nips at the skin on the edge of a breeze flavored with coal soot.
In this scene, we have gathered to witness the ritual of a narrow gauge steam freight battling gravity at one of the most sacred Denver & Rio Grande Western locations, Tanglefoot Curve, just out of sight of the ultimate goal, the 10,000-foot Cumbres Pass.
The acolytes are two veterans, K-36 2-8-2 Mikado-type steam locomotives Nos. 489 and 484, the latter sandwiched into the consist mid-train. Their load is 30 freight cars, and three cabooses. It is a veritable steam and narrow gauge train lover's version of heaven, an amazing mirror of what this railroad looked like in the 1950s. The train charges around the loop, the sun shines and the engines roar past, leaving spectators on a 2015 photography outing speechless.
We have seen something few have. As it has been since 1880, the mountain has been climbed once more.
About the Cumbres & Toltec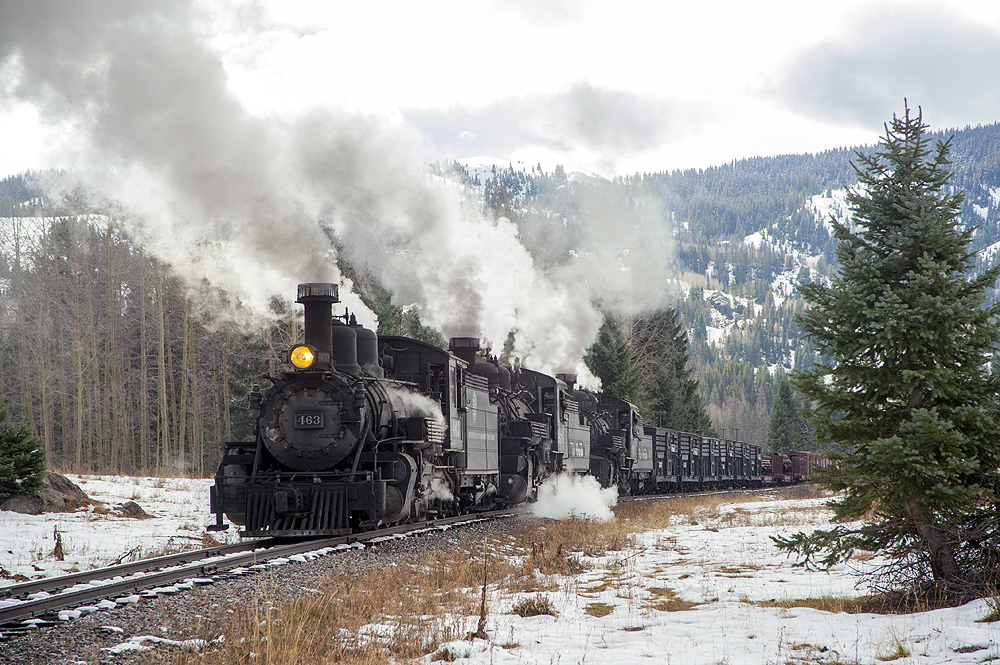 That this struggle continues is amazing in itself. The Cumbres & Toltec Scenic Railroad, a 64-mile piece of the Denver & Rio Grande's famous San Juan extension, should have been dead more than a half century ago. That was well past the time when narrow gauge freight trains were economically feasible.
Instead, it is an incredibly vibrant railroad with steam trains running in both directions in Spring, Summer and Fall. Just how alive this railroad is was driven home earlier in the day when not two but three Mikados locked couplers on the point of the 30-car train and stormed out of Chama, N.M., toward Cumbres Pass.
So much about this preservation railroad is larger than life: The fleet of five operating Mikados, all of them native to the railroad; a yard full of authentic rolling stock; grades of up to 4 percent; curves of up to 20 degrees; two massive bridges; two tunnels; the infrastructure at Chama that includes a shop, a coaling tower, depot, and cattle pens; and the water tanks, section houses, and snow sheds that complete the fabric from one end to the other, all in a land that time seems to have forgotten.
All of this screams out that today is not our modern present, but 1925, or if you overlook the motive power, maybe even years earlier than that. It is easy to convince yourself that the Rio Grande is still moving sheep, or oil, or pipe, or lumber, and a few passengers with steam power.
It's easy to stand on the sidewalk on Terrace Avenue in Chama and literally turn your back on the modern era and look into a tableau from railroading's past. It's just as easy to stand at the grade crossing at the Antonito depot and watch a train pass the "End of Standard Gauge" sign and know that you are entering a different railroading world.
"With this railroad, we're looking at the living history of the West," said then-President John Bush in 2016. "This was the engine of community and economic development back then, and it is that way today. Out on the railroad we have 64 miles of 1880."
Yet, for all of its gritty and sweaty integrity, for all of its authenticity (the railroad became a National Historic Landmark in 2013), for all of its acclaim and following (its non- profit Friends count more than 2,500 members, more on their contributions later), it is still a railroad caught in daunting struggles of 21st-century realities. Ridership figures, changing expectations of visitors, capital funding, operators, politics (the states of Colorado and New Mexico have jointly owned the railroad through a commission since 1970), the tolls of time and wear on locomotives and rolling stock, track conditions, forest fires that curtailed operations, and even a fire that severed a major railroad bridge all play into recent history.
For most operators, this long list of significant challenges would be too much. But not here. For the Colorado narrow gauge, there is always one obstacle after another. There is always one more mountain to climb, and if you're at the throttle, you'd better have it pulled out all the way open, reverser down to the corner, and the steam gauge needle on the peg.
New Mexico and Colorado steam adventure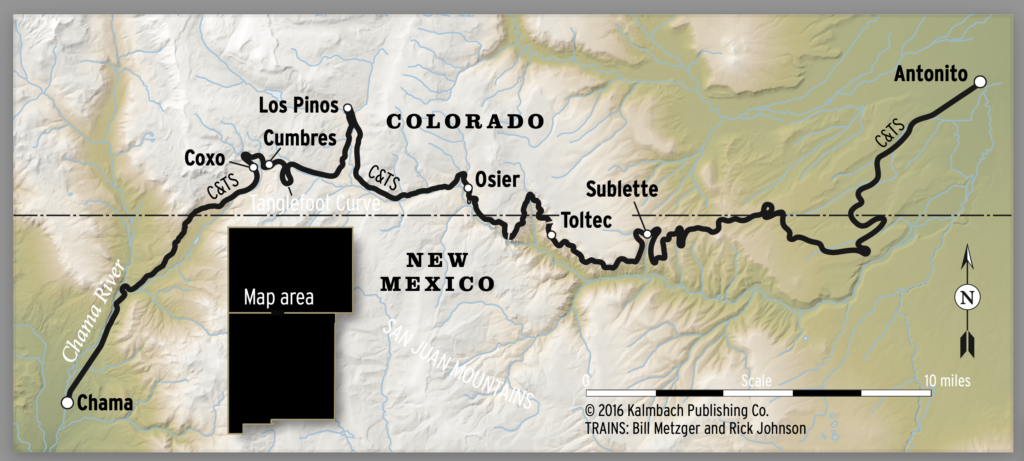 That story has been told before and is worth retelling again and again. In the October 1969 issue of Trains, an entire issue devoted to narrow gauge, Editor David P. Morgan wrote that "in the final analysis, the narrow gauge faltered because of red figures on the bottom line of a profit and loss statement, never be- cause of a Cumbres that 44-inch drivers couldn't conquer or a blizzard that rotaries couldn't best or a descent with which air compressors couldn't cope.
"Never."
Morgan was right about that. Today, with the right people who love, appreciate and toil for this amazing railroad, steam trains will run. We'll continue to think that the year is not this year, but a much earlier time for man and machine. Rugged, determined and full of enterprise, the C&TS is a railroad with an incredible past, a remarkable present-day story of survival, and one that is ready — if not eager — to climb the next mountain.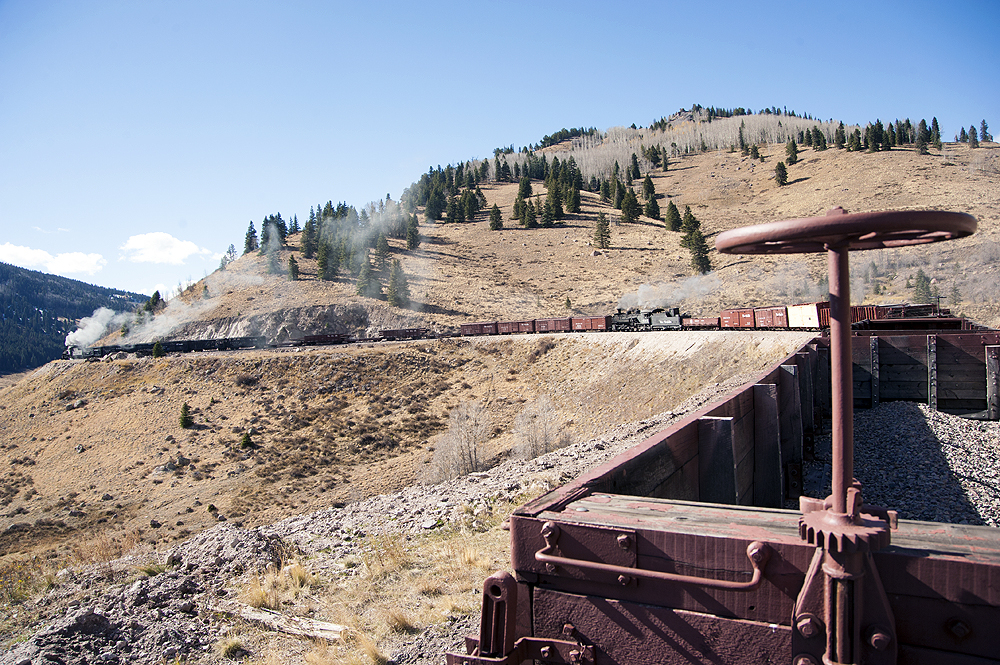 If you visit the Cumbres and Toltec Scenic Railroad
The most recent information is available at Cumbres & Toltec Scenic Railroad's website.
Great times to visit:
•May or September — Enjoy the warmth of the midday sun without the blazing heat of mid-summer and the crush of summer-time vacation crowds.
•October — Snow could be an issue, but it's the only time to catch Aspen trees in their autumnal glory.
•Photos Charters — Special events designed for photographers, videographers, and train enthusiasts to see Cumbres & Toltec trains in action. Check the website for more!
Tips to make your Cumbres & Toltec trip a success:
•Train trips are a minimum of three hours. End-to-end Chama, N.M., to Antonito, Colo., trips are all-day adventures with a return to origin by bus and include a midday meal stop at Osier. One-way trips are available.
•"Express Trips" are the shortest available and enable enthusiasts to see the train in the environment they traverse on the same day.
•Use sunscreen, especially when you soak in the scenery of open-air cars.
•Plan your overnight lodging in advance. The railroad's end points are small towns that are hours from major cities. The last thing you'll want to do is drive to an available hotel or motel after a day enjoying the train!
— Additional editing and contributions from Steve Sweeney
Prepare for your trip with these "Colorado" items from the Kalmbach Hobby Store!