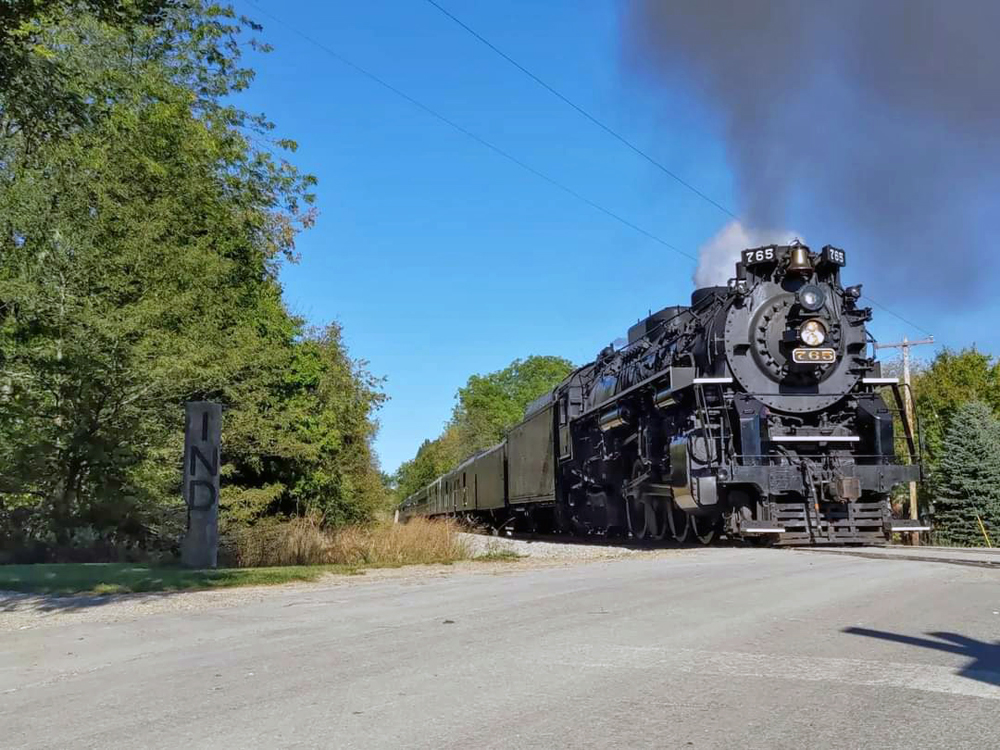 ---
Whether you're looking to take a scenic train ride across the "Canal Route" or yearning for the glory days of big steam, the state of Indiana has you covered! From Trains Magazine's Tourist Trains Guidebook, here are the various tourist railroads, museums, and displays you must visit across the Hoosier State.
Indiana Tourist Railroads and Museums
East Region
Fort Wayne Railroad Historical Society – 15808 Edgerton Road, New Haven
While the society hosts family open houses and Holiday-themed events at their New Haven shop complex, their Nickel Plate Road 2-8-4 No. 765 is the star as it tours the Midwest on numerous steam excursions! Since 2022, the locomotive has been mainly active on the Indiana Rail Experience, a program of events and excursions in partnership with the Fort Wayne Railroad Historical Society and the Indiana Northeastern Railroad. Visit the society's website for the up-to-date schedule on where and when both No. 765 and recently restored NKP SD9 diesel No. 358 will be operating.
Whitewater Valley Railroad – 455 Market Street, Connersville
They don't call the Whitewater Valley Railroad the "Canal Route" for nothing. Between Connersville and Metamora, the railroad parallels the Whitewater Canal, offering scenic views you probably wouldn't expect in Indiana. Adding on to the uniqueness is the motive power of the excursion trains which use the largest collection of diesel locomotives that were built by the Lima-Hamilton Locomotive Works.
North Region
Hesston Steam Museum – 1201 East 1000 North, La Porte
From full-size to live steam, this museum is home to three steam railroads on multiple scales. If that's not enough, additional steam-powered machinery is also exhibited with tractors and a sawmill. If you're looking for the museum's full steam experience on all scales, mark your calendar for the annual Hesston Steam & Power Show during Labor Day weekend. Don't forget to stop by Doc's 1930s ice cream parlor on campus.
Hoosier Valley Railroad Museum – 507 Mulberry Street, North Judson
With more than 50 pieces of historic equipment, the growing collection at the Hoosier Valley Railroad Museum is diverse! Locomotives and rolling stock come from different backgrounds, stretching across Indiana, Illinois, and Michigan. With that diversity comes unique operations on the former Chesapeake & Ohio main line between North Judson and La Crosse. Steam- and diesel-powered excursions are offered along with charter trains, special events, and the museum's popular Throttle Time Program.
South Region
French Lick Scenic Railway – 8594 West State Road 56, French Lick
Operated by the Indiana Railway Museum, the French Lick Scenic Railway is a rolling museum in itself. The line was once used for vacationers to visit the mineral spring baths in French Lick. Today, diesel-powdered excursions traverse the route for passengers to admire the scenic Hoosier National Forest and the 2,200-foot Burton tunnel. Of course, you can still enjoy the relaxing baths at the nearby French Lick and West Baden Springs hotels.
Other Indiana railroad sites to consider
During your visit to Indiana, consider also visiting these railroad sites: