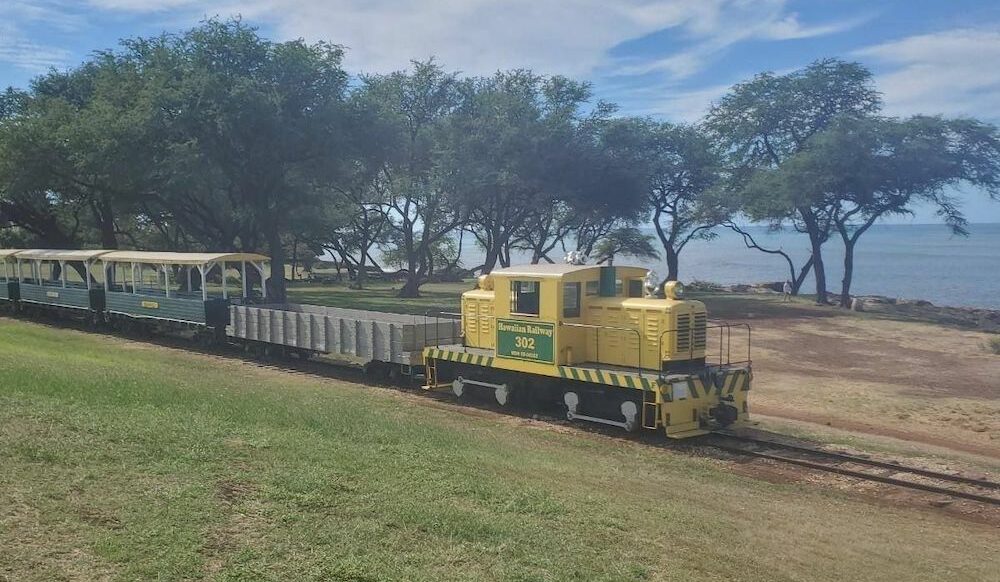 ---
The Hawaiian Railway Society operates the only active train on the island of Oahu. It offers regularly scheduled 90-minute, fully narrated rides over 6.5 miles of track. Along the way, you'll pass a variety of interesting and historical sites, including Fort Barrette. The train stops at Kahe Point, so you can take in the extraordinary ocean views.
Choices
Regular excursions take place Saturday and twice on Sunday. On the second Sunday of each month, parlor car No. 64 is added to the regular train of open cars, and reservations (and an additional fare) are necessary for riding in this beautifully restored car. Three side-rod diesel locomotives have been restored to operation, and several steam locomotives have been cosmetically restored. The society also has a collection of railcars and other equipment on display.
When to go
There are two departures on Saturdays: noon and 3 p.m. There are two departures on Sunday: 1 and 3 p.m. There is one departure on Wednesday at 1 p.m.
Good to know
Parlor car No. 64 is the luxurious parlor car that Benjamin Dillingham, founder of the Oahu Railway & Land Company, had built for his personal use in 1900. Restored by the Hawaiian Railway Society, No. 64 is worth the ride, and the fare for riding the car goes toward its upkeep.
Worth doing
No trip to Oahu would be complete without a heart-rending visit to Pearl Harbor. You can also wander over Oahu and other islands and literally discover pieces of Hawaii's railroading past, which included sugar plantations, military, and common carrier railways.
Don't miss
The society's site, which is situated on what was part of the Oahu Railway & Land Company main line, is north of Pearl Harbor. The scenery is incredible. Wear comfortable shoes and wander through the train yard and then relax with lunch in the picnic area.
Getting there
The operation is minutes from Honolulu by bus or car. If you drive, take H1 West and exit on 5A Ewa. Then take Highway 76 south for 2.5 miles, turn right at Renton Road, and continue for 1.5 miles to the entrance.
Location: 91-1001 Renton Road, Ewa Beach, HI
Phone: 808-681-5461
Website: hawaiianrailway.com
E-mail: info@Hawaiianrailway.com