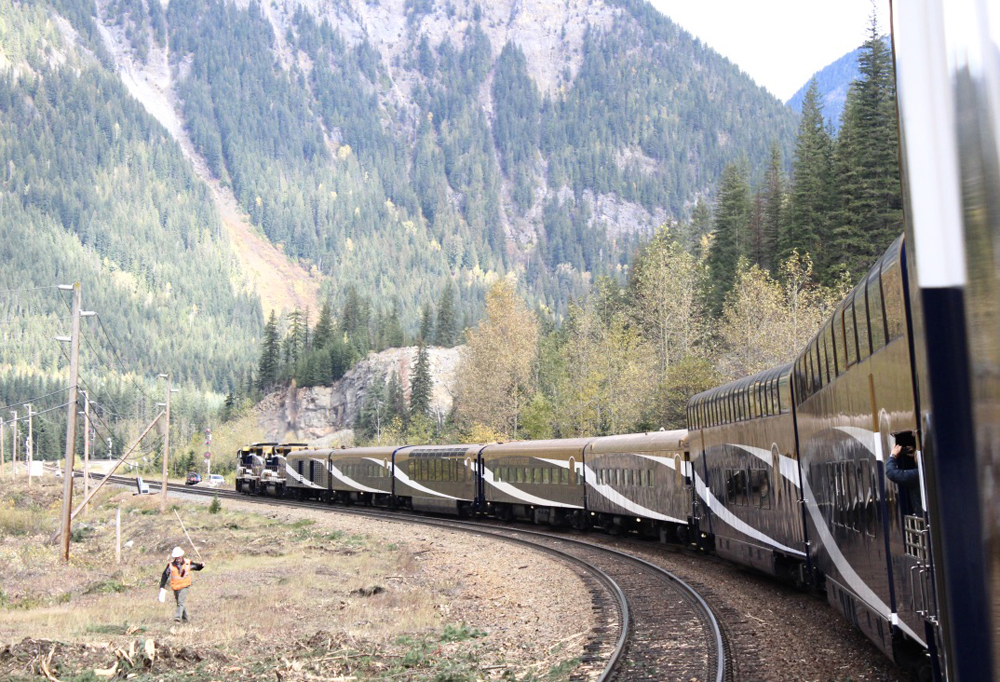 ---
British Columbia tourist railroads you must visit include steam-powered railways, luxury excursions, and everything in between. From the Tourist Trains Guidebook, here are the tourist railroads, museums, and historic sites you must visit across this Canadian province.
British Columbia Tourist Railroads and Museums
Kootenay Rockies
Cranbrook History Centre – 57 Van Horne Street S, Cranbrook
Though a museum dedicated to the history of British Columbia, its largest exhibit is all about preserving Canadian passenger railroading. Significant pieces in the collection include the only surviving train set of the 1920s Trans Canada Limited and the Strathcona railcar that once hosted Queen Elizabeth II, John and Jackie Kennedy, and Sir Winston Churchill. The Centre is also home to two model railroad layouts, which recreate 1950s/60s British Columbia railroading in O and HO scale.
Thompson Okanagan
Kettle Valley Steam Railway – 18404 Bathville Road, Summerland
Completed in 1916, a section of the famous Kettle Valley Railway has since been preserved into a steam-powered tourist line. The charming 2-8-0 No. 3716 is the main motive power of normally two 1940s coaches and three open-air cars. The excursions traverse Summerland's Prairie Valley and head into the mountains, where views of Okanagan Lake from the Trout Creek Bridge provide scenic highlights.
Vancouver Coast & Mountains
Railway Museum of British Columbia – 39645 Government Road, Squamish
With the mountain valley serving as a backdrop, the 12-acre park for the Railway Museum of British Columbia is home to the West Coast Railway Association's massive collection. Royal Hudson No. 2860 is the centerpiece as one of the last locomotives of its kind to be built for the Canadian Pacific Railway. A roundhouse, station, and other historic structures are used to not only preserve the exhibited equipment but also for operational purposes in events and excursions year-round.
Rocky Mountaineer – 1755 Cottrell Street, Vancouver
Of the four luxury, daytime services of the Rocky Mountaineer, three depart from Vancouver while traversing areas of the Pacific Northwest and Canadian Rockies usually accessible only by train. While Lake Louise, Banff and Jasper, Alberta serves as destinations, it's the journey that is the selling point for these excursions. No matter which trip you're taking, whether it be through the Rockies or coastal mountains of British Columbia, scenic delights await you at every mile.
Vancouver Island
Alberni Pacific Railway – 3250A 9th Avenue, Port Alberni
For the journey and destination of this tourist railroad, it's all about history. A 2-8-2 tank engine is the primary locomotive pulling a string of transfer cabooses as the train travels along 6 miles of the ex-CPR Port Alberni Subdivision. The destination is the former McLean Paper Mill, the only steam-operated sawmill in Canada complete with restored buildings and preserved equipment.
Other British Columbia railroad sites to consider
During your visit to British Columbia, consider also visiting these railroad sites: