Amtrak day trip to Detroit: Amtrak's portfolio of Michigan Services trains includes its three-times-a-day Wolverine linking Chicago Union Station with Pontiac, Mich., via Detroit. This day-trip option is a great addition to a Chicagoland visit. Wolverine trains depart Chicago Union Station, located at 225 South Canal Street, at 6:45 am, 2:15 pm, and 5:50 pm local time, though for the purpose of this day trip, we'll focus on the earliest eastbound Wolverine No. 350, departing at 6:45 am. Riding the earliest Wolverine train out of Chicago assures a same-day return to the Windy City later that day.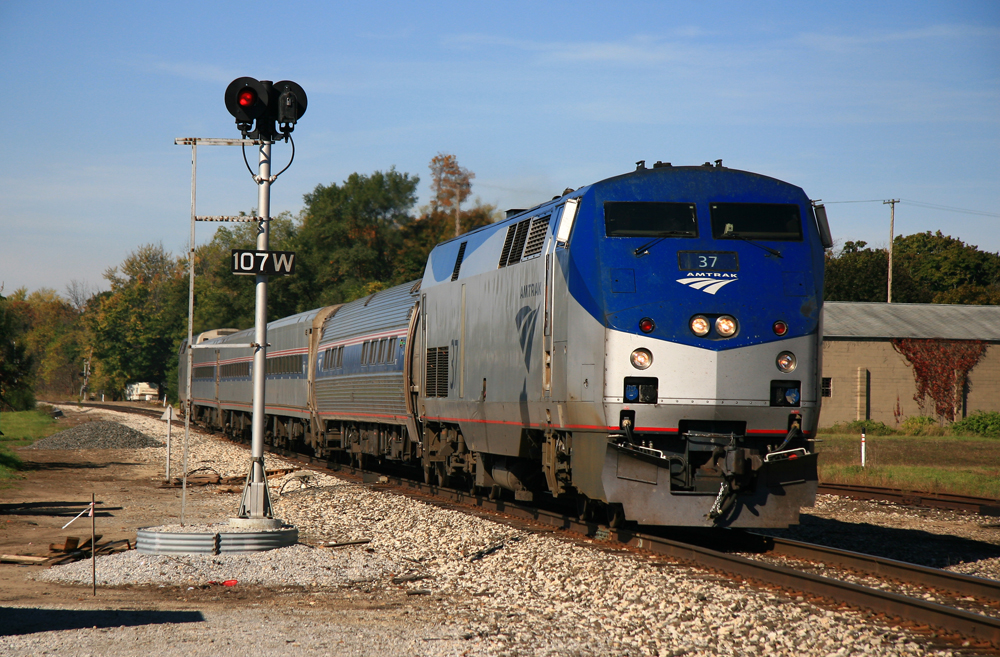 The experience begins at iconic Chicago Union Station, a prominent Amtrak touchpoint and the nation's third busiest train station. It serves more than more than 40 million Amtrak and Metra commuter rail riders annually and is the originating point for nine Amtrak long-distance trains, as well as regional and state-supported trains like the Michigan Services, Illinois Service trains, and the Hiawatha to Milwaukee.
Departing Union Station, Wolverine No. 350 emerges from beneath the streets of Chicago near Roosevelt Road, continuing to Canal Street and into Fuller Park and Englewood. The early miles of the journey feature a flurry of other Amtrak or Metra commuter rail activities and as the Wolverine passes through neighborhoods to the south, passengers may even catch a Norfolk Southern intermodal train at the freight railroad's 47th Street yard, of which the Wolverine passes. The tracks will take a southeasterly turn and cross into Indiana, along Lake Michigan, near Hammond, Ind.
This industrialized portion of northwestern Indiana features steel mills, chemical plants, and other industries that can be clearly seen from the confines of the Wolverine, juxtaposed by the passenger-rail heavy origins of Chicago's coach yards. From Hammond east, Wolverine trains hug Indiana's Lake Michigan coast, separated by carload industries in the industrial towns of Whiting, Gary, and Burns Harbor on Norfolk Southern tracks. The route takes a brief northeast turn near Michigan City before crossing into Michigan and arriving at New Buffalo, Mich., the train's first Michigan stop. From here, Wolverine trains leave Lake Michigan behind, turning due east traveling through southern Michigan to Niles, and to the northeast at Dowagiac on former New York Central tracks.
Wolverine No. 350 is slated for arrival at Niles at 9:28 am local time and Dowagiac approximately 10 minutes later at 9:39 am. Both stations have historical significance dating back to the Michigan Central Railroad era, which became part of the New York Central in the mid-1860s. Both stations are on the National Register of Historic Places. Niles' depot dates to 1892 and was rebuilt in 2003, while Dowagiac opened in 1903 and was renovated in 1995. In addition to Wolverine trains, Amtrak's Blue Water, another Michigan Services train, also stops at both locations.
East of Dowagiac, Wolverine trains roll through Michigan's countryside before arriving in Kalamazoo at 10:12 am, and continuing to Battle Creek, where the morning train arrives at 10:50 am local time. One unique characteristic of this Michigan Services corridor is that sections of the corridor allow for 110 mph speeds from Portage, Ind., to Kalamazoo, Mich., and in mid-2021, another 45-mile segment from Kalamazoo east to Albion, Mich., had its speeds increased to 110 mph, helping to more efficiently link Chicago and Detroit with standard diesel electric locomotives.
Notable landmarks from Battle Creek east include the Albion station, featuring another Michigan Central depot from 1882, and Jackson. The Victorian- red-brick Jackson Station is one of the United States' oldest continually operated train stations with its Michigan Central origins dating to 1873. When on time, No. 350 is due here at 11:49 am local time. It is also the eastern-most Michigan Central-era station stop on the route, with stops at Ann Arbor and Dearborn featuring newer structures.
From Jackson, the remainder of the approximate 90-minute transit time to Detroit is condensed for brevity, focusing instead on the Detroit layover, where No. 350 is scheduled to arrive at Detroit's Baltimore Street station at 1:25 pm local time. Located on Canadian National's former Grand Trunk Western, the Detroit station was built in 1994 and the Wolverine is the only train serving the Motor City today. It is located at 11 W Baltimore Avenue. Adjacent to the elevated platform is the city's QLine streetcar, which boards passengers on an adjacent platform on Woodward Avenue.
The Detroit train station is located in the city's Milwaukee Junction neighborhood, east of New Center, named for its proximity to the railroad crossing of two Grand Trunk Western predecessors, the Detroit, Grand Haven and Milwaukee Railway and the Chicago, Detroit and Canada Grand Trunk Junction. To the south of the station is the city's Tech Town neighborhood, an urban research and technology business park. The station is about 2.8 miles north of downtown and the Detroit River and the author recommends using a ride share service like Uber when traveling from the station to either nearby attractions or downtown.
There are several activities to consider during the afternoon layover. Westbound Wolverine No. 355 is scheduled to leave Detroit at 6:11 pm local time, meaning if both eastbound No. 350 and westbound No. 355 are on time, the layover is approximately 4 hours and 45 minutes. This is more than enough time to visit museums like the Detroit Institute of Arts, the Detroit Historical Museum, or Motown Museum in the city's New Center area. The Ford Piquette Avenue Plant Museum, near the train station, is another landmark attraction for those wanting to indulge in Detroit's automotive history. The museum is the birthplace of the Ford Model T car and Ford Motor Company's first purpose-built factory where the first 12,000 Model Ts were assembled and shipped via rail.
Outdoor-focused activities include the Detroit Riverwalk or the William G. Milliken Star Park and Harbor, located just east of downtown. Regardless of which activities you choose, please plan to return to the train station at least 30 minutes prior to the scheduled departure of Wolverine No. 355. Once you have boarded, expect a return to Chicago about 5 hours and 30 minutes later, arriving at Chicago Union Station around 10:40 pm local time.