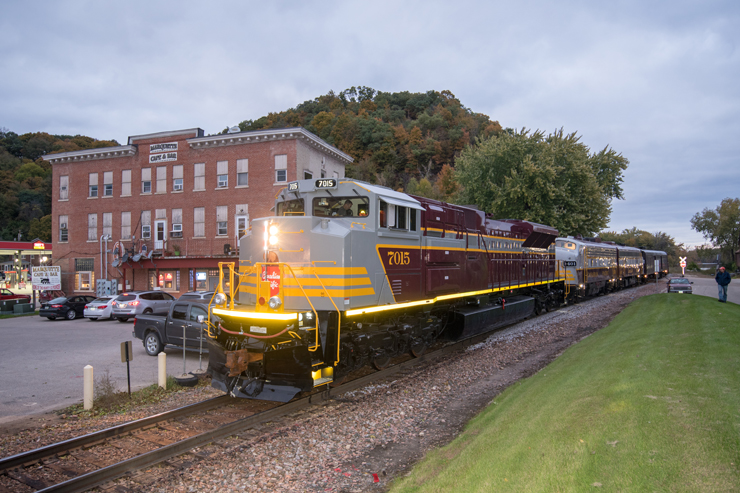 Steve Smedley
Canadian Pacific summary
Canadian Pacific Railway Limited is a railroad holding company based in Calgary, Alberta. Its subsidiary Canadian Pacific Railway Company (CP) extends over about 12,700 route miles from British Columbia to New Brunswick, connecting ocean ports with the U.S. Midwest and principal cities such as Chicago, Minneapolis, Montreal, Toronto, and Vancouver.
CP is primarily an east-west railroad moving freight between the U.S. Midwest and central Canada to Pacific Ocean ports. It competes with Canadian National in Canada and to a lesser extent BNSF Railway and Union Pacific in moving imported intermodal goods to the central U.S. The railroad connects with five other Class I railroads in Chicago and with railroads through other cities such as Detroit and Buffalo in the U.S. and in Toronto and Montreal, in Canada. It employed 12,694 workers at the end of 2019.
History
The CP was Canada's first transcontinental railroad, completed in 1885. The company expanded throughout the 20th century, developing energy, shipping, airline, and hotel businesses. Reorganized in 1971, the railway operated as a subsidiary of parent company Canadian Pacific, Ltd., until October 4, 2001, when it was spun off as a separate entity, the Canadian Pacific Railway, Ltd.
CP owns the 5,139-mile Soo Line Railroad, which runs from Chicago through Milwaukee and Minneapolis to Duluth and two points on the Canadian border, one near Winnipeg and one in Saskatchewan. As a long-time owner of 56% of the Soo Line, Canadian Pacific became its full owner in 1990. Although the Soo technically remains a separate corporation, it is operated as part of the CP system. The railroad's lines in the eastern U.S. belong to the Delaware & Hudson, which dates from 1823 and claims to be the country's oldest continuously operating transportation company.
See Canadian Pacific's predecessor railroads, or family tree!
Executive officers (as of November 2022)
Keith E. Creel — President and Chief Executive Officer
Nadeem S. Velani — Executive Vice-President and Chief Financial Officer
Mark Redd — Executive Vice-President Operations
John Brooks — Executive Vice-President and Chief Marketing Officer
Tracy L. Miller — Senior Vice-President Operations Southern and Eastern Region
Justin Meyer — Senior Vice-President Engineering and Mechanica
Laird Pitz — Senior Vice-President and ​Chief Risk Officer​​
Jeffrey J. Ellis — Chief Legal Officer and Corporate Secretary
James Clements — Senior Vice-President Strategic Planning and Technology Transformation
Greg Squires — Senior Vice-President Operations Western Region
Jason M. Ross — Vice-President Operations Southern Region
Ben Serena — Vice-President Operations Eastern Region
Nicholas C. Walker — Vice-President Operations Western Region
Joan Hardy — Vice-President Sales and Marketing — Grain and Fertilize
Coby Bullard — Vice-President Sales and Marketing — Merchandise, ECP, Intermodal and Automotive
Jonathan Wahba — Vice-President Commercial Integration
Mike Mohan — Vice-President Sales and Marketing — Regional Sales and Transload
Mike Foran — Vice-President, Market Strategy and Asset Management
Chad Rolstad — Vice-President Human Resources and Chief Culture Officer
Pam Arpin — Vice-President and Chief Information Officer
Maeghan Albiston — Vice-President Capital Markets
Ian Gray — Vice-President Financial Planning and Accounting
History provided by Matt Van Hattem.