Join me in early mid-March, beside Amtrak City of New Orleans at Chebanse, Ill., a few weeks ahead of farmer's spring planting — about 70 miles south of Chicago.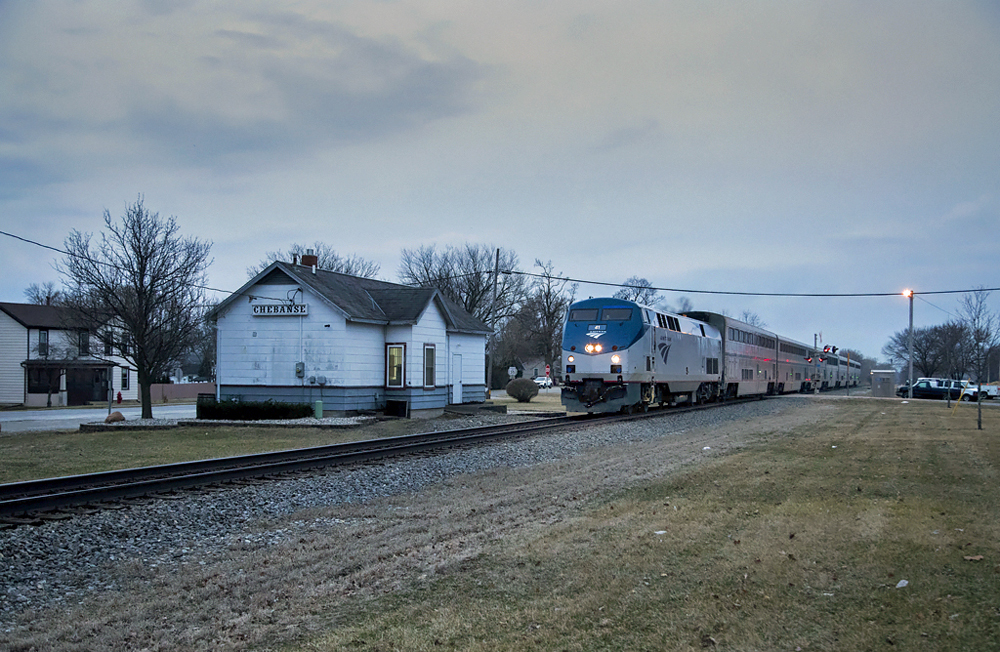 It's a breezy, crisp early morning before sunrise. The camera's ISO is notched up to 2500. A lamp brightens the interior of the Chebanse depot, but there's no one around.
On the horizon, a few miles away, Amtrak's City of New Orleans train No. 58 maintains its schedule, barreling toward Chicago after a nighttime jaunt through the Midwest. The train hasn't seen daylight since Greenwood, Mississippi, about 600 miles south.
It's interesting to imagine how many wayside railroaders it took in 1947 to achieve the same graceful passing of the City of New Orleans. From handing up work orders to dispatching trains across Midwestern rail diamonds, and the countless bungalows housing clusters of railroad maintainers with different responsibilities — the way railroaders do things have changed. Reminders of the past help photographers appreciate the transition to the present.
Here in Chebanse, the former Illinois Central's mainline of Mid-America is one of those route segments where modern railroading clashes with old-school infrastructure. Here you'll find interlocking towers, freight depots, and code line.
On this morning, school kids are getting ready for class and small businesses are ramping up for another day of serving the community.
Buildings are maintained with no graffiti or broken glass. Local folks unofficially tend to passenger depots that aren't even flag stops for today's City of New Orleans. Everything is well-landscaped, even in the dead of winter, because? Well, that's what you do.
In these areas, railroad is community. Though the railroad is different than when Chebanse's buildings were raised. Railroading relies more on a computer's motherboard than a heartbeat these days. Yes, a lot more is accomplished with far less.
Canadian National has yet to tear down these structures from the past and so they are memorials to an earlier generation of railroading.
Soon, an aging Amtrak GE P42DC towing a short consist of Amtrak Superliners approaches the village's two grade crossings at track speed.
It takes no more than 30 seconds to roll through Chebanse from headlight to marker light.
The train disappears to the north a minute later.
Chebanse remains.