US diesel locomotives in South Korea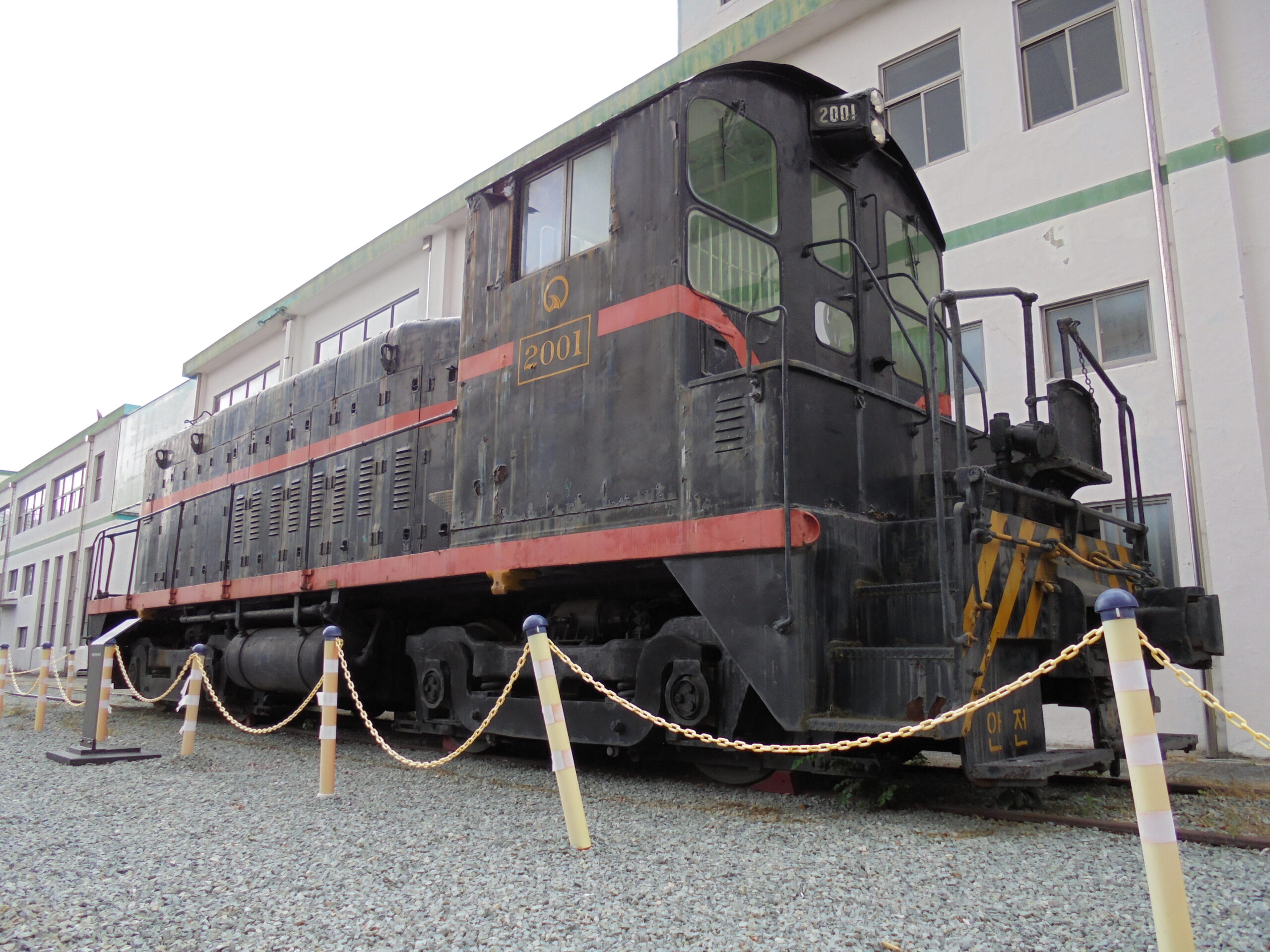 US diesel locomotives in South Korea: The train has been a symbol of power, progress, and practicality since it was invented just over two centuries ago. It has played a positive role in many societies by helping in constructing and reconstructing communities, aiding troops in times of armed conflict, keeping the economy moving, and providing everyday transportation to commuters and tourists.
To honor this, many countries preserve historically significant pieces of railroad equipment. The modern economic powerhouse of South Korea is no exception. What is little-known about its collection of rail relics is the abundance of vintage U.S.-built diesels that were donated or sold by the United States as part of its significant role in the development of South Korea and its rail system.
Types of rail relics
The most treasured of these rail relics is EMD SW8 No. 2001. It was built in La Grange, Ill., and brought to South Korea in 1951 by the Army as one of 41 units (Nos. 2000-2040). They were ordered for use by the United Nations Command during the Korean War. Before the arrival of these units, Japanese-built steamers left over from Japanese rule were the country's only motive power.
Although they played a major role in the war effort, the switchers also introduced efficiency and reliability to military rail transport. After hostilities ended in 1953 following the Korean Armistice Agreement, the Army remained in South Korea to support the country's national defense and relief. As part of the relief efforts, the Army's Transportation Corps helped rebuild South Korea's rail network, which suffered heavy war damage.
SW8s Nos. 2001-2004 were donated by the Army to South Korea's newly formed Railroad Administration Bureau in 1955, along with Nos. 2005-2014 by the former International Cooperation Administration (ICA, now USAID) in 1957. Based out of the central South Korean city of Jecheon, they served on main lines across South Korea, pulling both passengers and freights on short and long-distance runs. Despite being yard switchers, they could meet the country's rail transport demands at the time.
With the introduction of road engines in 1957, the SW8s were reassigned to switching operations. No. 2001 remained in service until 2003 and was later preserved at the Busan Rolling Stock Workshop in the southern port city of Busan, where it remains. Nos. 2002-2014 were retired and scrapped during the late 1990s and early 2000s.
Two other locomotives of this class survive in Alabama.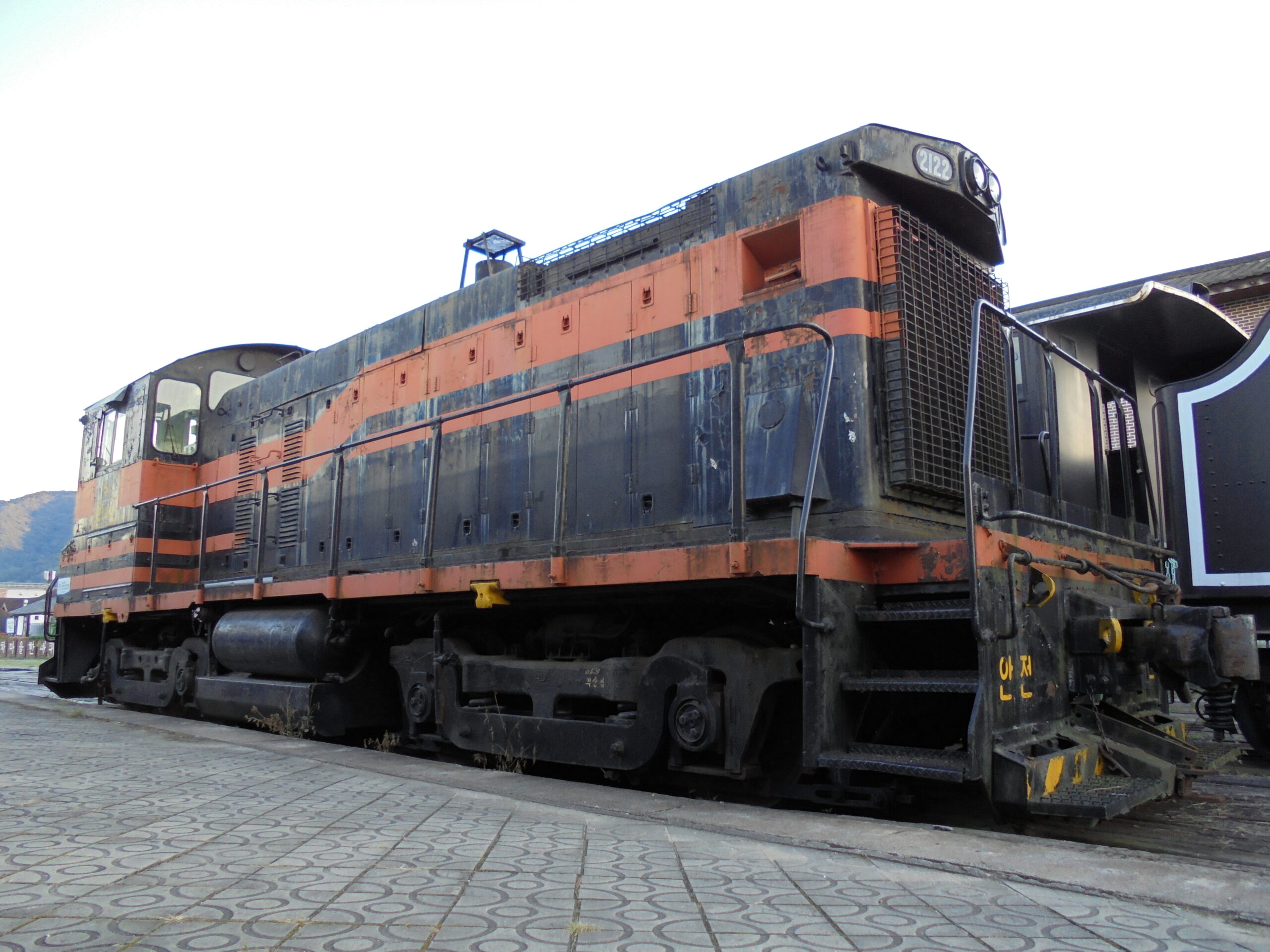 Another preserved switcher is EMD SW1001 No. 2122. Built in La Grange in 1970, it was delivered to the Korea Cement Industrial Association in 1971 as one of eight units (Nos. 2121-2128) ordered to tackle ongoing logistics challenges in the Korean cement industry. The locomotives, then valued at a total of $1.5 million, arrived in Busan and were sent to the country's northeast to move cement on a secondary main line.
The growth of the South Korean economy led to increased demand for regular freight service. So after three years in their initial role, these locomotives were donated to the Korean National Railway (KNR), the 1963 successor of South Korea's Railroad Administration Bureau, to relieve a diesel power shortage for an increasing number of coal, cement, and other freight trains. They joined 20 SW1001s (Nos. 2101-2120) already in service with the KNR. These had been purchased by the South Korean government in 1969 through the Export-Import Bank of the United States (EXIM) and delivered the same year.
All were retired in 2005. Some were scrapped and many were sold to customers in the United States. No. 2122 is preserved at a railroad-themed tourist attraction in Gokseong County in southwestern Korea, along with Nos. 2101 and 2116 elsewhere. They are among a total of 42 U.S.-built yard switchers —28 SW1001s and 14 SW8s — to have been operated by the KNR, which became Korail in 2005.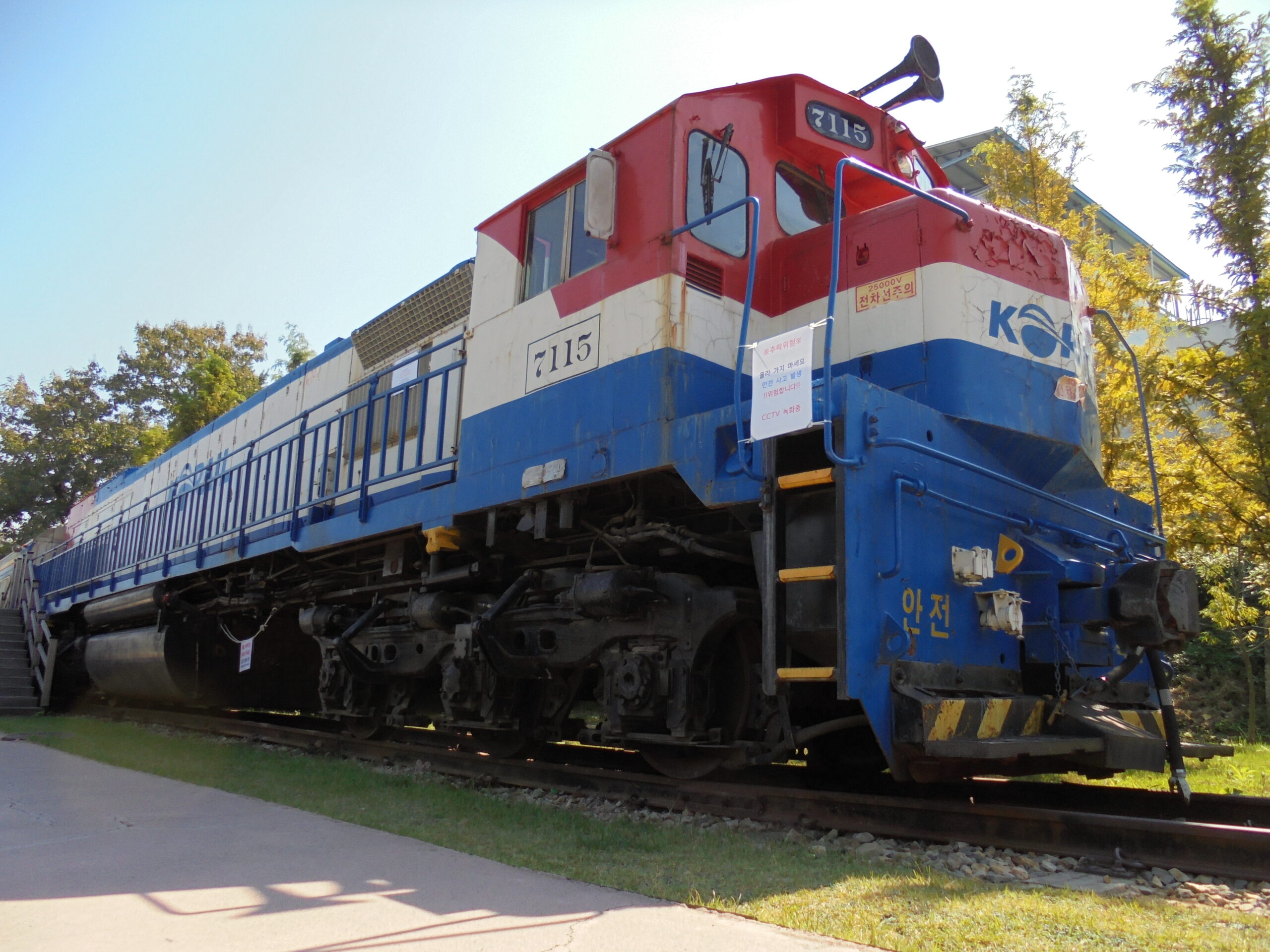 There are several preserved road engines, as well. One is an EMD GT26CW, No. 7115. These units are a variant of the GT26 export series with six axles (C) and compatible traction motors in wide gauges (W). No. 7115 was built in La Grange in 1975 as one of 20 units (Nos. 7101-7120) delivered to the KNR, purchased by the South Korean government through EXIM for $540,000 each. An additional 20 units (Nos. 7121-7140) built in La Grange were delivered to the KNR in 1978 through another EXIM deal at $740,000 each.
Despite being originally meant for freight service, the models exported to South Korea were fitted for fast passenger service as well. EMD ended up licensing out the variant to Hyundai Heavy Industries, which proceeded to build an additional 50 units locally for a total of 90 locomotives of this model operated in South Korea. No. 7115 remained in service pulling passengers and freight until 2013. It was retired and preserved alongside two passenger coaches at a park surrounding a former station in the southern Korean city of Gimhae. The others were either retired or involved in accidents between the late 1990s and 2010s. Some ended up being scrapped, converted to class 7500s, or sold to other countries such as Iran and Pakistan.
EMD was the main provider of diesel power during development of South Korea's national rail network. Alco was also in on some of the action, delivering 49 DL-532 export units through the former ICA in 1966.
These locomotives faced a major challenge upon delivery. Alco was in trouble and beginning to slowly cease production. These were new locomotives with parts that were going out of production, and the KNR was in need of a solution to "save" its newly delivered units. It turned to EMD, which modified 43 units with 8-645E variants of the EMD 645 diesel engine. This allowed for future delivery and installation of replacement parts from EMD. Six units, Nos. 3101-3106, remained unmodified. The modified units were renumbered as 3201-3243, becoming a separate class of locomotives. They served in both freight and passenger service, with the unmodified units retired in 2000 and the modified units staying in service until 2004.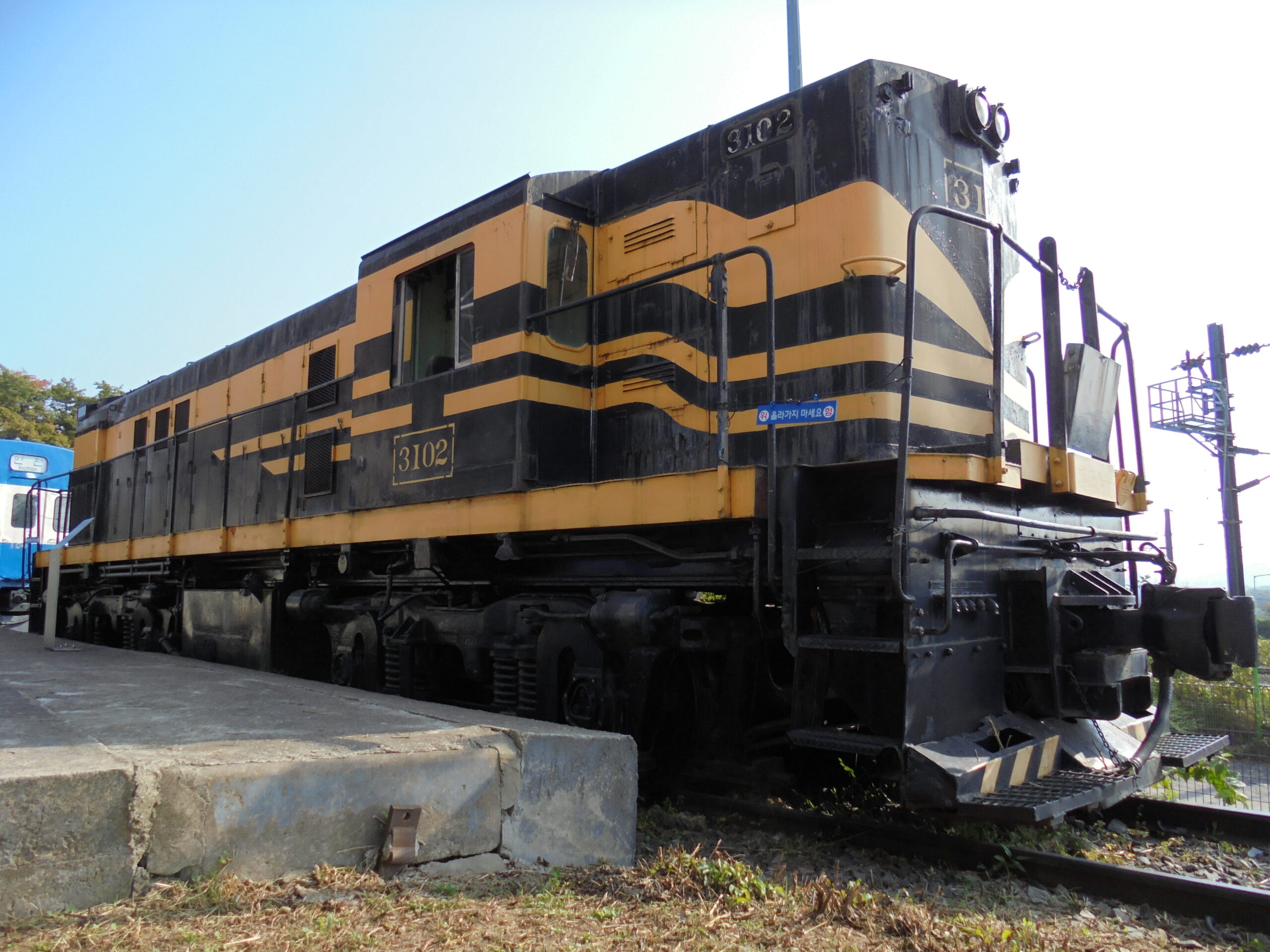 No. 3102 has been preserved at the Korea Railroad Museum south of Seoul. The other unmodified units were scrapped. All modified units were scrapped immediately, except for a few that were shipped back to the U.S. and served as yard switchers before being scrapped in 2010. This ended the presence of Alco power on the Korean Peninsula.