Norfolk Southern C39-8E diesel locomotive No. 8688 is one of only two of its kind known to remain in existence in the United States. The unit, made by General Electric, is a diesel-electric locomotive built between 1984 and 1987. An early part of GE's Dash 8 series of locomotives, 161 C39-8s and C39-8Es were built for Conrail and Norfolk Southern.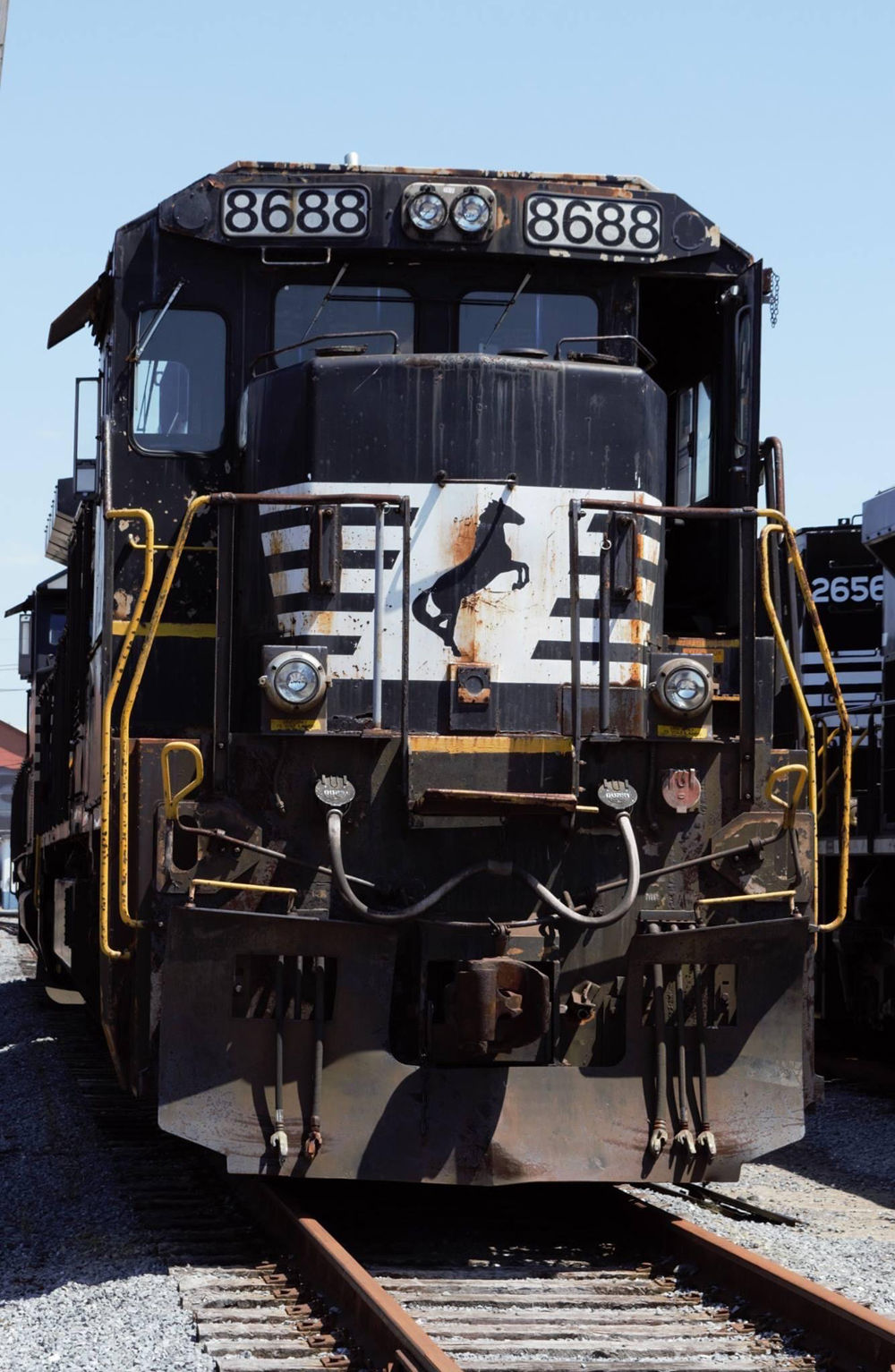 I first happened upon 8688 in the yard of Norfolk Southern's Juniata Locomotive Shops in Altoona, Pa., in August 2014. My interest in the model I had no recollection of seeing in operation kept me seeking out the engine each time I visited the shops afterward. On my most recent look at the locomotive, it was staged inside the Emissions building at Juniata. Shop employees refer to the unit as G2, at the time primarily used for fuel tank and emissions testing.
Designation for the locomotive is fairly simple in technical terms. The "C" indicates that the locomotive has six axles. The "39" lets railroads know 3900 horsepower is generated by the V16 7FDL-16 diesel engine. The "8" refers to the Dash 8 line of GE locomotives many railfans and photographers grew to enjoy primarily in the 1980s and 1990s. The "E" designation, as seen with 8688, refers to enhancements or modifications made by GE both internally and externally that would be incorporated into the upcoming C40-8 model.
Speaking with current and past crew members, the C39-8E was unpopular. Crews complained about the noise, rough ride, and numerous break downs. As unpopular as the model was with crews, it was favored by the railroads near the end of the 20th century because it allowed use of just two units, rather than three, on coal trains in the Appalachians. Norfolk Southern owned and operated 114 C39-8 units, including two former GE demonstrator units set up to run short-hood forward. Conrail owned 22 units, with 13 of those going to Norfolk Southern and nine going to CSX Transportation after the Conrail break-up in 1999. Norfolk Southern also had on their roster 25 C39-8E units with the upcoming C40-8 carbody design, which sold thousands of units in the late 1980s to early 1990s.
All NS and CSX units have been retired from service on American railroads except the 8688 one can see moving occasionally around the yard at Juniata Shops. There is also former Norfolk Southern No. 8212 (ex-Conrail 6021) which has recently been put back into service on the Pennsylvania Northeastern.