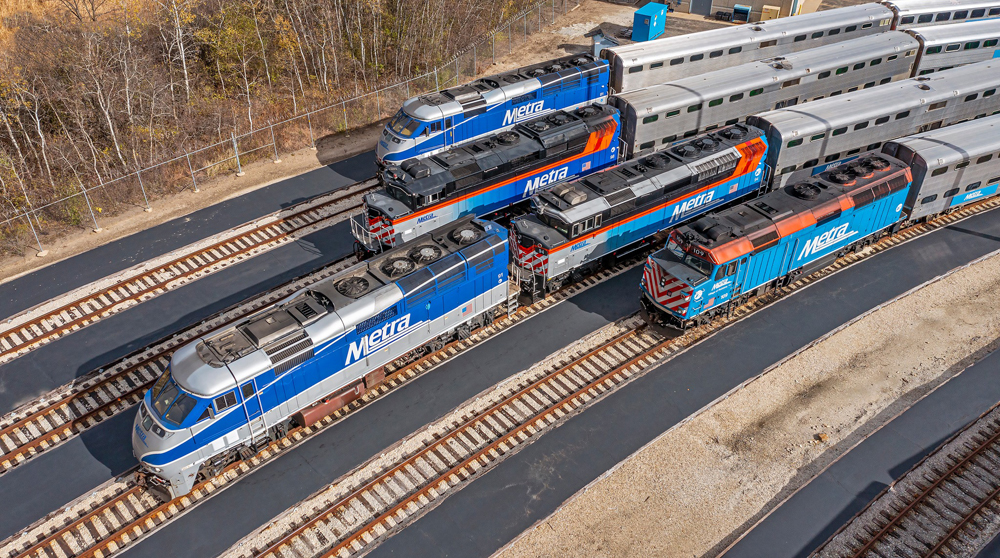 ---
Metra's colorful locomotive fleet is currently the most brilliant it has ever been. From its original paint scheme to its updated design first used on its MP36 fleet to a host of specially painted units to second-hand patched power. These days it's a potpourri of colors hauling Chicago-area commuters. Let's explore Metra's colorful locomotive fleet.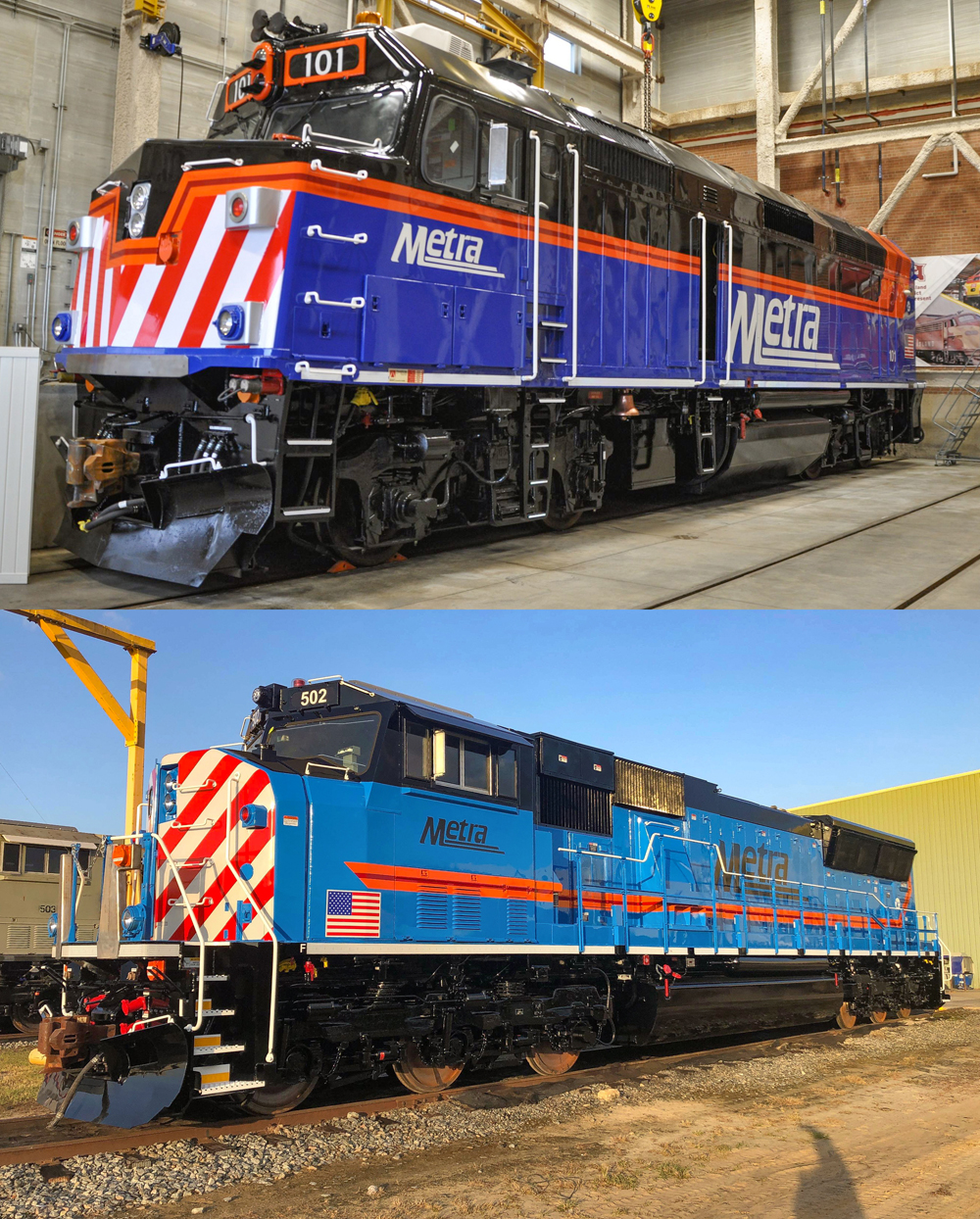 The dominant color scheme is still Metra's original blue and orange scheme with black underframe. Introduced in July 1985, the scheme replaced the original Regional Transit Authority colors that used a lighter blue and multiple stripes on the carbody. The original design was standard until 2003 when Metra acquired its fleet of 27 MP36PH-3Ss from Motive Power Inc.
The new MP36 scheme is a significant departure from the original Metra design. There is a fading white to blue section on the lower carbody, a sloped two-toned orange stripe runs front to back separating it from the black paint above, with silver applied to the angled roof section, and black on the horizontal roof space. These were the only units for years wearing this scheme until three second-hand F59PHs were acquired and released in 2015 wearing the MP36 paint design.
Since then, numerous rebuilt Metra locomotives and other second-hand purchased power have been repainted in this scheme. Recently, Metra has phased out the fading white-to blue section in favor of a solid blue area from front to rear on all repainted units. Additional second-hand F59PH and F59PHIs have been made with most of the latter model keeping their former Amtrak colors. Metra did a tasteful job patching the power, covering all former markings and adding Metra logos and road numbers. These 21 F59PHIs are all ex-Amtrak units, which were based on the west coast wearing Pacific Surfliner or Cascades paint.
The latest power to arrive in yet another scheme is Metra's recent order with Progress Rail for 15 SD70MACHs. The new six-axle commuter power began to arrive in late 2022 wearing a different scheme that Metra says will be unique to this model only. The locomotives wear solid blue on the carbody with the two-toned orange stripe running the length of the unit before turning upward at the rear without expanding. Gone is the silver section near the top, a change Metra made to other repaints in the fleet prior to the SD70MACHs arriving. With rebuilding and repainting of its fleet continuing, expect the variety of colors in Metra's fleet to shrink in the coming years.
Paint variations in service on Metra:
Original Metra scheme
New Metra scheme with silver roof and fading white to blue section
New Metra scheme with all black roof and fading white to blue section
New Metra scheme with all black roof and solid blue section*
Metra F59PHI (Amtrak Cascades patch with brown underframe)
Metra F59PHI (Amtrak Pacific Surfliner patch with black underframe)
Metra SD70MACH light blue and black scheme*
Note: *Denotes Metra's current corporate paint schemes
Specially painted locomotives:
Metra 90 (C&NW Heritage)
Metra 104 (Chicago)
Metra 211 (CB&Q Heritage)
Metrak 402 (State of Illinois)
Metra 405 (Milwaukee Heritage)
Metra 425 (Rock Island Heritage)
Metra 500 (RTA 50th Anniversary)