EMD Joule locomotive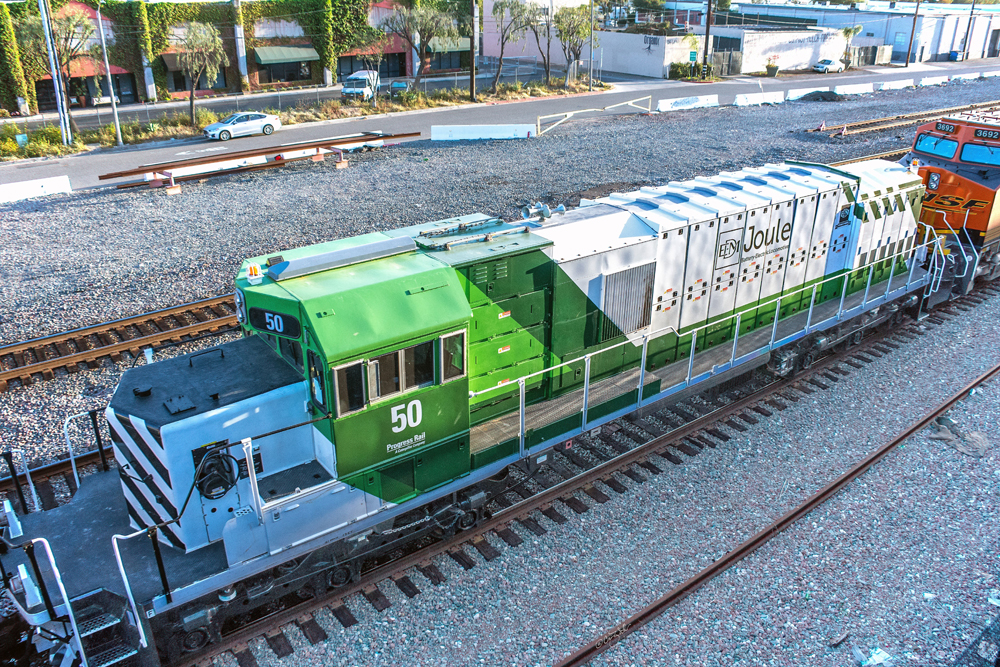 ---
Progress Rail's long promised EMD Joule Battery Electric Locomotive has arrived at its destination at Pacific Harbor Line's Wilmington, Calif., facility for long-term testing and demonstration purposes. The builder said it will be at home in switching service, regional service, and part of a consist with traditional diesel-electric locomotives.
According to the builder, Joule locomotives recover energy through dynamic braking. When dynamic braking is activated to control train speed, the batteries are charged, saving what would otherwise be wasted energy. Alternatively, the batteries can be charged through a range of wayside charging options tailored to meet operational needs.
The unit, originally a standard EMD SD40-2 built for U.S. service, was rebuilt and retrucked for narrow gauge use in South America. It was used as a core for the project where it was converted back to standard gauge. Upon arrival at the Port of Houston, the unit was sent to the AAR's new MxV test facility near Pueblo, Col., for testing and certification. Upon being certified by the FRA it was dispatched entrain to PHL for use in and around the ports of Los Angeles and Long Beach on a two-year demo lease.
The six-axle unit features the latest lithium-ion battery technology and battery management system, alongside AC traction and state-of-the-art technology. According to the company, the unit has a battery capacity of 2.4 megawatt-hours for a runtime of up to 23 hours depending on charging and utilization. The unit is capable of 3,200 hp.
"PHL has always been in the forefront of demonstrating and acquiring successful new, low emission technology. The Joule is the first battery electric switcher locomotive designed by a major locomotive supplier for North America that appears robust enough for the demanding PHL environment," said Otis Cliatt II, president of PHL. "As such, PHL is pleased to have the opportunity to demonstrate this technology. What Progress Rail and PHL will learn from this demonstration will hopefully advance the prospects for zero emission locomotive solutions in the San Pedro Bay ports."