Gauley Trolley on CSX: The Gauley Trolley represents the destination community it originally served at Gauley Bridge, W.Va. The trolley is a Class I railroad's local service, originating in Gauley Bridge, an interchange between the Chesapeake & Ohio and the Kanawha & Michigan. It later became part of the New York Central, later Penn Central, then Conrail, and finally Norfolk Southern. In 2016, NS spun off its ex-NYC west Virginia Secondary assets to form Watco's Kanawha River Railroad short line.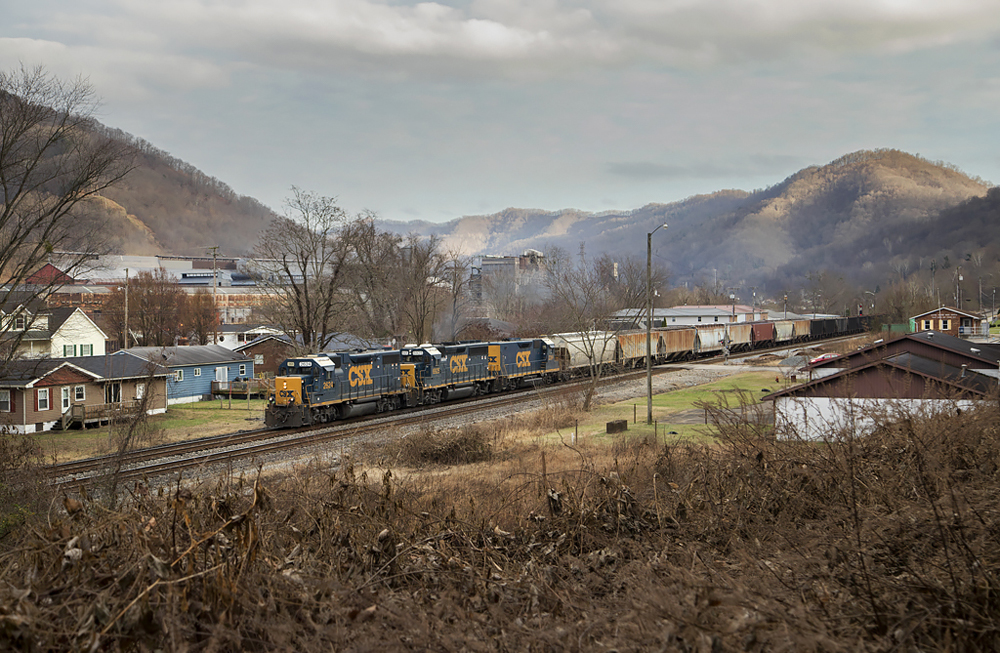 Today, trains still roll through Gauley Bridge on the short line, but CSX Transportation's side of the Gauley interchange is dormant, and the two railroads no longer physically interchange at Gauley Bridge due to an out-of-service bridge. Despite this, the name is still engraved in the minds of veteran railroaders who hold seniority on the job. The Gauley Trolley lives on.
Originating from CSX Transportation's former C&O yard at South Charleston, W.Va., about 5 miles downstream from the state capitol, is home base to one of the CSX's last remaining locals between Russell, Ky., and Richmond, Va. A 500-plus-mile corridor used predominantly as an export coal artery is also home to a modest number of industrial customers. They dot the mainline at familiar towns and contribute in their own way to the heavy tonnage that dominates this route.
Conventional cab four-axle EMDs of various CSX predecessors, and the occasional in-house West Virginia-rebuilt "Dash-3" GP-style locomotive chaperones eastbound covered hopper empties 35-miles from South Charleston to Deepwater, W.Va.
At Deepwater, locomotives runaround the inbound consist and climb the interchange tracks at Vaco Junction. Vaco's name represents the rendezvous interchange between the former Virginian Railway ("VA") and C&O ("CO"). Once on Virginian-trackage, the local reverses across the Virginian-built bridge spanning the C&O main below and crossing the Kanawha River to the east side of the valley where it joins NYC trackage at Alloy. Alloy uniquely served three major railroads in its heyday, the C&O, Virginian, and NYC.
Railroaders use cabooses for shoving platforms today across the high bridge as the interchange maneuver necessitates a shove move of about 1 mile. Once at Alloy, CSX crews ease into yard tracks at West Virginia Manufacturing, where they exchange inbound empties for outbound loads. West Virginia Manufacturing's origins date to the 1930s as an alloyed metals mill, hence the town name of Alloy. Today, the plant focuses on silicon metal, a type of metal derived from silicon for uses in chemical and aluminum industries as well as for electronic semiconductors.
CSX gains access to the plant via trackage rights with the Kanawha River Railroad. Up to a dozen loads are retrieved at Alloy for an equal exchange of empties. Local service is provided a minimum of one day a week, usually on Sundays, but transfers sometimes happen during the week.
After swapping railcars at the plant's interchange tracks, the local departs locomotive-first, pulling across the Kanawha River and re-joining the CSX main at Deepwater. From there, it's a quick 35-mile, or roughly one-hour trip across the old C&O through the towns of Handley, Pratt, Cabin Creek, Marmet, and Charleston before returning to South Charleston. Coincidentally, the local's eastbound trip is typically in the morning with its return west in the afternoon, favorable for sunlight in both directions. A general ballpark departure on Sunday morning is after 8 a.m., usually departing South Charleston after Amtrak's eastbound Cardinal No. 50 passes.
If you find yourself passing through the Mountain State on a weekend trip, swing by South Charleston, turn the scanner to AAR 160.230 (AAR 08) and try your luck. If there's no local power at the terminal, there's a good chance the Gauley Trolley is out doing its thing.
Have a recommendation for a Class I local profile? Email Chase Gunnoe at chase.gunnoe@outlook.com.