10 hot spots with Chase Gunnoe: Identifying my 10 favorite train-watching spots in the U.S. is no easy task. There's a lot of great spots here in the Mountain State that have earned my favoritism, but to showcase what the American rail landscape has to offer, I've selected these areas to witness railroading at its finest, each chosen for special reasons.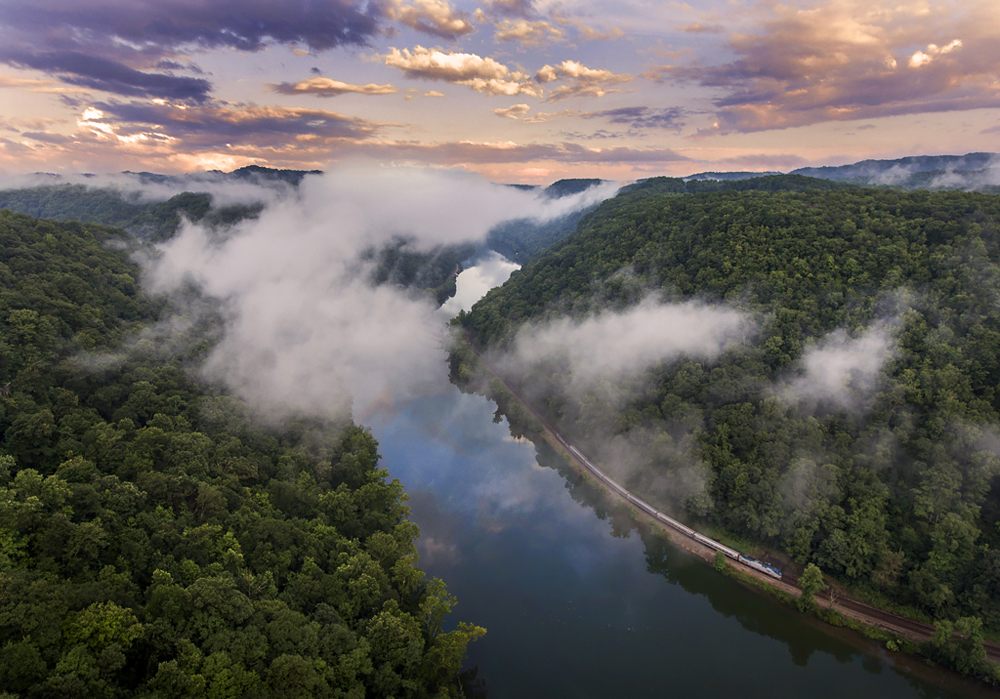 1. NEW RIVER GORGE NATIONAL PARK, W.VA. — A Chase Gunnoe Hot Spot
There are so many beautiful train-watching locations within the New River Gorge of southern West Virginia — Hawks Nest, the New River Gorge Bridge at Fayette Station, Thurmond, Prince, and Quinnimont to name a few — that it's impossible to emphasize only one. This region extends from near Gauley Bridge, east to Meadow Creek along CSX's appropriately named New River Subdivision. By far, it earns my top spot for train-watching in America. In the past 10 years, I've spent weeks camping in this Gorge, witnessing dozens of unit coal trains grind upgrade through some of the state's most gorgeous terrain.
2. ASHKUM, ILL.
There's no better way to experience railroading in the America's heartland than setting up along Canadian National's former Illinois Central at Ashkum. Grain elevators, an old train depot, and small-town America make this one of my go-to spots in the Midwest. Ashkum hosts a variety of trains along CN's Chicago-to-New Orleans main line. Amtrak's Illini, Saluki, and City of New Orleans pass through for added variety.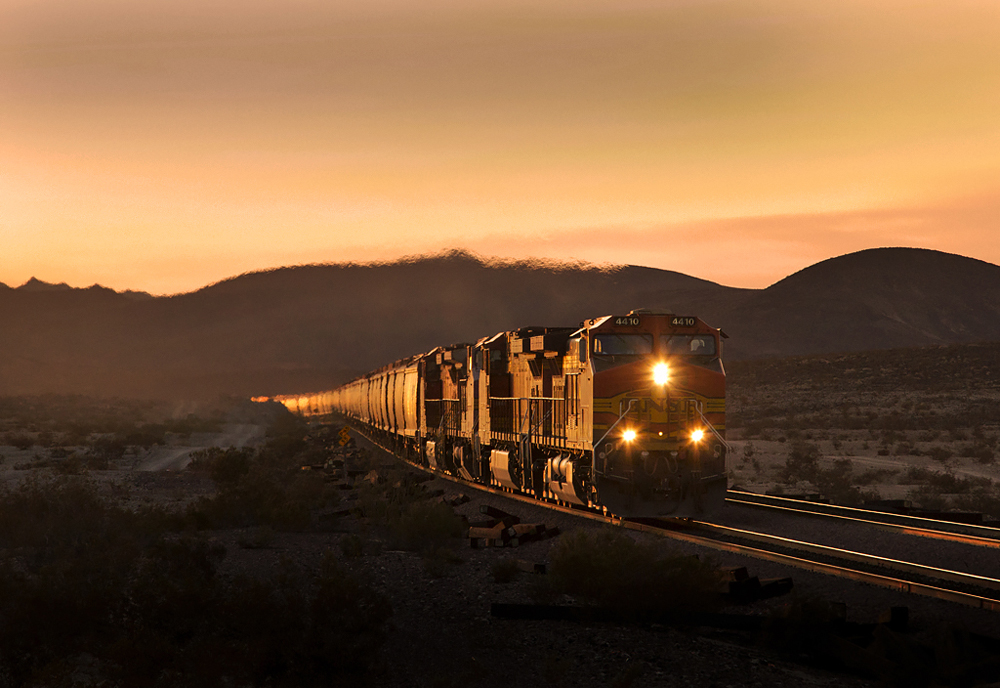 3. MOJAVE DESERT, CALIF. — A Chase Gunnoe Hot Spot
You can't describe a location more opposite than my upbringing in the mountains of West Virginia, but the former Santa Fe's trek across Southern California's Mojave Desert has elements that remind me of home. Perhaps it's the vastness and the idea of watching trains approach from miles away without any indication of civilization. For me, my favorite segment of the transcon is the Mojave Desert between Needles and Ludlow, Calif. Here, the early mornings and late evenings present beautiful opportunities for dramatic low-light photography. There's no shortage of test subjects with BNSF Railway trains rolling through each day by the dozens.
4. RATON PASS, N.M.
Train counts may not be as impressive as at other locations, but Raton Pass and its daily pair of Amtrak Southwest Chief trains slicing between near-100-year-old Santa Fe-built semaphores is a phenomenal experience this far into the 21st century. Enjoy a day in the high desert along Interstate 25 between Colmor and Wagon Mound, N.M., to enjoy high-speed, modern-day passenger trains interacting with ancient technology. These semaphores are actively being replaced by new signals, making this a top train-watching spot for now. If this is a bucket list item for you, plan your trip sooner than later.
5. ST. ALBANS, W.VA.
It's unfair to compile a list without recognizing the town where it all started. It's a great place for trains, too. Located on the former Chesapeake & Ohio main line, the CSX Kanawha Subdivision at St. Albans hosts the railroad's east-west line between Russell, Ky., and Newport News, Va. From mixed freights to unit trains of grain and coal, St. Albans is also one of those few spots in West Virginia with straight track. Setting up at the town's restored C&O depot yields an east-west view of more than 3.8-miles of linear track with signals both ways. The railroad's Coal River branch joins the main line here, giving you a chance to catch hopper trains flowing to and from the coal fields.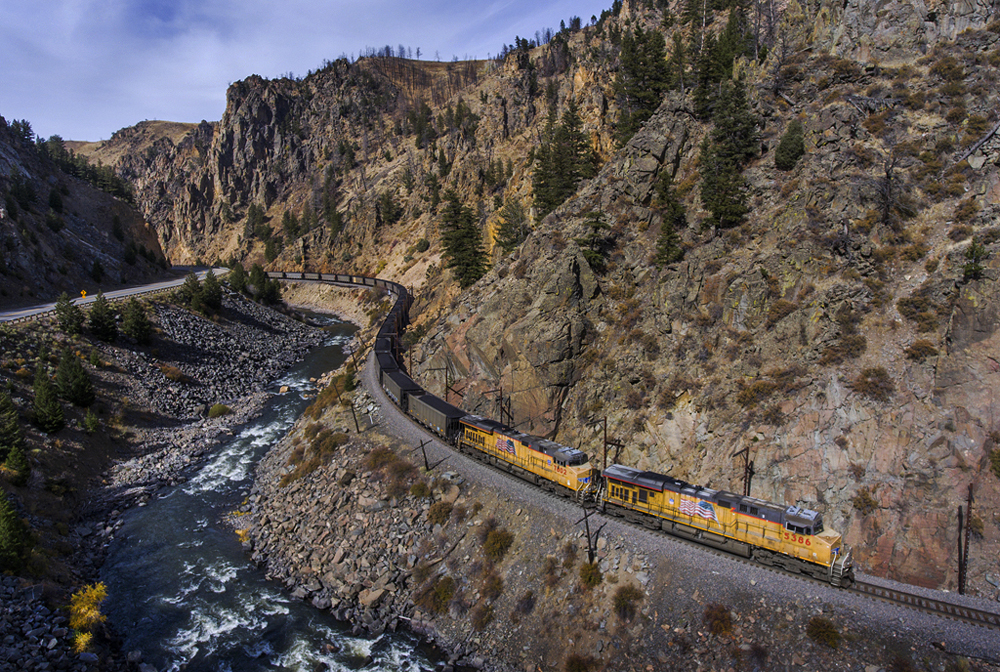 6. BYERS CANYON, COLO. — A Chase Gunnoe Hot Spot
Tracing the original Denver & Rio Grande Western main line between southeastern Utah and Denver introduces one to beautiful, diverse scenery, but for me, my favorite section of railroad on the Moffat Tunnel route is Byers Canyon. Here, Union Pacific and run-through BNSF Railway trains navigate a short rock-face canyon near Hot Sulphur Springs. It's only about 8 miles long, but slow-moving trains allow several opportunities for great views. Amtrak's California Zephyr rolls through here in the afternoon hours when on schedule.
7. ECHO CANYON, UTAH.
Experiencing the Union Pacific's Overland Route in Echo Canyon is a day well spent. Situated near the intersection of interstates 84 and 80, scout a scenic perch and enjoy watching Union Pacific trains descend Echo Canyon as the yellow-and-grey locomotives contrast with the reddish clay formations. Echo is a beautiful day trip from Salt Lake City and trains are plentiful.
8. KENOVA, W.VA.
There's no shortage of action at the town I've dubbed the Crossroads of Coal Country. Kenova features the dramatic over-and-under of NS' ex-Norfolk & Western and CSX's former C&O main lines. Here, eastbound NS trains enter West Virginia on the massive N&W Ohio River bridge, passing over CSX trains on its east-west main line. Mixed freights, locals, and unit trains of grain and coal are on both roads. NS offers a little more variety with double-stack container and piggyback trains. Combined, the two Class I railroads bring at least 40 trains through each day. For added value, the Kanawha River Terminal is an industrial railroad handling coal trains for each Class I
railroad.
9. ELKHORN GRADE, W.VA.
NS' storied Elkhorn Grade carries the N&W main line near Welch, W.Va., to Bluefield, W.Va., passing through the epicenter of coal country in deep southern West Virginia. Manned helpers still assist heavy coal trains across Elkhorn, passing through double-track tunnels and bridges before plateauing into Bluefield. There's plenty of mainline activity as light helpers duck in and out of crossovers to stay out of the way of heavy tonnage. Similar to Kenova, Elkhorn sees the same volume and variety of traffic, but a few extra trains can be expected when adding local mine runs and helper sets.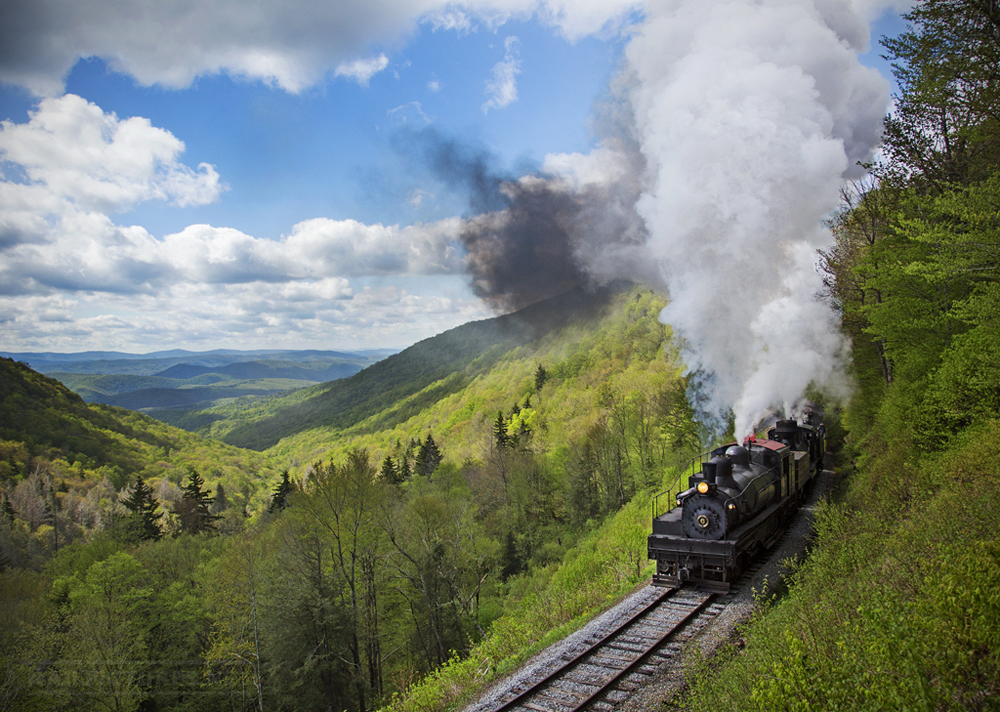 10. CASS, W.VA.
The world's largest collection of geared steam locomotives alone justifies a visit to historic Cass. More than 100-year-old Shay steam locomotives continue earning revenue in 2022, hauling passengers from this historic forestry town to the summit of the Appalachians at Bald Knob, more than 4,800 feet above sea level. In between excursions, the railroad hosts photo charters, restores private rail freight equipment, and is rehabilitating the former C&O Greenbrier River line between Cass and Durbin.