Saluda Grade future possibilities are murky.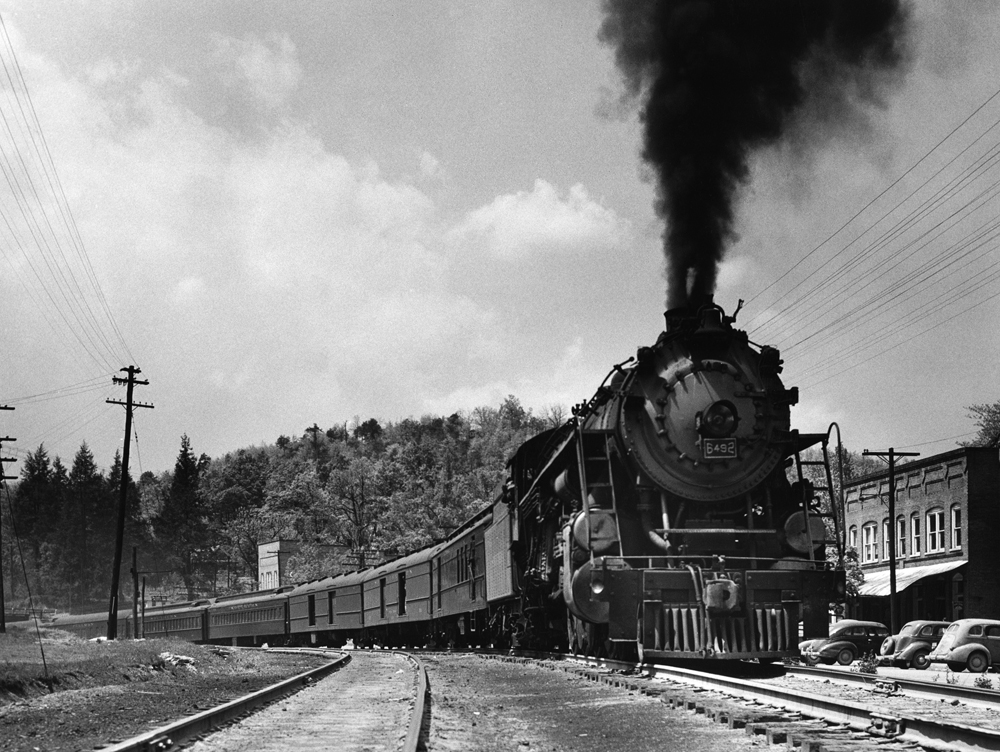 Nearly 22 years have passed since freight trains descended Southern Railway's Saluda Mountain. Kudzu vines conceal the right-of-way in many places and heavy Appalachian rains have washed away sections of track. Although shrubs and small trees are reclaiming North America's steepest main line in rural western North Carolina, Norfolk Southern has not abandoned the notion that freight trains could again descend Saluda's 5.1% grade.
NS made the decision to idle a section of its route across Saluda Mountain in December 2001 when it discontinued use of the 67.4-mile corridor as a through route between Asheville, N.C., and Spartanburg, S.C. It replaced over-the-road trains with local service originating from Asheville Yard and from Hayne Yard in Spartanburg, idling the middle segment across Saluda. In closing the mountain, western North Carolina freight shippers gained access to the balance of the NS system via the railroad's ex-Southern Railway east-west lines from Asheville. To the east, freight operates across Old Fort Loops to Salisbury, N.C., where it connects to the original Southern main linking Washington, D.C., to Atlanta. And Asheville west is the NS's water-level route to Knoxville, Tenn., along the French Broad River.
Jim McClellan, then-NS senior vice president of planning, explained that in choosing between two rail lines in proximity, the railroad will select the low-cost, fast option, even if it gives them extra circuity. He explained how it doesn't cost railroads much money to leave lines in place and abandoning tracks and salvaging rail doesn't generate significant tax savings or scrap revenue [see "Saluda: Why it must rust," TRAINS, June 2003].
Saluda was, and likely still is, perceived as a low-velocity, high-cost route that is redundant compared to other higher density NS lines in proximity. While today's routing adds route miles to locomotives and railcars, NS still likely benefits from cost-savings and less capital associated with maintaining and operating Saluda Mountain. And keeping Saluda in an idled state doesn't have a significant drag on NS's bottom line.
"Many of these lines actually have a net-liquidation-value that's negative, after the environmental mitigation," McClellan said.
Saluda's fate is in the hands of the NS strategy team. Even though very little has changed with the mountain in the first two decades of the 21st century, the rail landscape of western North Carolina has changed. In 2014, NS sold a portion of the Saluda route to Watco, creating its Blue Ridge Southern Railroad. The short line provides service on about 26 miles of the corridor from the NS interchange at Asheville to Milepost 26.0, near Flat Rock, N.C., about 7.3 miles from Saluda proper.
NS also eliminated run-through traffic between Knoxville and Salisbury, North Carolina, via the Old Fort loops in 2020, after they cut back operations at its Linwood Yard near Salisbury. Instead, freight in Asheville and on the Blue Ridge Southern gain access to the NS system with a pair or regularly scheduled trains between Asheville and Knoxville. Local switch jobs handle local industries east of Asheville.
Despite these network adjustments and ample opportunity to forego Saluda forever, NS has not filed paperwork with the Surface Transportation Board, leaving the possibility that one day service could resume.
Advancements in technology allow the safe operation of longer, heavier trains. While Saluda remains North America's most grade-intensive route, it is possible that NS could reopen the mountain and operate trains more efficiently than before. Perhaps, however, they are holding onto Saluda for an entirely different reason.