I decided to make history repeat itself in August 2000, when my son, Liam, was 4. I wanted Liam to experience a train ride that I took with my grandfather 50 years ago. My grandfather had taken me on passenger trains from the San Francisco Bay Area to the San Joaquin Valley town of Merced, Calif., and back. Times have changed since then, and so have the trains.
I knew the Amtrak San Joaquin service between the Bay Area and Bakersfield offered schedules not much different than what I had. My son, Liam, was much younger than I had been, but he had a strong interest in trains. He could handle the trip.
"Maybe they'll have F40 on it," he said.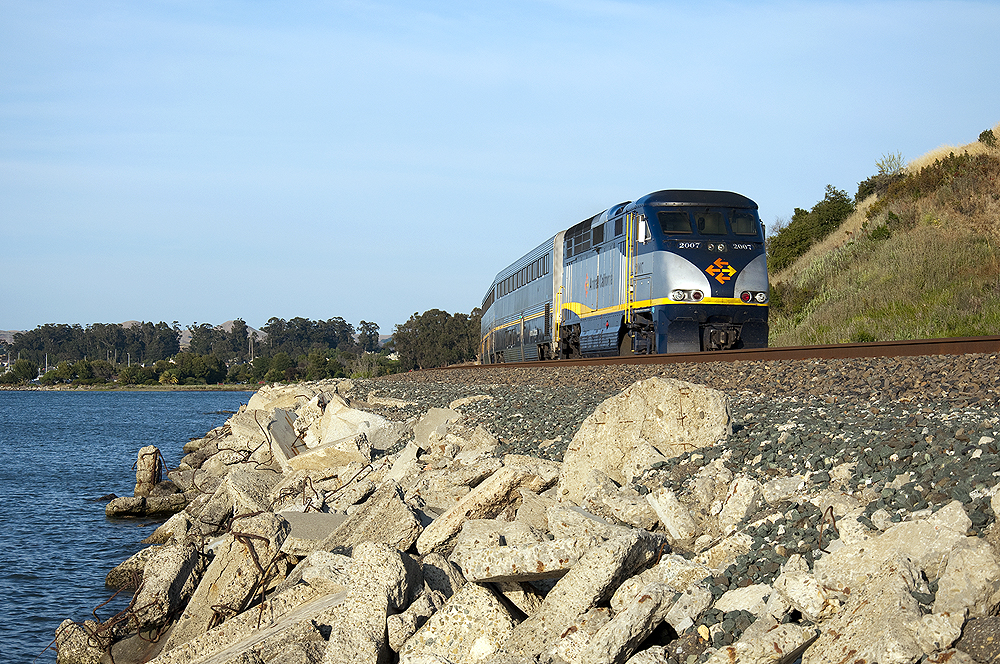 Liam and I headed for Martinez, which was more convenient for us than Richmond. Our trip would have other differences as well. Amtrak's San Joaquin trains use the former Southern Pacific line out of Oakland before making a switch to the former Santa Fe tracks, now BNSF Railway, where the routes parallel at Port Chicago.
Our train, a navy blue and white F59PHI with five cars, arrived at Martinez at 8:14 a.m. Two minutes later, we settled into our seats for an on-time departure.
Our train was doing about 25 mph on Union Pacific tracks, former SP, along the southern tidelands of Suisun Bay. The conductor explained that this was a slow section of track and we'd soon be switching to another line where the train would speed up.
I smiled as we got off the old SP and onto the former Santa Fe. I passed that information on to Liam, as he strained to peer out the window.
At Port Chicago we switched lines without a hitch.
"Now we'll speed up," I said.
Sure enough, we started to take off. As we rounded the big "S" curve over the UP at Ambrose, I couldn't help but reminisce. This moment still felt like the Golden Gate on the Santa Fe. Liam looked up at me and smiled.
Amtrak no longer stops at Pittsburg. I tried pointing out the boarded-up depot to Liam, but we rolled by so quickly he missed it. Amtrak trains stop in Antioch. We remained on schedule as the train pulled out. I pointed out the Antioch Bridge, a taller, more majestic structure that had replaced the old crossing.
We rolled steadily into Oakley through the flat farmland. We rounded the curve at Bixler and crossed the first drawbridge at Old River. Liam couldn't wait for the next one and he didn't have to wait long. Within two minutes we crossed the Middle River. At Trull we began to slow down. We met a BNSF piggyback and container train, and Liam mentioned the BNSF and Santa Fe Warbonnet paint schemes on the locomotives. He impressed the couple across the aisle.
Our train was back to speed and soon crossed the final drawbridge over the San Joaquin River.
We pulled into Stockton 10 minutes late, and people boarded. Twenty minutes later and behind schedule, we pulled out.
Turning southward at Mormon Yard, I was anxious to see if Amtrak still ran trains down the valley like the Santa Fe had done.The train gathered speed and began heading down the valley. I later found out BNSF had upgraded this section of the line with new rail and ties. Yet, our train still went no faster than 79 mph.
The train rolled right through Escalon without slowing down. Amtrak no longer stops in Riverbank, either. Instead it stops in Modesto, where more people got off and others got on our train.
Rolling again, we passed through Empire and Hughson. We stopped in Denair, departing 35 minutes behind schedule. We weren't going to arrive in Merced on time.
The engineer attempted to make up time as we continued on through Ballico, Cressey, and Winton. Merced was the next stop. We worked our way downstairs to the doorway and watched signals with crossing gates pass by. The train came to a stop at a remodeled depot at 10:52 a.m.
Now Liam and I headed toward 17th Street in downtown Merced. The ice cream parlor grandpa and I visited was gone, but we stopped at a small grocery store for fruit snacks, before heading back to the station.
With an hour to spare, we saw a freight train pass through town. As our train approached, I looked down the line and saw the flash of a Mars light. As it drew closer, my suspicions were confirmed: Northbound San Joaquin No. 713 had an F40PH on the point. I was fond of the PAs and F7s in my youth, while Liam relishes the F40s.
We found our seats and departed two minutes later than scheduled.
Heading north, we had a better view of the air museum at Castle Air Force Base. Then it was on through Winton at 70 mph. We continued through Cressey, over the Merced River, passed through Ballico, paralleled Santa Fe Avenue with telegraph poles astride the line, and I felt like we had entered a time warp. For a few minutes I was back in 1962. And it was Santa Fe all the way. Perhaps Grandpa was there with us in spirit, sharing a few minutes with a curious great-grandson. The recorded voice announcing the stop at Denair pulled me back to 2000 and offered an opportunity to move to the lounge car.
We settled on a lunch that was not so Fred Harvey. We had a microwaved hot dog, nachos with cheese sauce, plain M&M's, and Pepsis, the official soft drink of the National Railroad Passenger Corp.
So we munched on our food as the train continued on to Modesto. I spoke fast, pointing out different landmarks to Liam. We went back to our seats and pulled into Stockton two minutes late.
The old Santa Fe depot had changed only a little and was busy; about half the passengers got off.
We left Stockton on time, heading west into the delta. No meet at Middle River today, but we did pull into the siding at Orwood and waited more than 20 minutes!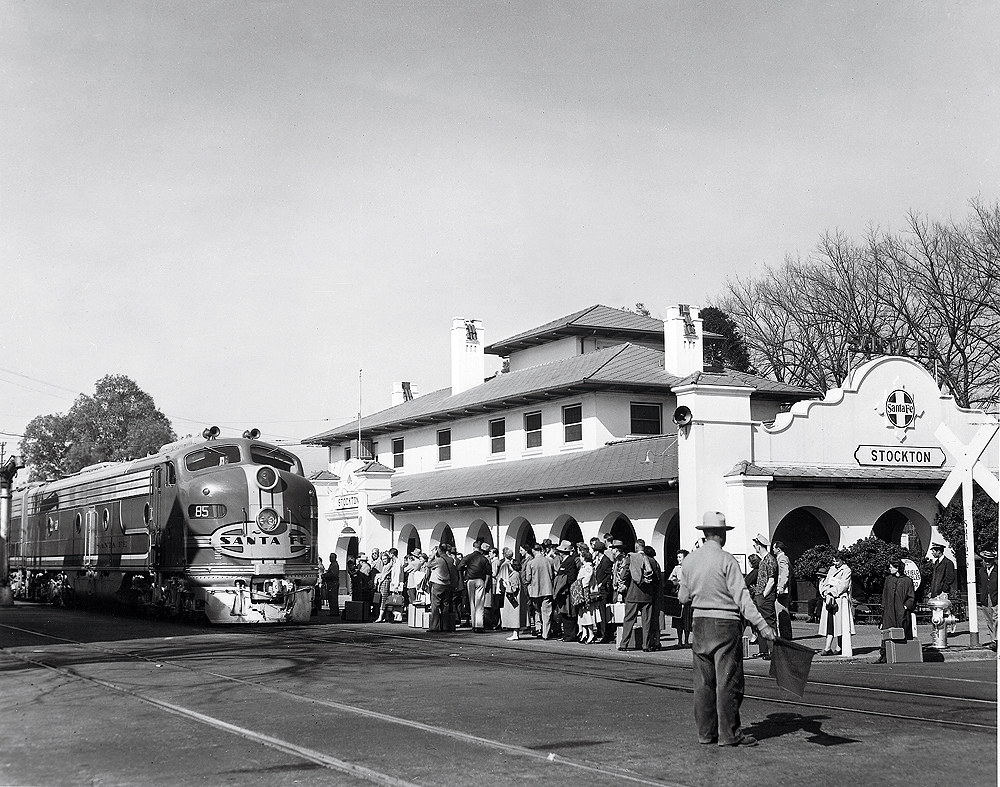 The conductor suggested that the kids get the number of the passing train. Eventually, southbound San Joaquin No. 716 sped by. We picked up speed as we turned northwest through Knightsen and Oakley. But again encountered slow orders on the Antioch Bridge for the track crew. We regained speed in Antioch but arrival was 25 minutes off the advertised.
At the last stop before Martinez, we looked forward to a fast, smooth ending. The train pulled out of Antioch at a crawl and stayed in that mode all the way to the abandoned station in Pittsburg, where we came to a stop. The engineer informed us over the intercom that the dispatcher was experiencing a computer malfunction (definitely something that didn't happen on my trip with Grandpa). Eventually we started up again, but continued at a crawl. At West Pittsburg, we stopped again.
By this time, Liam was acting more like your average 4-and-a-half year old. He was losing his patience.
"Why do we have to keep stopping?" he kept asking. "When are we going to speed up?"
Somewhere between West Pittsburg and Ambrose, I finally lost my patience.
"Liam," I snapped, "this is not your great-grandpa's Santa Fe!"
Yes, I had made the conclusion. Santa Fe always had a better way. But I was glad that Amtrak had a San Joaquin to ride. And as we pulled into Martinez exactly one hour late, I was thankful for the opportunity to try and recreate with my son something special I had shared with my grandpa so many years ago.