Second of two parts
Two veteran Amtrak employees retired last year after lengthy tours of duty on the New York-Washington-Indianapolis Chicago Cardinal, and a regular on the train reached out to suggest their stories were worth telling. Previously, we spent time with sleeping-car attendant Janice Adams [see "Two 'Cardinal' veterans look back …," Trains.com, Jan. 13, 2022.] Today, we feature conductor Leonard "L.L." Claytor.
A career dating to 1975
Leonard Claytor isn't a "boomer," railroad slang for someone who floats from one line and one job to another. Far from it. Working Amtrak's triweekly Cardinal since 1975 makes him the rarest of employees, one who has the perspective to truthfully say, "I've seen it all."
Although the conductor isn't related to W. Graham Claytor Jr., Amtrak's longest-serving president (1982-1993), they share a belief in upholding high service standards and appreciation of dedicated employees.
His fellow workers' admiration was in full force during Claytor's final week on the job. Trains.com caught up with him at Charlottesville, Va., and aboard the Cardinal before he commanded the train west to Huntington, W.Va., for the next-to-last time. Engineers Scott Ferguson and A.J. Austin, and retired former conductor Robert "R.S." Glass, joined Claytor for a celebratory fried chicken lunch in the station's crew room before departure.
Because they were "short timers" when sharing their observations with Trains.com, both Claytor and veteran sleeping-car attendant Adams were able to offer candid perspectives. Their values and work ethic served Amtrak and the traveling public for a combined total of more than 80 years.
Claytor worked the Cardinal as a Chessie System and CSX Transportation employee, technically "on loan" to the passenger carrier for 10 years. Amtrak assumed responsibility for hiring and managing the route's operating personnel in 1985, but paychecks still came from CSX until 2001. The unique arrangement meant he could be bumped only by someone who had prior rights with Chessie and CSX until those employees retired.
"It sounds crazy," Claytor says, "but at first I couldn't hold a conductor's spot, so I stayed an assistant conductor for 24 years before being promoted in 2004. I'm the oldest man out here now."
Shrinking space
Asked about changes over the years, he recalls, "We had a beautiful train: china and flowers on your table and excellent full meal service in the dining car. Passengers all had smiles on their faces. In the summer months, we carried two sleeping cars. When I first started out, the conductors and [assistant conductor] could upgrade right on the train and sold tickets at the unmanned stations. Coach passengers still come to us to see if there is any space, but to upgrade now they have to call reservations and can only buy at the highest price.
"We could start seeing the Cardinal really going downhill between 2017 and 2018," he says, "carrying only one [often sold-out] Viewliner sleeping car." A Viewliner II baggage dorm has been added to keep the onboard crew from taking up revenue roomette space, but the business-class car with a lounge at one end has been cut. "Sleeping-car and business-class passengers used that car's lounge to come in and relax," he says.
Now coach and sleeper passengers are only permitted to eat in one side of the remaining cafe car. It is manned by a single attendant, who gets help serving "flexible dining" microwaved meals in a bowl from the train's lone coach attendant.
For months, the Cardinal operated with only two coaches, but a third car has been restored. On the westbound trip Dec. 15, a group occupied the third coach from Washington to White Sulphur Springs, W.Va.; it filled up again from Indianapolis to Chicago.
"They would not necessarily need to add a second locomotive if they added back the business-class car and a second (full) sleeper," Claytor says. "We've run a train at that length with one locomotive."
Fewer agents lead to luggage clutter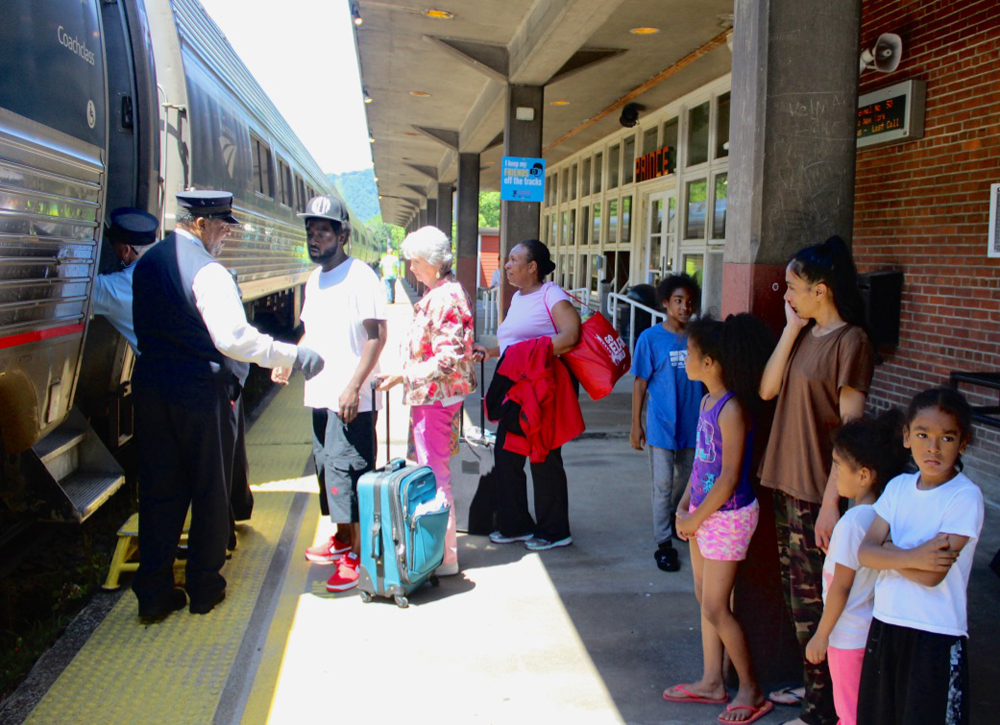 To his "constituents" — regular passengers and observers along the route who have watched Claytor work all these years — he's a consummate professional with a friendly demeanor. But his success is built on upholding high service standards and expectations for travelers.
One example: "I carry a little scale. If your suitcase is over 50 pounds, it stays at the station. And we also can't allow more than two carry-ons, a computer bag, and a shoulder bag." Checked baggage service helped reduce the amount of luggage people bring onboard, yet on the segment he works between Charlottesville and Huntington, only two of the 11 stops have agents.
"Taking the station agents away was a bad mistake — they just put the agent, Matt Crouch, back at Charleston, W.Va., but not at Prince, W.Va., or Huntington," Claytor says. Because conductors have to stay on the train, when there isn't an agent, passengers come to the baggage-dorm car to leave or receive bags.
"We have a lot of elderly women and men that can't lift them up." He adds, "We didn't — and still don't — have the room for all the luggage. With more stops handling checked baggage we could eliminate the clutter in the coaches. Now the clutter is back."
At Prince, he says, "We used to have a top-notch agent, Marvin Plumley, but he retired and it is only opened by a caretaker, so people don't know when the train is coming, because there is no cell service there. It's in a very remote area." Claytor also senses it is no coincidence that travel between the Cardinal's rural intermediate stops declined once the agents' jobs were eliminated. "The camaraderie — people bringing their friends and getting to know us firsthand, seems to have died off," he says.
Operating and maintenance issues
Claytor says that ever since he started working, "the crews and onboard service people have been fantastic. The abilities they displayed were outstanding; they have had great respect for themselves and the passengers riding with them."
But he is concerned about recent inattention to detail elsewhere. The Buckingham Branch Railroad tracks between Charlottesville and Clifton Forge, Va., "have been rough for years," he says. The westbound train we rode had to pull into an "out-of-service" passing track when meeting the eastbound Cardinal at Afton, Va. "Oh boy!" Claytor remarks, when meticulously noting the delay on his train sheet. The previous week, the same thing happened at Bells Valley. "Both trains lost 25 minutes on that meet," he remembers.
Onboard, the same coach had inoperative bathrooms for the third trip in a row. Since he first reported the problem, the equipment set had visited New York's Sunnyside Yard twice and Chicago's maintenance facility once.
"They talked two years ago about upgrading the hand-held devices, so we wouldn't have to carry 10 pounds of rule books and be able to send equipment defect messages directly to the maintenance centers," Claytor says. "We are able to send out notes to report defects, but we don't know who reads them or where the messages go."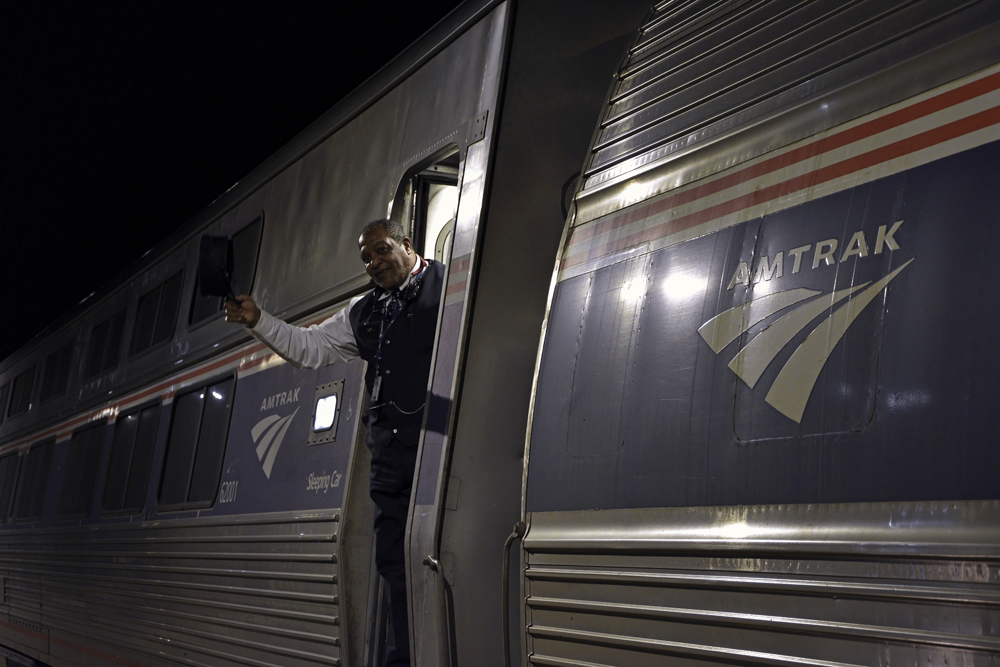 What's next?
In retirement Claytor plans on continuing charity work for his Huntington church and cutting grass for the elderly in his community. "The world has been good to me, and I intend to give back," he says, though he also remarks, "I wish I could be a consultant to the up-and-coming conductors, because I tell you, they have a [difficult] task ahead of them."