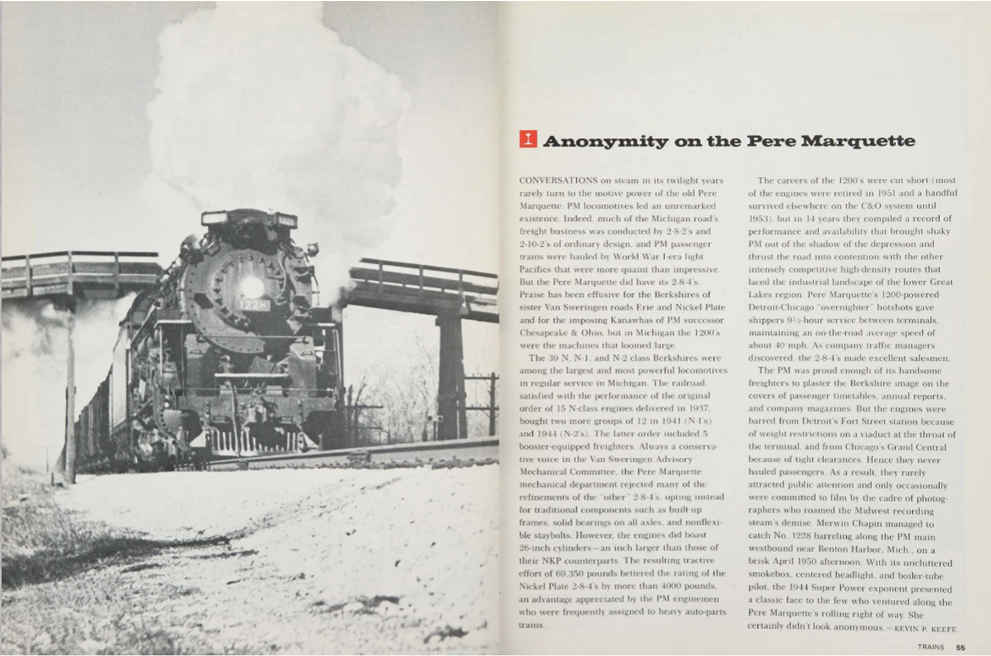 Q: What was your first byline in Trains?
A: My first published piece in Trains was in the October 1975 issue, a two-page story in what was called the "Frontispiece" format, basically a single photo with some commentary. My story was called "Anonymity on the Pere Marquette," a brief tribute to the Pere Marquette Railway's 1200-class 2-8-4 Berkshire steam locomotives. I was part of the group at Michigan State University that began restoring PM No. 1225 a few years earlier, so this was a nice way to start my Trains writing career. I still have David P. Morgan's letter, accepting the story and promising a check for $25, which, to a 24-year-old, was real money.
Q: What's your favorite locomotive and why?
A: With all due respect to 1225 and the PM engines, I'd have to say my favorite is the New York Central 4-6-4 Hudson. I never saw one, sad to say. When we moved to my hometown of Niles, Mich., in 1956, the NYC Hudsons had been out of service for a couple of years. But the myth and mystique surrounding these thoroughbred machines really sparked my imagination, helped along by the Hudson stories some of the NYC old heads would tell me when I'd hang around the Niles depot as a kid.
Q: Describe your love of railroading in 6 words or less?
A: Railroading mixes history, romance, and technology.
Q: What's your fondest memory as a contributor?
A: It's hard to pin down a single memory after so many stories but looking back I'd say the sweetest memory is my first full-length Trains feature. It was called "How Michigan Got Into the Railroad Business" and appeared in the October 1976 issue, describing how Michigan was a pioneer in the state-supported short-line business that exploded after Conrail's creation in 1976. My future boss Dave Ingles, editor from 1987-1992, did some pretty aggressive editing on the story, but I was glad for it. I learned a lot. And seeing your feature byline for the first time is a rush.
Q: What article received the biggest reader reaction?
A: It had to have been my cover story "Rhythm of the Rails" in September 2017. Editor Jim Wrinn had asked me to do a wide-ranging story on the influence of trains and railroading on American music, and I chose to tell the story mainly through the traditions of country music and blues, much of it centering on country icon Jimmie Rogers and blues giant Muddy Waters. I also included a sidebar in which I recommended 10 especially effective train songs or recordings. When it comes to music, everyone has an opinion. I got plenty of them that time!
Q: What advice would you give a new contributor?
A: Start small, or at least with something you can get your arms around. And stick with something you know cold. Large-scale features, if done well, are a complex weave of themes, facts, and style, and it's easy to get lost in the weeds, especially when it comes to holding a reader's attention. Remember that your editor is your friend: everyone needs an editor. Everyone. The feedback you get is likely on target. Try to learn from the experience.