What was your first byline in Trains?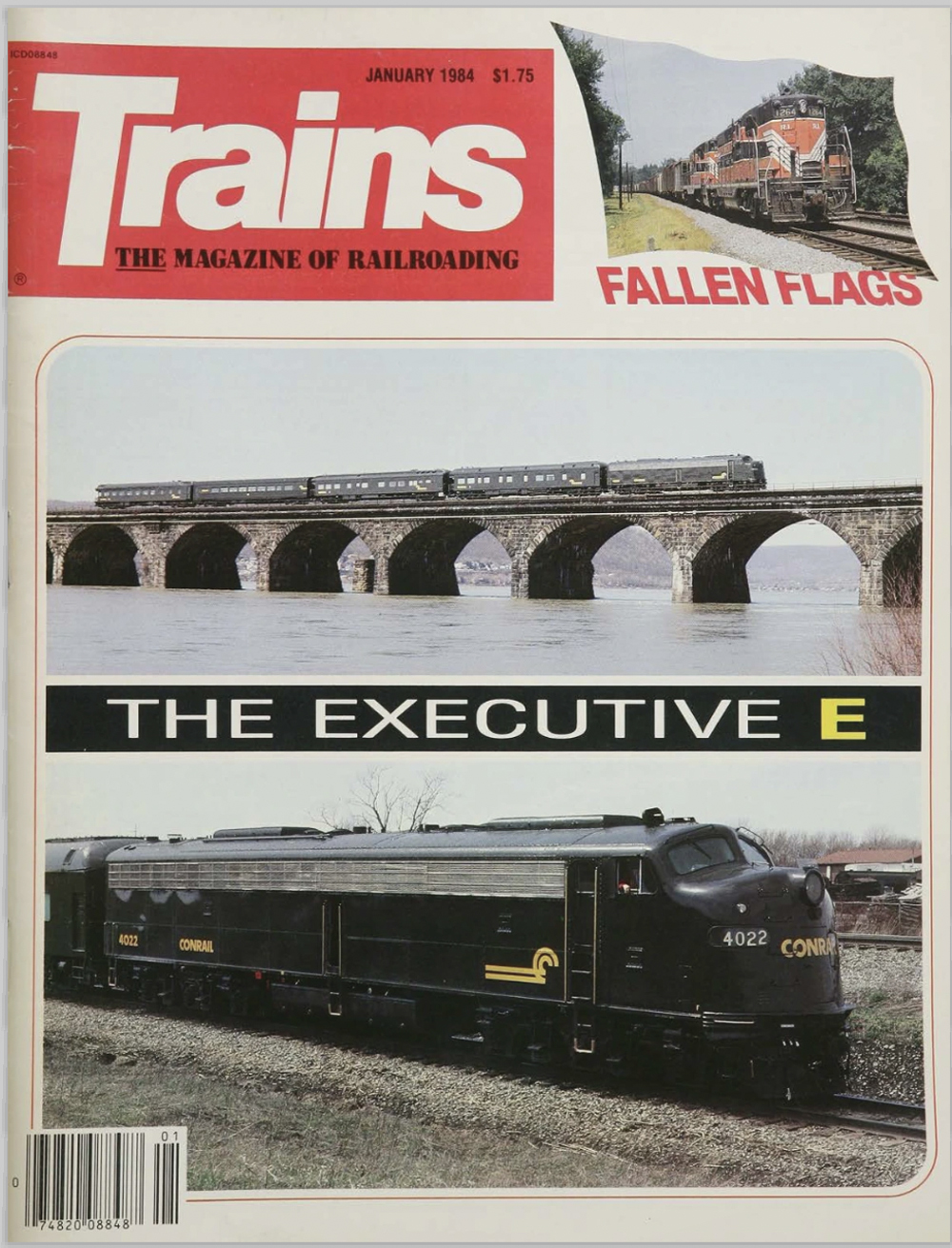 Dan Cupper: It was a 10-page cover feature for January 1984, detailing Conrail's E8-model passenger locomotive No. 4022, used for powering the road's office-car fleet on inspection tours. At the time, I was working as a reporter for the Harrisburg (Pa.) Patriot-News newspapers and had written a full-page feature article for the paper about the unit, which was based in Harrisburg. It was an anomaly, a single Electro-Motive Division 1950-era streamlined passenger unit on what was by that time an all-freight railroad.
Because I'd already been a reporter for a dozen years following graduation from journalism school at Penn State, writing was not new. I'd freelanced articles for Passenger Train Journal and Mass Transit, so I'd figured out how to revise straight news writing for magazine readers. In this case, the research and interviews for the newspaper story were already in my notebook. So I thought I'd try to revise and recycle it to land a piece in Trains, a longtime goal of mine.
I'd tried once before in 1979, pitching a story to acclaimed Editor David P. Morgan about the last run of Amtrak's National Limited passenger train, which I rode and covered for the paper. I struck out on that one, but this time around, Morgan quickly responded with a go-ahead letter.
In newspaper work, I was accustomed to writing stories and handing them to an editor, after which a copy desk took over the task of writing a headline. So I sent my Conrail article as an untitled manuscript, figuring that Morgan would take it from there. He wrote to say that the story was fine, but could I please write a headline? I thought for a second and it came in a flash: I suggested "The Executive E" or "The Executive E8." Morgan favored alliteration. He chose "The Executive E."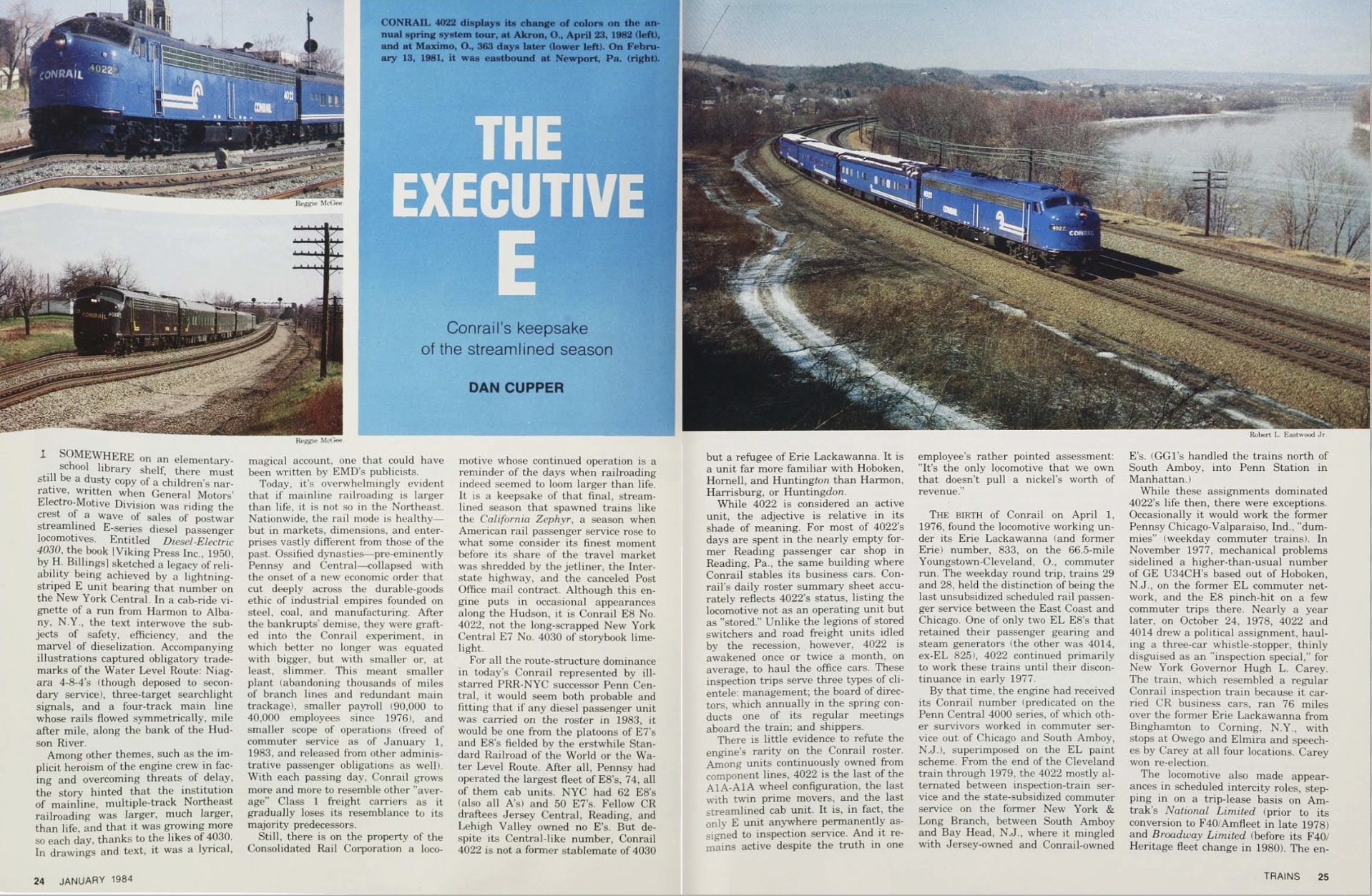 ---
What's your favorite locomotive and why?
Dan Cupper: From the historian/railfan perspective, I've always liked everything – steam, diesel, and electric. As for steam, it helps that I live within a little more than an hour's drive of many active steam engines – Everett 2-6-0 engine No. 11, East Broad Top 2-8-2 engine No. 16, Reading & Northern T-1 4-8-4 engine No. 2102 and 4-6-2 engine No. 425, Jersey Central 0-6-0 engine No. 113, Strasburg's trio of Nos. 89, 90, and 475, and the Kloke Locomotive Works working 4-4-0-type reproductions at Stone Gables Estates in Elizabethtown, Pa., and Northern Central Railway in New Freedom, Pa.
Still, I'd say the favorite comes down to a three-way tie, all of which worked for my favorite railroad, the PRR. The Class M1 and M1a 4-8-2 steam engine is something I remember seeing firsthand at age 4 or 5, running on the PRR main line. The distinctive styling of the Baldwin RF16 Sharknose freight diesel always caught my eye. And PRR's classic GG1-type streamlined electric locomotive was in a category all by itself.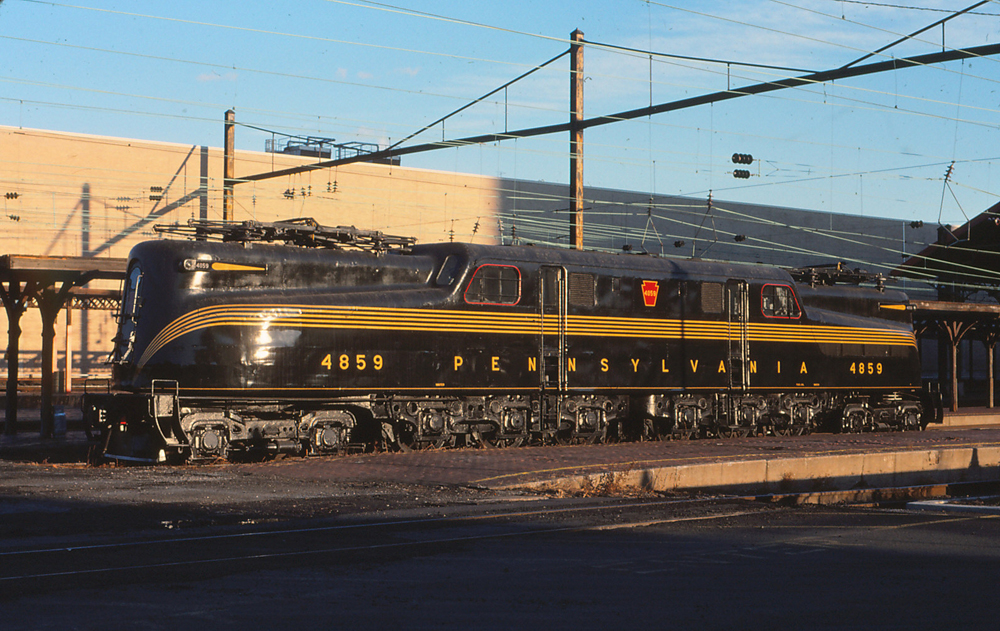 ---
The interest in GG1s only grew in the 1970s and early 1980s, when the newsroom where I worked stood right beside the Amtrak station in Harrisburg where they changed off to diesels at the western end of electrification, offering a daily window on mainline electric operations. A few years later, I chaired a National Railway Historical Society Harrisburg Chapter project to rescue, preserve, and restore the first GG1 – PRR No. 4859 – to pull a revenue train into the city on Jan. 15, 1938. It's now displayed at the Harrisburg Amtrak station.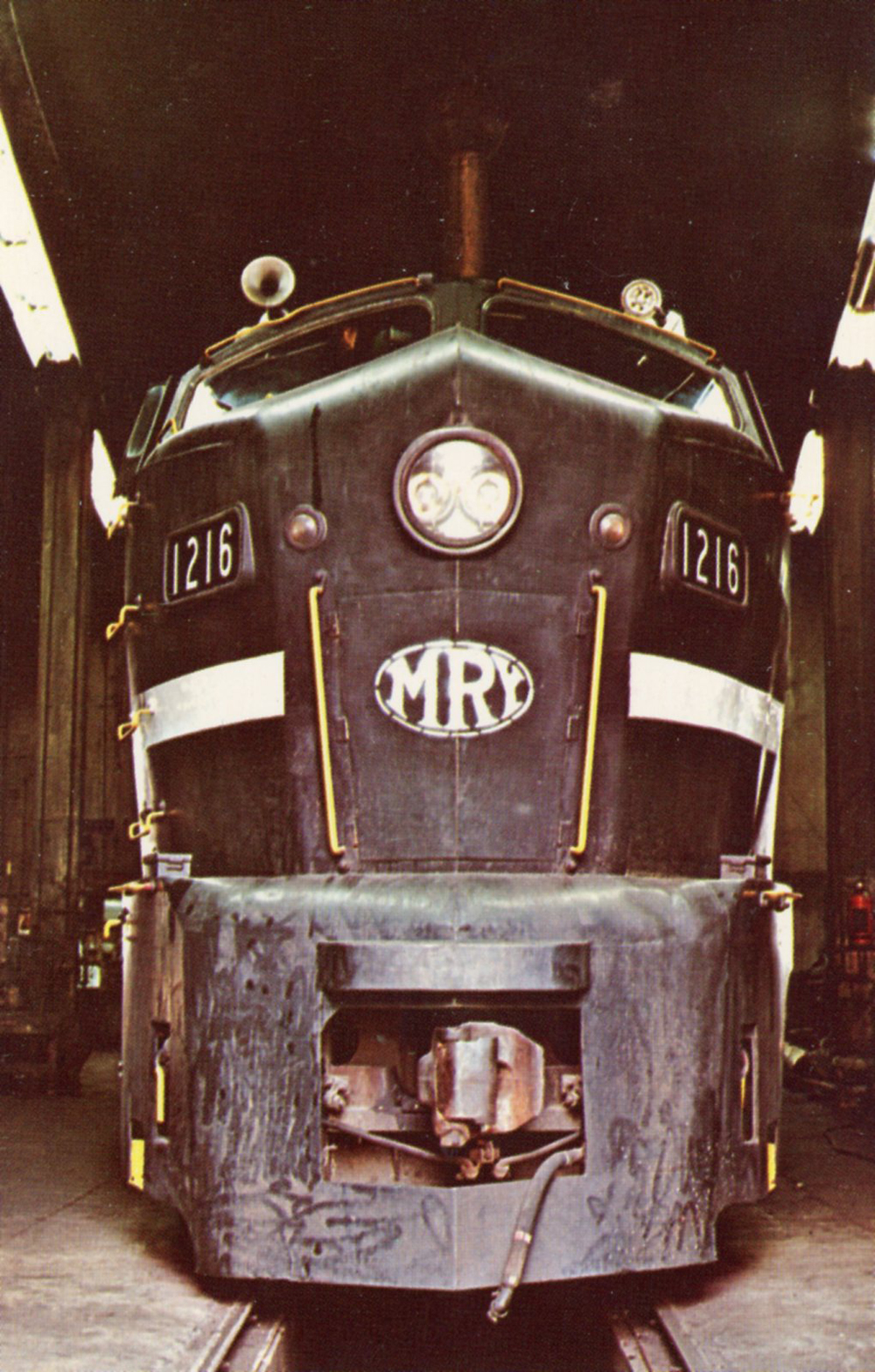 There's another kind of answer, too, one that stems from time spent in the cab. In my 50s, I switched careers and became a full-time railroader for Norfolk Southern for 12 years, first as a freight-train conductor and then as an engineer. I got to run many of the NS heritage units, including PRR, Penn Central, Conrail, Monongahela, Norfolk & Western, and Wabash. That was fun, of course, but there's a practical side to all of that. Working 12-hour shifts, day and night, and going from sleet and blizzards to roasting-hot heat, I quickly came to favor two types of locomotives: Those with working cab heaters in winter, and those with working cab air conditioners in summer.
Describe your love of railroading in 6 words or less.
Dan Cupper:: History. Geography. People. Power. Speed. Steam.
What's your fondest memory as a contributor?
Dan Cupper: Over time, I've written at least one article in every decade since that first Conrail piece, and at least once for every editor since Morgan – J. David Ingles, Kevin Keefe, Mark Hemphill, and Jim Wrinn. Writing about the renaissance of Washington Union Station (May 1989), the testing of Amtrak's borrowed Swedish X2000 high-speed tilting train (March 1993), and the opening of Steamtown National Historic Site (August 1995) boosted my confidence. It meant that I could indeed handle some of the biggest stories in railroading, those having wider impact than, say, a three-paragraph news brief on page 62.
As a hard-news contributor now for Trains News Wire, I feel like I'm again working on deadline for a morning newspaper. I like that pace, too.
What article received the biggest reader reaction?
Dan Cupper: "Restarting a Legend," a cover story assigned by Editor Jim Wrinn for the May 2021 issue, got the ball rolling. It was a blow-by-blow analysis of the rebirth of the much-loved and once-endangered East Broad Top narrow-gauge railroad in south-central Pennsylvania. Later that year, Jim also entrusted me with a lot of responsibility for a follow-up project – helping him organize and coordinate an 84-page Trains special issue devoted entirely to EBT.
Titled East Broad Top – Steam Treasure of the East, and released in December 2022, it revisited the "Restarting a Legend" story and added an all-around look at EBT history and operations. I was fortunate to work with talented contributors Wayne Laepple, Lee Rainey, Lawrence Biemiller, and Kevin Strong, all of whom hit it out of the park with their respective chapters. When Jim died in March 2022 in mid-project, Kalmbach called on retired Classic Trains Editor Rob McGonigal, a Pennsylvania native and no stranger to EBT, to step in and finish the job. It was a true privilege to work on that with both of those editors. Between the original article and the special issue, those are the pieces that generated the greatest reader response.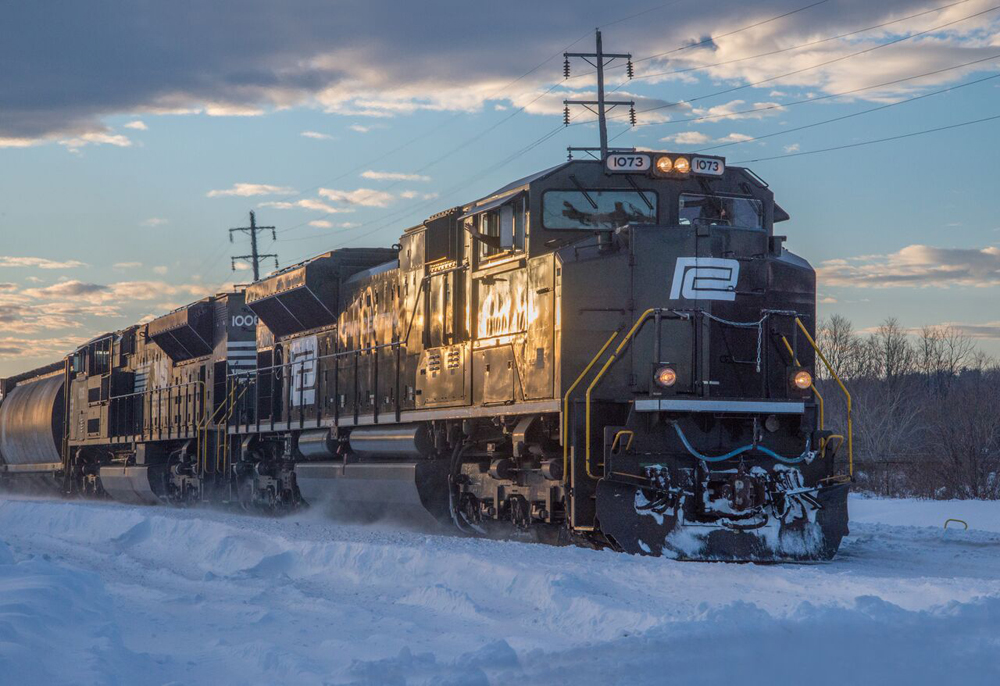 ---
What advice would you give a new contributor?
Dan Cupper: For the moment, let me switch hats and speak as editor of Railroad History, the journal of the Railway & Locomotive Historical Society. In that role, I work with both new and seasoned authors all the time. All editors are looking for the same thing – evidence that you read their magazine and grasp some idea of what its readers enjoy.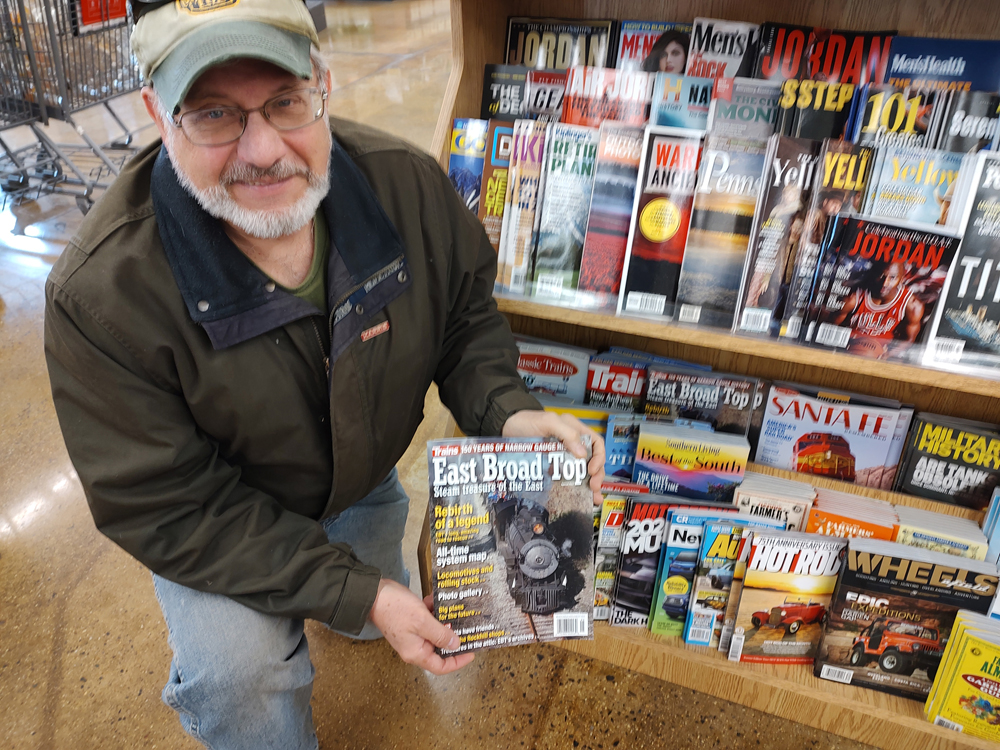 So here are some dos and don'ts:
Pick a topic you know, and choose an approach that's neither too technical nor too general. The worst thing you can do is bore a reader.
Don't just write about the train. Draw on personalities and sidelights (think "Dirt the Cat" on the Nevada Northern Railway). They add color, context, and dimension to your main topic.
Pay close attention to the kinds of writing the magazine publishes. If it's all narratives, first-person experiences, profiles, Q-and-A, or biographies, your haiku poetry isn't likely to get very far.
Your "lede," or opening sentence or paragraph, should at once answer the question "Why should I care about this?" Don't "bury the lede" by holding the punch line till the end.
Be ready to offer a package beyond the written text. Supply photos and maps to support the article, or suggest proven sources where the editor can readily obtain them.
And finally, don't give up. If you get a rejection, try a different topic or a different approach. Or wait till some contemporary news story breaks to make your story suddenly fresh and relevant. Six months ago, nobody cared about hotbox detectors, but now, since the monstrous East Palestine, Ohio, toxic-spill derailment, a well-crafted story might get feature treatment.
Check out the previous "Beyond the byline with Kevin Gilliam."