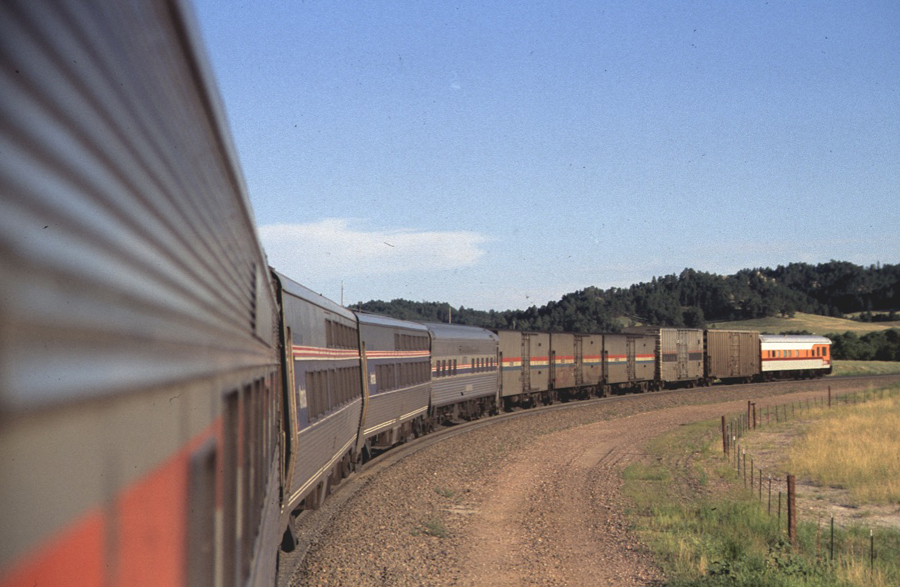 Private car Caritas trails three material-handling cars and two boxcars containing motorcycles on BNSF Railway's Lincoln-Billings, Mont., freight line east of Alliance, Neb., on Aug. 5, 2001. They are part of the Laconia-Sturgis Express, carrying passengers and their machines headed to the annual Sturgis, S.D., Motorcycle Rally.
Photograph by Bob Johnston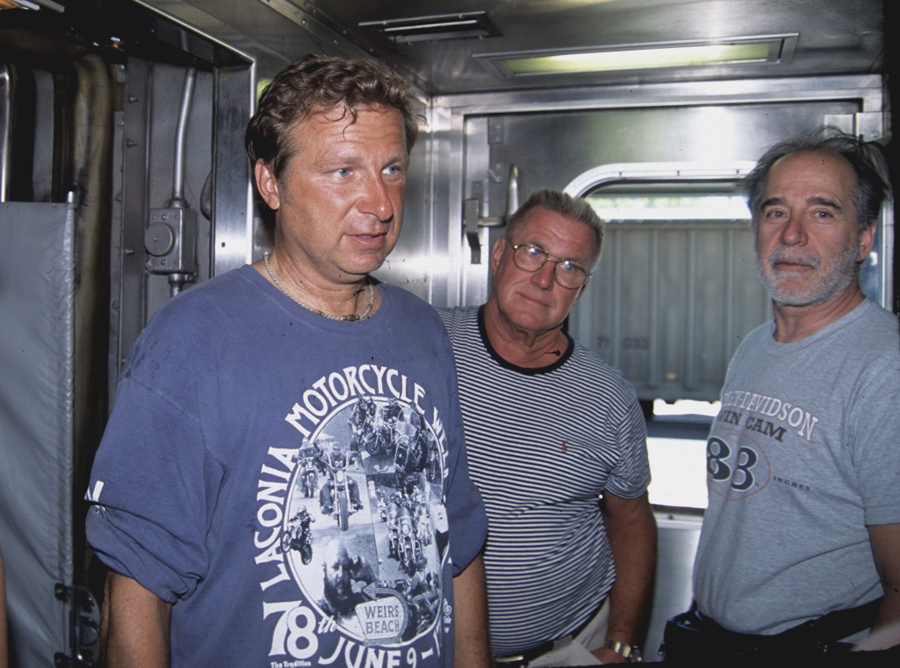 Are we there yet? Promoter Charlie St. Clair, left, with motorcyclists Bill Modestowics of Philadelphia and Martin Brown of Purchase, N.Y., is asked about an estimated arrival time while the delayed train crosses Nebraska.
Photograph by Bob Johnston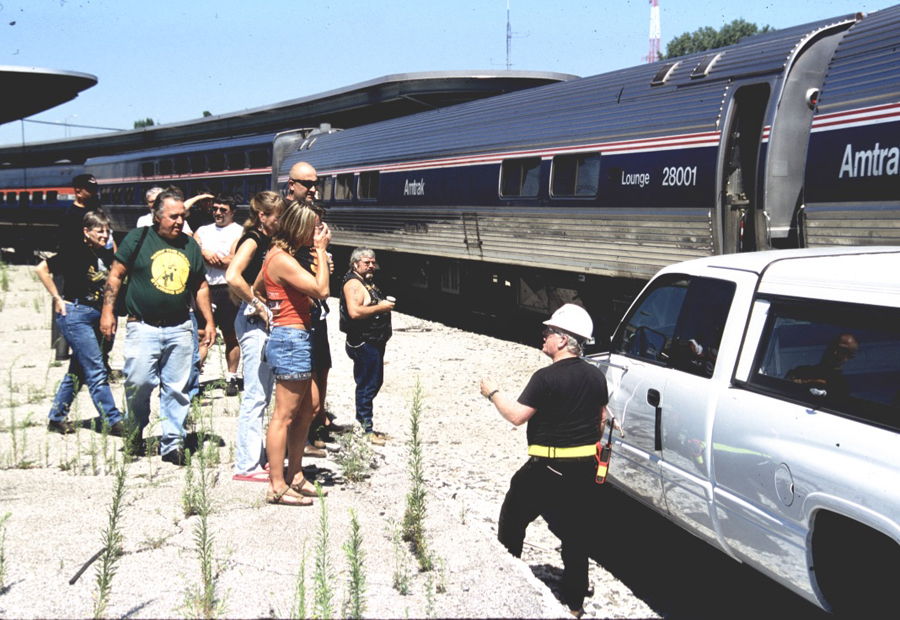 Trouble at Toledo: With cars coupled to the rear of the Lake Shore Limited as far as Chicago, the long train arrived in Toledo, Ohio, at 10:25 a.m. on Aug. 4, but didn't leave until 1:43 p.m. because no one at Boston's Southampton Street maintenance facility had inspected the special train's equipment, which had come from New York's Sunnyside Yard the day before. The required 1,000-mile running gear inspection had been moved to Toledo because the special would not enter Amtrak's Chicago yard. It revealed worn brake shoes on the Amfleet II coach, as an Amtrak maintenance worker explained to the crowd waiting for repairs to be made.
Photograph by Bob Johnston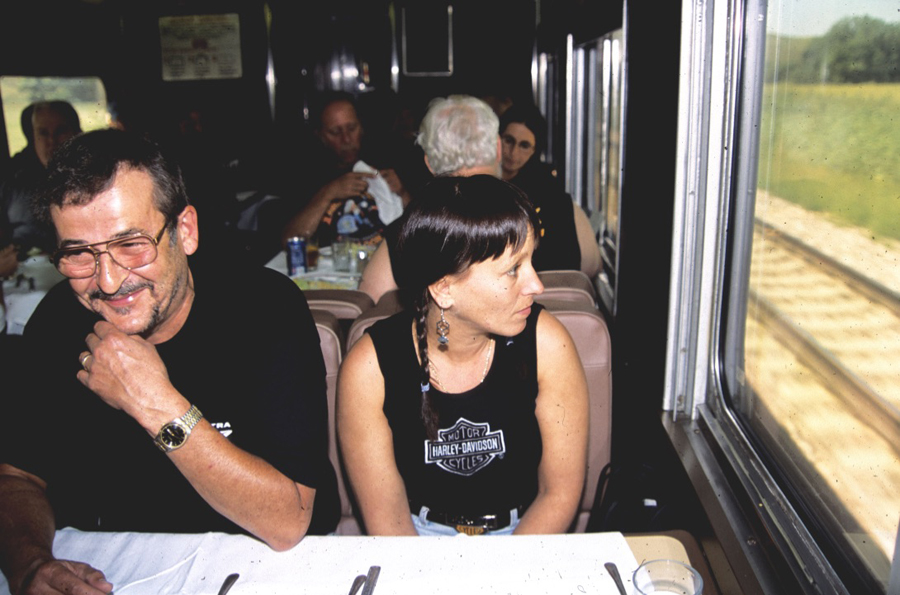 Gordon and Bethany Roy from Keene, N.H., join others enjoying the food and scenery across eastern Nebraska on August 5 in the heritage diner, which provided all meals and snacks during the trip. The crew kept it open 24 hours; an attendant told Charlie St. Clair at the time, "We kept it open because we never made so much money." They also served meals to the townspeople at Newcastle during the layover there while the motorcyclists had left for Sturgis during the week-long rally.
Photograph by Bob Johnston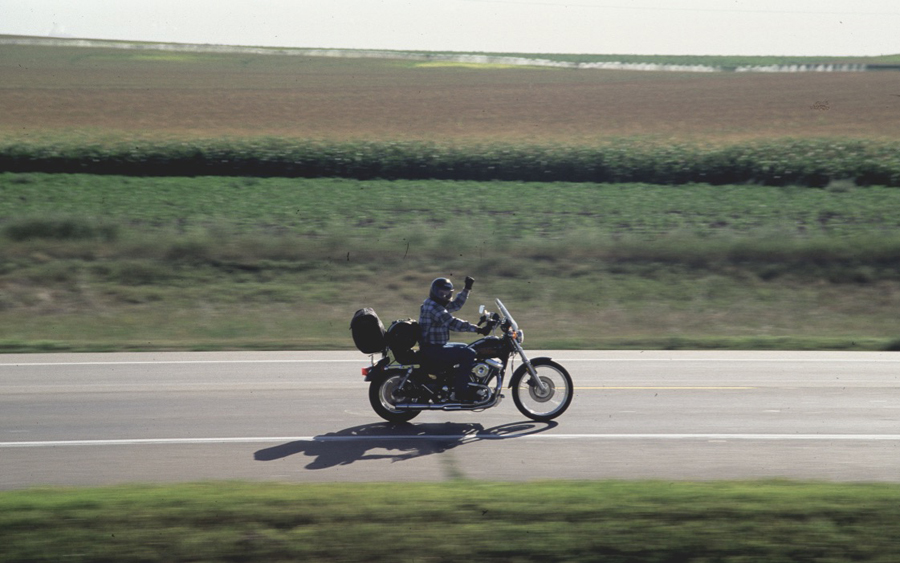 A rider headed for the Sturgis rally gives a thumbs up to well-wishers on the train outside Grand Island, Neb.
Photograph by Bob Johnston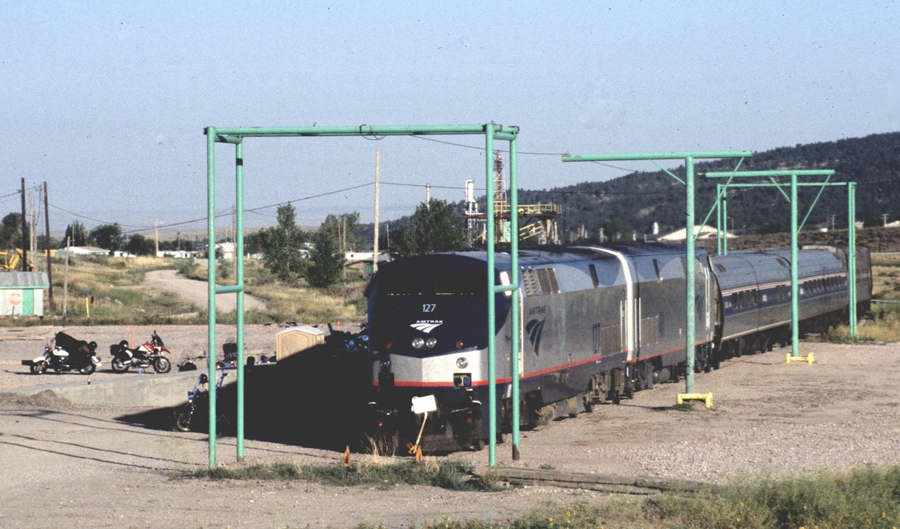 The Laconia-Sturgis Express pulled into an industrial track at Newcastle, Wyo., Aug. 6 for unloading.
Photograph by Bob Johnston


Roomette bunkmate Marty Brown readies his machine for the trip to Sturgis. Unlike many of the riders, he only took the train one way and will head back to New York "over the road" from Sturgis, about 2,000 miles.
Photograph by Bob Johnston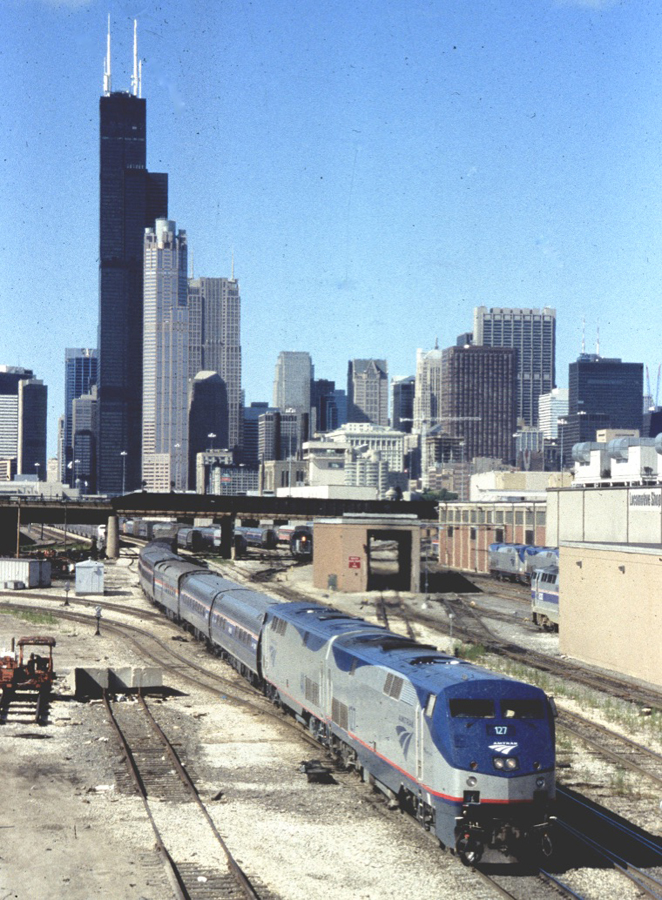 The Laconia-Sturgis Express rounds the wye at Chicago during its return trip on Aug. 13, 2001.
Photograph by Bob Johnston

In the 1990s Amtrak managers sought to use mail and express business to bolster revenue. A byproduct of that initiative, which involved beefing up baggage handling facilities and acquisition of boxcars, was aggressively seeking ways to use equipment.
New Hampshire-based motorcycle event promoter Charlie St. Clair was a member of Amtrak's Customer Advisory Committee at the time. He wanted to see if New England biker enthusiasts who came to the annual rally in Laconia, N.H., would be interested in putting their machines on a special train in Boston instead of riding more than 2,100 miles to the annual Sturgis Motorcycle Rally in South Dakota.
St. Clair had the marketing savvy and contacts. In 1999 and 2000, he had arranged for New England riders to ship their bikes to Minot, N.D., while riding the Lake Shore Limited and Empire Builder, but found willing advocates in Amtrak's Mail and Express division at the Intercity business unit for a special to Newcastle, Wyo., in August, 2001. They were eager to show how the equipment and facility ramp-up could pay ancillary dividends with new revenue from special trains.
Of course, there were typical Amtrak-style obstacles to overcome. To firmly secure the expensive machines in the boxcars or material handling cars, and anticipating recurring business, Amtrak had 250 pallets made by a Wisconsin company. But management approval for the special was delayed until late spring, so many would-be riders began to make other transportation plans. Then, once it was a firm "go," Amtrak call center personnel were not armed with any information or the separate reservation number. Nevertheless, more than 150 participants with 98 motorcycles signed up, paying $400 per machine, $550 per person in coach, $883 for a roomette or $1,700 in a bedroom round trip. Sleeping accommodations were sold out in the two assigned Viewliners, but I was able to pair up with Martin Brown of Purchase, N.Y., to share a roomette.
Because the train operated to within about 60 miles from Sturgis to Newcastle, Wyo. on the BNSF Railway's line from Lincoln, Neb., to Billings, Mont., that hadn't seen passenger service since 1969, it attracted the attention of Caritas private car owner Clark Johnson. He specialized in chartering "rare mileage" excursions, so this one fit right in with his clientele.
The already-late trip across Nebraska was delayed by meets with BNSF coal trains—it passed or stopped for 73 of them—and 100 degree temperatures, which resulted in speed restrictions, so it didn't arrive into Newcastle until early in the morning of August 6.
Without a means to turn the special around at Newcastle, it deadheaded west along the BNSF's busy coal corridor 70 miles to the wye at Donkey Creek, Wyo., before returning to back in to the same track at Newcastle. The dining car served dinner to local residents during the five-day layover.
A number of Amtrak managers at the time — Camille Thomas in Mail and Express, Al Edelston at Intercity, and Dan Valley in customer service — helped make the experience an enjoyable and memorable one.
Reached recently in New Hampshire and still involved with the Laconia Rally, St. Clair says, "It's been over 15 years and people are still calling us to ask whether we will be running that train out to Sturgis again!"
Alas, the 2001 event occurred during a period when Amtrak was running out of cash as expenses grew while anticipated revenue failed to materialize. Facing bankruptcy in early 2002, the company would rapidly downsize Mail and Express, eliminate the support staff that operated fork-lift trucks to move the pallets, and sell off its boxcar fleet after David Gunn took over as President and CEO.
St. Clair attempted to arrange other excursions with Amtrak for the motorcycle market he developed, but he says, "Charter Services got involved and they killed it with pricing and restrictions that didn't make sense." Marketing efforts that use otherwise-idle equipment to generate revenue have been discontinued, and an off-line special like the one to Newcastle would be prohibited by current management.
Back then, I wrote in my notebook, "This is what trains are for: rolling across the flat cornfields of Iowa and Nebraska brings to mind Bob Seger's 'Turn the Page,' a song about riding all day 'east of Omaha with nothing much to do.'" As one passenger remarked in the dining car, "Yeah, this sure beats 8 or 9 hours of bugs in your teeth."