Crowds for Big Boy 4014's 2019 and 2021 tours have been immense. I haven't taken part in any concerted effort to chase for these tours, but I got a taste of the madness back in 2014 when Big Boy moved from Southern California to Cheyenne, Wyo., for restoration. I covered it for two days with then-Graphic Designer Drew Halverson from West Colton to Las Vegas, who chronicled our trip on his series for Model Railroader Video Plus. Here are my top 9 highlights of that incredible adventure.
April 27, 2014: West Colton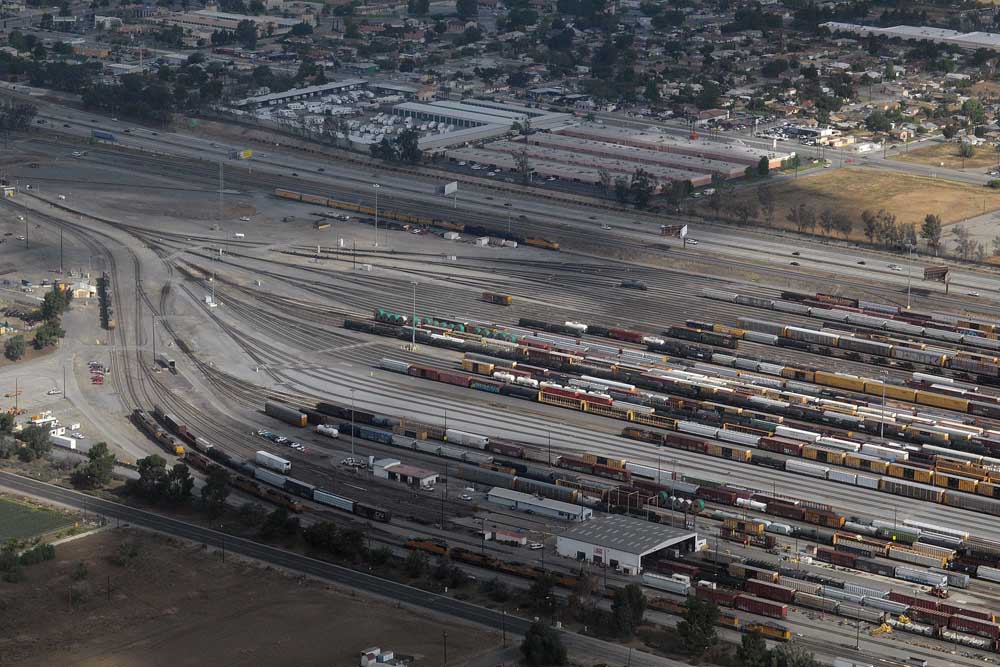 Our first encounter with Big Boy 4014 was by air! Editor Jim Wrinn's friend Howard Bunte took Drew and me up in his Cessna to look over Cajon Pass for photo locations. It was my first time in a small airplane in more than 20 years and just great fun. The day before the big departure, April 27, we spotted Big Boy and its train reposing in West Colton Yard under spotty sun. We had hoped to chase the train over Cajon Pass the following day by plane, but the Santa Ana Winds kept us grounded.
April 28, 2014: Cajon Pass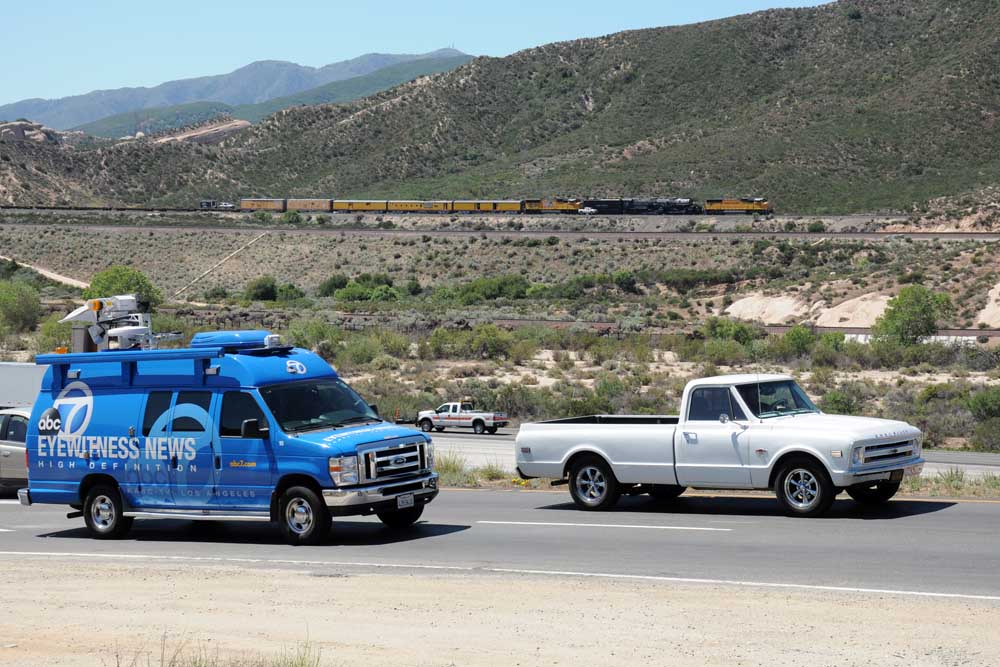 Big Boy drew all sorts of people trackside, so it was a natural for the local TV news. To provide our live stream coverage at the time, we toted what was known as "the chicken" around — a large battery pack so named (by us) because its case looked like that of a hot grocery store deli rotisserie chicken! Any time we were away from the vehicle we had it hooked up to keep the streaming going. Drew said that I looked like I was about to die hustling up Hill 582 with it!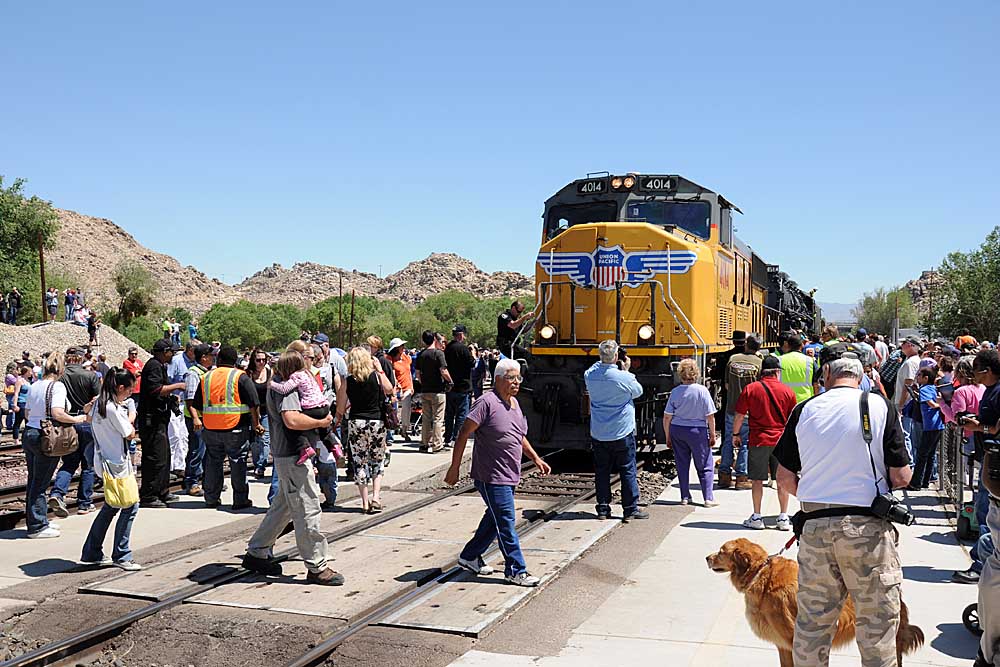 The chase over Cajon Pass was rather uneventful. There were crowds, but it never seemed overwhelming because everyone was so spread out in the mountains. What really struck me, however, was the mass of humanity that gathered at Victorville to see the locomotive. This was one of the publicized stops, and clearly the P.R. campaign worked. The little Amtrak platform was jammed with people and there was no hope of getting set up before the train rolled in.
April 29, 2014: Cima Hill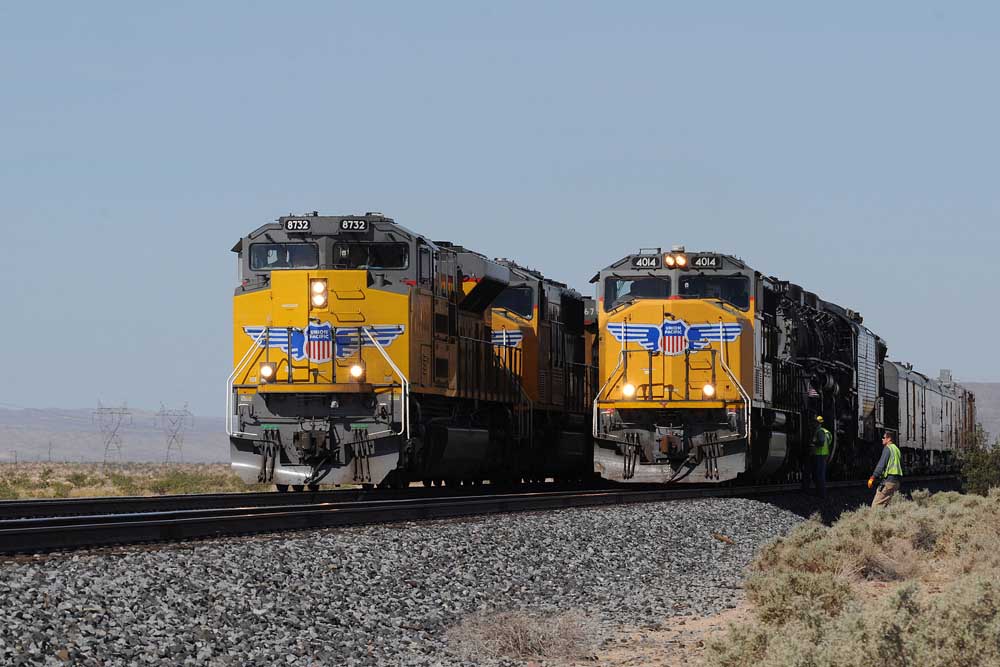 On the start of the second day, Yermo had a sense of urgency for me. Cajon Pass is a major mountain grade, but here we were going out for some good desert running. Not far out of Yermo, however, Big Boy stopped for traffic. Drew and I were blissfully unaware a few miles ahead as nothing was mentioned over the scanner. So, we set up the live-streaming video camera on an anthill to pass the time. Eventually, we became aware that the train had stopped and backtracked to find it being overtaken by an eastbound stack train. I'm not sure that, given the information at the time, we could have done much differently. We did see on this portion of the chase a full-size U-Haul truck in the chase caravan, but never got their story from the driver.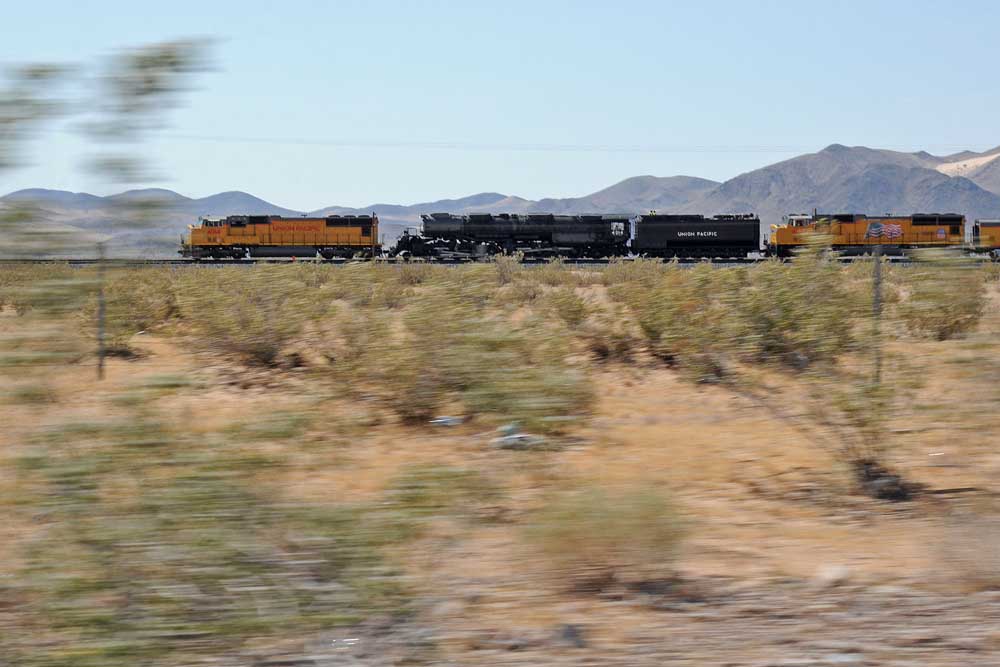 Down the road, once 4014 and company got going, we were able to achieve that sense of urgency. It wasn't under steam, but it was MOVING — the siderods pounding around were all we needed to get there. I was fortunate that, since Drew picked up the rental car without me, he was the driver for the whole adventure. I was able to enjoy much more of the experience that way.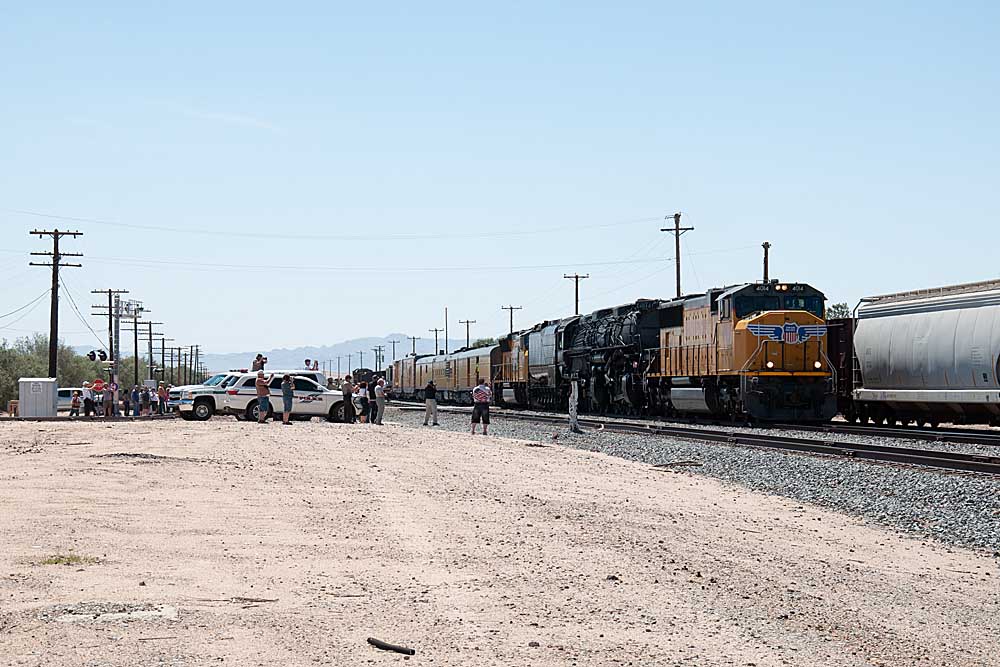 Cell service was scarce in the Mojave Desert. We didn't even try to stream from Afton Canyon. So, we hightailed for the outpost of Kelso. There we found enough signal to bring the live stream back online. I was struck by the architecture of the former Los Angeles & Salt Lake depot. One could just imagine the City of Los Angeles rattling by half a century before!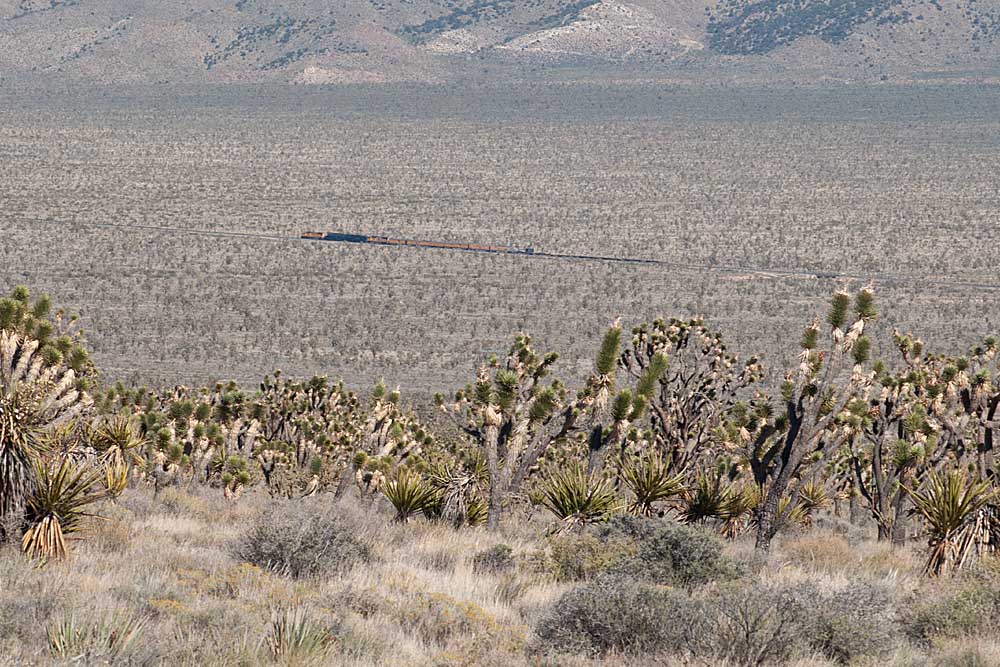 East of Kelso, along Cima Hill, the reality of the desert really hits you. This area is desolate. We tended to forget that in the sliver of civilization known as Kelso. Staying back from the tracks — on the main road — we were able to look across the landscape and get a sense of just how big the Big Boy isn't.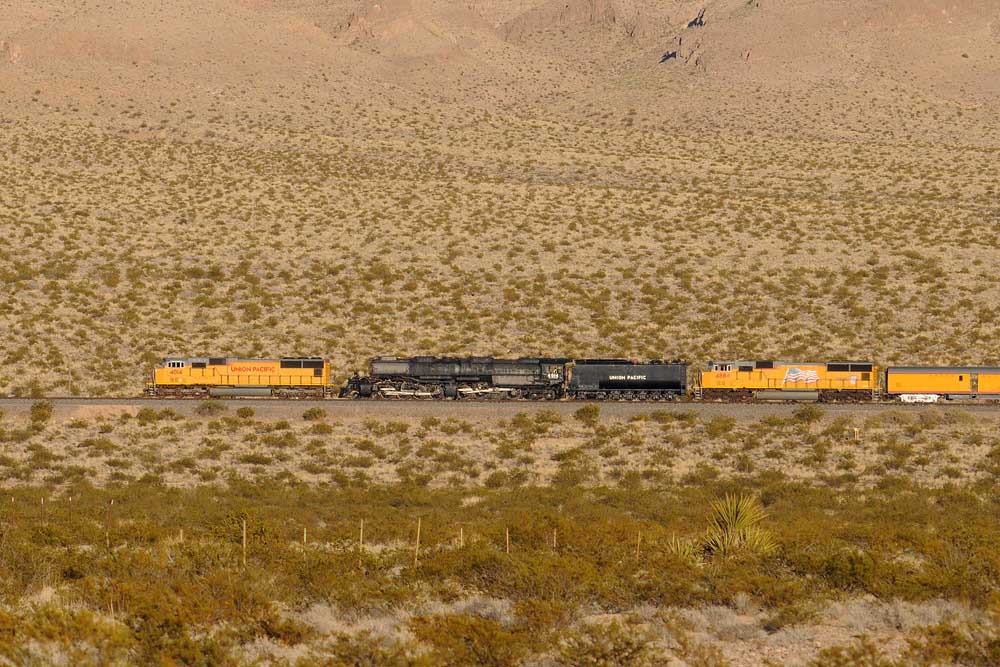 We got one more close look at Big Boy in Nipton where it stopped for service one last time before tying up in Las Vegas for the night. However, Drew and I used this opportunity to leap ahead for one last grand chance. We landed at Jean, just inside Nevada, as the sun was sinking fast. Our plan paid off and we were rewarded with a fantastic view of Big Boy 4014 in low evening light, which really helped show off this magnificent machine.
April 30, 2014: Vegas, baby!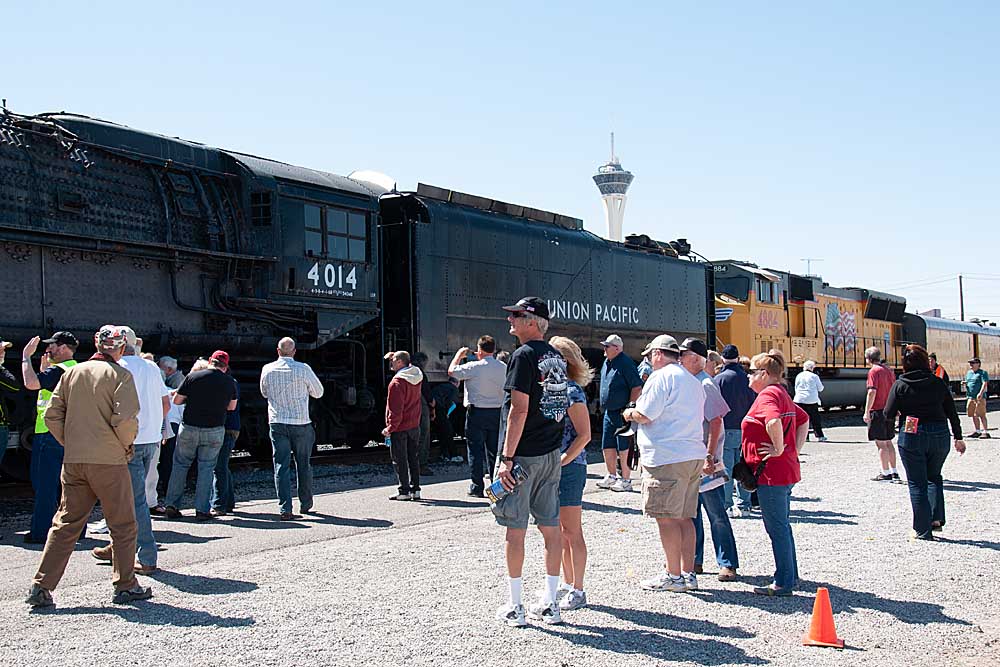 Las Vegas was truly anticlimactic. We spent the morning at Big Boy's display site, eventually handing off the streaming gear to Jim Wrinn who would continue the chase on to Cheyenne. Drew and I then set off to find some trains (we didn't succeed) and went to the airport. Some of you surely remember that April 30, 2014, was the date of a major radar outage in Los Angeles that disrupted air travel across the country. We ended up staying one more night in Sin City, and getting one more trip to In-N-Out on this journey!