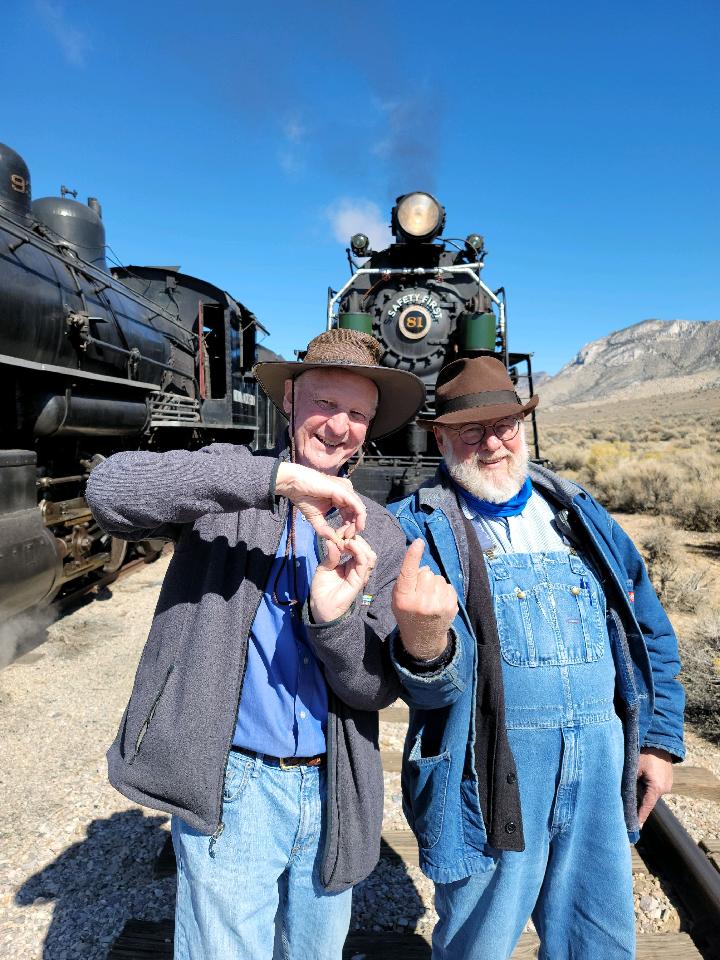 Trains Editor Jim Wrinn, left, and Nevada Northern Railway Museum Executive Director Mark Bassett form the number 81 in front of locomotive 81. (Cate Kratville-Wrinn)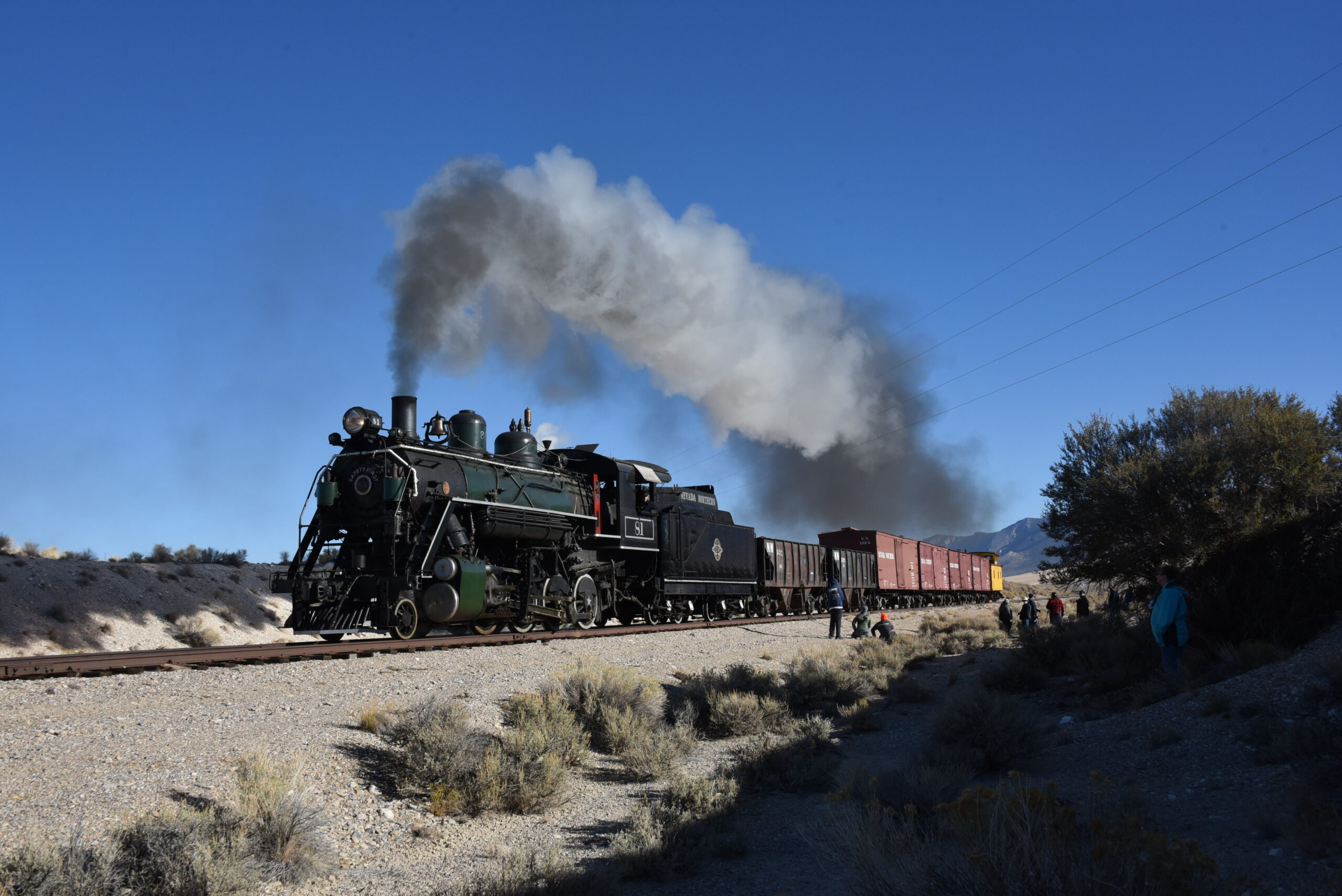 Nevada Northern 2-8-0 No. 81 performs for the Trains Magazine 81 for 81 event at Mosier Cut, Nev., on Oct. 10, 2021. (Trains: Jim Wrinn)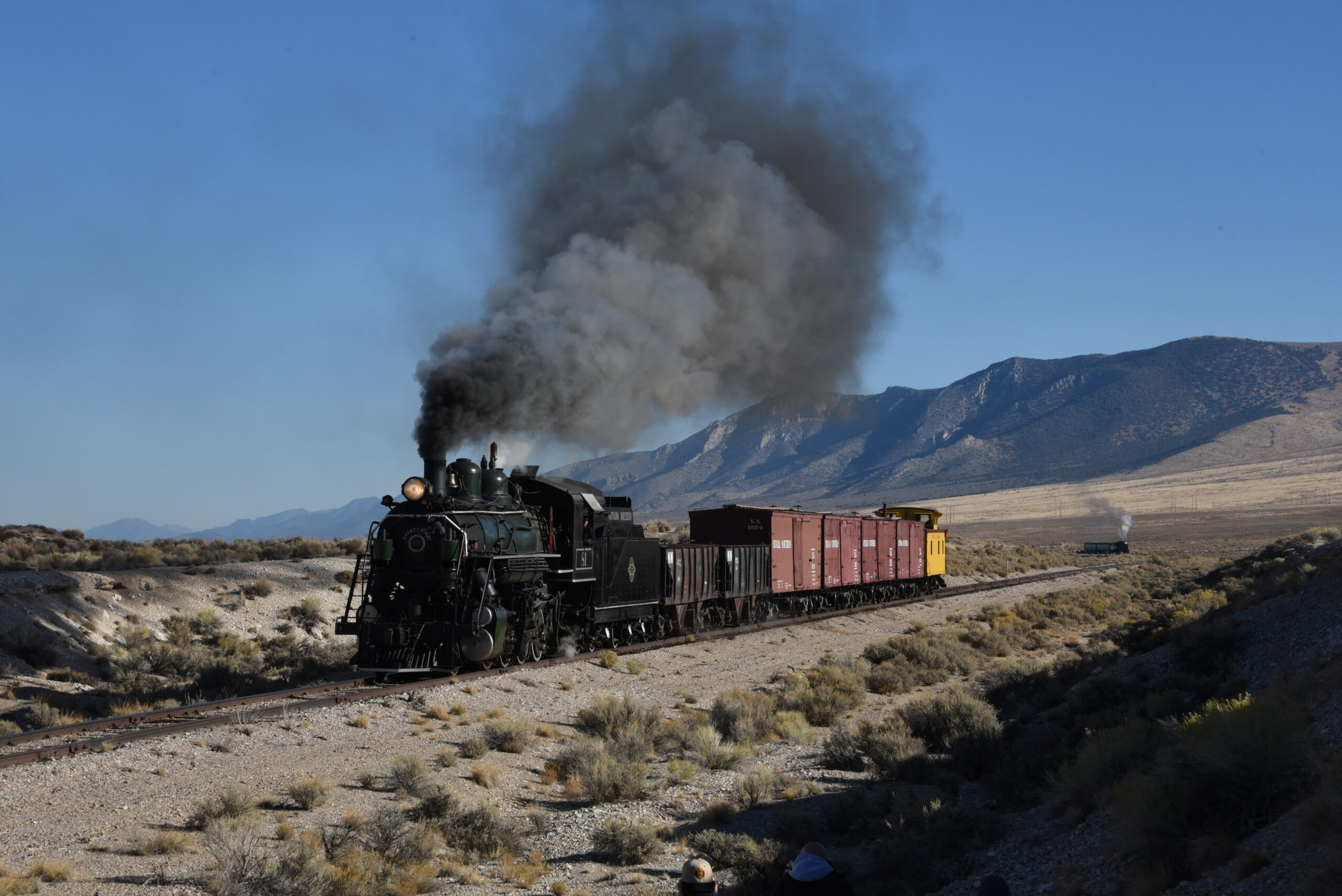 With NN No. 93 simmering in the distance, Nevada Northern Consolidation moves a light freight train. (Trains: Jim Wrinn)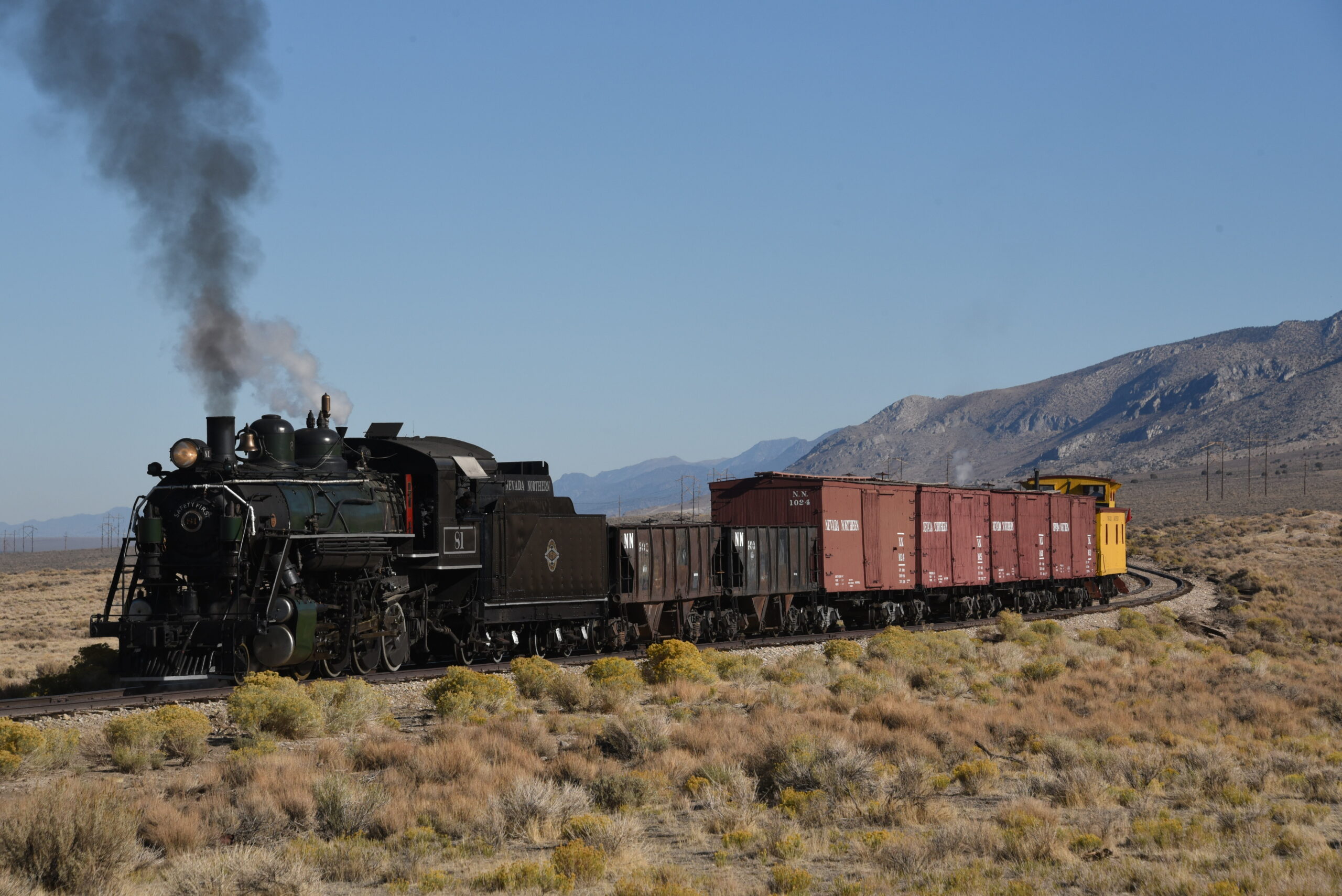 Nevada Northern 2-8-0 No. 81 pulls a photo freight in the desert north of Ely Nev., on Oct. 10, 2021. (Trains: Jim Wrinn)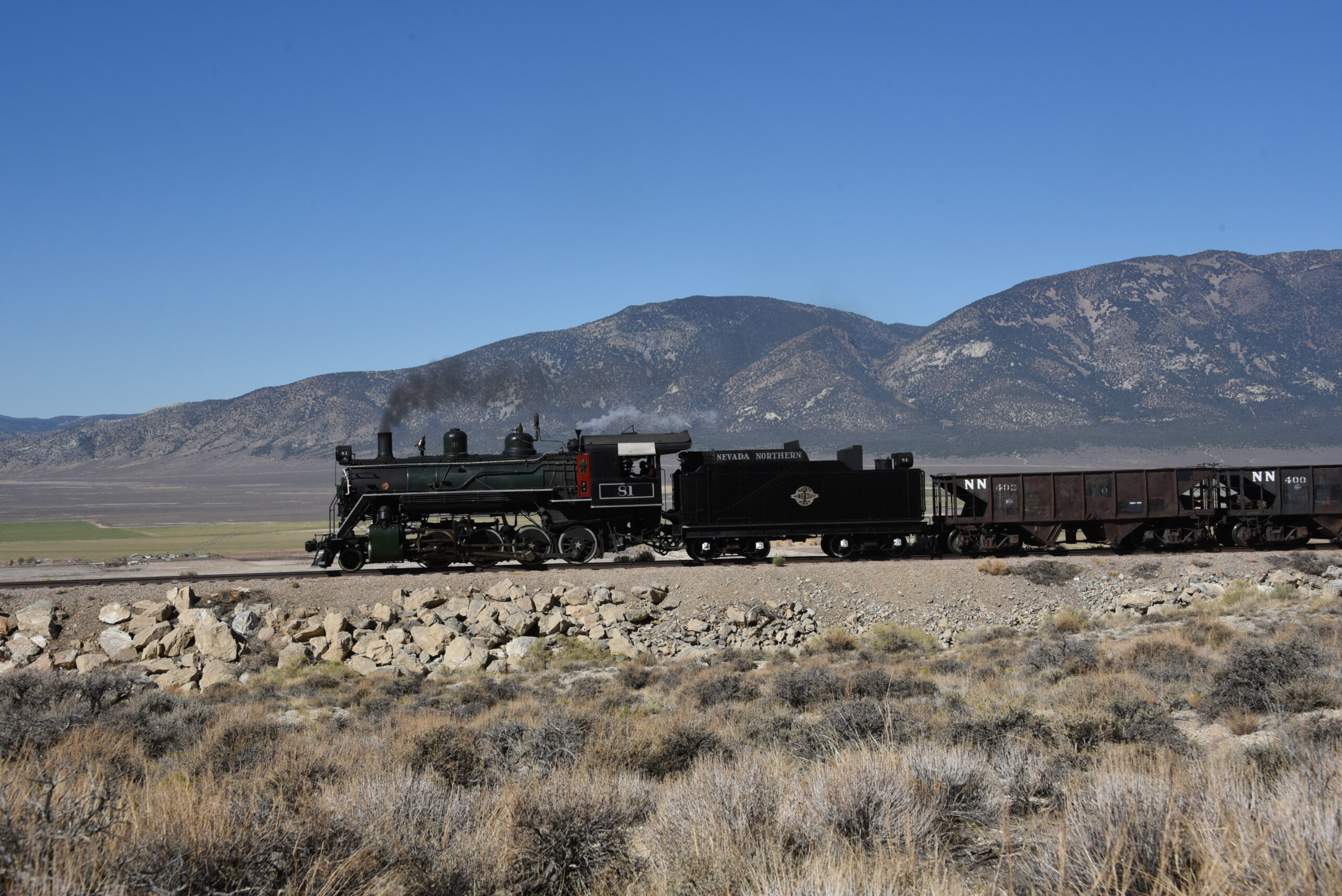 With the Steptoe Valley below it, Nevada Northern 2-8-0 No. 81 makes for a fine sight on Oct. 10, 2021. (Trains: Jim Wrinn)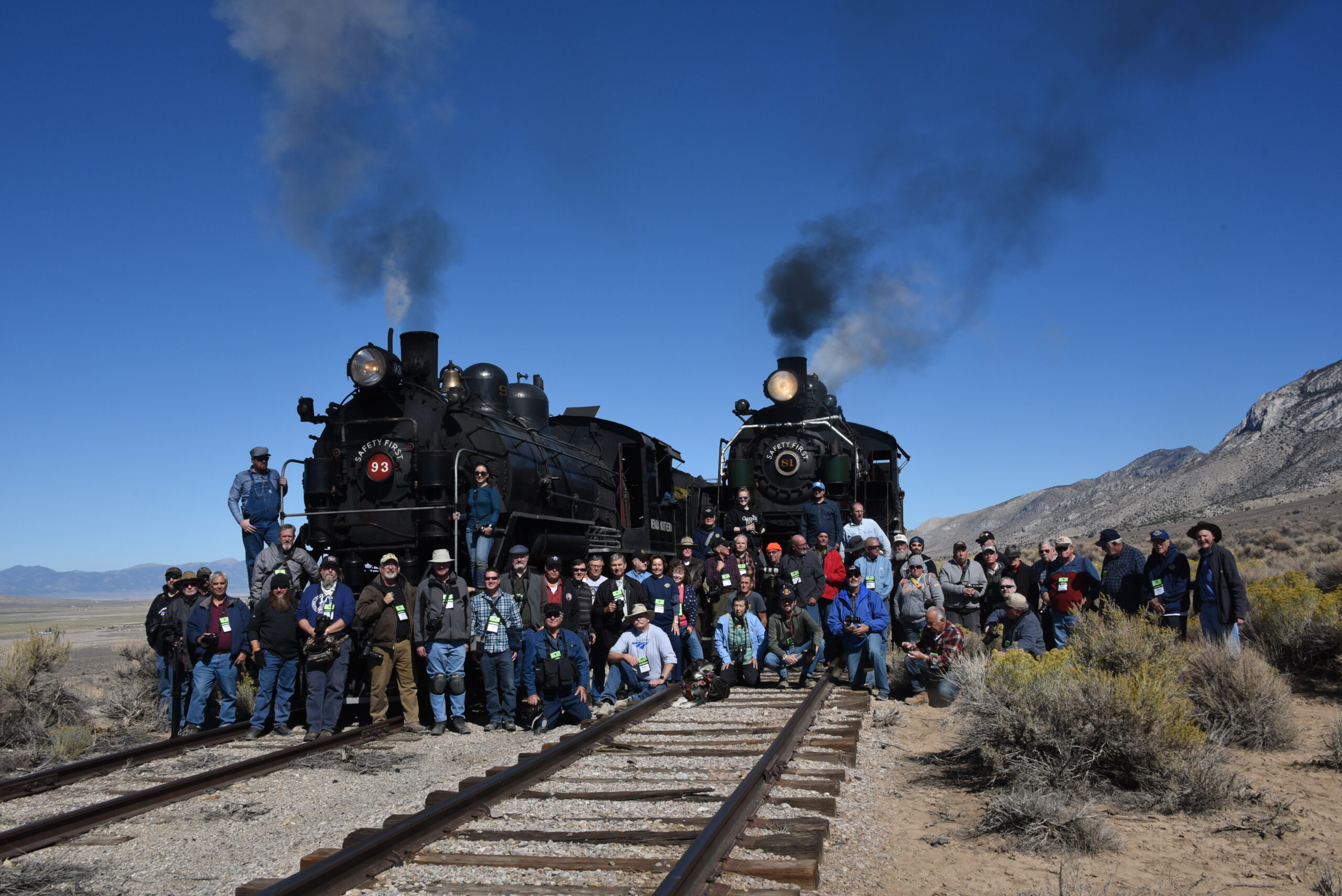 Train crews and participants gather in front of Nevada Northern 2-8-0s Nos. 93 and 81 to celebrate No. 81's return to service and Trains magazine's 81st anniversary. (Cate Kratville-Wrinn)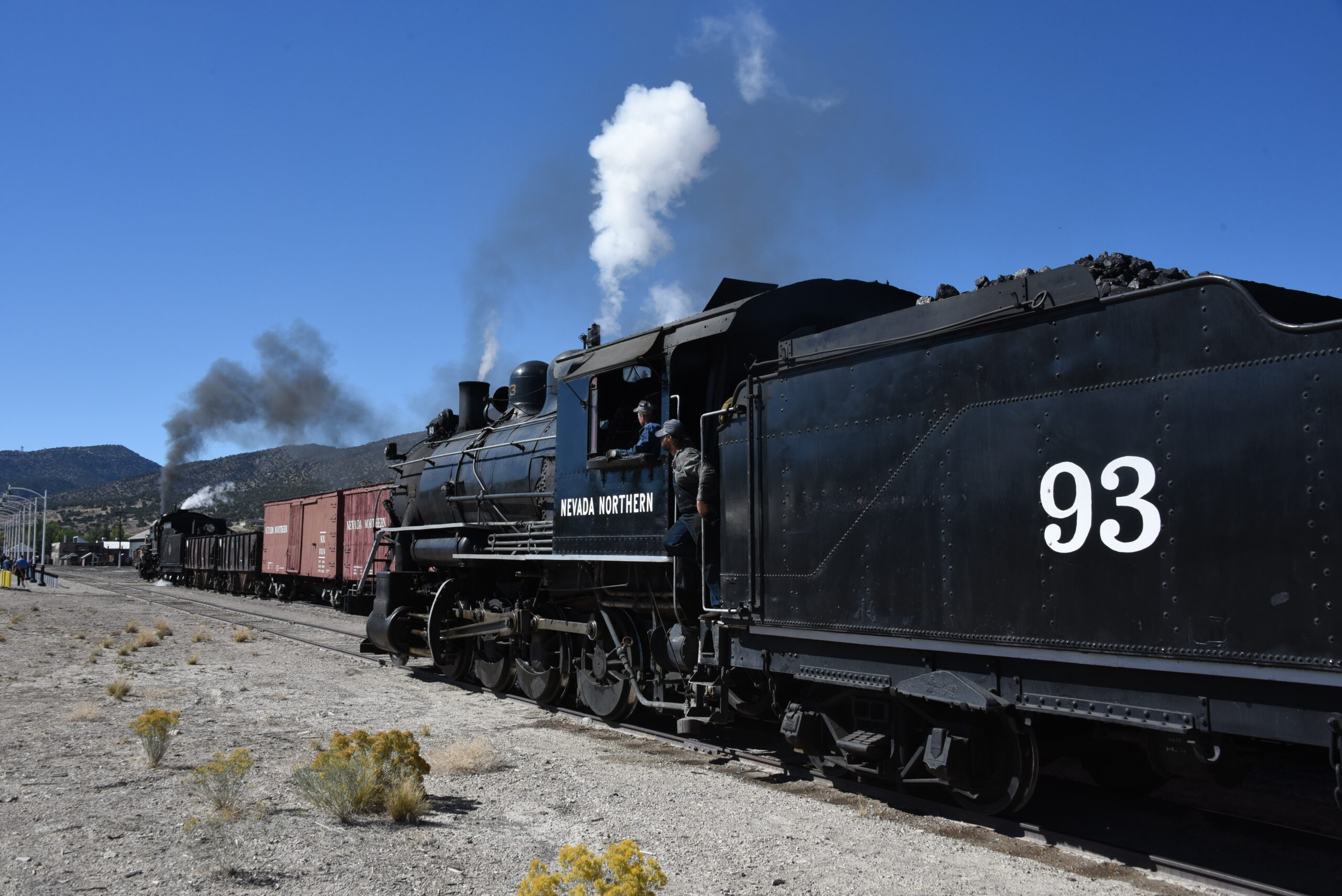 Nevada Northern Consolidations Nos. 81 and 93 shuffle in the East Ely, Nev., yard. (Trains: Jim Wrinn)

ELY, Nev. — Consolidations, the everyday freight workhorse of the steam era, garner little love. They're not sleek or refined like the rare Pacific passenger locomotive still found in service in the 21st century. They're not as muscular as the Mikados that surpassed them with greater fireboxes, a trailing truck, and powerful muscularity in eight drivers. And then we come to Nevada Northern No. 81, a 2-8-0 possessed of great personality and character on this remote south central Silver State copper railroad that has rightfully taken a place of honor and reverence as one of the most complete preserved railroads in North America. Locomotive 81 and the railroad have now earned a special place in the history of Trains Magazine, and vice versa. It is an honor to both organizations.
After a seven-year overhaul and 69 years of inactivity, No. 81 returned to service in late summer 2021, just in time — over one long weekend in October — to celebrate its own good fortune to steam again at age 104 and this publication's 81st anniversary. Both of events by themselves are remarkable. Any steam locomotive rebuilt to run after more than 50 years of inactivity is amazing. But No. 81's return is truly special. It came back to life at its home railroad. It also steams again to take a place on the roster while NN Ten-Wheeler No. 40 undergoes a multiple-year overhaul. No. 81 will shoulder tourist trains with fellow NN 2-8-0 No. 93. Visitors are tough to attract to a remote location like Ely, Nev., and the presence of steam that is alive and well is critical to the railroad's mission as a national historic landmark, as well as marketing efforts toward attracting tourism. A diesel here is OK, but steam is better.
For Trains, which still carries a full head of steam into the digital age despite the travails of the print industry in the early 21st century, No. 81 is an appropriate locomotive to celebrate our 81st year of covering an endlessly fascinating industry for the serious fans and passionate professionals out there. Trains celebrated its 75th anniversary in 2015 with a gala dinner in its hometown of Milwaukee. Due to the COVID-19 pandemic, plans for a similar 80th anniversary gathering in 2020 were shelved. But railway preservation and publishing survive and thrive on enthusiasm, innovation, and a whatever-it-takes attitude. A call from NN Executive Director Mark Bassett alerted me to No. 81's imminent completion in 2021 and an idea for a gathering in the desert to celebrate the magazine's 81st was conceived. Being from a land where 2-8-0s were celebrated for their powerfulness and light-footed nature in Western North Carolina (think Southern Railway steam excursion Consolidations Nos. 630 and 722 on the Murphy Branch), the idea spoke to me. Thus, a special event was created. Ads went out, and 60 of the faithful from coast to coast gathered Oct. 8-10 in Ely to enjoy the sensory experience of No. 81 in action, fresh from overhaul. They came armed with iPhones, the latest digital cameras, and hearts and heads ready to step back in time to visit with Nos. 81 and 93. They enjoyed the locomotives running singly on freight and passenger trains or doubleheaded for extra wow factor. Either way, the two were a hit.
Bragging rights on the No. 81 engine
Allow me to brag just a little more on No. 81. To further distinguish No. 81, NN shop forces applied a green boiler jacket and cylinder and air pump covers of the coloration believed to have been applied to the engine during its regular service life. For a freight locomotive, it provides No. 81 with a certain festiveness. And it set it apart from the larger No. 93 of the same wheel arrangement. And that brings us to a descriptive term that Bassett used during No. 81's restoration: The Goldilocks engine. Yes, the children's story of the young woman and the three bears. Said Bassett: No. 40 is too light for the railroad's regular operations. No. 93 is too big and consumes large amounts of coal. But No. 81 is just right for what the NN does on a regular basis. Expect to see it a lot for the next 15 years.
Nevada Northern is one of those rare places were shop crews are hard at work on the next project even as a special event weekend that demands 100% of management and train crews is winding down. As I walked into the shop to visit world famous NN mascot and spokeskitty Dirt the Cat and his junior pest controller DJ, a crew was working on 4-6-0 No. 40. That is a fine tradition of this place. There's always another challenge ahead, and another opportunity around the next bend: The railroad is engaged on bringing two of its 1950s-era diesels home SD7 No. 401 and RSD4 No. 201  – the engines that caused Nos. 40, 81, and 93, to be set aside [see "Nevada Northern to acquire two early diesels," Trains News Wire, Oct. 12, 2021].
Both diesels have been gone from the property for almost 40 years, both became available in 2021, and the fearless Bassett set about raising the money needed to truck the engines to the landlocked NN — about $352,000 to truck them from Snoqualmie, Wash., where the Alco is, and Delta, Utah, where the EMD is located. When they return, they will take their appropriate place in telling the NN story. And then there's the track addition to McGill, the next town north of Ely. The week after our event, the Department of the Interior awarded a $10 million grant to the railroad to restore 16 miles of track to expand NN's reach [see "Nevada Northern receives $10 million grant …," News Wire, Oct. 14, 2021]. It also calls for installation of a turntable at McGill, where the likes of Nos. 40, 81, and 93, can take a spin in a few years.
A special locomotive in green that is back in steam in Nevada's Steptoe Valley once more. Thank you, Nevada Northern management, crews, and volunteers for a wonderful time with your railroad, a chance to celebrate the endless magic of steam, and this publication that exists to share the excitement across nine decades.