Kalmbach Media is making holiday shopping a little easier with a well-rounded gift guide for the railfan or train enthusiast in your life. Whether the person is a hard-to-shop for family member, a train-curious acquaintance, or someone in between, Kalmbach has you covered.
10 items top our list this year — each selected from the Kalmbach Hobby Store. Feel free to shop and share!
Amazing Trains 2022 Daily Calendar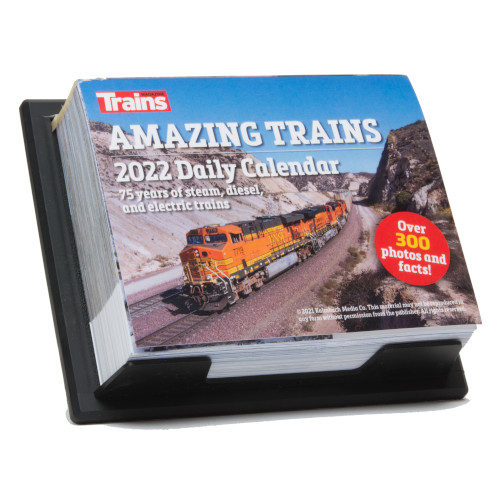 Exclusively from Trains magazine, the Amazing Trains 2022 Daily Calendar captures 75 years of steam, diesel, and electric trains. Featuring more than 300 facts and photos from the Trains archives, you'll travel through the history of railroading and through the world for a full year.
Features:
•313 Pages
•Size: 5.25″x4.25″
•Attached easel for display
•National holiday and occasions are highlighted
•Reverse side of each page is blank for note-taking and reminders
Guide to North American Cabooses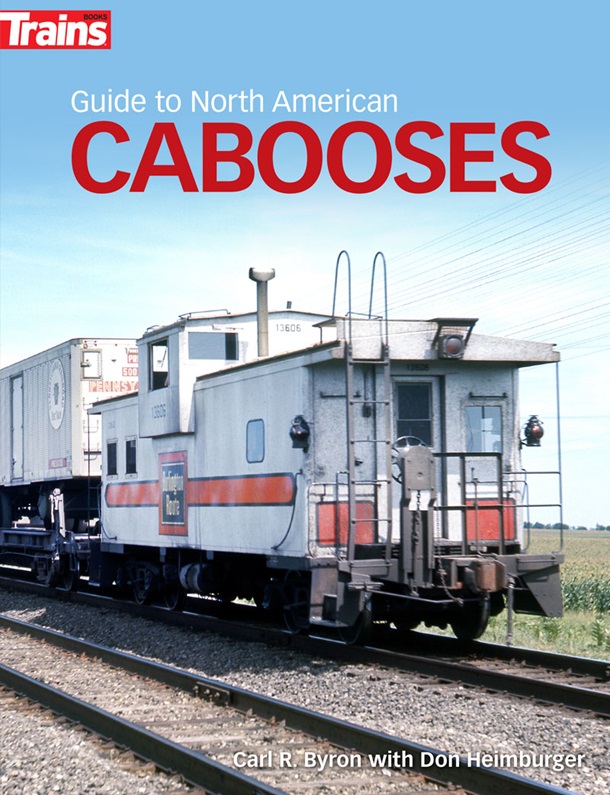 Get the go-to source for history and operation of North American cabooses! This 224-page book, written by Carl Byron with Don Heimburger, explains why cabooses existed, how they evolved, how they were used, and why they eventually disappeared. Guide to North American Cabooses shows and explains designs common to regions as well as designs specific to many individual railroads, closing with the common International-built bay-window and wide-cupola cabooses that appeared on railroads across the country.
You'll find details on:
•What railroaders did working on a caboose.
•How cabooses often served as living quarters for crews during the steam era.
•Information on operation and roles of crew members.
•Types of cabooses including four-wheel bobbers, wooden, steel, bay-window and wide-cupola.
Size: 8.25 x 10.75
Pages: 224
Published by Kalmbach Media
Pullman – America's Hotel on Wheels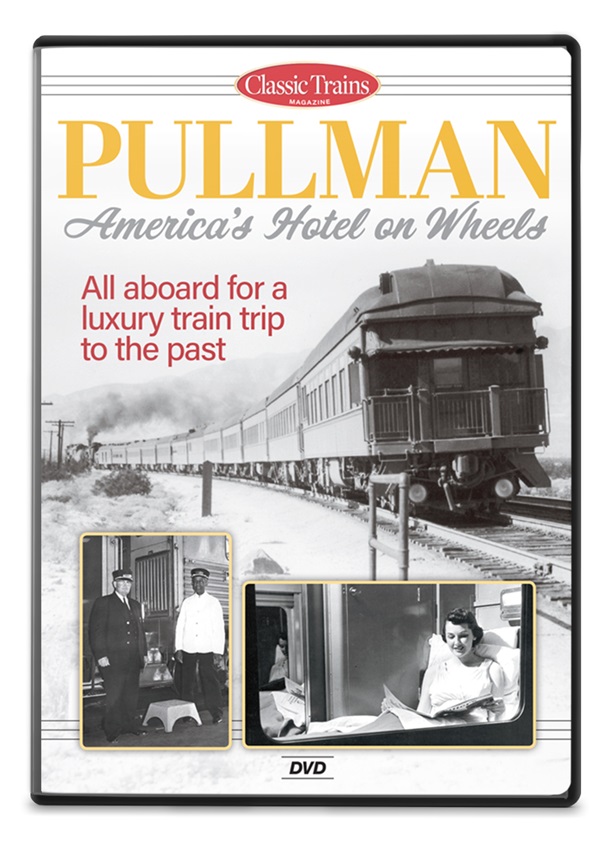 Pullman: America's Hotel on Wheels DVD tells the story of a great American institution that was part heavy industry, part fine hotel, and part vector for social change.
This DVD includes:
Travel on Pullman trains.
Pullman-built rail cars and accommodations.
How African American Pullman porters advanced the cause of civil rights.
Pullman's factory and company town near Chicago.
Interviews with passenger-train experts.
Preserved Pullman cars.
And much more!
Plus, it is filled with rare video footage and still images! Interviews from numerous experts paint an informative and entertaining picture of a unique American institution.
Approximate run time: 55 minutes
Trains Floaty Pens Set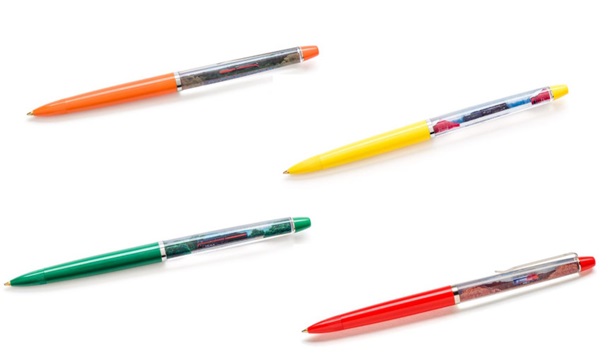 Write in style with this set of four commemorative pens featuring miniaturized scenes and floating action, exclusively from Trains magazine. Save 20% when you buy this set!
This set includes:
Santa Fe Warbonnet
Norfolk & Western 4-8-4 No. 611
Pere Marquette 2-8-4 No. 1225
Southern Pacific 4-8-4 No. 4449
Pen features:
Twist Retractable
Silver Clip & Band
Black Ink
Golden Moment for Rio Grande Southern Puzzle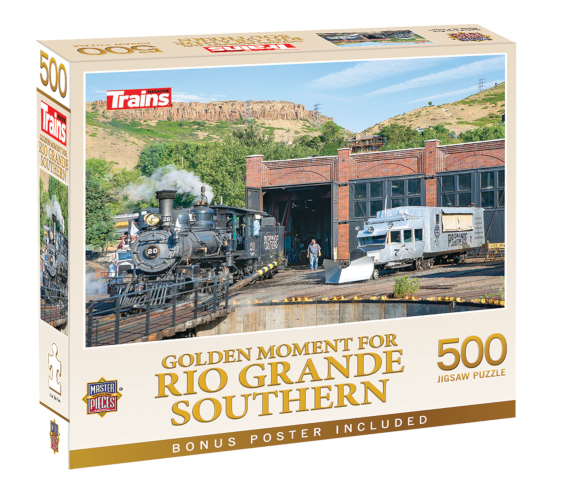 Rio Grande Southern 4-6-0 No. 20, fresh from a 13-year restoration, stretches its legs at the Colorado Railroad Museum roundhouse. Nearby the 1899 steam locomotive is an old friend, RGS Galloping Goose self-propelled motor car No. 7. This magical moment took place at Golden, Colorado, on the morning of Aug. 2, 2020. Join in the fun as you piece together this exclusive 500-piece Trains jigsaw puzzle.
The high-resolution image measures 15-by-21-inches upon completion. Also included is a poster that can be used as a handy reference during assembly.
Created exclusively for Trains by Masterpieces, Inc.
Photo: Trains, Jim Wrinn
Big Boy Chalk Writing Mug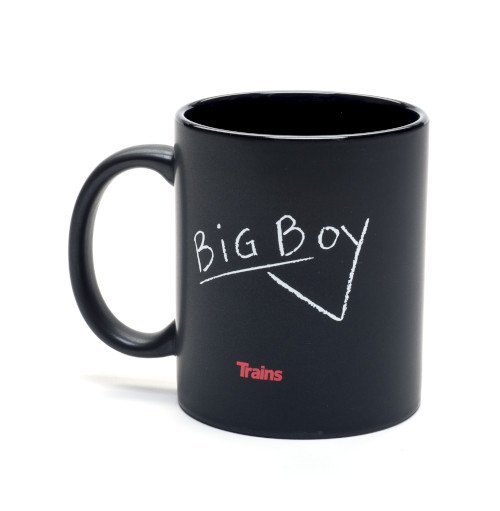 Big Boy No. 4014, one of America's biggest and most powerful steam locomotives, ran for the first time in 60 years in May 2019.
Celebrate this historic event with this exclusive Trains 11oz matte black mug featuring the "Big Boy" chalk writing from the front of this amazing locomotive.
Care instructions: Hand wash recommended. Microwave safe.
Railroad Family Trees Poster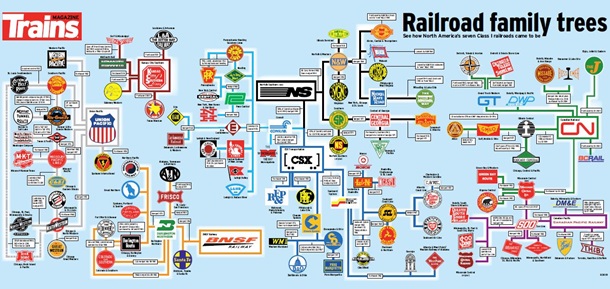 Exclusively from Trains Magazine, this poster shows you how North America's seven Class I railroads came to be.
America's big freight railroad systems have fascinating and complicated histories. In our exclusive family tree, learn how BNSF Railway, Canadian National, Canadian Pacific, CSX, Kansas City Southern, Norfolk Southern, and Union Pacific came to be. Learn about their history and heritage.
This poster is 24- by- 11-inches (folded 12-by-11 inches) and is printed on 100 lb. gloss text stock.
Locomotive 2021
From the publisher of Trains Magazine, Locomotive 2021 is back with the latest trends, statistics and inside stories from the exciting world of locomotives.
The 2021 edition features:
All-New Motive Power Review: An exclusive listing of new locomotives and major rebuilds in North America.
GE FDL Tribute: The "FDL family tree" tracing the lineage of GE locomotive models powered by the FDL engine.
Notable Contributors: Articles by Mike Iden, Blair Kooistra, J. David Ingles, David P. Morgan, and Chris Guss.
1961 Annual Motive Power Review: Providing a 60-year perspective in comparison to the current scene.
And More!
Pages: 92
Locomotive 2021 is now available in a convenient digital format so you can enjoy your favorite hobby on your PC, Mac, laptop, iPad, iPhone and select Android devices version 2.2 or higher. Powered by Zinio™, digital editions are compatible with PC, Macintosh®, Android™ via Google Play™ app, iOS™ via App StoreSM, and Win8 devices.
The Last Winter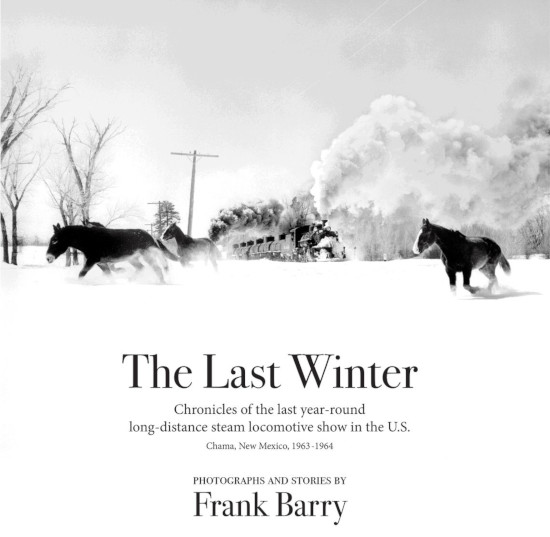 This stunning collection of black-and-white photographs of steam locomotives on the Denver & Rio Grande Western Railroad captures a rare moment in history. By the early 1960s, diesel had taken over nearly all major routes, leaving the D&RGW's San Juan Extension – with Chama, New Mexico, at its center – the only long-distance freight operation still running on steam in the United States. 1963-1964 was the last time the trains ran year-round on a regular basis.
At the same time, railfan Frank Barry lived and worked in Chama with the Peace Corps. As an avid rail photographer and steam enthusiast, he spent most of his spare time then chasing and photographing the D&RGW engines in around Chama.
To Frank, the landscapes that the engines went through – the desert canyons, the majestic Rockies, the towering pine trees that he would climb into for the perfect photo – were an integral part of the story. His photos have been featured in Trains and Classic Trains magazines, as well as on exhibit at Cornell University's Herbert F. Johnson Museum of Art. This is the first time the photos have been put together in a book.
This beautiful oversized album contains more than 50 of Frank Barry's photos. Among the stunning images are a marvelous coming-and-going pair at Lobato taken from high up in a tree.
Each copy is signed and numbered by Frank Barry.
Author: Frank Barry
Size: 12-by-12-inches
Pages: 64
Recommended for You
Locomotive 2021
How to Design a Model Railroad
Hot Wheels: From 0 to 50
Great Train Stations Postcards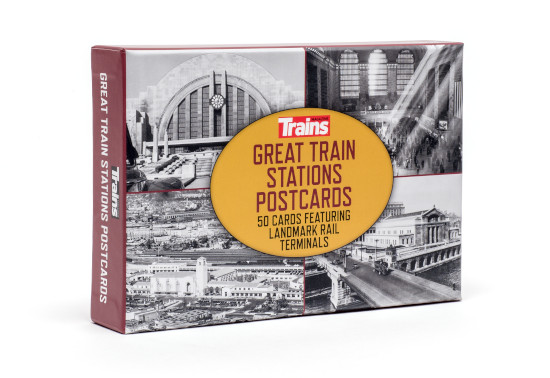 Created exclusively for Trains magazine, this collectible set of 50 Great Train Stations Postcards features photography by legendary Classic Trains and Trains magazine contributors.
Explore the spectacular architecture and interiors of these iconic structures built as rail hubs along busy passenger routes. Display as art or send a note to your fellow railfan!
This postcard set includes:
50 premium quality 4-by-6-inch card matte finish postcards, each featuring a landmark rail terminal
Amazing photography with a brief description of the location, name, date built, and a brief description.