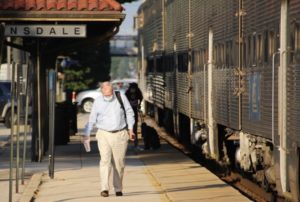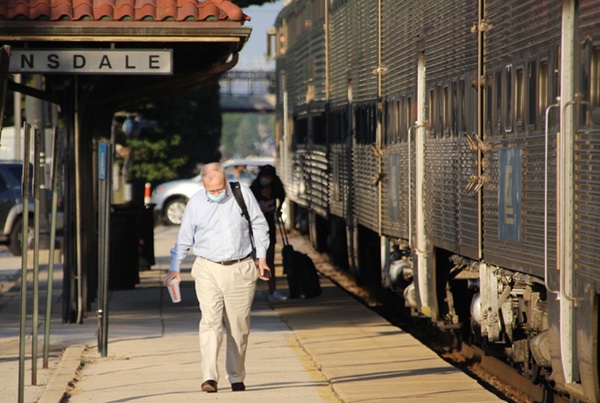 CHICAGO — With Metra ridership still at just 9% of pre-COVID-19 levels, the Chicago-area commuter railroad continues to seek a path to operational and financial stability.
"The road to recovery is still unknown," said Bruce Marcheschi, Metra's chief operating officer, speaking at an online conference hosted by the American Public Transportation Association. Future passenger counts will be determined by the ending of stay-at-home restrictions, workers returning to office jobs, and commuters feeling safe to ride Metra trains.
While the ridership numbers are modest, they are an improvement from April, when passenger counts fell to 98% below normal. Pre-pandemic average weekday ridership of 280,000 dropped to a one-day low that month of 6,437. Since, it has climbed to a single-day peak in July of 25,751.
Much of what will bring riders back is out of Metra's control. "We're not getting any indications from the Chicago business district when businesses will return, or how many employees they expect to return to the workforce," Marcheschi says.
A June survey by the Illinois Regional Transportation Authority — Metra's parent agency — showed that just one-third of large businesses in the Chicago area planned to bring employees back to the office before 2021. Three out of five companies plan alternate-day schedules to reduce risk.
Metra will have to adapt to such changing business conditions. Marcheschi says the agency is looking into new fare structures, more express trains, and partnerships with technology firms that provide station-to-destination service. And, he says, "We're looking at rewriting the schedule from nearly scratch."
Metra has kept all 11 lines running, averaging 55% of the pre-COVID weekday schedule of 692 trains. Consists were reduced from a maximum of 11 cars to a range of five to seven coaches. The heaviest train load today is 340 passengers, compared to 1,700 prior to the state's stay-at-home order, which took effect March 21.
Metra CEO Jim Derwinski says the commuter railroad has "ample room" on its trains and plans to launch an advertising campaign in September to lure riders back.
Derwinski also notes that, even with increased employee absenteeism due to COVID-19, "We have never failed to deliver the start of a train due to the personnel shortage."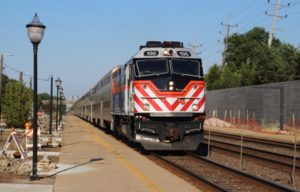 Sanitization, information efforts seek to reassure riders
To give riders a greater sense of confidence, Marcheschi says the agency has deep-cleaned all 1,100 rail cars and 243 stations. "Our cars are so clean right now someone even commented that they look like they just came off the assembly line," he quipped. Some workers brought their own power washers to help clean the coaches.
Ongoing sanitizing of high-touch points such as door handles, seats and railings continues daily, and Metra is experimenting with ultraviolet lights and electrostatic air filtration to reduce the level of airborne viral particles.
Metra offers an online ridership dashboard to allow passengers to see which trains are more likely to be crowded. Currently, the information is not in real time, but displays an average of the previous week's load factors per train on each line. Using color codes from red to green, Metra considers less than 50 riders per car enough for social distancing. All but two trains currently meet that standard.
Following a state mandate, Metra requires use of face masks on trains and in stations. As of mid-August, Illinois reported more than 213,000 COVID-19 cases and 7,800 deaths; the most recent figures published by the New York Times rank the state 19th in per-capita COVID-19 cases.
Metra received $479 million from the federal Coronavirus Aid, Relief, and Economic Security (CARES) Act. Lower expenses from reduced operations saved the railroad $32 million through June. That, and a surprising increase in sales tax revenue, will allow Metra to carry some relief funds over to next year. But, without additional federal assistance, Derwinski anticipates a $200 million shortfall for 2021.
The RTA and its member agencies, including Metra, issued a statement calling for Congress to enact a new relief package with $32 billion for public transit. A bill passed by the House of Representatives provides $15 billion, while a competing Senate bill provides no money for transit. That legislation is currently at a standstill.
So far, Marcheschi says, Metra has not furloughed any employees. But RTA executive director Leanne Redden told Chicago's WTTW, "As we look to 2021 there are going to be really difficult decisions to be made."