Two Class I railroads were among the companies to invest in the latest round of funding for one of the startup companies that is developing self-driving trucks.
Online technology publication TechCrunch has reported that Union Pacific and Canadian National both were among the investors in a $350 million round of funding for TuSimple. CN declined to comment, but UP has confirmed its investment.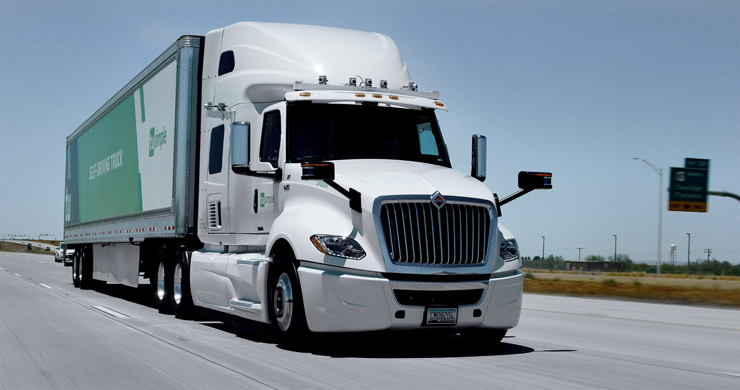 "Union Pacific makes small strategic investments from time to time in businesses or technologies that we believe could benefit our business," spokeswoman Raquel Espinoza says. "In that context, we did take a small stake in TuSimple's latest funding round. Because these small investments are strategic, we typically don't discuss them in public."
Why would railroads partner with companies developing technology that would significantly reduce the cost of trucking and, by some estimates, threaten up to a third of the volume that railroads currently handle?
"Railroads have many good reasons to be savvy and front-foot leaning about these emerging technologies," says Adriene Bailey, a partner at consulting firm Oliver Wyman. "Ultimately understanding the competitive offering — where it's going, its strengths, weaknesses and its cost structures — is very important."
It's possible, Bailey says, that railroads could learn from the emerging self-driving truck technology and then come up with new ways to apply it within their own companies. "It's a super good strategy for a company to look outside its four walls," she says, noting that innovation typically comes from outside.
"Railroads also have applications where autonomous vehicles could be deployed relatively quickly, such as intermodal terminals, and where improvements in cost efficiencies, reliability, and visibility and transparency of the operation would all directly enhance the competitive value proposition of intermodal rail versus truck," Bailey says.
Reducing terminal costs through automation is one way railroads can better compete for premium intermodal traffic in shorter haul lanes.
Independent analyst Anthony B. Hatch says it's "really interesting" that railroads are investing in an autonomous trucking company.
TuSimple is currently operating autonomous trucks on routes in the Southwest, but with what the company calls a "safety driver" who can step in if there's a problem. A company engineer also rides along to monitor the self-driving system.
TuSimple, which is carrying revenue loads for UPS and trucking companies, in March plans to open a hub at Alliance, Texas, that will permit the launch of new self-driving service between the Dallas/Fort Worth area and Houston and San Antonio.
"TuSimple is probably the leader in autonomous trucking technology," Hatch says.
Hatch wonders if investing in TuSimple is a sign the railroads aim to keep their friends close and hold their enemies closer — or if they are thinking outside the box and are willing to use their increasing financial strength to make bets on new technology.
Intermodal analyst Larry Gross suspects that UP and CN may be interested in autonomous operation of hostler rigs within their intermodal terminals. Drayage, the hauling of a container or trailer between an intermodal terminal and the customer's dock, is less likely.
"The dray application is harder for autonomous than driving down the interstate," Gross says. "From a technical challenge standpoint, it's a tougher lift. Maybe what they're thinking of is that they will automate their intermodal terminal hostlers."
The terminals offer a controlled environment and since they are private property — not a public right-of-way — railroads are free to experiment and innovate.
BNSF Railway is running a pilot program with an autonomous crane at its intermodal terminal in Kansas City, for example.
Separately, CN in August ordered 50 battery electric trucks from Quebec-based The Lion Electric Co. It began testing Lion's rigs in 2019 for use within its intermodal terminals as well as for drayage moves.
Dray is a very good application for an electric truck, Gross explains. Range and charging are not issues because the rigs remain local, he says.