ROCKHILL FURNACE, Pa. — On Aug. 13, 1960, Millie Kovalchick smashed a bottle of Canada Dry ginger ale on the front coupler of East Broad Top Railroad 2-8-2 No. 12, officially reopening the East Broad Top as a tourist carrier. Sixty years to the day later, Millie Kovalchick Glinsky did it again — this time with white grape juice —to reopen the beloved narrow gauge line for the third time.
The ceremony, held under a hot sun with three generations of the Kovalchick family looking on, as well as over 100 local residents, employees, and Friends of the East Broad Top, marks the debut of the East Broad Top Foundation's operation of the storied narrow gauge railroad.
During his brief remarks, former EBT president Joseph Kovalchick, whose father Nick bought the railroad in 1956 shortly after it closed down, reminded the audience of how his father "carried the torch for the EBT from 1956 until his death in 1977." Kovalchick said he was proud to have carried on the family tradition from 1977 until 2011. He also presented the deed for 25 additional acres of land in the area to Henry Posner, chairman of the East Broad Top Foundation, Inc., which purchased the railroad from Kovalchick in February.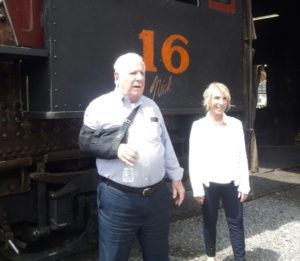 The program then moved to the roundhouse, where engine No. 16 was parked outside. "We're returning to an earlier tradition of the East Broad, that of naming locomotives after important people," Posner announced, as general manager Brad Esposito unveiled the side of the engine's cab, revealing the name "Nick" in script beneath the number. "This is a copy of Nick's actual signature," Posner said.
A short while later, the EBT's famous gas-electric car M-1 and presidential coach No. 20 Orbisonia made the first official passenger trip, with the Kovalchick family and other dignitaries aboard. The train ran only about three-quarters of a mile north to Enyart Road, as far as track repairs have progressed. After the train backed to Orbisonia Station, GE diesel M-5 led the first public train since December 2011. Additional trains were scheduled for Thursday afternoon, Friday, and on the weekend.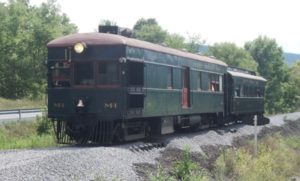 Though the EBT's iconic 2-8-2s were cold, several were on display, with Nos. 12 and 15 near the station; Nos. 17 and 18 in the yard, coupled to cuts of cars; No. 16, outside the roundhouse, stripped down for its pending FRA boiler inspection; and No. 14 occupying stall eight in the roundhouse, the newly refurbished work area. The rest of the roundhouse was empty, for the first time in at least 60 years.
— Corrected Millie Kovalchick's last name to Glinsky on Aug. 14.