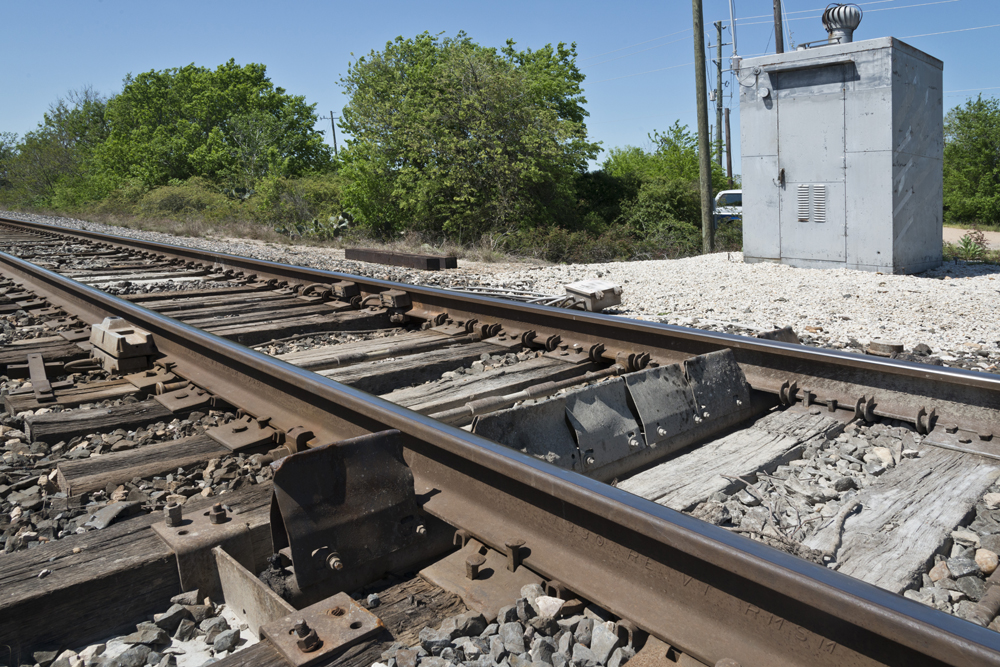 ---
Installing sensors on freight cars is the only way to prevent another disastrous derailment like the Feb. 3 Norfolk Southern hazardous materials wreck in East Palestine, Ohio, a wheel bearing expert says.
Constantine Tarawneh, a mechanical engineering professor who heads the University Transportation Center for Railway Safety at the University of Texas Rio Grande Valley, says adding more wayside hotbox detectors won't be enough to eliminate derailments caused by wheel bearing failures.
"Temperature is just not the way to measure the condition of a rotating object. Period. It's a good secondary measure, but not a primary measure. And so I don't care how close you space them … it's not going to help," Tarawneh said in an interview last week.
The Rail Safety Act of 2023, which was filed last week in the Senate, would require railroads to place hotbox detectors every 10 miles. Today detectors are spaced an average of 25 miles apart, according to the Federal Railroad Administration.
There's no question that hotbox detectors work. Train accident rates caused by axle and bearing-related factors have dropped 81% since 1980 and 59% since 1990 due to the use of hot bearing detectors, according to the FRA.
But bearings can overheat quickly, the FRA says, and can burn off in as little as 1 to 3 minutes. Hotbox detectors failed to diagnose 124 severely defective bearings in the U.S. and Canada from 2010 to 2018, 117 of which resulted in derailments.
"The one in East Palestine caught everyone's attention because of the hazardous materials," Tarawneh says. "These are accidents waiting to happen. They might not happen that often, but they will continue to happen because we're just taking a shot and hoping that these wayside detectors are effective."
The shortcoming of both hotbox detectors and wayside acoustic detectors is that they are reactive and can only catch late-stage defects that pose an immediate safety threat, Tarawneh says.
A proactive solution, he says, would be to outfit rolling stock with accelerometers that can detect telltale vibrations in wheel bearings up to 50,000 miles before they become a safety hazard.
The research team at University Transportation Center for Railway Safety has developed a battery-powered sensor module that can measure the operating load, temperature, and vibration levels within a bearing. It wirelessly sends the data to a central computing unit for analysis. The system can warn railcar owners of defects thousands of miles in advance of a potential failure and provide an estimate of how long the bearing can safely remain in service.
The system has been tested in the center's laboratory as well as on test track at the MxV Rail Transportation Technology Center in Colorado.
Some bearings can fail without getting hot enough to trigger a hotbox detector until a few minutes before a derailment, as was the case in East Palestine. On-board sensors would have flagged the problematic bearing several months beforehand, Tarawneh says.
Amsted Rail, which supports research at the University Transportation Center for Railway Safety, is among the companies that offer on-board sensor equipment.
RailPulse, the freight car telematics joint venture spearheaded by Norfolk Southern, is testing on-board sensors that track a car's location, whether it's empty or loaded, whether it's experienced a significant impact event, whether the hatches or doors are open or closed, and whether the hand brakes are on or off.
The initial pilot program – which involves NS and RailPulse members Union Pacific, short line holding companies Genesee & Wyoming, Watco, and Railroad Development Corp., and car manufacturers and leasing companies GATX, Greenbrier, and Trinity – is not testing wheel bearing monitors.
But RailPulse General Manager David Shannon says the goal is to ultimately monitor wheel bearing health. "We are very interested in it," he says.
Taranweh says it might cost $1,000 to retrofit a freight car with a wheel-bearing sensor system.
Byron Porter, the founder and CEO of telematics company Hum Rail, which licensed the rights to the University of Texas system, estimates that wheel bearing monitoring would cost between $400 and $500 per year for the 15-year life of its equipment. "That includes hardware, bearing condition, wheel kips (exactly like a wheel impact load detector system), truck hunting monitoring, impact detection, GPS, software and firmware updates, and data access, either through APIs or through our own website," he says.
Around two-thirds of the 1.6 million freight cars in North America are owned by shippers or leasing companies.
"What I've been telling folks is there are three ways to look at the additional cost to outfit their own fleet," Porter says. "A fraction of the total cost for a new build (0.5-2%). An insurance premium that keeps your name out of the headlines. Less than the East Palestine derailment is going to cost NS."
It costs about $200,000 to install a hotbox detector on a single track main line and $350,000 on double iron. More than 6,000 hotbox detectors are currently in service. To double that figure to reduce spacing between detectors, it would cost between $1.2 billion and $2.1 billion.
Equipping the entire freight car fleet with wheel bearing monitors might cost $1.6 billion or more. But the telematics system would also provide shippers with real-time car location, other car health data, and significantly reduce the number of trains that need to stop and set out cars while en route.
Taranweh says the industry should start by adding wheel bearing sensors to tank cars and other cars that carry hazardous materials. Outfitting the entire fleet would take years. "It might take a decade or even two decades. But we have to start somewhere," he says.
The Biden administration has backed the Rail Safety Act, but the FRA has yet to take a formal position on all of the bill's provisions, an agency spokesman says.
"Both wayside detectors and on-board sensors are expected to be discussed at length during an upcoming meeting of the Railroad Safety Advisory Committee that will be announced in the very near future," FRA spokesman Warren Flatau says. "Otherwise, it's a bit premature to opine on the views of one researcher about the virtues of one technology over another until such time that a more comprehensive examination is undertaken related to potential future regulatory activity."
National Transportation Safety Board Chair Jennifer Homedy says the board's investigation of the East Palestine derailment will include an analysis of wayside detection systems, how railroads use their data, and whether temperature thresholds should be set at a lower level.
The board also will look at alternatives to the traditional hotbox detector, including acoustic detectors and on-board sensor systems.
"We like redundancy at the NTSB so there's more than one way to ensure safety," Homendy said today in a webcast with The Washington Post. "We will look at all the technologies out there and make a recommendation."
Some in the railroad industry are skeptical that on-board sensors can be rugged enough and reliable enough to be as effective as wayside detectors.