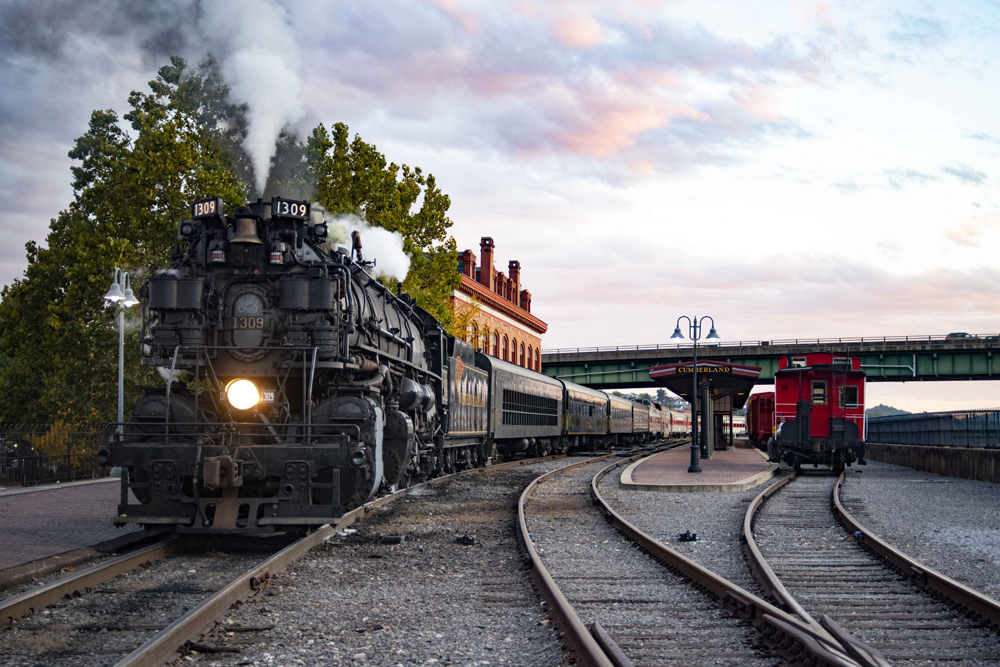 ---
CUMBERLAND, Md. — Echoing off the walls of the Cumberland Narrows, a Pennsylvania Railroad three-chime passenger whistle symbolized a new preservation partnership between the Railroaders Memorial Museum in Altoona, Pa., and the Western Maryland Scenic Railroad.
An evening dinner train to benefit restoration of the museum's PRR Class K4s 4-6-2 engine No. 1361 (Juniata Shops, 1918) ran from Cumberland to Frostburg, Md., and back on Friday, Oct. 14, raising more than $13,000 toward the cause [see "Western Maryland Scenic schedules benefit …," Trains News Wire, Aug. 18, 2022]. Besides ticket sales, additional funds were collected from an on-board silent auction of museum and Western Maryland Scenic photos and other memorabilia.
The nine-car train was powered by Western Maryland Scenic's 217-ton 2-6-6-2 engine No. 1309 (Baldwin Locomotive Works, 1949), which debuted in excursion service earlier this year after a seven-year, $3.5 million restoration. That campaign was put over the top by the late Jim Wrinn, the Trains magazine editor who persuaded readers to contribute $300,000 to finish the restoration. The last engine Baldwin built for an American Class I road (Chesapeake & Ohio), it holds the distinction of being the largest operating articulated steam locomotive in the East, and the largest operating Mallet type engine anywhere.
For the trip, and for Western Maryland Scenic's regular Frostburg Flyer the next day, No. 1309 temporarily wore No. 1361's melodious PRR Blue Ribbon whistle, a radical departure from its usual single-note "hooter." Coupled to the east end of the consist to lead for a safe eastbound descent on the up-to-2.8-percent grade was WMSR's freshly painted ex-Norfolk Southern General Electric B32-8 unit No. 558 [see "WMSR debuts Western Maryland-painted locomotive," News Wire, Sept. 14, 2022].
Western Maryland Executive Director Wes Heinz said the railroad donated the use of the engines and cars, and the cost of the operating and on-board crews, so that nearly all ticket revenue went toward the Altoona project.
Heinz, widely known for his work at other preservation railroads, said a template for this kind of partnership came about when he was director of the 2-foot gauge Maine Narrow Gauge Railroad in Portland, Maine. MNG regularly traded equipment and expertise with the Wiscasset, Waterville & Farmington Railroad, another 2-foot gauge tourist line in that state.
"How do we expand [historic railroad] preservation?" he asked, then answered his own question: "Networking, building friendships, building a reputation."
"You've got to cross-pollinate," he said. "Not all tourist railroads can do everything. With close networking, people can feed off each other."
Aboard were Railroaders Memorial Museum Executive Director Joe DeFrancesco and board member Jason Lamb, general manager of the Everett Railroad at Hollidaysburg, Pa., near Altoona, a freight short line that also offers periodic steam and diesel excursions.
"It's a great thing to hear the K4 whistle," DeFrancesco said. "This enables us to get fresh audio recordings of the whistle under pressure" to help boost marketing of the museum's $2.6 million restoration campaign. The project got a boost this past summer with a $100,000 donation from the Pennsylvania Railroad Technical & Historical Society.
DeFrancesco, Lamb, and Heinz all agreed that the elements exist for cooperative marketing as well as sharing of technical and operational knowledge. "A partnership will help us get us where we need to be," DeFrancesco said.
In addition to No. 1309 at Cumberland, he said, "You have No. 11 (operational 1920 Alco 2-6-0 engine at the Everett), No. 1361 (future operational status at Altoona), and No. 16 (1916 Baldwin 2-8-2 nearing operational status at the narrow gauge East Broad Top Railroad in Rockhill Furnace, Pa.)." Within a one-hour drive, he said, a family "can be at any one of these spots and make a weekend of it."
Lamb noted the popularity of a one-weekend combo promotion that offered a ride on the Everett and admission to both the Railroaders museum and the Horseshoe Curve National Historic Site, also near Altoona.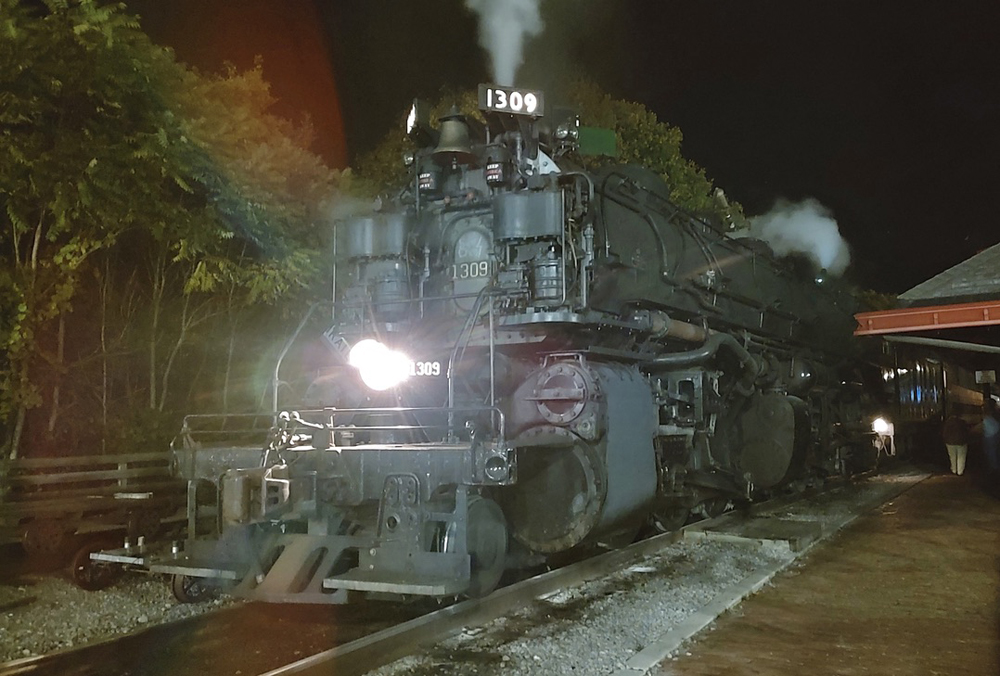 The operating crew for the Western Maryland Scenic special consisted of engineer Zach Hall, chief mechanical officer and an engineer at the Everett; firemen Mike Palermo and Calvin Kuttner, conductor Jim Nobilini, and diesel engineer Scott Jarrett. Also aboard were Kelly Lynch and Shane Meador of FMW Solutions, an engineering and mechanical consulting firm that is advising the Railroaders Museum on the project, and Mike Reindl and Andy Charlesworth, members of Altoona's volunteer mechanical crew.
RMM Board Chairman Wick Moorman and FMW President Davidson Ward announced the PRR 1361 campaign in June 2021 [see "PRR K4s engine No. 1361 to be restored …," News Wire, June 25, 2021].
The first stage in the restoration is the replacement of the firebox, which as built by PRR in 1918 doesn't meet current federal safety pressure standards. That threshold, Meador explained, is a "factor of four," meaning that it must withstand four times the engine's 205 psi operating boiler pressure. To be certified for use, it must test at only 1¼ times the pressure, but the law mandates a design that can withstand four times the force.
Replacing the 1361's firebox is more difficult and more costly than similar projects, because the PRR design standard was a non-customary, squared-off Belpaire type, rather than a more typical conical style. The replacement firebox will look identical to the original, but will feature thicker sheets and closer staybolt spacing in order to pass the design requirement.
Working closely with Reindl, Charlesworth, and others on the museum's 1361 team, FMW brings a solid track record, having overseen the restoration and current staffing of U.S. Sugar Co.'s former Florida East Coast Railway Alco 4-6-2 engine No. 148 in Florida. An even larger project currently under way with FMW oversight is the restoration of the 200-ton Nashville, Chattanooga & St. Louis Railway 4-8-4 engine No. 576 (Alco, 1942) in Nashville, Tenn.