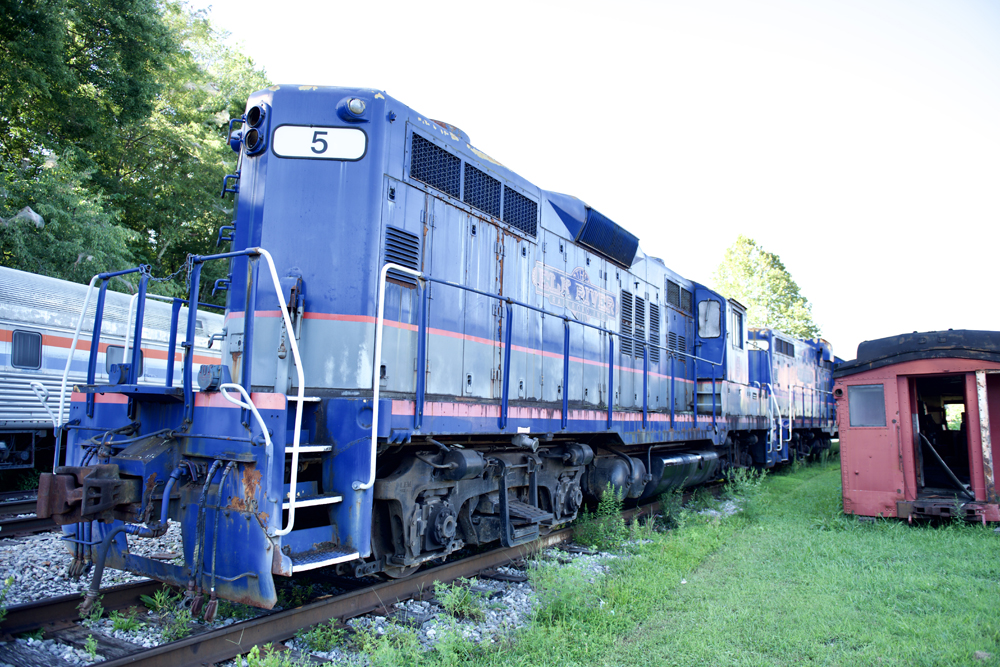 ---
ELKINS, W.Va  — West Virginia Central Railroad and its operator, Durbin & Greenbrier Valley Railroad, have acquired the five locomotives of the now-closed Elk River Railroad, according to Durbin & Greenbrier Valley President John Smith.
The locomotives involved are two GP10 rebuilds and one GP8, along with a pair of GP9s. All are now awaiting inspection and potential repairs at West Virginia Central's yard in Belington, W.Va. Of the five, GP10 No. 1 and GP8 No. 3 operated most recently on the Elk River and could be operational after several months of work; the others will require additional repairs and may be used strictly for parts.
GP10s Nos. 1 and 2 are upgraded GP9s built for the Illinois Central in 1957 and 1954; GP8 No. 3 is an upgraded GP7 built for the Wabash in 1952. GP9s Nos. 4 and 5 began life with Norfolk & Western in 1959.
West Virginia Central operates 132 miles of the former Western Maryland Railway, mainly from Spruce, W.Va., to the Appalachian & Ohio Railroad interchange at Tygart Junction.  It has run excursion trains from Elkins to Tygart Junction; Elkins to Spruce (and a connection with the Cass Scenic Railroad); and Elkins to the High Falls of Cheat River. Only the High Falls trains operate today, though management plans to reinstate the Spruce excursions in the future. Throughout the COVID epidemic, even when the railroad had to cancel all excursions, it remained afloat by moving freight to and from Elkins using a fleet of classic diesel locomotives.
Elk River Railroad was formed in 1989 by entrepreneur William Bright to link a coal loadout on what was once the fabled Buffalo Creek & Gauley Railroad at Avoca, W.Va., to an interchange with the Baltimore & Ohio Railroad (later CSX and, today, Appalachian & Ohio) some 70 miles north at Gilmer. Headquarters and the main rail yard and repair facilities were located at Gassaway, 40 miles north of the Avoca loadout and 30 miles south of Gilmer.  However, by 1999 the only customer for Avoca's production, Appalachian Electric Power, became dissatisfied with the quality of the coal and abruptly cancelled its contract, leading the loadout to shut down.
Elk River Railroad retrenched north to Gassaway, and stored and repaired rolling stock for other railroads for the next 22 years. The West Virginia Railroad Authority purchased the 18 miles of the former BC&G in November 2020, and the Elk River Railroad ceased operations in March 2022. The route is slated to become a rail trail.