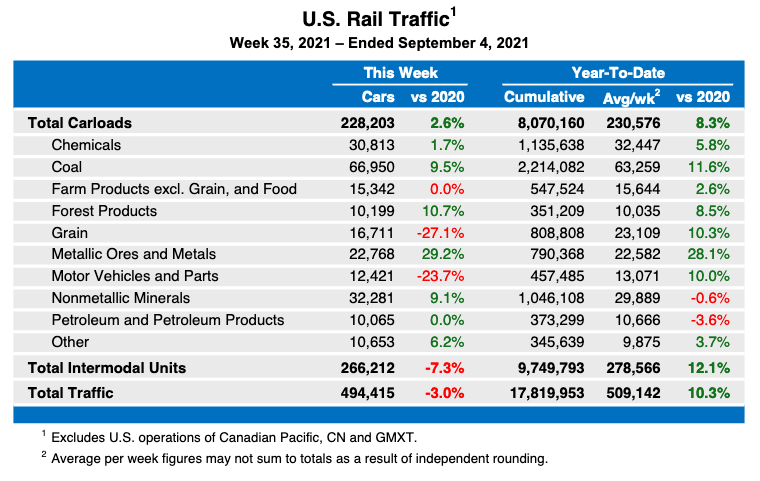 WASHINGTON — U.S. rail traffic for the week ending Sept. 4 fell compared to the same week in 2020, as well as the previous week in 2021.
Statistics from the Association of American Railroads show U.S. railroads originated a total of 494,415 carloads and intermodal units, a 3% decrease from the figure for the 35th week of 2020. It was also a 2% drop from the previous week, which saw total rail traffic of 504,417 carloads and intermodal units [see "August rail traffic falls …," Trains News Wire, Sept. 2, 2021].
Intermodal traffic accounted for the decrease. Railroads moved 266,212 containers and trailers, a 7.3% drop compared to the corresponding week in 2020. The 228,203 carloads represented at 2.6% increase. Carload traffic was even or increased in eight of 10 categories, led by metallic ores and metals, up 29.2%. Showing considerable decreases were grain, down 27.1%, and motor vehicles and parts, down 23.7%.
Year-to-date volume remains well ahead of 2020 levels. Carloads are up 8.3% and intermodal units up 12.1% for a total increase of 10.3% and a weekly average of 509,142 carloads and intermodal units.
North American totals, for 12 U.S., Canadian, and Mexican railroads, include 320,047 carloads, up 0.4% over the same week in 2020, and 350,744 intermodal units, down 6.8%. Overall, the total volume of 670,791 carloads and intermodal units is a 3.5% increase. For the year to date, total North American rail traffic is up 9.25.