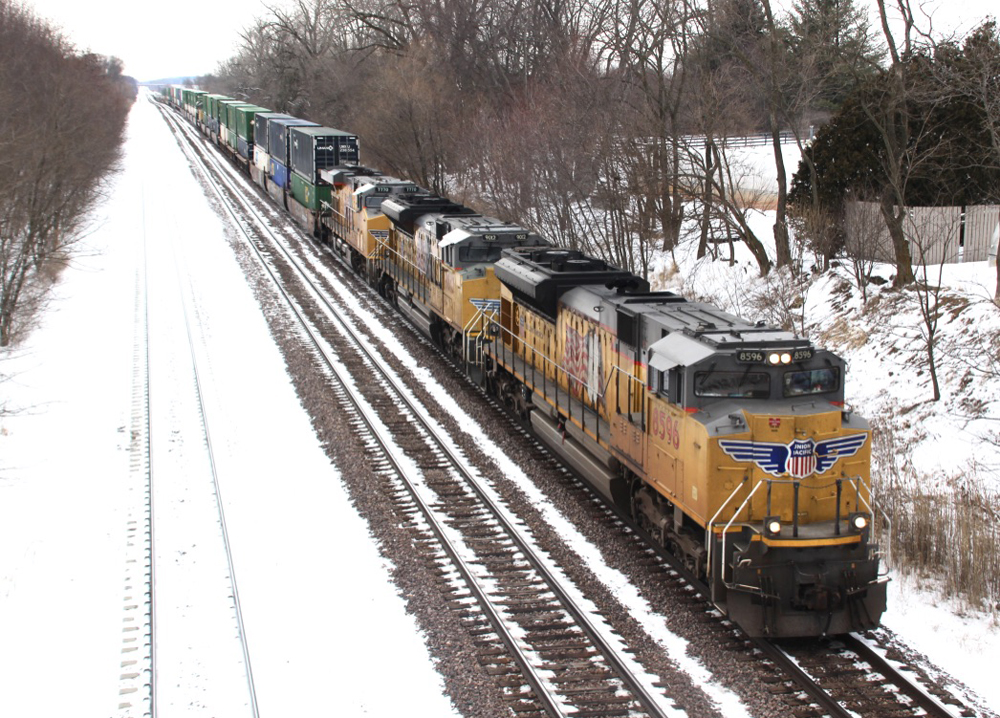 OMAHA, Neb. — Union Pacific reported lower quarterly earnings on Thursday as harsh winter weather took a toll on volume and revenue.
UP's quarterly operating income declined 7%, to $1.99 billion, as revenue sank 4%, to $5 billion. Earnings per share declined 7%, to $2.
UP's operating ratio rose 1.1 points to 60.1% due to the impact of rising fuel prices and a spate of historically cold and wintry weather that gripped much of the railroad's Southern Region in February and early March.
"Our employees rose to the occasion to maintain and restore critical service in those areas while dealing with weather impacts to their own homes and families," CEO Lance Fritz told investors and analysts on the railroad's earnings call. "We owe a debt of gratitude to our team as they again proved their resiliency, their grit, and their dedication to serve."
UP's overall volume declined 1% for the quarter. Bulk traffic declined 2%, as a 16% gain in grain was offset by a 16% decline in coal and renewables volume. Industrial products volume declined 11%, with only its forest products segment showing growth. Premium business was up 6% thanks to 12% growth in intermodal traffic.
Despite the tough quarter, Fritz expressed optimism for the rest of the year due to a strengthening economy, strong consumer demand, and tightening truck capacity. UP boosted its outlook for traffic growth to 6% for the year, up from prior expectations of 4% to 6% growth.
The railroad's key operating metrics were mixed during the quarter due to the weather and a surge of intermodal volume from West Coast ports. Intermodal trip plan compliance fell to 77%, down from 85% a year ago, while merchandise on-time performance rose to 68%, a 4-point improvement.
Average daily car miles and train speed fell by 1%, while terminal dwell improved by 1%.
UP's operations recovered more quickly after the cold snap than previous weather events due to the railroad's shift to a Precision Scheduled Railroading operating model, says Eric Gehringer, UP's executive vice president of operations.
UP continued to move its tonnage on fewer but longer trains, with train length growing 10%, to an average of 9,247 feet. Locomotive productivity increased 5% as a result. The total savings from operating longer trains was $45 million in the quarter, UP said, along with $35 million from increased locomotive efficiency.
To accommodate longer trains, UP completed two 15,000 foot sidings this year, with 18 more siding projects under way.
As part of its redesign of operations in Houston, UP consolidated blocking of local cars at Settegast Yard, allowing the railroad to curtail operations at four smaller yards in the area. "This allows us to bypass those smaller yards and deliver cars directly to the customers, eliminating extra handlings, improving transit time, and reducing crew starts," Gehringer says.
UP also curtailed operations at its North Council Bluffs yard in Iowa.