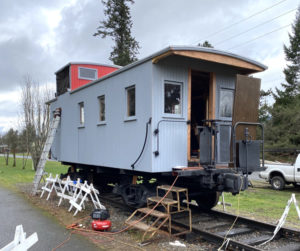 TENINO, Wash. — Over the last year, the residents of the small western Washington town of Tenino have become accustomed to the sounds of saws and hammers coming from 1920s-era Great Northern caboose X549. The caboose restoration is a joint venture between the town of Tenino and the Tenino Historical Depot.
The caboose was purchased from a private owner in Bothell, Wash., where it had been used as a private office, a move made necessary by sale of the property where the caboose was located. The move from Bothell to Tenino required a crane and heavy transport for the 100-mile trip.
The restoration began with master woodworker and volunteer project coordinator Don Bowman signing on in February 2020. Over the last year, he has personally logged over 5,000 hours on the craftsman, frame-up restoration. Caboose X549 was built by the Great Northern Railway at its St. Cloud, Minn., shops in 1923; Bowman and project volunteer Jan Wigley are working off original Great Northern blueprints to ensure accuracy in the rebuild. Locally sourced Douglas Fir was custom cut by another volunteer, Robbie Gordon, and his home sawmill.
The goal is to have the project complete by summer 2021 for display in front of the Tenino Historical Depot, a few feet from the location of the original Northern Pacific "Prairie Line" laid down in 1872.
Bowman credits the success of the project to nearly 10,000 hours of volunteer time, and outreach to historical societies, rail museums, and preservation groups. "Organizations and people like Jeff Haertlein at the North Freedom, Wis., Rail Museum and Herb Sakalaucks at the Colfax Rail Museum in Colfax, Wis., have been amazing for research material," Bowman says, "including blueprints and historical photographs and assorted parts and components to assist in our restoration project. Tthey have been quite a bit of help."
The $40,000 restoration is being funded by local donations and restoration and heritage grants, as well as a generous donation by the BNSF Railway.